Guns is a ridiculous movie for sure (both in the good and bad way) with an overly complicated and meandering plot alongside some truly bad performances and terrible dialogue, but the movie did at least get me to laugh.
Guns
(1990)

Genre(s): Action, Crime, Thriller
Mill Creek Entertainment | R – 95 min. – $19.98 | September 17, 2019
Date Published: 09/08/2019 | Author: The Movieman
MOVIE INFO:
Directed by: Andy Sidaris
Writer(s): Andy Sidaris
Cast:

Dona Speir, Roberta Vasquez, Erik Estrada, Bruce Penhal, Cynthia Brimhall, Devin Devasquez, Kym Malin, Liv Lindeland, Danny Trejo, Chuck McCann, Michael Shane, Phyllis Davis

---

DISC INFO:
Features: Audio Commentary, Featurette, Theatrical Trailer
Slip Cover: No
Digital Copy: Yes
Formats Included: Blu-ray
Number of Discs:

1

---

Audio: English (DTS-HD MA 2.0)
Video: 1080p/Widescreen 1.78
Subtitles: English SDH
Disc Size: 27.92 GB
Total Bitrate: 38.93 Mbps
Codecs: MPEG-4 AVC
Region(s):

A

---
Mill Creek Entertainment provided me with a free copy of the Blu-ray I reviewed in this Blog Post.
The opinions I share are my own.
THE MOVIE — 2.25/5
---
Plot Synopsis: Gunrunner Degas (ERIK ESTRADA) makes the mistake of messing with undercover air-freighters Donna (DONA SPEIR) and Nicole (ROBERTA VASQUEZ).
Quick Hit Review: That one sentence plot summary makes it sound like a simple premise and while it is simplistic, in typical Andy Sidaris fashion, it becomes more complicated and utterly perplexing as the film drags on. There's really no good reason Degas would target the "Agency" because he causes more trouble for himself as he attempts to smuggle guns from China to South America with a stop in Hawaii to refuel. Given these "Agency"… um, agents are so inept, he probably wouldn't have run into any problems.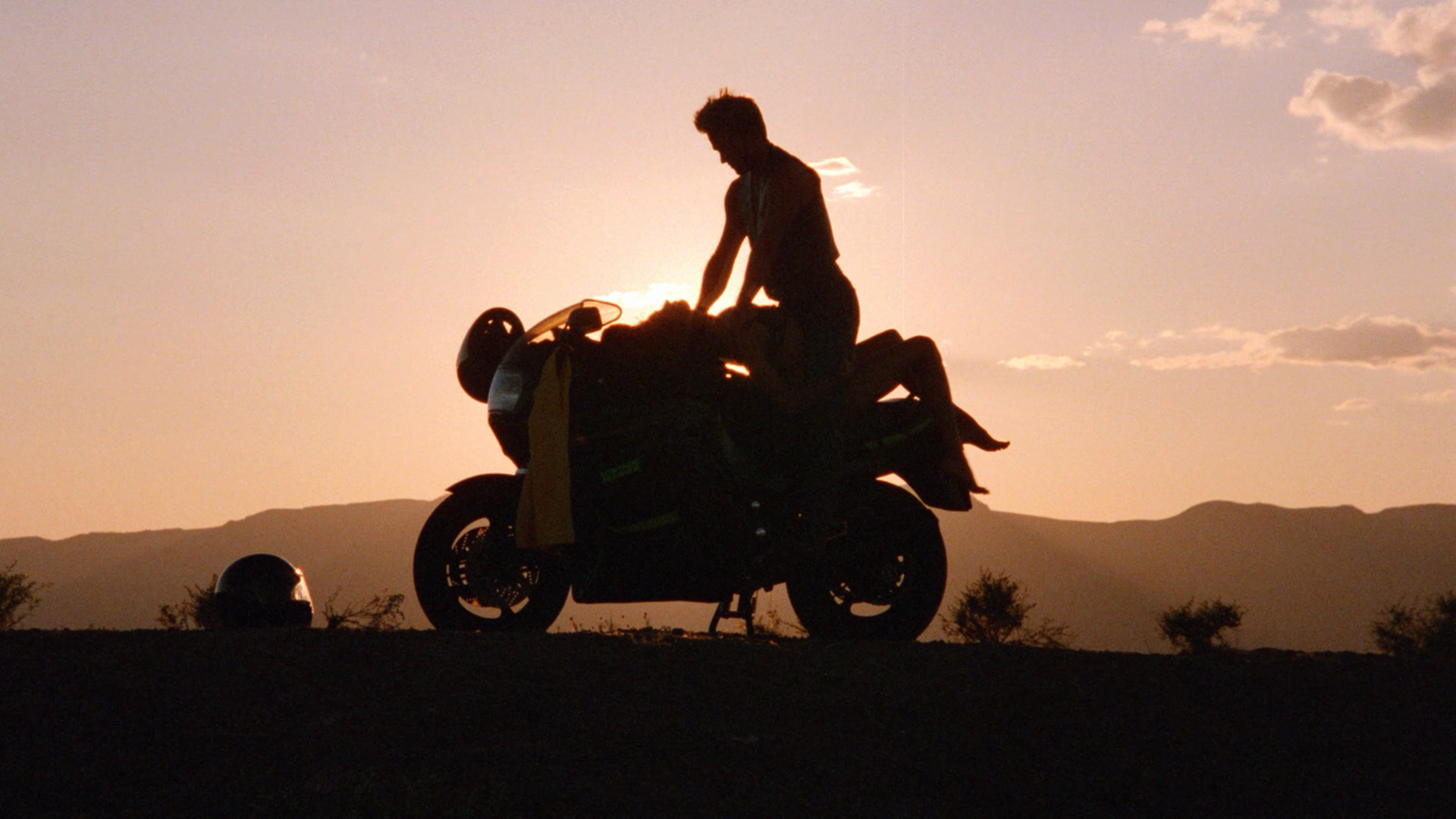 Of course, obviously the reason Andy Sidaris makes these movies, the reason for Guns is to have some T&A action from Playboy centerfold models and their male counterparts espousing terribly written dialogue delivered with a lack of any sort of commitment, though none of the cast, save maybe for Roberta Vasquez if I'm being generous, can act at all. Combine the two of poor dialogue and acting, you've got a one-two punch of torturous fun as a viewer.
Andy Sidaris and his producing partner and wife Arlene, did get an injection of some professionalism in the form of Erika Estrada playing the film's big baddie. I can only assume Estrada either owed somebody or was desperate to make a mortgage payment to star in a film of this caliber. He may not be a tremendous actor and at this point in his career would take any role thrown at him (looking at his IMDb, he played himself more than a few times (including Van Wilder and Loaded Weapon 1). Here he probably puts in minimal effort and why not considering the insipid dialogue, and exposition, he had spew.
I did not hate Guns, but it's not very good. One would assume five movies in you'd expect to see some professional growth from writer-director Andy Sidaris, but direction wise I don't see much of a difference from his previous films, but in fairness I suppose some of the aerial shots looked alright. I guess.
SPECIAL FEATURES – 2.5/5
---
This release comes with a Digital code only redeemable through the Movie Spree App which you can download on Roku, Amazon App Store, Google Play and the Apple App Store.
Features are similar to the other Andy Sidaris releases including an Introduction with Andy Sidaris (1:29), Audio Commentary with Writer-Director Andy Sidaris and Producer Arlene Sidaris; a Behind the Scenes (58:13) featurette with Julie Strain and includes footage from the production; and the Trailers for all of his films. These were recorded when his movies were given special edition treatments on DVD.
VIDEO – 4.25/5
---
Mill Creek releases Guns onto Blu-ray where its presented in its original 1.78 widescreen aspect ratio and has been given a new 1080p high-definition transfer, taken from a 4K restoration. For the most part this film does look great, detail is sharp and the original film grain and noise has been retained while colors seem to be bolstered, even a tad oversaturated but with nothing else to compare, not sure if this was the original intent. In the downside, however, there was some film damage that was noticeable with some vertical lines running through some scenes.
AUDIO – 3.25/5
---
The disc comes with a standard but efficient enough DTS-HD Master Audio 2.0 track. The action scenes with gunfire and explosions come through well enough but where it falters a bit, like in the other Sidaris' movies, dialogue is still on the softer side, likely due to inadequate on-location sound design. Having also watched Do or Die, pretty much the same results…
OVERALL – 3.0/5
---
Guns is a ridiculous movie for sure (both in the good and bad way) with an overly complicated and meandering plot alongside some truly bad performances and terrible dialogue, but the movie did at least get me to laugh a few times. The Blu-ray release from Mill Creek has really good, if not also flawed video and audio transfers with some okay bonus material ported over from other releases.
Check out some more 1080p screen caps by going to page 2. Please note, these do contain spoilers.