Do or Die is just another poorly made action-adventure film from Andy Sidaris and while yes most of it is rather bad, I did have a little fun watching and can imagine this would make for a great MST3K night with a bunch of friends.
Do or Die
(1991)

Genre(s): Action, Adventure, Crime
Mill Creek Entertainment | R – 96 min. – $19.98 | September 17, 2019
Date Published: 09/08/2019 | Author: The Movieman
MOVIE INFO:
Directed by: Andy Sidaris
Writer(s): Andy Sidaris (written by)
Cast:

Pat Morita, Erik Estrada, Dona Speir, Roberta Vasquez, Bruce Penhall, Cynthia Brimhall

---

DISC INFO:
Features: Audio Commentary, Featurette, Theatrical Trailer
Slip Cover: No
Digital Copy: Yes
Formats Included: Blu-ray
Number of Discs:

1

---

Audio: English (DTS-HD MA 2.0)
Video: 1080p/Widescreen 1.78
Subtitles: English SDH
Disc Size: 35.54 GB
Total Bitrate: 39.02 Mbps
Codecs: MPEG-4 AVC
Region(s):

A

---
Mill Creek Entertainment provided me with a free copy of the Blu-ray I reviewed in this Blog Post.
The opinions I share are my own.
THE MOVIE — 2.25/5
---
Plot Synopsis: International crime boss Kaneshiro (PAT MORITA) masterminds a deadly game of retaliation against federal agents Donna (DONA SPEIR) and Nicole (ROBERTA VASQUEZ) to teach a lesson they won't forget. Now they, and other members of the "The Agency" must dodge teams of assassins as they track them from Hawaii to the Nevada desert.
Quick Hit Review: At this point, now the sixth in the illustrious career for Andy Sidaris, if you've seen one you've pretty seen them all. This time with Do or Die, the film's villain is the one and only Mr. Miagi aka Pat Morita whom I wondered why he was in this, and then I saw him giving a massage his beautiful cohort and then understood the reasoning (he also gets in bed with her later). Also marking his return, although in a completely different role (makes sense as his previous character got blown up) is Erik Estrada, now being on the side of the good guys as a Colonel recruited for a new mission with "The Agency".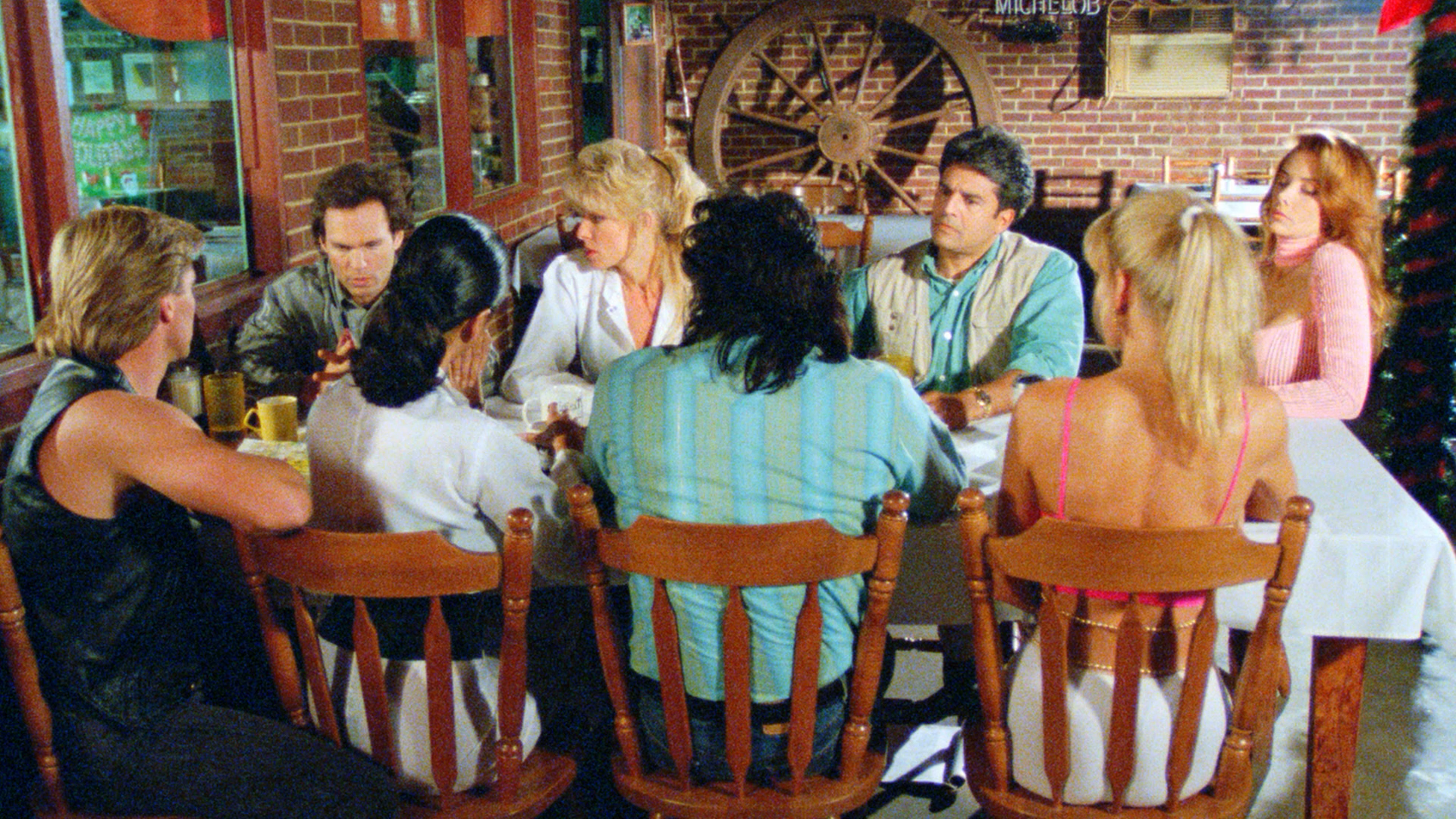 As with the other Sidaris movies, the only purpose of the film is to showcase some more T&A from a mostly centerfold cast of ladies with Dona Speir and Roberta Vasquez returning to their respective roles as federal agents now being hunted down for… reasons. And to be fair, that's kind of how it goes with a Sidaris movie, the plot and decision-making on characters, particularly on the part of the antagonists, aren't very well thought out, as long as the director gets the laughably awkward ("tasteful") sex scenes, nothing else matters.
If I had anything positive to say, and maybe my brain has finally broke, but I did enjoy the hilariously bad of it all and kind of just sat back and at the very least chuckled at the terrible dialogue, acting, editing, storytelling and direction. But I will say this as I did with Picasso Trigger and Guns, Roberta Vasquez had a little screen presence. As for the acting veterans, Erik Estrada did seem to be having a little more fun and Pat Morita, as I said, got to have just about every scene with a lovely young lady… Now why this character would have a computer graphic made up with "Game Over", no clue. Setting himself up for failure it would seem.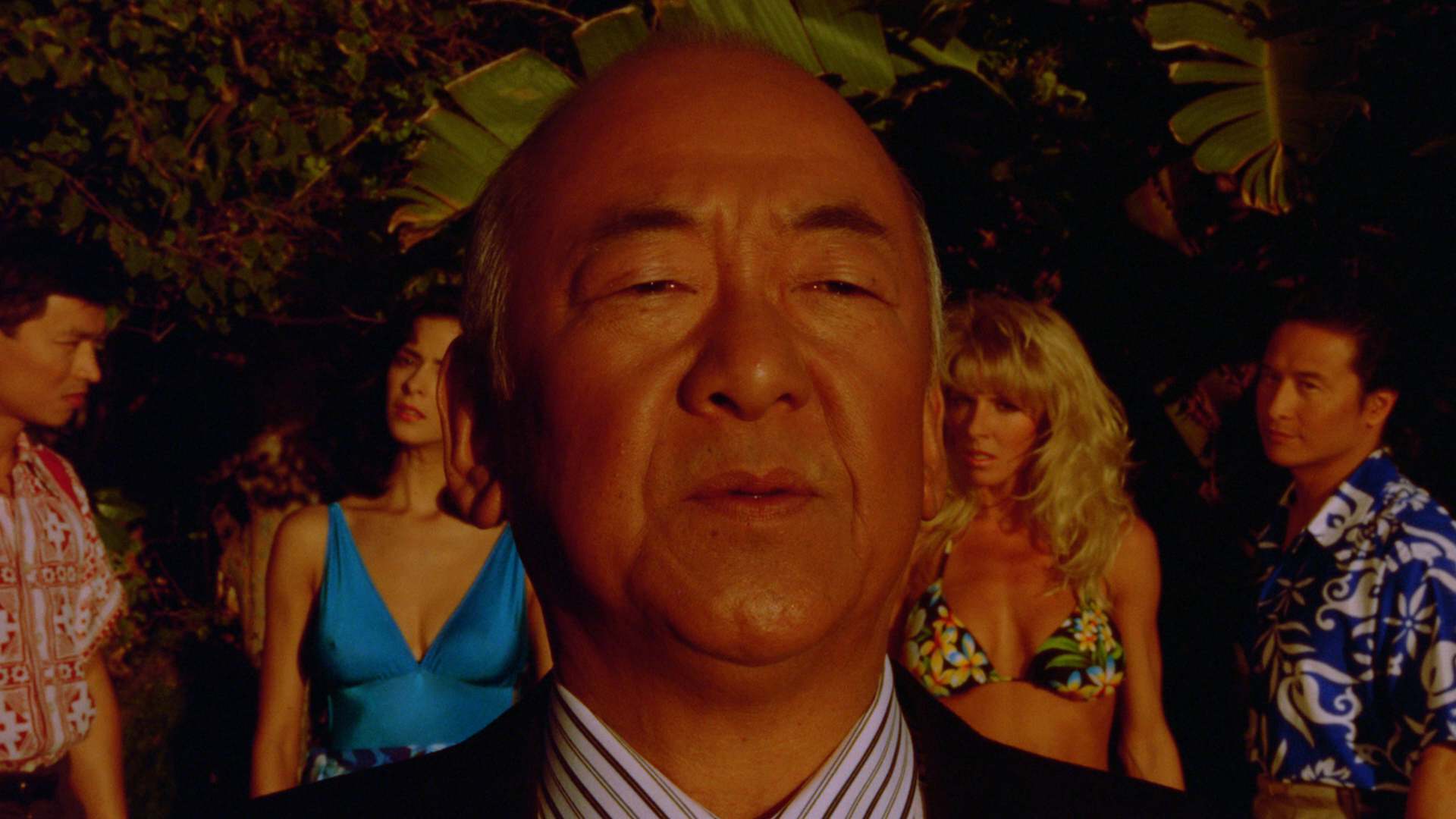 In the end, I think despite being six films in, doesn't seem Andy Sidaris learned anything about being a filmmaker so can't expect it to get much better than this, but hope springs eternal; and yes, I know these movies are already out on DVD, but I like to watch them as they come out now on Blu-ray…
SPECIAL FEATURES – 2.5/5
---
This release comes with a Digital code only redeemable through the Movie Spree App which you can download on Roku, Amazon App Store, Google Play and the Apple App Store.
Features are similar to the other Andy Sidaris releases including an Introduction with Andy Sidaris (0:58), Audio Commentary with Writer-Director Andy Sidaris and Producer Arlene Sidaris; a Behind the Scenes (38:42) featurette with Julie Strain and includes footage from the production; and the Trailers for all of his films. These were recorded when his movies were given special edition treatments on DVD.
VIDEO – 4.25/5
---
Do or Die comes to Blu-ray through Mill Creek where its presented in its original 1.78 widescreen aspect ratio and has been given a new 1080p high-definition transfer, taken from a 4K restoration. For the most part this film does look great, detail is sharp and the original film grain and noise has been retained while colors seem to be bolstered, even a tad oversaturated but with nothing else to compare, not sure if this was the original intent. In the downside, however, there was some film damage that was noticeable with some vertical lines running through some scenes. (Copied from my Guns review as the transfers are similar including the flaws)
AUDIO – 3.25/5
---
The disc comes with a standard but efficient enough DTS-HD Master Audio 2.0 track. The action scenes with gunfire and explosions come through well enough but where it falters a bit, like in the other Sidaris' movies, dialogue is still on the softer side, likely due to inadequate on-location sound design.
OVERALL – 2.75/5
---
Do or Die is just another poorly made action-adventure film from Andy Sidaris and while yes most of it is rather bad, I did have a little fun watching and can imagine this would make for a great MST3K night (or for the modern Internet era "Best of the Worst") with a bunch of friends. As for this Blu-ray from Mill Creek does have respectable transfers (especially the video) and a set of decent bonus features.
Check out some more 1080p screen caps by going to page 2. Please note, these do contain spoilers.