Edge of Tomorrow is just an all around fun and action-filled sci-fi thriller that unfortunately didn't produce phenomenal numbers at the box office that a sequel, while being talked about off and on over the years, is looking unlikely.
Edge of Tomorrow
(2014)

---
Genre(s): Science Fiction, Action, Suspense
Warner Bros. | PG13 – 113 min. – $24.99 | July 2, 2022
Date Published: 07/01/2022 | Author: The Movieman
MOVIE INFO:
Directed by: Doug Liman
Writer(s): Hiroshi Sakurazaka (novel "All You Need is Kill"); Christopher McQuarrie and Jez Butterworth & John-Henry Butterworth (screenplay)
Cast:

Tom Cruise, Emily Blunt, Bill Paxton, Brendan Gleeson, Noah Taylor

---

DISC INFO:
Features: Featurettes, Deleted Scenes
Slip Cover: Yes
Digital Copy: Yes
Formats Included: 4K, Blu-ray
Number of Discs:

2

---

Audio: English (Dolby Atmos), French (Dolby Digital 5.1), French (DTS-HD MA 5.1), German (DTS-HD MA 5.1), (Dolby Digital 5.1), Spanish (Dolby Digital 5.1), Chinese (Dolby Digital 5.1), Spanish (Dolby Digital 5.1), Czech (Dolby Digital 5.1), Hindi (Dolby Digital 5.1), Hungarian (Dolby Digital 5.1), Polish (Dolby Digital 5.1)

---

Video: 2160p/Widescreen 2.39
Dynamic Range: HDR10
Subtitles: English SDH, Chinese, Czech, Danish, Dutch, Finnish, French, German, Hindi, Hungarian, Italian, Korean, Norwegian, Polish, Spanish, Swedish
Codecs: HEVC / H.265
Region(s): A, B, C

---
Warner Bros. Home Entertainment provided me with a free copy of the Blu-ray I reviewed in this Blog Post.
The opinions I share are my own.
Note: Portions were copied over from my original 2014 Blu-ray review with updates to the video and audio sections.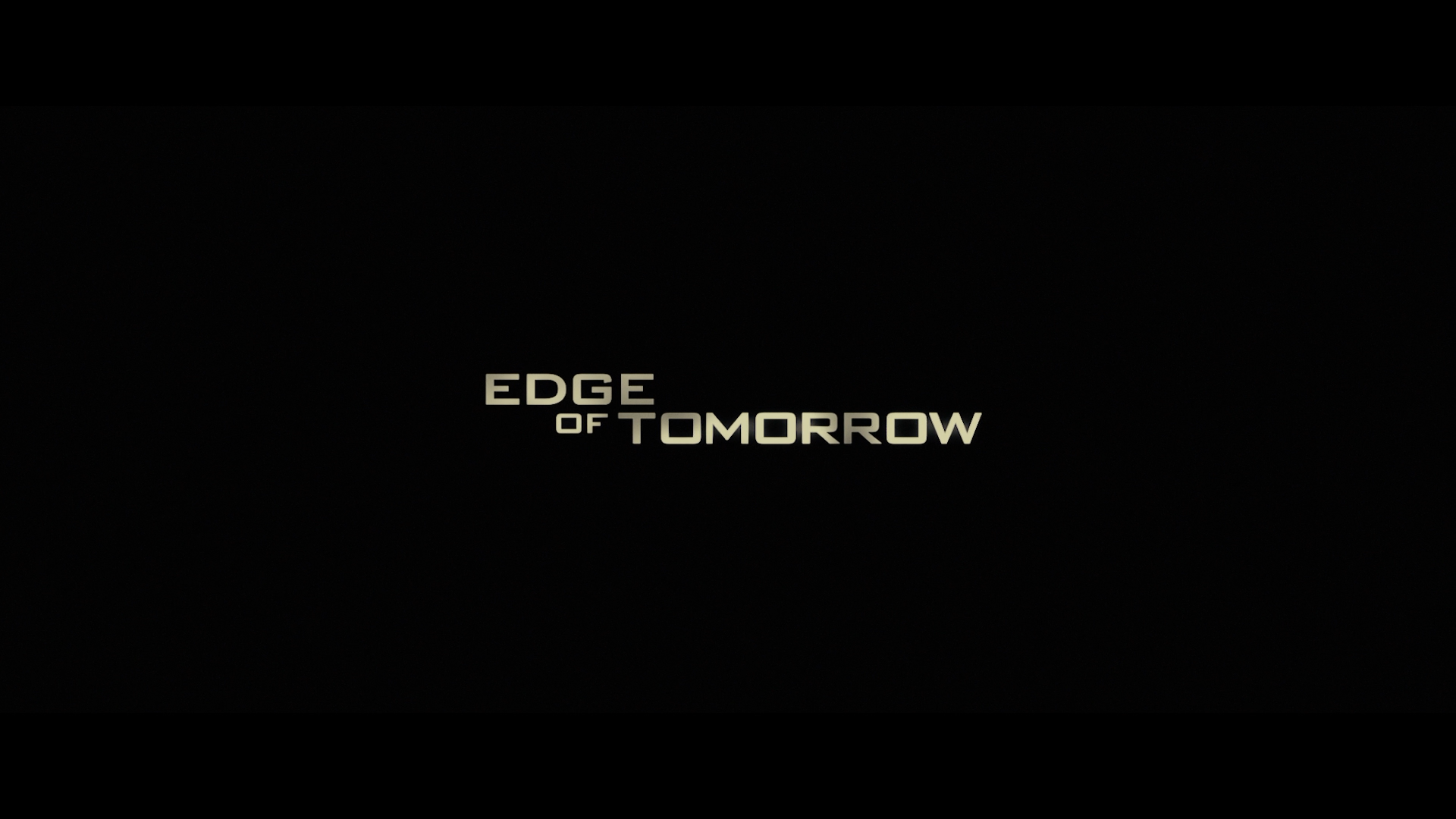 THE MOVIE — 4½/5
---
Edge of Tomorrow…aka…Live Die Repeat…aka…Live Die Repeat: Edge of Tomorrow… oh, whatever, is easily one of the funnest and better movies to come out of a so-so 2014 summer and outside of the Mission: Impossible franchise, one of Tom Cruise's better outings in some time. It's a unique enough plot, albeit combining Starship Troopers and Groundhog Day, and is all around entertaining from start to finish.
The story, which is based upon the novel 'All You Need is Kill', is centered on a military spokesman Cage (TOM CRUISE) who has no combat experience but is commanded by General Brigham (BRENDAN GLEESON), to be in the front line of a pivotal battle against an alien species who have invaded and plan a worldwide domination and eradication of the inhabitants of Earth. Cage is stunned and makes the mistake of blackmailing the general and for his troubles is arrested and wakes up on a military base where Master Sergeant Farrell (BILL PAXTON) has papers that Cage is a deserter/coward and is forced into battle along with others in the colorful platoon.
However, after their ship is shot, they discover the battle is no cake walk and apparently the enemy was waiting for them causing mass casualties. During the firefight, which Cage can't help not knowing even how to take the safety off his guns, his eyes set on Rita (EMILY BLUNT) aka "Full Metal Bitch" before she ultimately is killed. Cage manages to survive long enough to use a mortor killing one of the aliens but Cage is killed in the process.
Of course, you've seen the trailers and amazingly he awakens back at the military base and relives the same day. After getting his bearings (somewhat), he discovers that Rita had the same experience before losing it and now the pair, through trial and error, must work together to stop the invasion because "tomorrow" the alien race will win and it's… game over man, game over!
I won't delve any further into the plot only to say that, unlike Groundhog Day, there is a reason Cage is able to relive the same day and thankfully the movie is able to set some ground rules that could lead him to losing the ability as well as the inability to go to any commanding officers as they would rightfully believe he's nutty or, if they believe him, be captured for dissection.
Helmed by Doug Liman, who's proven to be more than an adequate action director as demonstrated in movies like The Bourne Identity and Mr. & Mrs. Smith, provides for effective direction with well done action scenes that didn't feel like some CGI fest taking a front seat over story and characters. Thankfully here we get two main characters we feel and can root for and even though the age differential between Cruise and Blunt is substantial, the two do share some great chemistry and for Cruise's part, his comedic timing, dark as it is, is great. Also breathtaking is we get to see Cruise not being a balls-out hero early on and having to grow into the role.
Basically, Edge of Tomorrow is one fun hell of a movie; nothing more, nothing less and one of the gems of summer 2014 perhaps behind Guardians of the Galaxy. I won't say the movie will rewrite the action formula or anything but it's an efficient action flick, refreshingly clocking in under two hours (in an era where filmmakers seem to think 150-minutes is acceptable) and just a fun time through and through. If you're a fan of sci-fi and/or Cruise, this is a day one blind purchase.
SPECIAL FEATURES – 3½/5
---
This release comes in a standard black HD case and a semi-glossy slip cover. Inside is a redemption code for the Digital HD copy. All features are contained on the included Blu-ray disc:
Operation Downfall: Adrenaline Cut (2:34) are scenes from the movie culled together where Cruise and company kick ass.
Storming the Beach (8:59) is a behind-the-scenes featurette on the beach sequence and its obvious influence by Normandy in WWII.
Weapons of the Future (8:25) outlines the weaponry used in the film including the heavy exo-suits.
Creatures Not of This World (5:38) looks at the alien enemies and the visual effects done to create them.
On the Edge with Doug Liman (42:37) is a lengthy featurette and is more or less day in the life of the director as he brings the film to life and working with Tom Cruise. It's a well made BTS feature and easily the most expansive feature put out by Warner in some time.
Deleted Scenes (7:38) are a selection of scenes either cut down or removed for a variety of reasons, though presumably for pacing issues. Unfortunately these do not include the Jeremy Piven scenes…
VIDEO – 4½/5
---
Edge of Tomorrow comes to 4K Ultra HD presented in its original 2.39 widescreen aspect ratio and a 2160p high-definition transfer. I believe the Blu-ray already looked pretty good, this one too has great sharpness and detail, the natural film grain/noise is still evident giving the picture some nice texture. Colors already weren't especially vibrant but do get some minor aid from the HDR.
AUDIO – 4¾/5
---
The original 2014 Blu-ray came with a DTS-HD Master Audio 7.1 track while the 4K disc has been slightly upgraded to Dolby Atmos, which is a bit more dynamic though it's not a night and day difference, this still sounds absolutely fantastic right from the jump during the studio logos. The action sequences takes over all of the channels while dialogue levels sound clear throughout.
OVERALL — 4½/5
---
Edge of Tomorrow is just an all around fun and action-filled sci-fi thriller that unfortunately didn't produce phenomenal numbers at the box office ($371M from a $178M budget) that a sequel, while being talked about off and on over the years, is looking unlikely with the studio going the TV series route for HBO Max.