The Batman is a good film. Not great. I did like that Matt Reeves had a different and unique take on the character who has seen the big screen a handful of times dating back to 1989 and while there is room for improvement.
The Batman
(2022)

---
Genre(s): Action, Drama, Crime
Warner Bros. | PG13 – 176 min. – $49.98 | May 24, 2022
Date Published: 05/22/2022 | Author: The Movieman
MOVIE INFO:
Directed by: Matt Reeves
Writer(s): Bob Kane with Bill Finger (characters); Matt Reeves & Peter Craig (written by)
Cast: Robert Pattinson, Zoë Kravitz, Jeffrey Wright, Colin Farrell, Paul Dano, John Turturro, Andy Serkis, Peter Sarsgaard

---

DISC INFO:
Features: Featurettes, Deleted Scenes
Slip Cover: Yes
Digital Copy: Yes
Formats Included: 4K, Blu-ray
Number of Discs:

3

---

Audio (4K): English (Dolby Atmos), English (Dolby Digital 5.1), French (Dolby Digital 5.1), German (Dolby Atmos), German (Dolby Digital 5.1), Italian (Dolby Atmos), Italian (Dolby Digital 5.1), Spanish (Dolby Digital 5.1)
Audio (BD): English (Dolby Atmos), English (Dolby Digital 5.1), French (Dolby Digital 5.1), Portuguese (Dolby Digital 5.1), Spanish (Dolby Digital 5.1)
Video (4K): 2160p/Widescreen 2.35
Video (BD): 1080p/Widescreen 2.35
Dynamic Range: HDR10, Dolby Vision
Subtitles (4K): English SDH, Danish, Finnish, French, German, Italian, Norwegian, Spanish, Swedish
Subtitles (BD): English SDH, French, Portuguese, Spanish
Codecs: HEVC / H.265 (4K), MPEG-4 AVC (BD)
Region(s): A, B, C

---
Warner Bros. Home Entertainment provided me with a free copy of the Blu-ray I reviewed in this Blog Post.
The opinions I share are my own.
Note: The screen captures were taken from the included Blu-ray disc.
THE MOVIE — 4/5
---
Plot Synopsis: Batman (ROBERT PATTINSON) ventures into Gotham City's underworld when a sadistic killer named The Riddler (PAUL DANO) leaves behind a trail of cryptic clues. As the evidence begins to lead closer to home and the scale of the perpetrator's plans become clear, he must forge new relationships, unmask the culprit and bring justice to the abuse of power and corruption that has long plagued the metropolis.
I liked The Batman but didn't love it.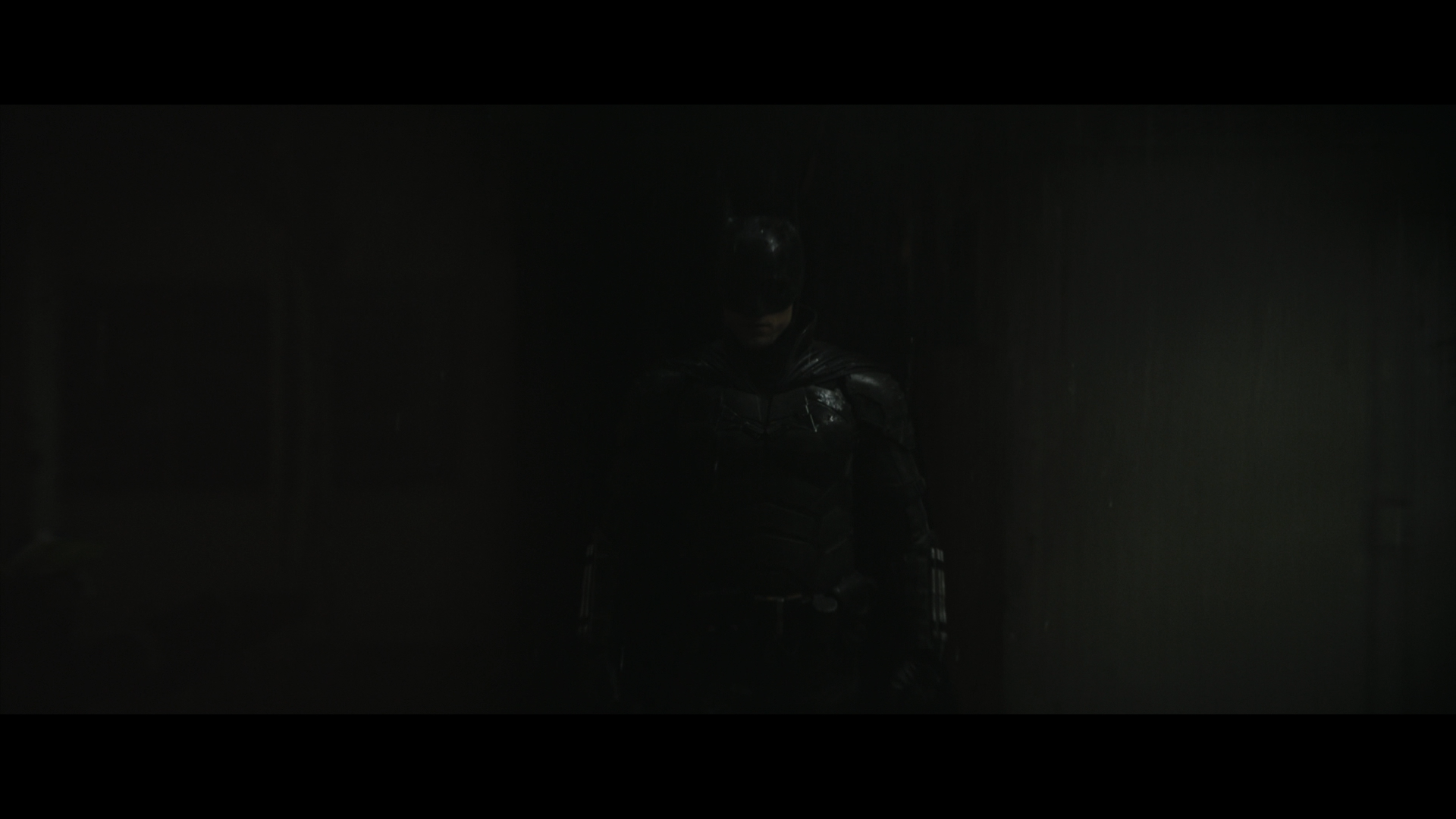 Review: The Batman is the newest incarnation of the iconic character alongside his rogues gallery and it's a version, from the mind of Matt Reeves, that is the darkest and bleakest yet, far darker than Tim Burton (and obviously less fantastical), Christopher Nolan and no surprise, Zach Snyder whose take was dark but more imaginary.
As a lifelong Batman fan, well at least dating back to 1989, I was looking forward to this one and while it's far from perfect and probably ranks in the middle of the live action standings (I place Batman 1989, Batman Begins and The Dark Knight ahead), it's still a very well made movie and a much needed different take, using a film noir motif and giving Batman himself his due with Bruce Wayne taking a backseat in terms of screen time.
With that, taking over the role as the Caped Crusader with a focus on the World's Greatest Detective aspect, is Robert Pattinson who received much derision mostly from people who only knew him from Twilight and missed the numerous independent features he had done in the time since. Personally I found his casting to be an interesting choice. And I can say he doesn't completely disappoint; but by the same token wasn't a homerun either. With Matt Reeves, Pattinson's version, mainly in his few scenes as Bruce, did have that "emo" look. While I really appreciate that they acknowledge his usage of eye makeup, his look in those scenes was not the best (and according to interviews, Reeves' inspiration for the look was Kurt Cobain. My big issue, and this is more with the dialogue from Reeves, is in the few scenes as Bruce he comes across as a complete twat in his exchanges with Alfred ("Alfred, stop. You're not my father" or, in giving Alfred giving Bruce his cufflinks with the Wayne symbol, "And what about you? Are you a Wayne?"). Really off putting.
For now, comparing Pattinson to the previous actors, I'd have to give him an incomplete as I would like to see more of his Bruce Wayne, however he does look good in the Batsuit and I did like he didn't use the annoying growl like Bale (though I did like the voice modulator for Affleck's version).
The rest of the cast assembled were also solid. Zoe Kravitz is great as Catwoman and shares some nice scenes opposite Pattinson; Jeffrey Wright is always awesome no matter the role and seeing his Gordon investigate alongside Batman put a smile to my face; Colin Farrell is unrecognizable playing Oz a.k.a. The Penguin (to the point the makeup and prosthetic artists deserve award recognition); Andy Serkis as Alfred is a very small role but could have an interesting dynamic with Bruce in sequels; and last Paul Dano plays a creepy and scary, Zodiac version of The Riddler.
Co-written and directed by Matt Reeves, this film noir inspired version of Batman is a welcome change to what had come before. That being said, though, it's not a great movie as a whole. I can't put my finger on exactly why, maybe it was a third act that felt tacked on or that we didn't get a balance between Bruce and Batman, maybe it was how Pattinson portrayed Bruce Wayne or what, but having seen The Batman a few times since it was on HBO Max, my opinion hasn't wavered.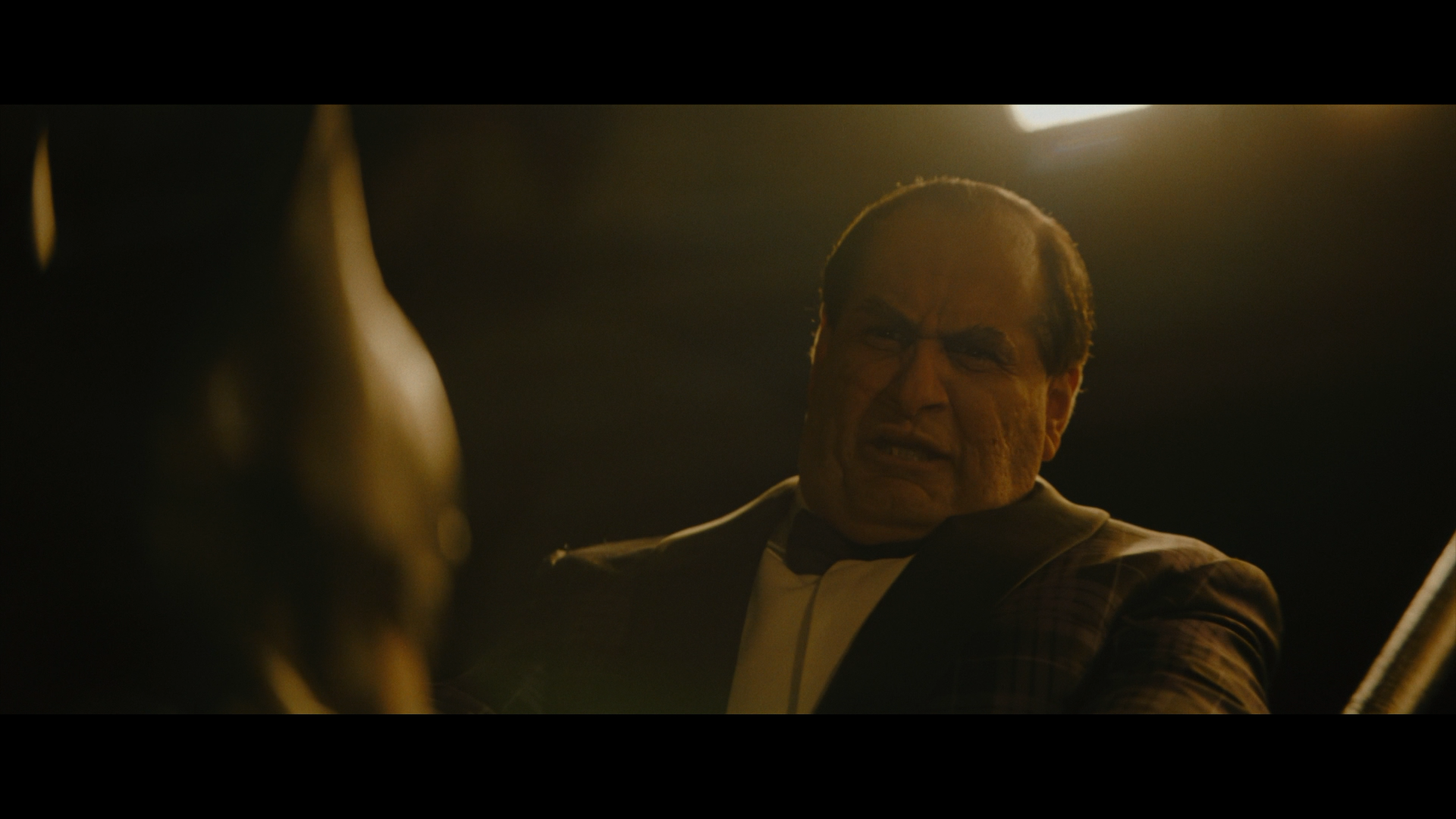 SPECIAL FEATURES – 4½/5
---
This release comes with a slip cover and inside a redemption code for the Digital HD copy and if redeemed through iTunes, there's an exclusive audio commentary with Matt Reeves. All bonus material are on a separate disc.
Looking for Vengeance (4:57) — Fight choreographer Rob Alonzo, along with Matt Reeves and Robert Pattinson, expand upon the 'street-fighting' style and give insight into the reason for Batman's rage.
The Batman: Genesis (6:09) explores Matt Reeves and Robert Pattinson's inspirations and collaboration on The Batman to create a Bruce Wayne not seen before. Fun seeing some of the test/chemistry footage with Pattinson and Kravitz.
Vengeance Meets Justice (8:04) — Batman and The Riddler represent Vengeance and Justice. This featurette offers insight from Robert Pattinson, Paul Dano and Matt Reeves on the character connection and how both came to understand they are two sides of the same coin.
Becoming Catwoman (8:36) — Zoe Kravitz reveals insights into her back-story, and what it was like on set playing the iconic character.
The Batmobile (10:51) — This featurette covers how this newest incarnation of the most iconic vehicles was created and how the crew brought it to life.
Anatomy of a Car Chase (6:08) breaks down all of the plans, details and testing it took to create the Batman/Penguin car chase.
Anatomy of the Wing Suit Jump (6:29) looks at the creation of the wing suit and the usage of drone photography and LED-based virtual production to bring the sequence to life.
Vengeance in the Making (53:41) — Extensive featurette exploring how Reeves and his cast and crew brought one of the biggest productions of the Caped Crusader to life.
Unpacking the Icons (5:47) — Featurette about craft, and a portrait of each of the main characters through props and costume details that define them.
A Transformation: The Penguin (7:59) delves into the makeup process and how the look created the character with Colin Farrell also sharing how the prosthetics helped him find the voice and personality of Oz.
Deleted Scenes (7:47) — Only two scenes, "Joker/Arkham" and "Selina Gets 44 Below Keycard". There's an option to watch with Matt Reeves commentary.
4K VIDEO – 4¾/5, BLU-RAY VIDEO – 4½/5
---
As you might know if you've already seen the movie or at least just looked at the screen captures or publicity stills, The Batman is a very darkly lit movie to the point where it's stunning that not every citizen of Gotham is required to carry around a flashlight, even during the daytime. Joking aside, this 2160p high-definition transfer does look good, detail is fine though shrouded by shadows a good portion of the time and colors have some flash here and there but mostly toned down and/or fleeting. Still, the black levels appear well balanced along with the grays in Batman's suit. In addition, I did not notice any obvious signs of aliasing or artifacting which is a big plus all things considered.
The 1080p Blu-ray in the meantime also looks quite good, albeit not as well defined compared to the 4K though black levels still looked stark without overpowering the on-screen elements.
AUDIO – 4¾/5
---
The movie (both 4K and Blu-ray) comes accompanied with a strong and very robust Dolby Atmos track, the bulk of which was taken over by Michael Giacchino's score, some tender while others awesomely aggressive. The few action sequences, namely the car chase, gives the most amount of depth as does the explosive finale. Dialogue meanwhile comes across the center speaker with nice clarity.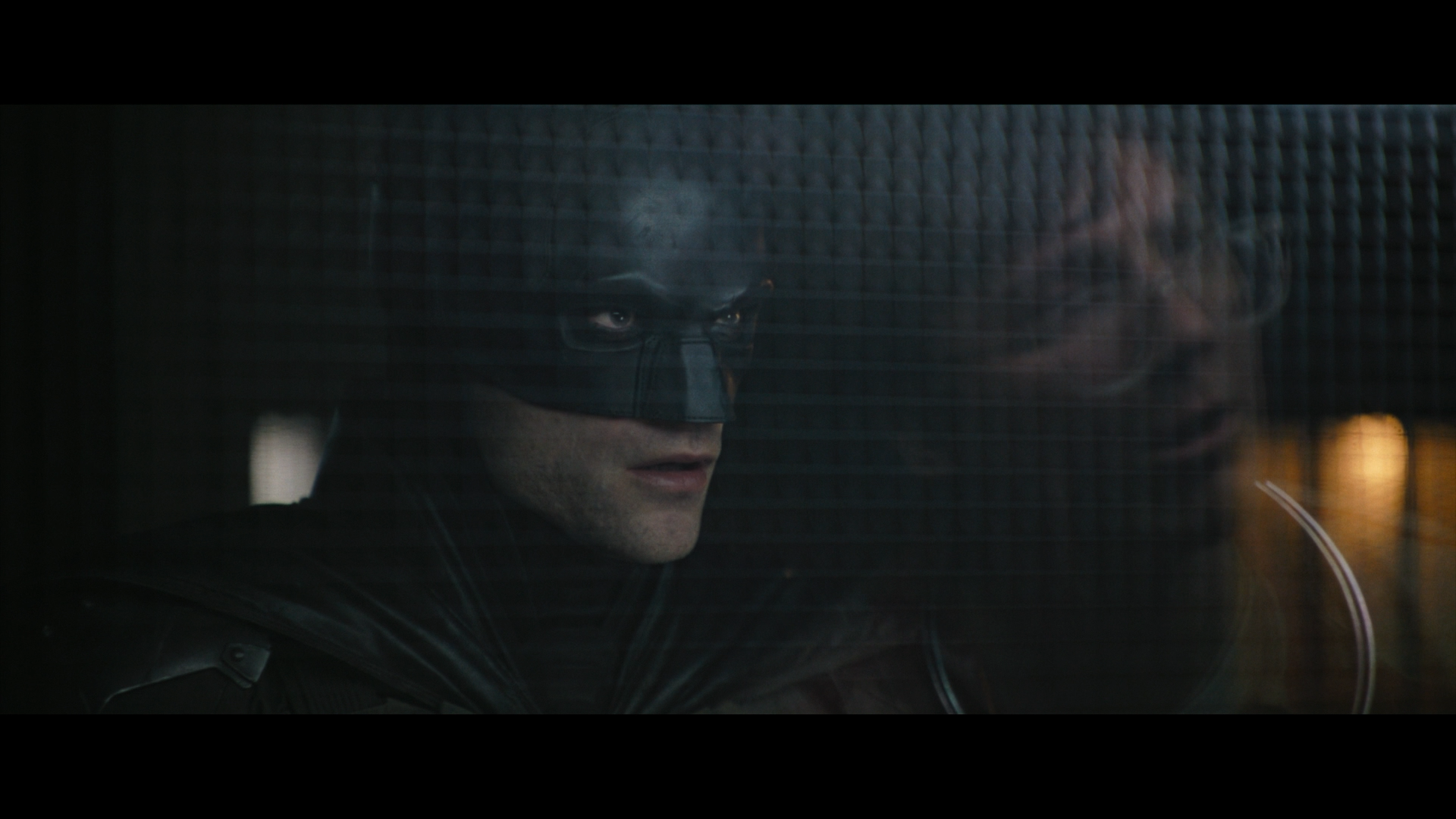 OVERALL — 4¼/5
---
The Batman is a good film. Not great. I did like that Matt Reeves had a different and unique take on the character who has seen the big screen a handful of times dating back to 1989 and while there is room for improvement, in particular getting more from Bruce Wayne who comes across as a douche, the other elements makes this highly entertaining and the film never felt its nearly 3-hour running time.