Neither Schizoid or X-Ray are very good movies yet they're at least watchable and even a bit of trashy fun at times, and probably better suited for group viewing for an "MST3K" style setting.
Schizoid/X-Ray
(1980/1983)

---
Genre(s): Horror, Suspense/Thriller
Vinegar Syndrome | R – 89 min. / 89 min. – $49.98 | March 29, 2022
Date Published: 03/25/2022 | Author: The Movieman
MOVIE INFO:
Directed by: David Paulsen (Schizoid); Boaz Davidson (X-Ray)
Writer(s): David Paulsen (written by) (Schizoid); Boaz Davidson (story) (X-Ray)
Cast (Schizoid): Klaus Kinski, Donna Wilkes, Mariana Hill, Craig Wasson, Richard Herd, Christopher Lloyd
Cast (X-Ray):

Barbi Benton, Chip Luca, Jon Van Ness, John Warner Williams, Den Surles

---

DISC INFO:
Features: Interviews, Featurette, Trailer
Slip Cover: Yes (Limited Edition only)
Digital Copy: No
Formats Included: 4K, Blu-ray
Number of Discs:

3

---

Audio (4K/BD): English (DTS-HD MA 2.0)
Video (4K): 2160p/Widescreen 1.85
Video (BD): 1080p/Widescreen 1.85
Dynamic Range: HDR10
Subtitles: English SDH, French, Spanish
Codecs: HEVC / H.265 (4K), MPEG-4 AVC (BD)
Region(s):

A, B, C

---
Vinegar Syndrome provided me with a free copy of the Blu-ray I reviewed in this Blog Post.
The opinions I share are my own.
Note: The screen grabs came from the included Blu-ray disc and does not represent the 4K picture.
THE MOVIE — 2¾/5
---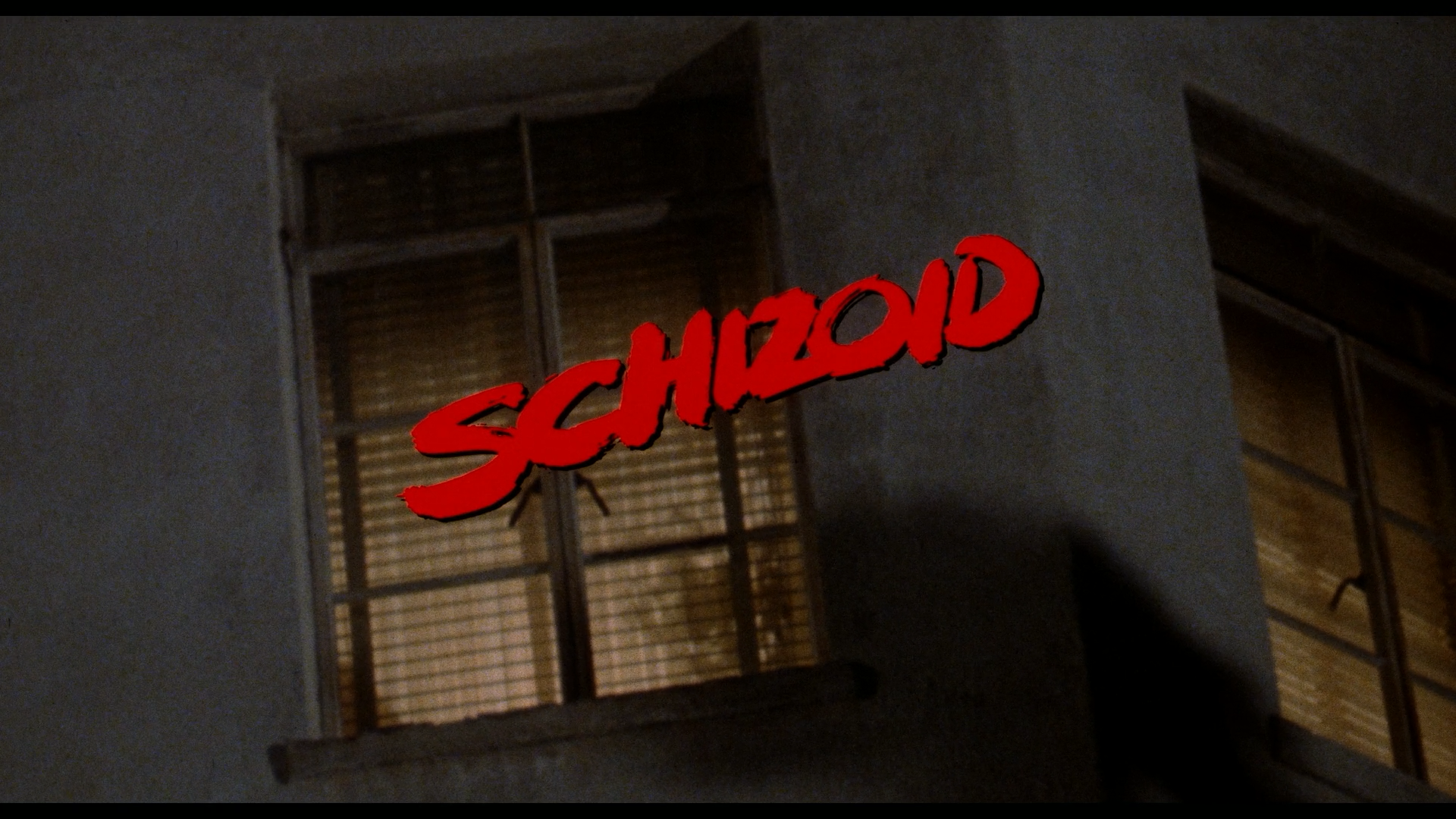 SCHIZOID (1980) — ***¼/*****
Plot Synopsis: Pieter Fales (KLAUS KINSKI) is a renowned psychiatrist who is unable to reconcile his relationship with his teenage daughter (DONNA WILKES), Alison. Julie (MARIANA HILL), one of Peter's patients, is a successful advice columnist in the midst of a messy divorce, who has also started receiving threatening letters. When a black-clad, scissors-wielding killer begins murdering people in Julie's life, she begins to suspect that her unknown writer and this mystery assailant might be one and the same…
Quick Hit Review: Schizoid is an imperfect but entertaining enough mystery-thriller with plenty of suspect characters to keep the mystery alive through the short running time. Mariana Hill is good in the lead and it's fun seeing Christopher Lloyd early in his feature film career (at this point, Taxi was on the air for a couple of years), and playing a fairly sinister guy to boot. It's not great and relationship between the psychologist and his daughter was creepy but still worth checking out.
---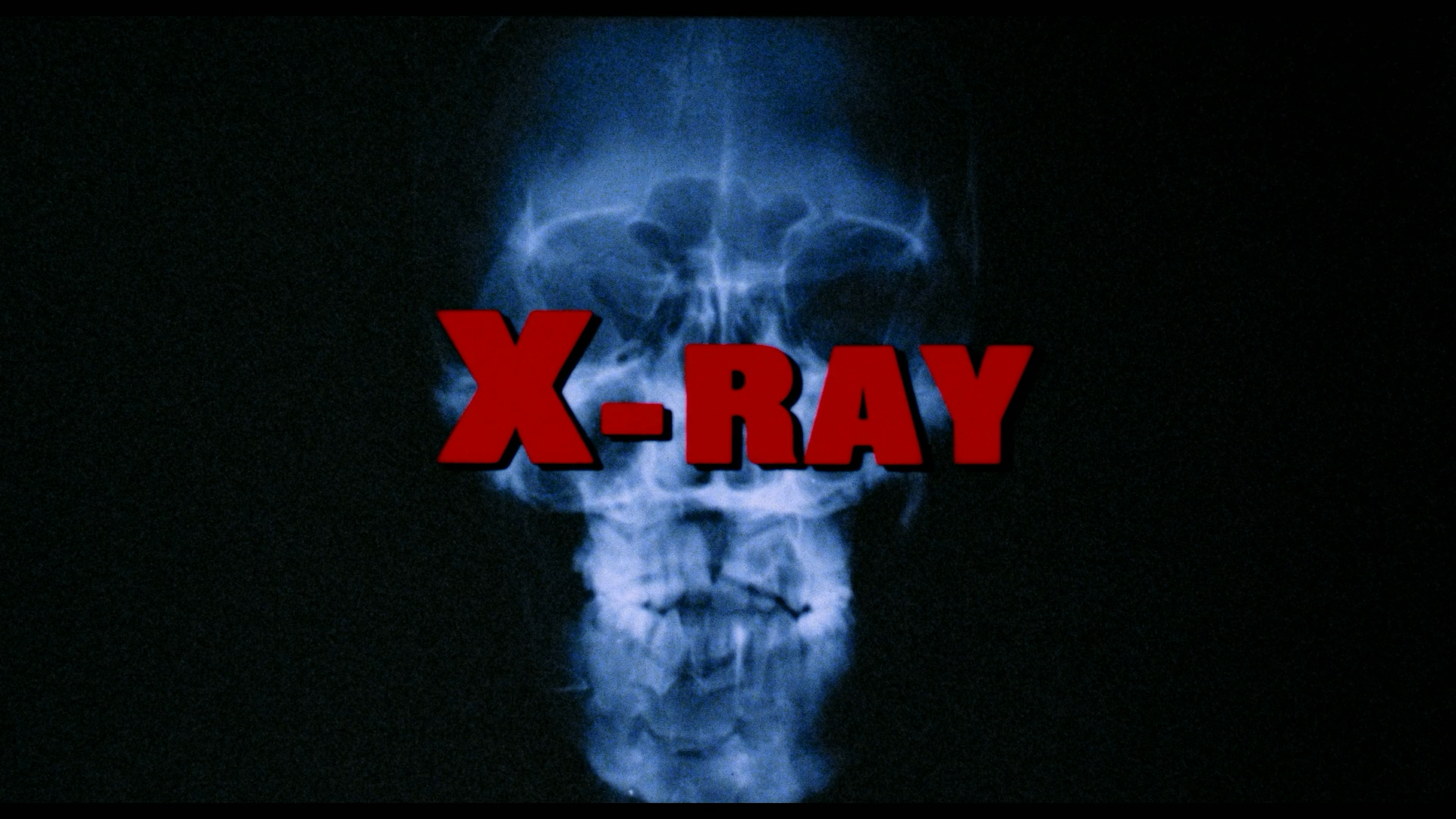 X-RAY (1981) — **¼/*****
Plot Synopsis: When Susan (BARBI BENTON) was a little girl, she rejected the Valentine of a lovestruck classmate. Decades later, she's come to the hospital for a routine medical examination. But when her x-rays seem to show something unusual, Susan finds herself trapped in a bizarre medical nightmare, made all the worse as her vengeful childhood valentine, disguised among the hospital staff, begins murdering everyone in his path as a means of proving his undying 'romantic obsessions…
Quick Hit Review: Definitely the lesser of the double feature, X-Ray might feature the lovely Barbi Benton and she does have some good screen presence but the plot is convoluted and predictable though the kills aren't too bad, albeit not especially creative.
SPECIAL FEATURES – 3¾/5
---
The three-disc set comes housed in a Blu-ray case and the "Limited Edition" version comes with a slip cover (the one I received did not). The inside cover is reversible with the other movie's artwork on the other side. All of the features are on the Blu-ray disc which contains both movies while there are two 4K discs containing only the respective movie.
Interviews (Schizoid):
Shooting By March (6:43) — Director David Paulsen
Hide the Scissors (5:21) — Actress Donna Wilkes
Blood in the Jacuzzi (7:02) — Makeup Artist Erica Ueland
A Wellesley Graduate (5:58) — Actress Flo Lawrence
All told there's about 25-minutes worth of material here, most are on the short side but better than nothing bringing together as many of the major participants as possible. Each one explains how they came to the project and providing tid-bits on the production.
Ultra Violet Vengeance: The Talent & Technicians of X-Ray (26:47) — This new making-of featurette includes interviews with the cast and crew, including Jon Van Ness (Jack), Jimmy Stathis (Tom) and many others from the wardrobe assistant to gaffer.
Bad Medicine (13:01) is an archival interview with X-Ray director Boaz Davidson.
Also included is the Original Theatrical Trailer (1:39) for Schizoid.
4K UHD VIDEO – 4¾/5 | BLU-RAY VIDEO — 4½/5
---
Schizoid and X-Ray make their debuts on 4K Ultra HD from Vinegar Syndrome. Per the back cover, both films were restored from the original 35mm camera negatives and presented here in their original 1.85 widescreen aspect ratios. Looking at both of these, they look dang good, if not without some lighter slights such as some minor specs and, in the case of X-Ray, a vertical line in one shot that lingers enough that's hard not to notice. Even so, the picture is sharp, very nicely defined throughout and colors well balanced with the spectrum more on the darker side.
Included is a Blu-ray disc with the two films together (along with bonus features). I assume the video is just a 1080p version of the restored print used on the 4K disc (versus re-using the transfer that Shout Factory utilized nearly a decade ago), and although not as sharp, still does look quite decent.
AUDIO – 4/5
---
Both discs for both films feature DTS-HD Master Audio 2.0 tracks. Being these films were low budget horror-thrillers from nearly 40 years ago, they came out better than expected. Dialogue comes through relatively cleaning though there was some hissing that I could detect most of the time when someone talks. However, there were no discernible or obvious signs of pops or other aural ailments that can crop up from films like these.
OVERALL – 4/5
---
Overall, neither Schizoid or X-Ray are very good movies yet they're at least watchable and even a bit of trashy fun at times, and probably better suited for group viewing for an "MST3K" style setting. This 4K UHD release does offer good video and audio transfers and a decent selection of bonus materials.
Check out some more 1080p screen caps by going to page 2. Please note, these do contain spoilers.