The Return of Swamp Thing is pretty much a sequel-in-name-only and stars Heather Locklear, Louis Jourdan and Dick Durock as the titular character.
The Return of Swamp Thing
(1989)

---
Genre(s): Horror, Action, Fantasy
MVD Visual | PG13 – 89 min. – $49.95 | February 7, 2023
Date Published: 02/08/2023 | Author: The Movieman
MOVIE INFO:
Directed by: Jim Wynorski
Writer(s): Len Wein and Bernie Wrightson (Swamp Thing created by); Neil Cuthbert and Grant Morris (written by)
Cast:

Louis Jourdon, Heather Locklear, Sarah Douglas, Dick Durock

---

DISC INFO:
Features: Commentaries, Featurettes, Gallery, Promotional Materials
Slip Cover: Yes
Digital Copy: No
Formats Included: 4K Ultra HD, Blu-ray
Number of Discs:

2

---

Audio (4K/BD): English (DTS-HD MA 5.1), English (Dolby Digital 2.0)
Video (4K): 2160p/Widescreen 1.85
Video (BD): 1080p/Widescreen 1.85
Dynamic Range: HDR10, Dolby Vision
Subtitles: English
Codecs: HEVC / H.265 (4K), MPEG-4 AVC (BD)
Region(s):

A, B, C

---
MVD Visual provided me with a free copy of the Blu-ray I reviewed in this Blog Post.
The opinions I share are my own.
Note: The screen captures were taken from the included Blu-ray disc.
PLOT SYNOPSIS
---
After her mother's mysterious death, Abigail Arcane (HEATHER LOCKLEAR) travels to the Florida swamps to confront her resurrected evil stepfather Dr. Anton Arcane (LOUIS JOURDAN). In an attempt to stave off the effects of aging, Dr. Arcane, assisted by Dr. Lana Zurrell (SARAH DOUGLAS), combines genes from various swamp animals and human beings, creating an army of monsters known as Un-Men. When Abby arrives, Dr. Arcane is hell-bent on taking his own stepdaughter's life in the name of science… that is until she is rescued by Swamp Thing.
SPECIAL FEATURES – 4¼/5
---
This release comes with a matted slip cover.
Disc 1 (4K Ultra HD):
Reflections on Swamp Thing 35 Years Later (32:07) is a new interview with Producer Michael E. Uslan.
RiffTrax Music Video for "Your Ever-Lovin' Swamp Thing (2:39)
---
Disc 2 (Blu-ray):
Audio Commentaries
Director Jim Wynorski, Composer Chuck Cirino and Editor Leslie Rosenthal (2018)
Director Jim Wynorski (2003)
Interviews:
Director Jim Wynorski (17:40)
Lightyear Entertainment Executive Arnie Holland (5:20)
Composer Chuck Cirino (6:47)
Editor Leslie Rosenthal (9:25)
Also included is a Behind the Scenes Slideshow (2:22), Public Service Announcements, 2 TV Spots, 6 Promotional TV Clips and 1989 Promo Reel.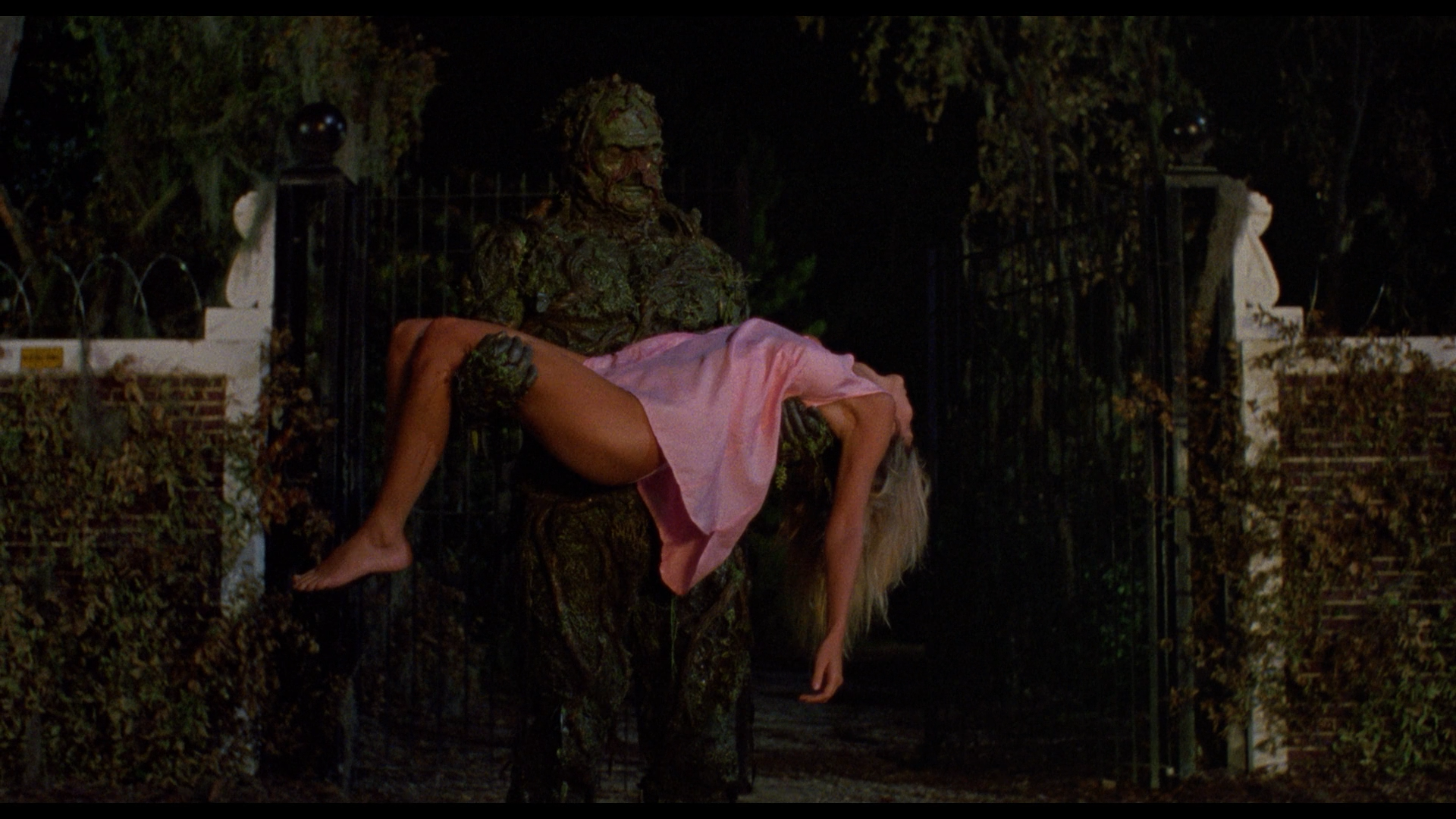 4K VIDEO – 4¾/5, BLU-RAY VIDEO – 4½/5
---
The Return of Swamp Thing arises from the mist onto 4K Ultra HD and Blu-ray where it's presented in the original 1.85 widescreen aspect ratio and given a new 4K restoration from the Original Interpositive although I'm not entirely sure if the Blu-ray got this new transfer. In any case, with regards to the 4K disc, the picture looked excellent with good balance between the light and dark scenes as well as fine detail throughout. It's pretty doubtful this low budget movie never looked better.
AUDIO – 4½/5
---
Both of the discs come equipped with a DTS-HD Master Audio 5.1 track. Dialogue comes across the center channel with good clarity and there is some respectable depth when it came to the few more action oriented sequences.