Dazed and Confused doesn't quite live up to what I've heard about the film and yet there is a cool factor and a certain sense of nostalgia that makes this liberally boundless story so damn enjoyable through and through.
Dazed and Confused
— The Criterion Collection —
(1993)

---
Genre(s): Comedy, Drama
The Criterion Collection | R – 102 min. – $49.95 | February 21, 2023
Date Published: 02/12/2023 | Author: The Movieman
MOVIE INFO:
Directed by: Richard Linklater
Writer(s): Richard Linklater (written by)
Cast:

Jason London, Rory Cochrane, Adam Goldberg, Anthony Rapp, Cole Hauser, Milla Jovovich, Joey Lauren Adams, Matthew McConaughey, Ben Affleck

---

DISC INFO:
Features: Commentary, Featurettes, Interviews, Deleted Scenes, Theatrical Trailer
Slip Cover: Yes
Digital Copy: No
Formats Included: 4K Ultra HD, Blu-ray
Number of Discs:

2

---

Audio: English (DTS-HD MA 5.1)
Video: 2160p/Widescreen 1.85
Dynamic Range: HDR10, Dolby Vision
Subtitles: English SDH
Codecs: HEVC / H.265
Region(s):

A, B, C

---
The Criterion Collection provided me with a free copy of the Blu-ray I reviewed in this Blog Post.
The opinions I share are my own.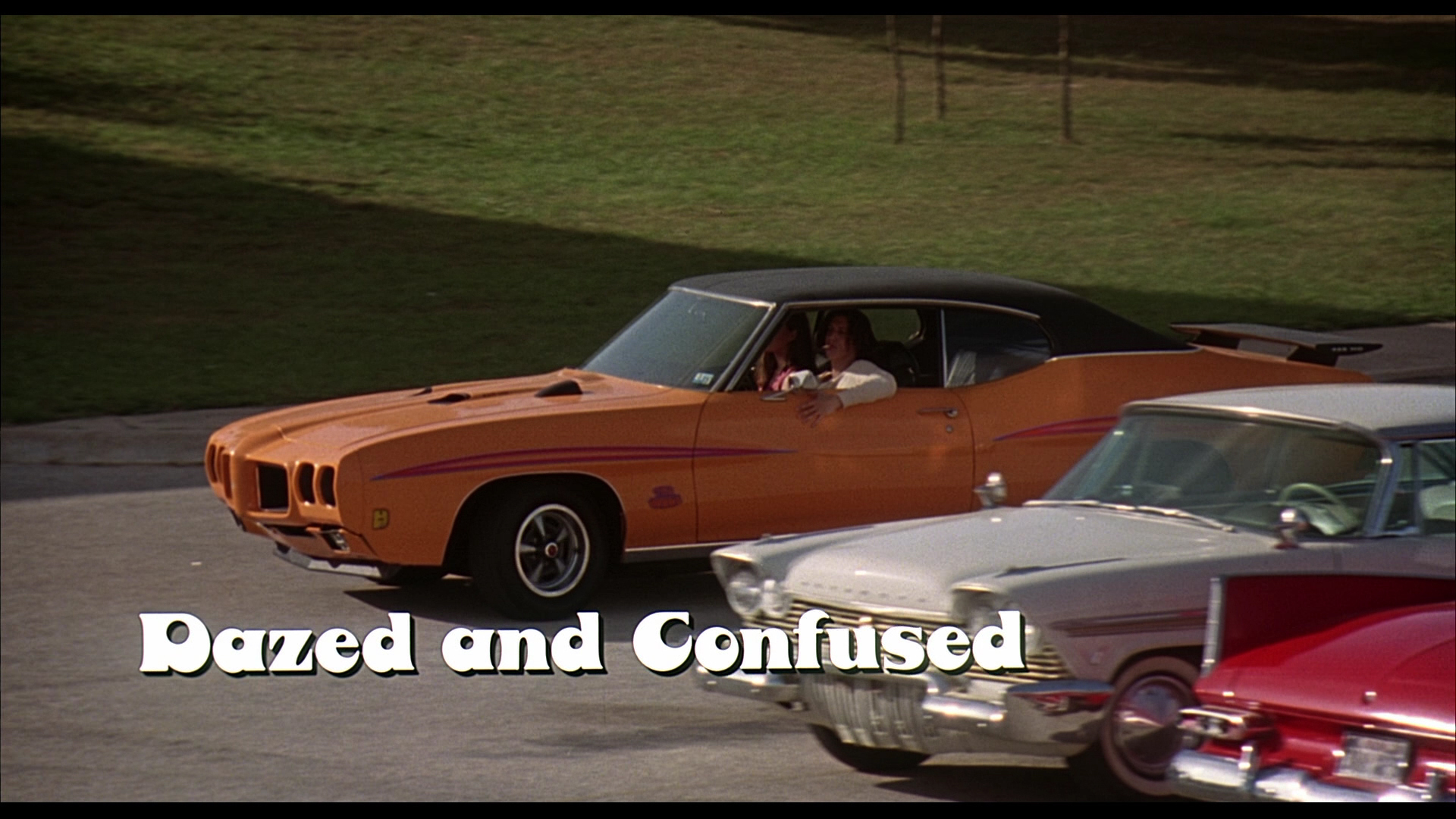 THE MOVIE — 2¾/5
---
"That's what I love about these high school girls, man. I get older, they stay the same age."
Richard Linklater's Dazed and Confused is a simple movie, and yet underneath the pot smoke and booze, a complex one that faces all teenagers from generation to generation.
The story generally centers on a group of students on their last day of school and the horseplay that occurs as the juniors initiate the incoming freshmen in vicious and/or humiliating fashion. Pink (JASON LONDON) is the star quarterback sick of authority continuing trying to control him, the latest incident having him sign a paper stating he will not get involved with drugs or alcohol; Cynthia (MARISA RIBISI), Tony (ANTHONY RAPP) and Mike (ADAM GOLDBERG) are a trio of friends are out on the town and often get into a debate about the powers that be and what is expected from them; and a host of others take the night to celebrate including the older David Wooderson (MATTHEW MCCONAUGHEY) tags along, a legend amongst the students who can, in McConaughey fashion, chill with the best of 'em.
What writer/director Richard Linklater did with his ode to high school and anthem to anyone who has ever been a confused and scared teenager, is pretty amazing. And he did it all with his first studio financed feature film following 1991's Slacker. For Dazed and Confused, I was impressed with how he transformed a small Texas town, turning back the clock to 1976 and unlike many films where the viewer is aware of the costume or set designs, it all comes across fairly natural, so much that if not for having a good film grade and some of the higher profile cast members (more on that in a bit), it looks like a movie made during that time period. In terms of Linklater's style, he doesn't do anything profound with the camera but at the same time, when basically each and every scene involves talking, it's often hard to keep the scene alive and, more importantly, interesting. He's done this since with the remarkable romantic-drama (and very talky) sequel, Before Sunset, a great film that only gets better with time.
What's also notable is the cast Linklater assembled. Obviously a good number of them have gone away into obscurity but there's a fair number that have had a good career including, of course, Matthew McConaughey being the biggest followed by Milla Jovovich (who had no lines except for a couple song lyrics), Cole Hauser, Jason London, Joey Lauren Adams, Rory Cochrane and Adam Goldberg.
Now, given the amount of praise Dazed and Confused has received over the years, I would be lying if I didn't say I was a little underwhelmed by the film if only because I wasn't entirely sure what I was getting into. Taking a step back and realizing it doesn't exactly have a coherent story compared with other coming-of-age movies, but I think that's what I like about Linklater: he's one of the most conventional unconventional writer/directors out there.
SPECIAL FEATURES – 4½/5
---
This release has identical packaging to the previous DVD and Blu-ray releases and comes with a booklet containing an essay as well as a poster.
Audio Commentary – Recorded in 2006, writer-director Richard Linklater sits down for an honest and informative commentary track (the Aerosmith song cost $100k; his first feature cost only $23k) as he explains how he came up with the screenplay, working with certain actors and where it was shot.
Deleted Scenes (25:32) – Here we get a whopping 17 scenes excised from the film. Now, most of them aren't that great nor would they add anything to the final film, but it's good to watch them on its own.
Making Dazed (45:35) is a retrospective documentary where the cast (including Matthew McConaughey, Ben Affleck and Adam Goldberg) and crew recount the shoot and what the film meant than and today. Interviews are compiled from new (as of 2006) and archives.
Auditions (23:19) – There are audition tapes from various cast members like Rory Cochrane, Adam Goldberg, Cole Hauser, Nicky Katt, Jason London and Matthew McConaughey.
Beer Bust at the Moon Tower (1:59:54) – This is a random assortment of archive interviews, audition tapes and character interviews.
Theatrical Trailer (1:58)
VIDEO – 4¾/5
---
Dazed and Confused comes to 4K Ultra HD and received a new restoration taken from the 35 mm original camera negative and colors were based off of the 2011 transfer. This restoration was remastered in Dolby Vision HDR and approved by director Richard Linklater. The 2011 Blu-ray already looked pretty good and this takes it up a notch with excellent detail while colors are nicely balanced throughout. There weren't any signs of artifacts, aliasing, dust marks, specs or other evidence of film damage.
AUDIO – 4¼/5
---
The highlight of this release is, of course, the 5.1 DTS-HD Master Audio track. Although the film is jam packed with mostly dialogue, one of the biggest reasons Dazed and Confused has been highly regarded beyond the story: the soundtrack. That's where this track excels as it sounds absolutely incredible from song to song. Now, the other elements like the dialogue and background audio, also sounds good.
OVERALL — 4½/5
---
Dazed and Confused doesn't quite live up to what I've heard about the film and yet there is a cool factor and a certain sense of nostalgia (though Linklater himself said that is not the intention) that makes this liberally boundless story so damn enjoyable through and through.