The Incredible Melting Man gets the 4K Ultra HD (and Blu-ray) treatment from Vinegar Syndrome. This release of the 1977 cult classic includes an archive commentary and new interviews, and comes out September 27th.
The Incredible Melting Man
(1977)

---
Genre(s): Horror, Science Fiction
Vinegar Syndrome | R – 86 min. – $32.99 | August 30, 2022
Date Published: 09/26/2022 | Author: The Movieman
MOVIE INFO:
Directed by: William Sachs
Writer(s): William Sachs (written by)
Cast:

Alex Rebar, Burr DeBenning, Myron Healey, Michael Alldredge, Ann Sweeny

---

DISC INFO:
Features: Commentary, Interviews, Gallery, Theatrical Trailer
Slip Cover: Yes (Limited Edition)
Digital Copy: No
Formats Included: 4K, Blu-ray
Number of Discs:

2

---

Audio (4K): English (DTS-HD MA 1.0)
Audio (BD): English (DTS-HD MA 1.0)
Video (4K): 2160p/Widescreen 1.85
Video (BD): 1080p/Widescreen 1.85
Dynamic Range: HDR10
Subtitles: English
Codecs: HEVC / H.265 (4K), MPEG-4 AVC (BD)
Region(s):

A, B, C

---
Vinegar Syndrome provided me with a free copy of the Blu-ray I reviewed in this Blog Post.
The opinions I share are my own.
Note: The screen captures were taken from the included Blu-ray disc.
PLOT SYNOPSIS
---
While on the first-ever voyage to the rings of Saturn, an unexplained phenomenon takes hold of astronaut Steve West (ALEX REBAR) and his crew, burning all but Steve to a crisp. Somehow able to return to Earth, Steve awakens in a hospital bed, only to discover that his body is disintegrating. Worse, he begins to develop an instinctual urge to kill, learning that this is the only way to maintain his strength. After escaping from the hospital, Steve begins to ravage the nearby countryside; brutally murdering all who cross his path, and leaving behind a series of mangled bodies covered in his dripping flesh…
SPECIAL FEATURES – 4¼/5
---
The Limited Edition version does come with a slip cover though the copy I received did not. The inside cover is reversible with the original poster artwork being on the reverse side.
Audio Commentary — Writer/Director William Sachs
Interviews:
It's a War ( 31:07) – Writer/Director William Sachs
Just Show Up (15:02) – Script Supervisor Sandy King
Archive Interviews

William Sachs and Special Effects Artist Rick Baker (19:37)
Special Effects Artist Greg Cannon (2:56)
Original Theatrical Trailer (1:48)
Still Gallery (0:55)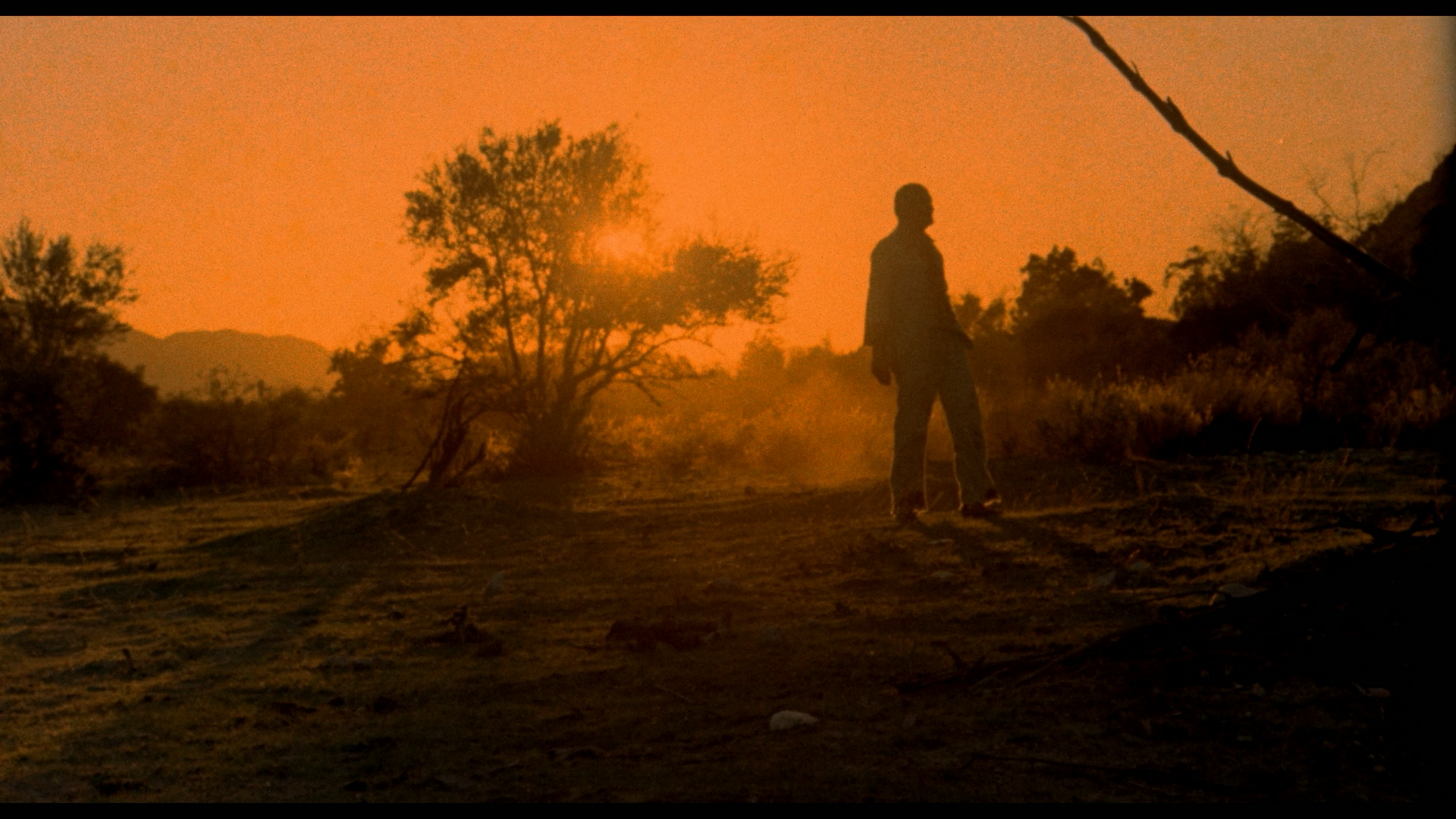 4K VIDEO – 5/5, BLU-RAY VIDEO – 4¾/5
---
Vinegar Syndrome releases The Incredible Melting Man onto 4K Ultra HD (and Blu-ray) where it's presented in its original 1.85 widescreen aspect ratio. As I don't have access to my Shout Factory Blu-ray I can't do a direct comparison, however looking at this 2160p high-definition transfer, taken from the 35mm original camera negative, this one looks absolutely amazing. Detail is incredibly sharp throughout with the natural film grain ever evident. The picture is also clean, free of significant scratches, dust marks or other flaws, although I did notice a couple specs while doing some screen captures.
AUDIO – 4/5
---
The movie comes with a basic yet still respectable DTS-HD Master Audio Mono track. Given this was a movie done on a small (probably relatively tiny) budget, with perhaps not the best sound equipment, this lossless track sounds pretty darn good. Dialogue comes across with good clarity and the depth is decent enough.