Deadly Games was more deadly boring than anything else. The characters were generally annoying and the kills on the duller side. This is your typical 'forgotten' horror-slasher born out of the early 80s.
Deadly Games
— Special Edition —
(1982)

---
Genre(s): Horror, Suspense/Thriller
Arrow Video| R – 95 min. – $39.95 | February 22, 2022
Date Published: 02/12/2022 | Author: The Movieman
MOVIE INFO:
Director: Scott Mansfield
Writer(s): Scott Mansfield (written by)
Cast: Jo Ann Harris, Sam Groom, Steve Railsback, Dick Butkus, Denise Galik, Jere Lea Rae, Alexndra Morgan, Colleen Camp, Robin Hoff

---

DISC INFO:
Features: Commentary, Interviews, Image Gallery, Theatrical Trailer
Slip Cover: Yes
Digital Copy: No
Formats Included: Blu-ray
Number of Discs:

1

---

Audio: English (DTS-HD MA 1.0)
Video: 1080p/Widescreen 1.85
Subtitles: English SDH
Disc Size: 39.19 GB
Total Bitrate: 38.03 Mbps
Codecs: MPEG-4 AVC
Region(s):

A, B, C

---
Arrow Video provided me with a free copy of the Blu-ray I reviewed in this Blog Post.
The opinions I share are my own.
THE MOVIE — 1¼/5
---
Plot Synopsis: A masked maniac with a penchant for a monster-themed board game is playing his own twisted game with the women of a small American town. Each time the dice is rolled, another victim meets a grisly end. Returning home to mourn the death of her murdered sister, Keegan (JO ANN HARRIS) befriends local cop Roger Lane (SAM GROOM) and reclusive projectionist Billy (STEVE RAILSBACK) – but soon finds herself in the killer's sights.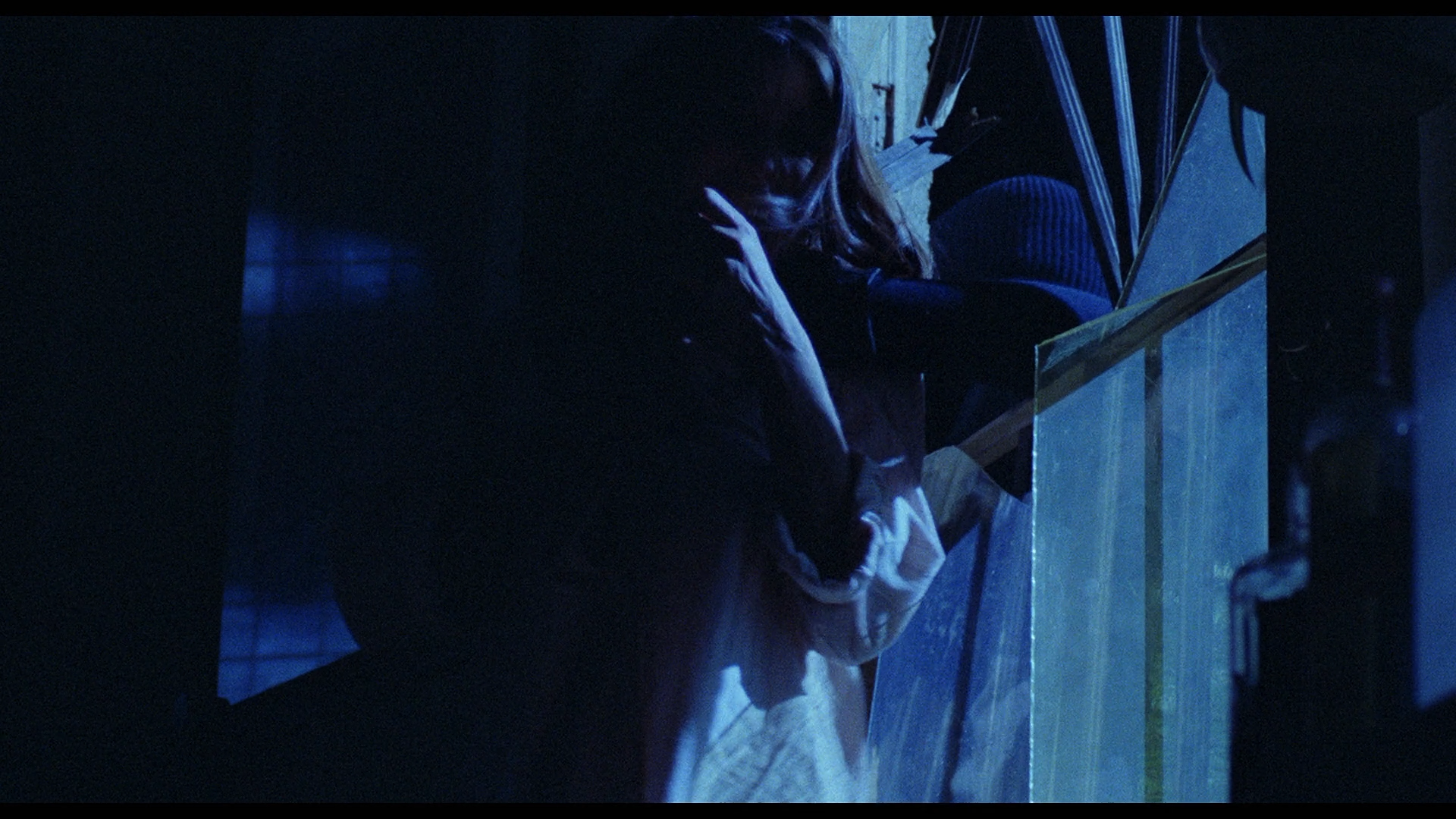 Review: With the successes of Halloween and Friday the 13th, the early to mid 80s was awash with low budget slashers like Final Exam, New Year's Evil, He Knows You're Alone and The Prowler to name a few, some with varying quality and others forgotten but with the advancement of restoration work in the digital age, find new life on Blu-ray and even 4K Ultra HD courtesy of the boutique distribution companies like Vinegar Syndrome and Arrow Video.
The latest one I've watched is Deadly Games, a giallo-like slasher released in 1982. This is a film that starts with some promise, along with gratuitous nudity in a day-for-night shot no less, and some decent suspense, only to be squandered for the remainder 90-minutes. The film features a few annoying characters including a female lead in Jo Ann Harris who's supposed quirks is just bizarre as she often talks to herself, not that she's unattractive, but she lacked any charm to carry the film. However, it's not that the male lead with Sam Groom was any better; had the personality of a sponge.
Deadly Games was the writing and directorial debut of Scott Mansfield though he would only direct one other feature film a year later, some comedy called Imps* featuring vignettes one starring Linda Blair. Technically speaking, his direction here wasn't terrible and instead it was his screenplay that was the culprit. Add to that, you have some odd situations like Keegan who's staying at her sister's place despite she was murdered; but beyond that, there was a door window that was broken and left unrepaired, and a way for somebody to enter (plus the glass hadn't even been swept up). A little thing, perhaps but it struck me strange in addition to a pointless scrimmage game of football that didn't really add anything to the characters.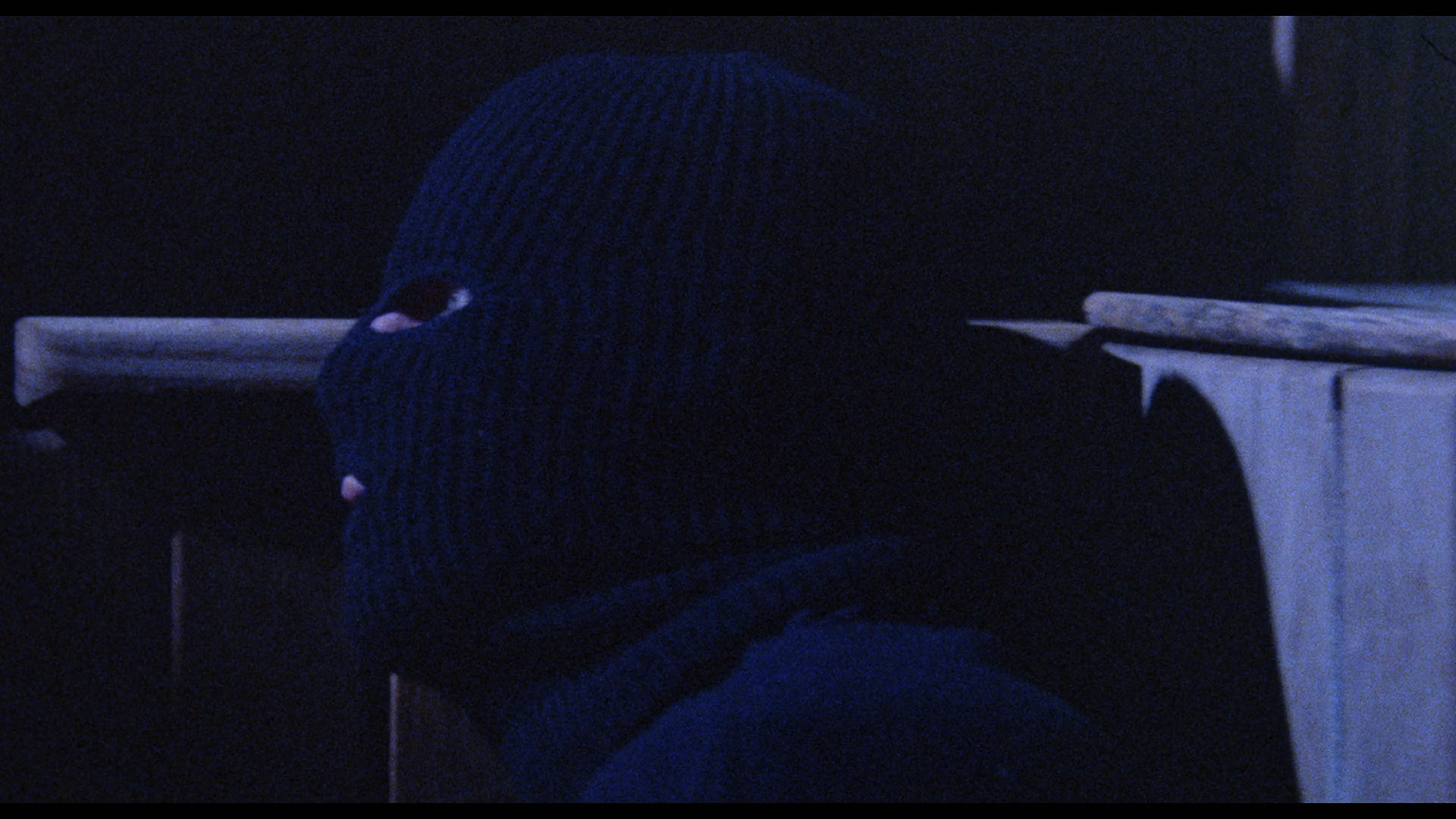 In the end, Deadly Games is just another poorly produced slasher movie from the 1980s and a rather dull one at that. I suppose there are a couple funny bad moments and maybe watching amongst friends would lead to a fun time, but otherwise this is one to skip.
SPECIAL FEATURES – 2¾/5
---
This "Special Edition" release comes with a matted and titled-embossed slip cover and inside is a nice 24-page booklet. The inside artwork is reversible.
Audio Commentary — "The Hysteria Continues" provides the track here as they have in the past, mostly from what I can tell on Vinegar Syndrome releases. The folks here tend to do commentaries on these indie horror films and try to find the bright spots while still acknowledge the shortcomings. It's still fun and worth a listen.
Interviews:
Soot's a Sh*t (24:15) — Actor Jere Rae-Mansfield
Practical Magic (21:39) — Special Effects and Stunt Co-ordinator John Eggett
Only two new interviews, not sure if they were unable to even locate the writer-director (I had a difficult time doing a Google search) or none of the other actors wanted to acknowledge appearing in this, but this is in the better-than-nothing category. Both of them give their accounts on working on the project and other bits of information on their careers.
Also included is an Image Gallery with never-before-seen production photos and promotional material, the Original Trailer (1:58) and the Who Fell to Sleep original screenplay available via the BD-ROM drive.
VIDEO – 5/5
---
Arrow Video releases Deadly Games onto Blu-ray for the first time. The movie is presented in the original 1.85 widescreen aspect ratio and given a new 1080p high-definition transfer. Per the booklet, this picture was taken from the original 35mm camera negative and was scanned in 2K resolution, where it was graded and restored. By my eye, this one looks absolutely fantastic, detail is incredibly sharp. In addition, the film grain and noise is very prevalent giving it as close to what I'd think a theatrical presentation as possible. Also, there were no obvious signs of any film damage like dust marks, specs or other flaws.
AUDIO – 4¼/5
---
The disc comes with a DTS-HD Master Audio Mono track which was remastered from the original sound negatives. Also this is a crime-thriller, this mostly have some quieter moments which does show no pops, hisses or other ailments while the dialogue comes across that center channel with good clarity.
OVERALL – 2½/5
---
Deadly Games was more deadly boring than anything else. The characters were generally annoying and the kills on the duller side. This is your typical 'forgotten' horror-slasher born out of the early 80s.
Check out some more 1080p screen caps by going to page 2. Please note, these do contain spoilers.