Blind Beast arrives on Blu-ray from Arrow Video and includes an audio commentary, introduction, video essay, trailer and photo gallery.
Blind Beast
(1969)

---
Genre(s): Horror, Drama
Arrow Video| NR – 84 min. – $39.95 | August 24, 2021
Date Published: 08/27/2021 | Author: The Movieman
MOVIE INFO:
Director: Yasuzo Masumura
Writer(s): Rampo Edogawa (story), Yoshio Shirasaka (screenplay)
Cast:

Eiji Funakoshi, Mako Midori, Noriko Sengoku

---

DISC INFO:
Features: Commentary, Introduction, Featurette, Trailer, Gallery
Slip Cover: No
Digital Copy: No
Formats Included: Blu-ray
Number of Discs:

1

---

Audio: Japanese (PCM 1.0)
Video: 1080p/Widescreen 2.35
Subtitles: English
Disc Size: 34.58 GB
Total Bitrate: 40.11 Mbps
Codecs: MPEG-4 AVC
Region(s):

A

---
PLOT SYNOPSIS
---
An artist's model, Aki (MAKO MIDORI), is abducted, and awakens in a dark warehouse studio whose walls are decorated with outsisized women's body parts – eyes, lips, legs, and breasts – and dominated by two recumbent giant statues of male and female nudes. Her kidnapper introduces himself as Michio (EIJI FUNAKOSHI), a blind sculptor whom she had witnessed intently caressing a statue of her naked torso previously at an exhibition in which she is featured. Michio announces his intention of using her to sculpt the perfect female form. At first defiant, she eventually succumbs to his intense fixation on her body and finds herself drawn into his sightless world, in which touch is everything.
SPECIAL FEATURES – 3/5
---
This single-disc release comes housed in a clear HD keep case and inside is a 28-page booklet. The cover is reversible, the other side being the Japanese original artwork. Not a ton of features but there is an Audio Commentary by Asian cinema scholar Earl Jackson; newly filmed Introduction (18:33) by cinema expert Tony Rayns; Blind Beast: Masimura the Supersensualist (10:51) which is a new visual essay by Seth Jackobowitz; the Original Trailer (2:25) and an Image Gallery.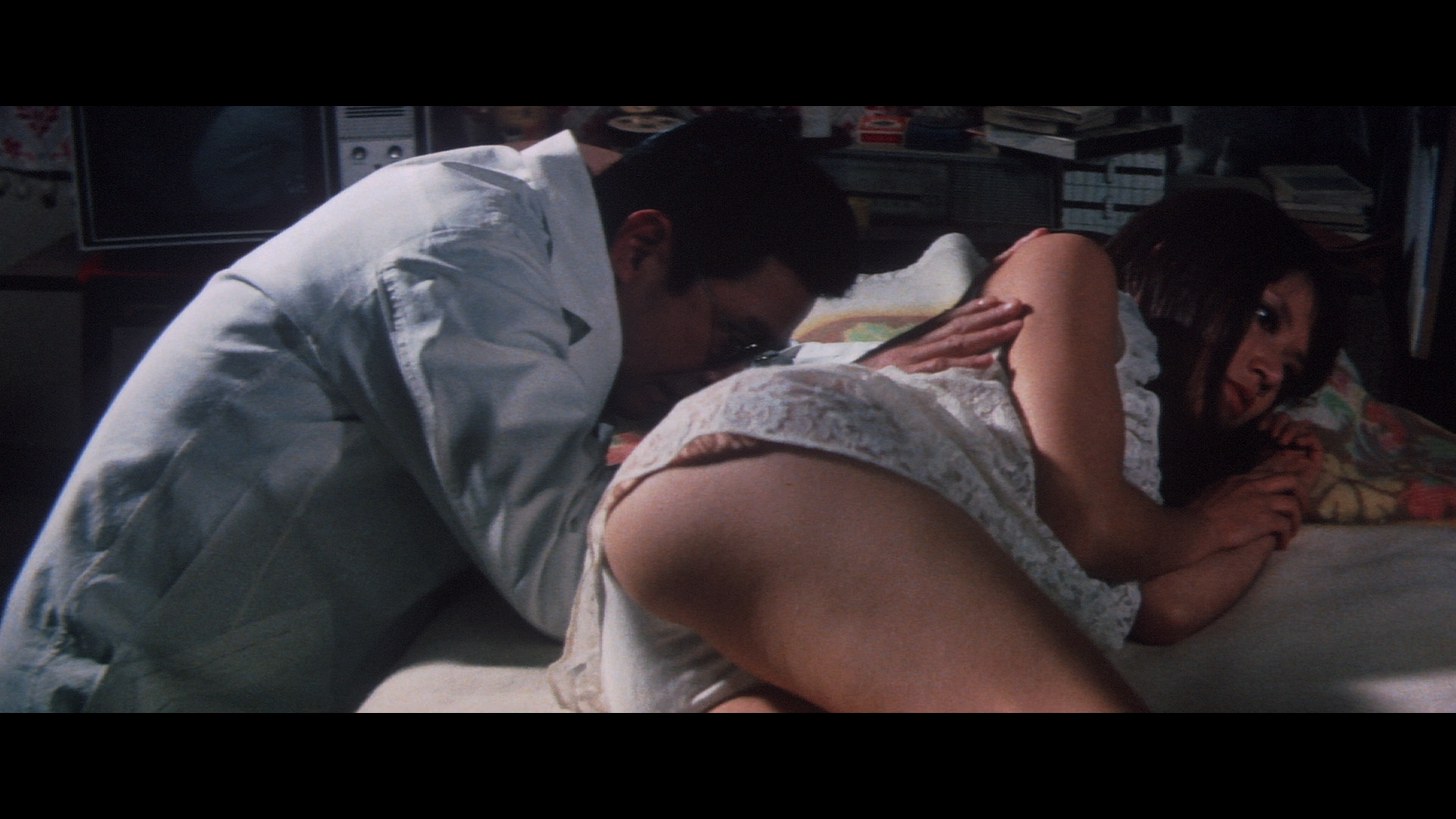 VIDEO – 4/5, AUDIO – 4/5
---
Blind Beast debuts on Blu-ray through Arrow Video presented in the original 2.35 widescreen aspect ratio and a 1080p high-definition transfer, provided by Kadokawa with some grading by Arrow. The picture here doesn't look half bad. Detail is at least decent while colors are on the more muted side and black levels, especially noteworthy once inside the studio warehouse, were striking. There were some minor specs or bits of dirt, however otherwise it's a fine looking HD video.
The included Japanese language PCM 1.0 track is more than serviceable as dialogue comes through with relative clarity and only some minor hints of hissing, but nothing overly distracting while the music comes though well enough as mono tracks go.