Above Suspicion might've had an interesting story at its core but it made for a better subject on that episode of "Betrayed" than a feature film, although I will give props to Emilia Clarke who delivered a fine performance.
Above Suspicion
(2021)

---
Genre(s): Suspense/Thriller, Drama
Lionsgate| R – 105 min. – $21.99 | May 18, 2021
Date Published: 05/21/2021 | Author: The Movieman
MOVIE INFO:
Director: Phillip Noyce
Writer(s): Joe Sharkey (novel); Chris Gerolmo (screenplay)
Cast:

Emilia Clarke, Jack Huston, Sophie Lowe, Johnny Knoxville, Thora Birch

---

DISC INFO:
Features: Featurette
Slip Cover: Yes
Digital Copy: Yes
Formats Included: Blu-ray
Number of Discs:

1

---

Audio: English (DTS-HD MA 5.1)
Video: 1080p/Widescreen 2.38
Subtitles: English SDH, Spanish
Disc Size: 38.29 GB
Total Bitrate: 41.14 Mbps
Codecs: MPEG-4 AVC
Region(s):

A

---
Lionsgate provided me with a free copy of the Blu-ray I reviewed in this Blog Post.
The opinions I share are my own.
THE MOVIE — 2¾/5
---
Plot Synopsis: Susan Smith (EMILIA CLARKE) is a young woman desperate to escape a seedy life of crime and drugs in a Kentucky coal mining town. When a newly minted FBI agent named Mark Putnam (JACK HUSTON) recruits Susan as his informant for a high-profile case, she believes her bad luck may finally be changing. But as Susan and Putnam's relationship deepens, so does the danger, setting them both on a collision course with deadly consequences.
Note: This review contains some spoilers.
Quick Hit Review: Above Suspicion is one of those based on true stories (which I knew about as it was featured on Investigation Discovery's "Betrayed") that at its core is pretty accurate, it's the filler in-between that probably added some necessary drama to pad things out, particularly scenes with Clarke's Smith who, spoiler alert, was murdered (this is revealed in the opening). With all that said, the movie itself is… okay, but also pretty forgettable.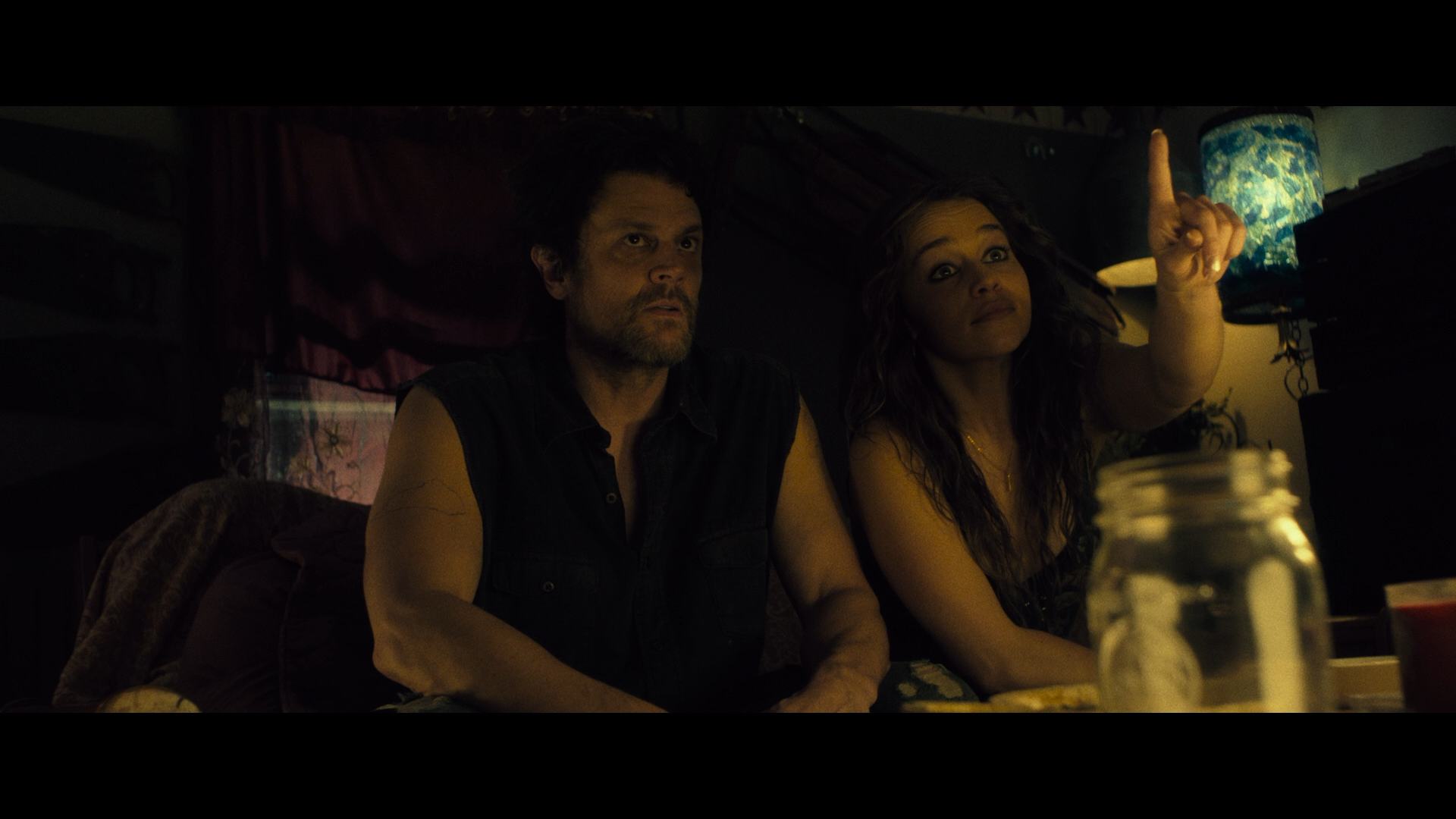 The biggest plus the movie is surprisingly Emilia Clarke. Not that she isn't a good actress as she had shown on Game of Thrones or even a few of her feature films — like Me Before You and Last Christmas (Terminator: Genysis not so much) — but sometimes when you have a British actor/actress trying to do some American accent, it can be met with mixed results. Here, Clarke puts on a, by my ear anyway, decent Kentucky drawl and seemed to be consistent throughout the film, and does give the character some flavor, in an otherwise bland film with nothing that stood out.
Other than Clarke, the supporting cast are fine. Johnny Knoxville portrays a believable enough redneck spousal abuser; Jack Huston as the FBI agent is pretty non-descript but does his best with little to go on other than a horny bastard; and Thora Birch reminds me she's still around; in all seriousness, she does have a couple little moments.
Above Suspicion was directed by Phillip Noyce whose previous features included Patriot Games, Clear and Present Danger, The Saint, The Bone Collector and Salt) so he has the experience to make entertaining films but is unable to make this true story all that compelling. The screenplay, adapted from a novel of the same name, was by Chris Gerolmo who only has a few credits, most notably 1988's Mississippi Burning (and also directed a couple TV movies including Citizen X).
In the end, while not horrible, Above Suspicion is a bland film that might be worthy of a rental but you're not missing.
SPECIAL FEATURES – 2/5
---
This release comes with a matted slip cover and inside is a redemption code for the Digital HD copy. The only bonus is Dangerous Ambitions: Making Above Suspicions (19:28) featurette.
VIDEO – 4/5
---
Lionsgate releases Above Suspicion onto Blu-ray where it's presented with a 2.40 widescreen aspect ratio and a 1080p high-definition transfer. The picture is pretty dark with the photography which is in keeping with the tone and gritty setting of this small Kentucky town, so really very little color with a more cooler palette.
AUDIO – 4¼/5
---
The included DTS-HD Master Audio 5.1 track shows off some strong dialogue (or moans as it happens for some of the sex scenes) and there is some decent depth, mostly for Dickon Hinchliffe's (Winter's Bone) score, though there's not a whole lot of action-like sequences so don't expect anything that will test a surround system.
OVERALL – 3/5
---
Above Suspicion might've had an interesting story at its core but it made for a better subject on that episode of "Betrayed" than a feature film, although I will give props to Emilia Clarke who delivered a fine performance, just everything else was rather bland.
Check out some more 1080p screen caps by going to page 2. Please note, these do contain spoilers.