Deep Blue Sea 3 still isn't nearly as entertaining as the original but is a step up from its predecessor and at least does have a few scenes that were rather fun.
Deep Blue Sea 3
(2020)

Genre(s): Suspense/Thriller, Horror, Fantasy
Warner Bros. Home Entertainment | R – 100 min. – $24.98 | August 18, 2020
Date Published: 08/21/2020 | Author: The Movieman
MOVIE INFO:
Director: John Pogue
Writer(s): Duncan Kennedy and Donna Powers & Wayne Powers (characters); Dirk Blackman (written by)
Cast:

Tania Raymonde, Nathaniel Buzolic, Emerson Brooks, Bren Foster, Reina Aoi

DISC INFO:
Features: Featurettes
Slip Cover: Yes
Digital Copy: Yes
Formats Included: Blu-ray, DVD
Number of Discs:

2

---

Audio: English (DTS-HD MA 5.1), French (Dolby Digital 5.1), Spanish (Dolby Digital 5.1)
Video: 1080p/Widescreen 2.39
Subtitles: English SDH, French, Spanish
Disc Size: 19.52 GB
Total Bitrate: 22.56 Mbps
Codecs: MPEG-4 AVC
Region(s):

A, B, C

---
Warner Bros. Home Entertainment provided me with a free copy of the Blu-ray I reviewed in this Blog Post.
The opinions I share are my own.
THE MOVIE — 2.5/5
---
Plot Synopsis: On the tiny island of Little Happy, Dr. Emma Collins (TANIA RAYMONDE) and her team monitor a flourishing marine nursery where great white sharks come to breed. Their idyllic existence is interrupted when Emma's ex-boyfriend (NATHANIEL BUZOLIC) arrives in search of three murderous bull sharks. But these aren't ordinary sharks: Their mother, Bella, was genetically modified to be highly intelligent… and dangerous. As their body count rises, it's clear that Bella's offspring inherited her killer genes, and if they manage to spawn, life as we know it may end.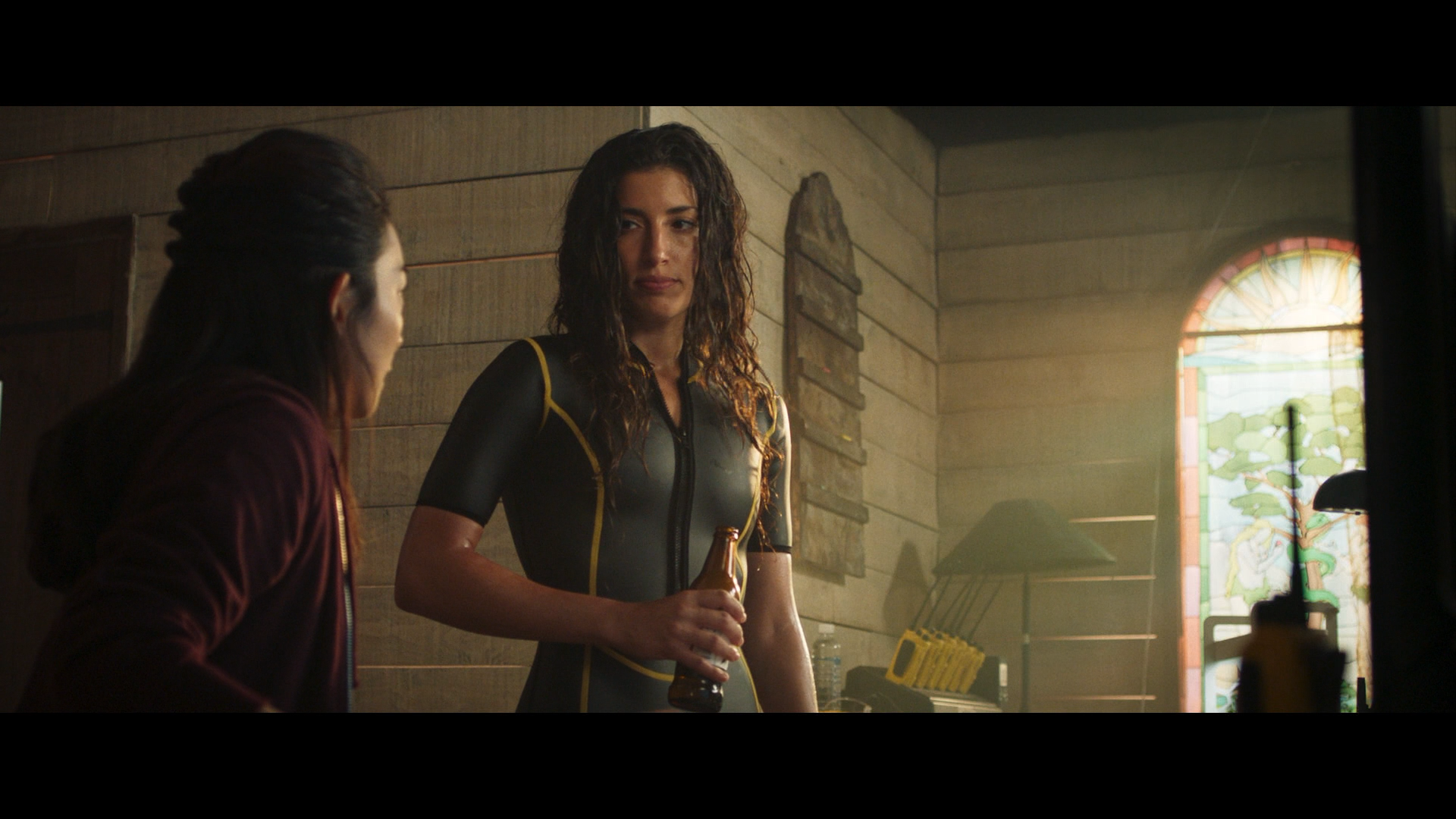 Review: On a whim, I re-watched the first Deep Blue Sea and enjoyed a lot more than my original viewing some years earlier, it was just an all around fun, and cheesy, horror-action flick, certainly aided with a good cast including Samuel L. Jackson giving a rousing speech only to get eaten immediately afterward in one of the funniest bits (no pun intended) in any movie in a long time. Years later finally came, with I guess the resurgence of interest in sharks, a direct-to-video sequel that was pretty lame, where not even the speech-turned-shark-feed was especially fun.
Now, with shark week upon us, we get Deep Blue Sea 3, a movie that's still not very good but still a step up from the previous installment. This time around, while the movie still is hardly great, have moments of fun although this cast of characters is on the obnoxious side in their lectures on the environment, when I came to see people being eaten by some CGI sharks for crying out loud.
The acting here is maybe passable, Tania Raymonde in the lead was okay though hard for me not to be reminded she played Jodie Arias in the Lifetime TV movie; Nathaniel Buzolic was pretty bland as both an ethically challenged person and love interest; Bren Foster meanwhile is the one-dimensional militaristic villain, and not entirely interesting as a threat. Everyone else are pretty much fodder for the wicked smart sharks.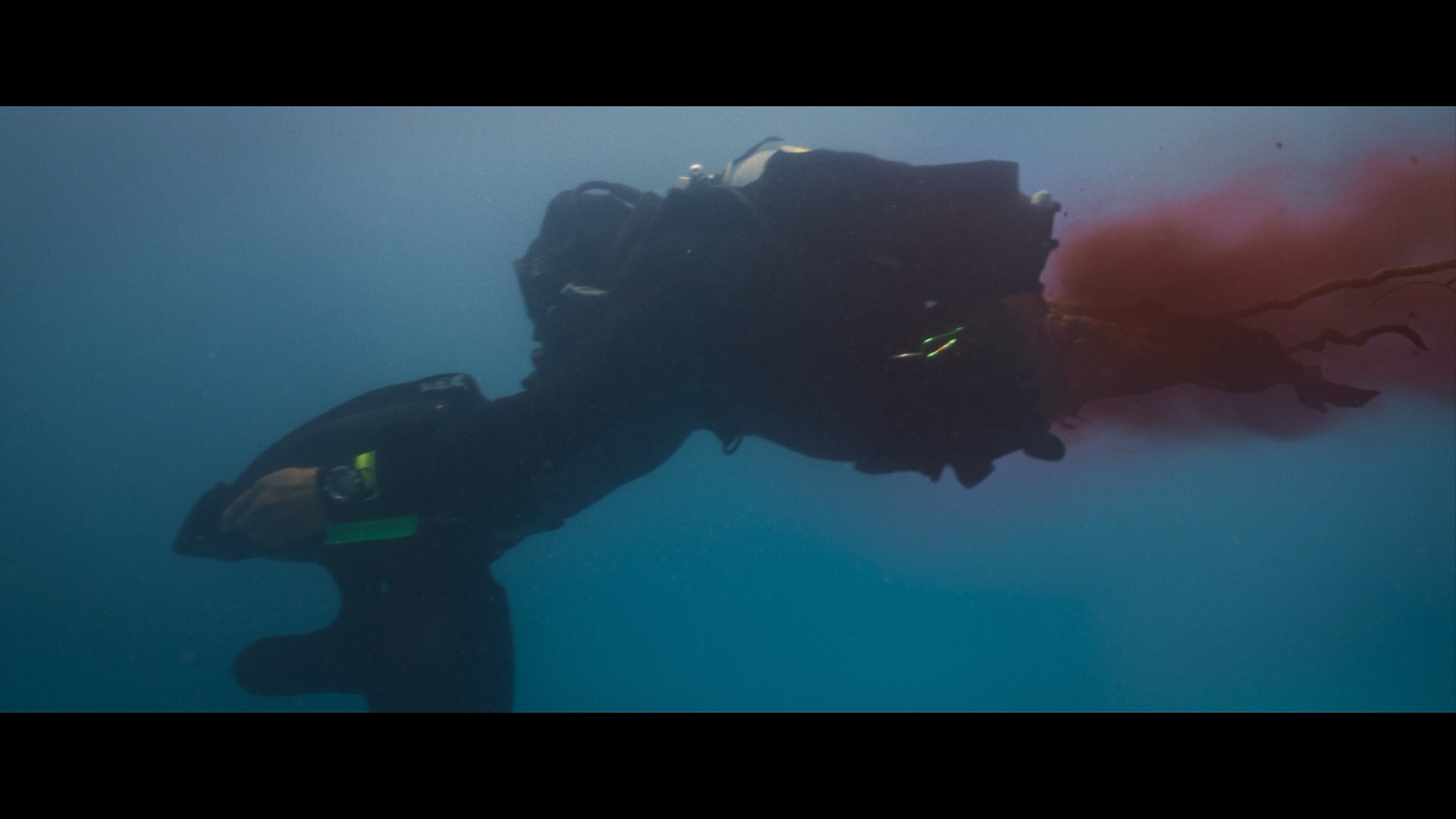 As I said, there were some fun scenes reminiscent of the original film including what I guess is the staple for the franchise, a character giving a inspiring speech and then getting eaten by a shark. This one at least came out of nowhere and did surprise me, so this does have a one-up over the DBS2…
Deep Blue Sea 3 was directed by John Pogue, a name I was recognized but didn't know from where. Looking him up, his filmography as a director included Quarantine 2 and The Quiet Ones and writing credits include U.S. Marshals, The Skulls and Ghost Ship, so not exactly a phenomenal record but better than some in the direct-to-video realm at least. Dirk Blackman who was behind Underworld: Rise of Lycans (well one out of like six writers), scripted.
SPECIAL FEATURES – 2.0/5
---
This release comes with a matted slip cover, inside is a redemption code for the Digital HD copy. Features include Deep Blue Sea 3: Fight to the Death (5:10) and Sinking Sets and Sharks: Making Deep Blue Sea 3 (5:23) behind-the-scenes featurettes.
VIDEO – 4.0/5
---
Deep Blue Sea 3 is presented with a 2.35 widescreen aspect ratio and 1080p high-definition. Detail in this is fine with good sharpness and colors are pretty vibrant in keeping with the tropical-like environment, plus the underwater photography looked fantastic. The transfer is commendable; however, even though there is plenty of scenes in the water, I didn't notice any significant or obvious instances of banding with smooth transitions in the blue hues.
AUDIO – 3.75/5
---
The disc comes equipped with a standard DTS-HD Master Audio 5.1 track. Dialogue comes across the center speaker with good clarity and there is some ambient noises for the island and underwater shots through the front and rear channels. That being said, the action scenes don't really offer a whole lot of depth, maybe minimal impact with a slight kick for the LFE channel.
OVERALL – 2.75/5
---
Overall, Deep Blue Sea 3 still isn't nearly as entertaining as the original but is a step up from its predecessor and at least does have a few scenes that were rather fun, shame characters we're supposed to be rooting for, versus the antagonists, were insufferable at times. Still this one is probably worth a rental or purchase on the cheap.
Check out some more 1080p screen caps by going to page 2. Please note, these do contain spoilers.