The Green Inferno certainly has its moments and not entirely unwatchable, but it does have many of the staples of an Eli Roth film, most notable wholly unlikeable characters, though I did enjoy Lorenza Izzo's performance.
The Green Inferno
— Collector's Edition —
(2013)

Genre(s): Horror, Suspense/Thriller, Drama
Shout Factory | R – 101 min. – $29.99 | June 25, 2019
Date Published: 06/19/2019 | Author: The Movieman
MOVIE INFO:
Directed by: Eli Roth
Writer(s): Eli Roth (story), Eli Roth & Guillermo Amoedo (screenplay)
Cast: Lorenza Izzo, Ariel Levy, Daryl Sabara, Kirby Bliss Blanton, Magda Apanowicz, Sky Ferreira, Aaron Burns, Ignacia Allamand
DISC INFO:
Features: Commentary, Featurettes, Still Galleries, Trailers, TV Spots
Slip Cover: Yes
Digital Copy: No
Formats Included: Blu-ray, CD
Number of Discs: 2
Audio: English (DTS-HD MA 5.1). English (DTS-HD MA 2.0)
Video: 1080p/Widescreen 2.40
Subtitles: English SDH
Disc Size: 48.79 GB
Total Bitrate: 41.25 Mbps
Codecs: MPEG-4 AVC
Region(s): A
Shout Factory provided me with a free copy of the Blu-ray I reviewed in this Blog Post.
The opinions I share are my own.
THE MOVIE — 3.0/5
---
Plot Synopsis: New York college student Justine (LORENZO IZZO), a lawyer's daughter, meets a student activist named Alejandro (ARIEL LEVY) when he goes on a hunger strike on behalf of underpaid janitors. Smitten, Justine agrees to help Alejandro undertake his next project: to save the Amazon. She soon learns to regret her decision when their plane crashes in the Peruvian jungle and she and the rest of their group are taken captive by a tribe of hungry cannibals.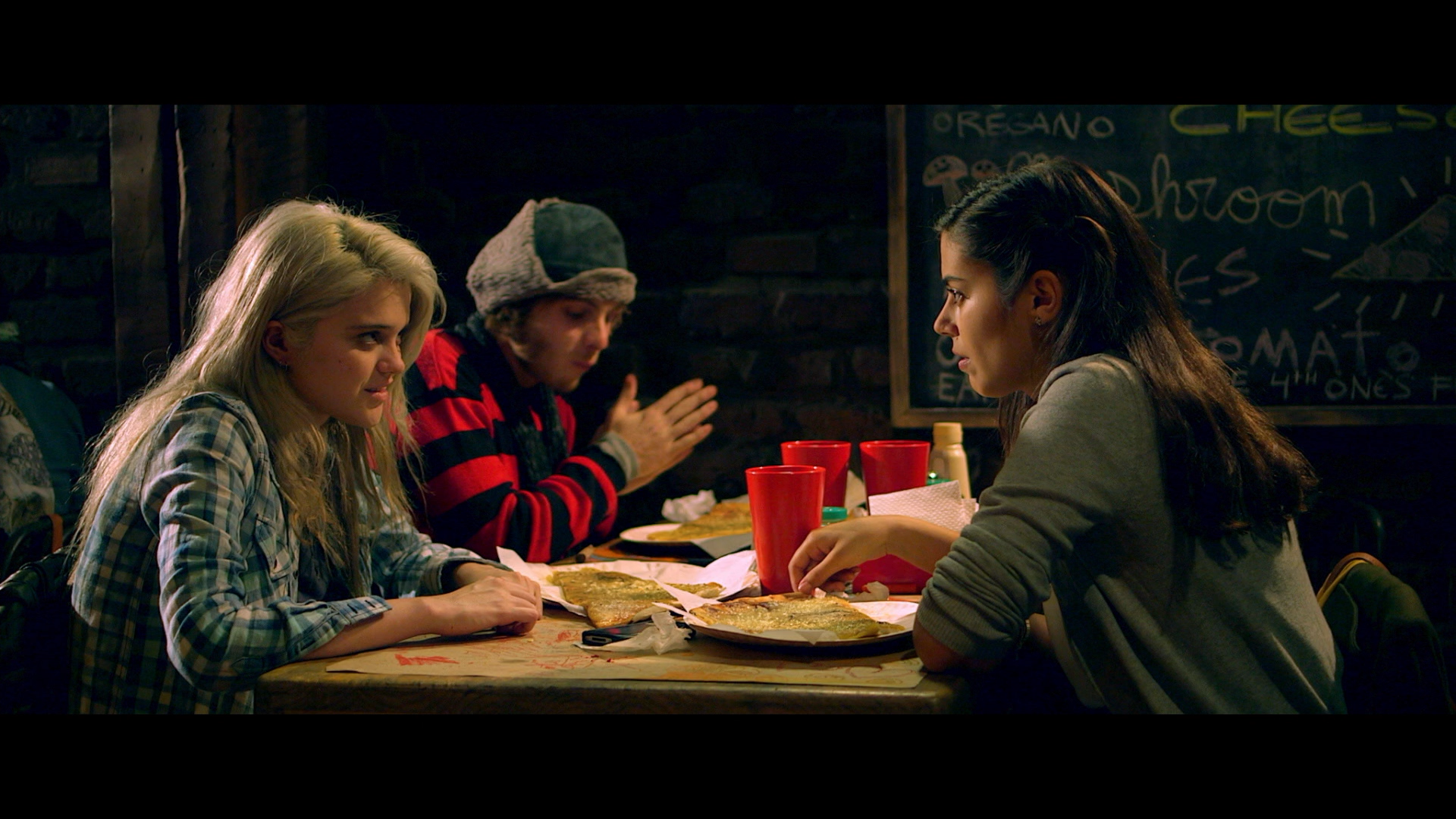 Review: I should note I am not all that familiar with the cannibal horror movies such as Cannibal Holocaust, Eaten Alive, The Mountain of the Cannibal God and the like so my context going into The Green Inferno is perhaps missing as obviously this was a love letter of sorts by writer-director Eli Roth. With that being said, and after kind of hearing various opinions in the periphery, I found this to be… okay?
I wasn't exactly blown away by The Green Inferno but that kind of is par for the course for an Eli Roth movie with a couple I actively disliked (Knock Knock, Hostel Part II) and I can appreciate some of the more demented aspects as well as the well done gore effects which was rather scaled back with the terror aspects being more front and center (the dismembering and "seasoning" of a body was wholly disturbing, however). But story-wise, it's rather bland but worse, and this is nothing new from an Eli Roth-written script, you have characters who aren't all that likeable or at best, obnoxious, the exception being the main character played by Lorenza Izzo, a Chilean actress who came to prominence with a 2012 adventure film, Aftershock.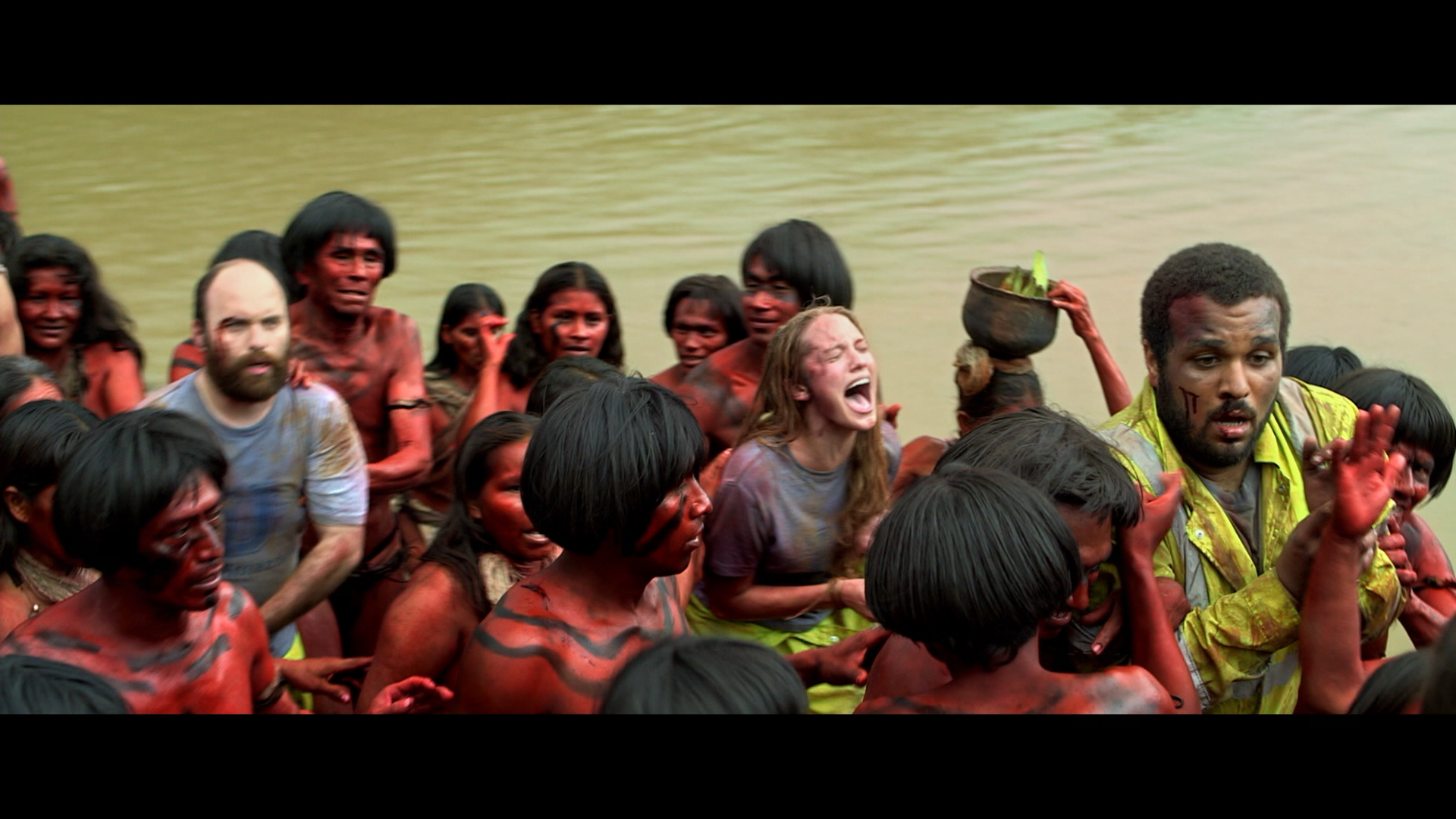 While the ensemble cast weren't anything amazing, though some of the performances were decent enough, I suppose, Lorenza Izzo was easily the standout and was able to elevate above some insipid dialogue and the questionable decision-making done, however in fairness, not sure what one would do if trapped in the jungles with cannibalistic villagers… In any case, Izzo was a delight and kind of a shame she hasn't really done much outside of working with then husband Eli Roth on a few other projects (Knock Knock and The House with a Clock in its Walls being two examples).
As Eli Roth movies go, it's right there with the best of them… not saying a whole lot as the only ones I was so-so about were Cabin Fever and I guess The House with a Clock in its Walls. Maybe. The Green Inferno was alright and worth seeing if you hadn't been able to in the 6 years since its release.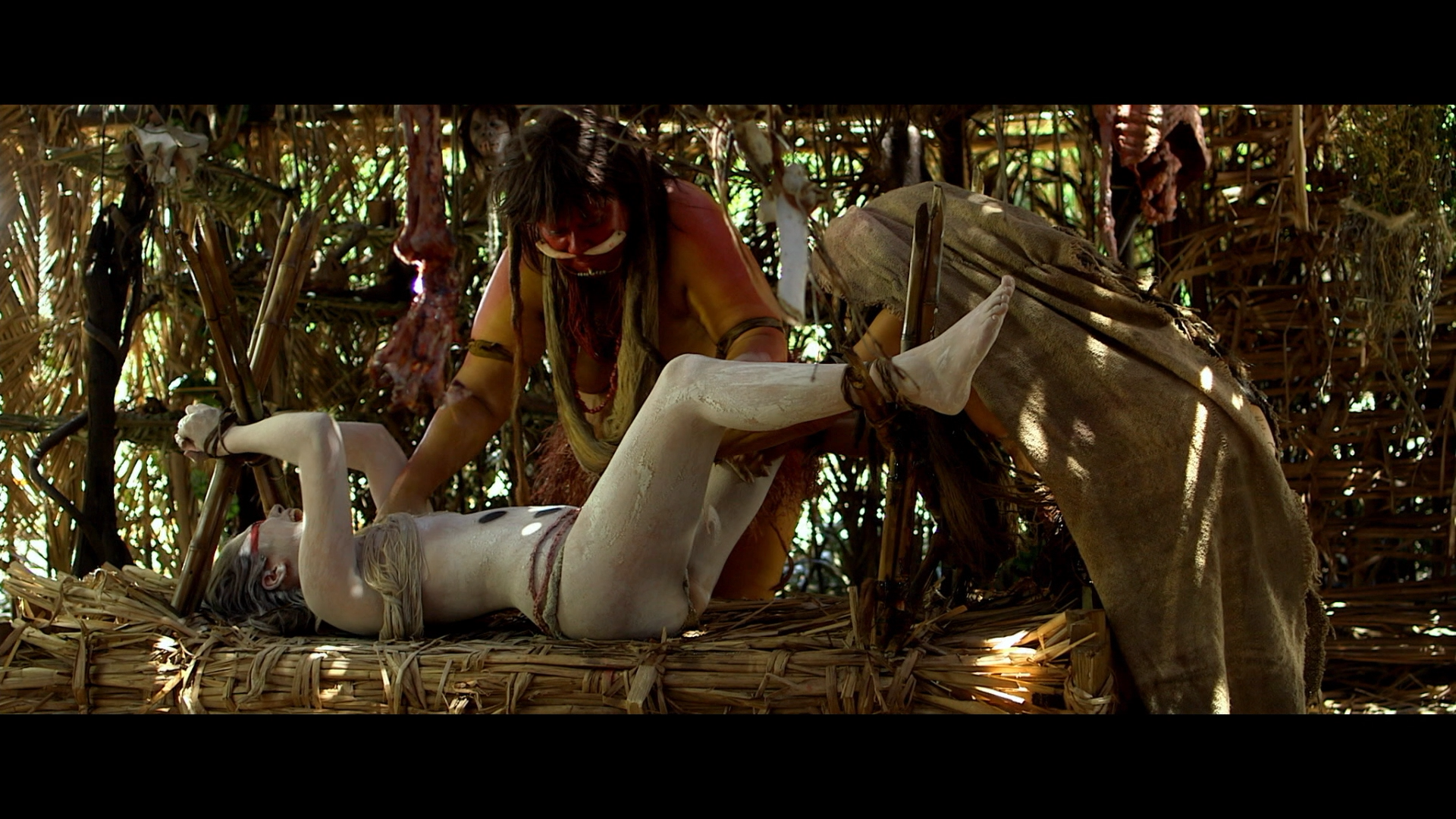 SPECIAL FEATURES – 4.5/5
---
This release comes with a matted slip cover and the inner cover is reversible showing the film's original poster artwork (which, honestly I kind of prefer). The second disc on CD has the film's original score, which is a nice bonus.
Audio Commentary – Co-Writer/Producer/Director Eli Roth, Producer Nicolás López & Actors Lorenza Izzo, Aaron Burns, Kirby Bliss Blanton and Daryl Sabara
Into The Green Inferno (50:25) is a new and extensive interview with co-writer-director Eli Roth as he recounts the origins behind the movie, discusses the cannibal movies, and stories of the production. Includes behind-the-scenes footage.
Uncivilized Behavior: Acting in The Green Inferno (34:54) – This is a set of new interviews with cast members Lorenza Izzo, Daryl Sabara and Kirby Bliss Blanton as they talk about their experiences working in Chile and Peru.
Behind-the-Scenes Footage (55:26) is a collection of more-or-less fly-on-the-wall (or leaves) footage on location with the cast, crew and villagers.
Making-Of The Green Inferno (15:57) – Production featurette with behind-the-scenes footage and on-location interviews with the cast and crew.
Short Featurettes – These are short production featurettes from 2013.
Lorenza Izzo Featurette (1:15)
Meet the Villagers (1:23)
Amazon Jungle (1:24)
Theatrical Trailer (2:11) and TV Spots (2:10)
Galleries:
Movie (5:00)
Behind-the-Scenes (12:34)
Village Construction (3:03)
Storyboards and Makeup Tests (6:25)
Publicity (1:19)
VIDEO – 4.0/5
---
With no mention on the back cover, I assume this is the same transfer as the 2013/2014 Universal Blu-ray release. Even so, this 1080p high-definition picture shown in the original 2.40 widescreen aspect ratio, looks quite good. Detail is relatively sharp throughout and despite the darker tone, the colors of the Chilean jungles and village were fairly vibrant. There were no apparent signs of aliasing, artifacting or other flaws. Nothing extraordinary but certainly still looks really good.
AUDIO – 4.5/5
---
The disc includes a DTS-HD Master Audio 5.1 track is rather good with the ambient sounds of the jungles enveloping the entire room from the very beginning. The center channel is mostly relegated for dialogue (or blood-curdling screams) and some of the central action such as the bulldozers turning on. Again, like the picture, this was probably the same track as the Universal release, but I will need to test to be sure.
OVERALL – 3.75/5
---
The Green Inferno certainly has its moments and not entirely unwatchable, but it does have many of the staples of an Eli Roth film, most notable wholly unlikeable characters, though I did enjoy Lorenza Izzo's performance at least. This "Collector's Edition" Blu-ray from Shout Factory has a nice selection of bonus material and features solid video and audio transfers.
Check out some more 1080p screen caps by going to page 2. Please note, these do contain spoilers.