The Poison Ivy series is no doubt bad and unfortunately not really the good kind of bad outside of a few laughable lines and how some of the sex scenes were "tastefully" shot. On the plus side, for the most part the acting isn't bad.
The Poison Ivy Collection
— Poison Ivy/Poison Ivy 2: Lily/Poison Ivy: The New Seduction/Poison Ivy: The Secret Society —
(1992-2008)

Genre(s): Suspense/Thriller, Drama
Shout Factory | NR – 389 min. – $59.97 | February 12, 2019
Date Published: 02/06/2019 | Author: The Movieman
MOVIE INFO:
Directed by: Katt Shea Ruben (Poison Ivy), Anne Goursaud (Poison Ivy 2), Kurt Voss (Poison Ivy: The New Seduction), Jason Hreno (Poison Ivy: The Secret Society)
Writer(s): Peter Morgan and Melissa Goodard (story), Andy Ruben & Katt Shea Ruben (Poison Ivy); Chloe King (written by) (Poison Ivy 2); Karen Kelly (written by) (Poison Ivy: The New Seduction); Liz Maverick and Peter Sullivan and Michael Worth (Poison Ivy: The Secret Society)
Cast: Drew Barrymore, Michael Des Barres, Camilla Belle, Xander Berkeley, Megan Edwards, Sara Gilbert, Catherine Hicks, Cheryl Ladd, Miriam McDonald, Jaime Pressly, Johnathon Schaech, Tom Skerritt, Shawna Waldron
DISC INFO:
Features: Audio Commentary, Trailers
Slip Cover: Yes
Digital Copy: No
Formats Included: Blu-ray
Number of Discs: 4
Audio: English (DTS-HD MA 2.0)
Video: 1080p/Widescreen 1.85, 1.78 (The Secret Society)
Subtitles: English SDH
Disc Size: NA
Total Bitrate: NA
Codecs: MPEG-4 AVC
Region(s): A
Shout Factory provided me with a free copy of the Blu-ray I reviewed in this Blog Post.
The opinions I share are my own.
THE MOVIE — 1.75/5
---
The Poison Ivy franchise isn't very good. To say the least. Even by erotic thriller standards, it tries to straddle (so to speak) the mainstream with soft-core porn and is unsuccessful on both counts. Outside of the fourth film, which I hadn't seen before, I had probably watched the first three back in the mid-to-late 90s and even in my teen years, wasn't entirely impressed, even with all the nudity and sex scenes. Watching it again, along with the final entry, I can't say any of them were terrible but they certainly are not very good or even worth watching even for those interested in the trashy erotic 1990s thrillers like I have been getting into of late.
---
---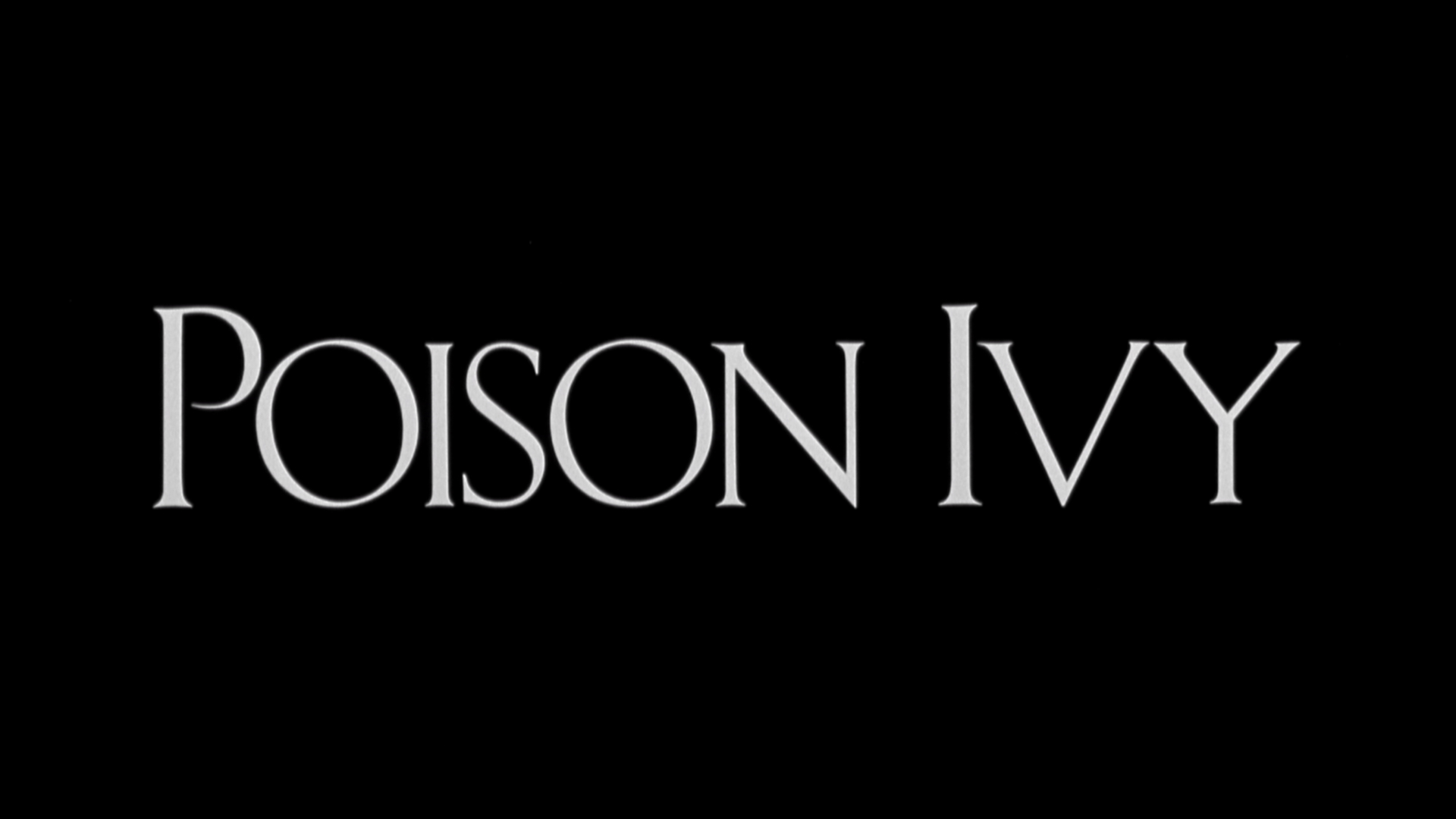 Poison Ivy (1992) — 2.25/5
To start out things, 1992 saw the release of Poison Ivy centered around Sylvie Cooper (SARA GILBERT), a friendless bookworm and social outcast, who is befriended by classmate Ivy (DREW BARRYMORE), and the two fast become best friends, so much that Ivy more or less moves in. Soon enough, she begins to infiltrate the family on a personal level, seducing Sylvie's father (TOM SKERRITT) and garnering the trust of her sick mother (CHERYL LADD). It all becomes too much for Sylvie and things also get deadly.
---
Poison Ivy 2: Lily (1996) — 1.5/5
In this sequel, Lily (ALYSSA MILANO) is the new girl in town moving from Michigan to attend college. She moves into a home with some eclectic characters and into a spacious room where she finds a box belonging to the previous tenant, Ivy. In it Lily begins reading Ivy's journal and undergoes a transformation going from an innocent to a bit more sultry young woman, starting a relationship with a sculptor (JOHNATHAN SCHAECH) as well as an affair with her married art teacher (XANDER BERKELEY). Things, of course, spiral out of control as obsession takes hold.
---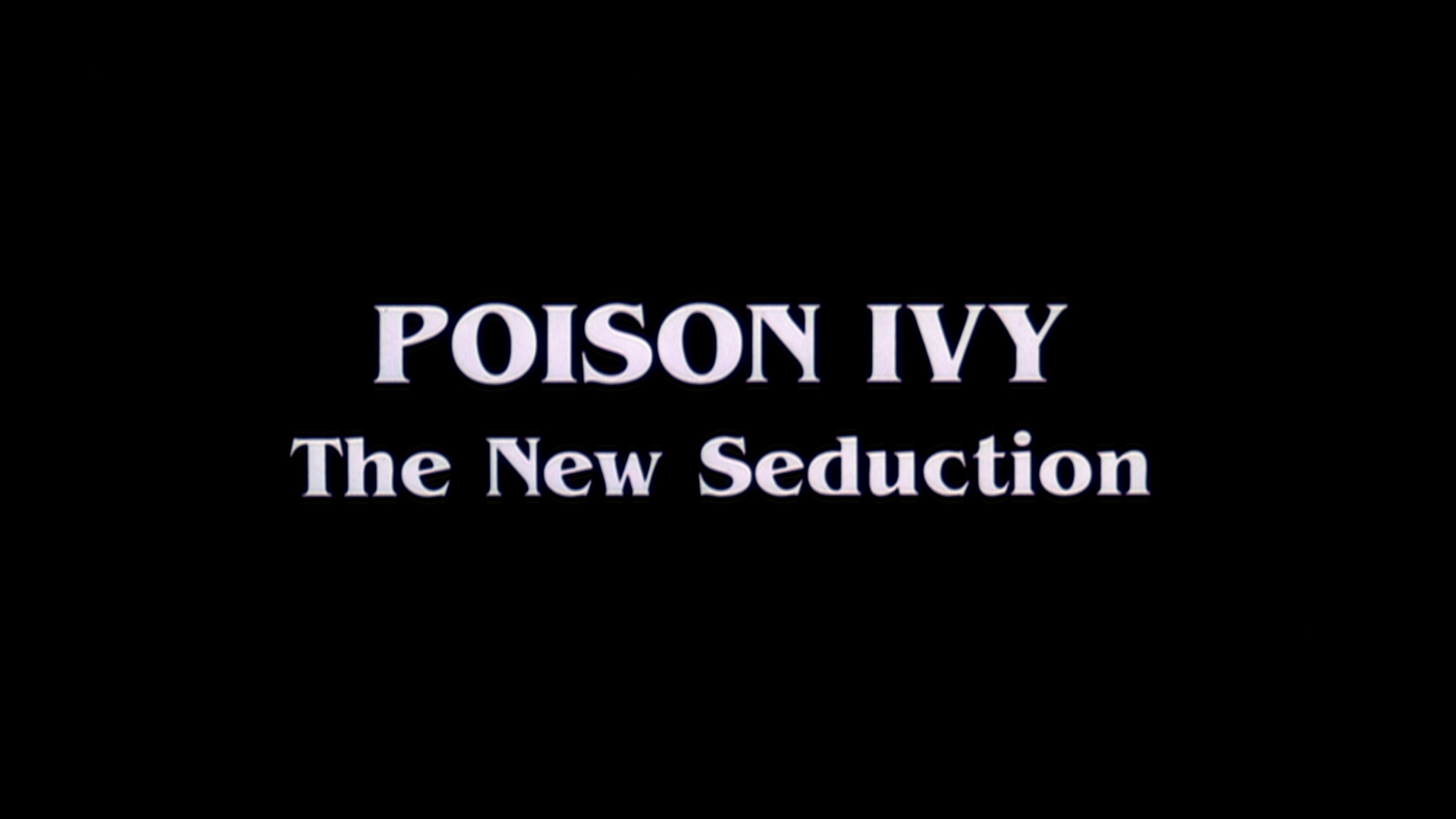 Poison Ivy: The New Seduction (1997) — 2.0/5
Violet (JAIME PRESSLY), the never-before-mentioned sister of Ivy, returns to the home she once stayed in before her mother (ATHENA MASSEY) had been kicked out after her affair with the patriarch was uncovered, and she picks up the friendship with Joy (MEGAN EDWARDS). Joy convinces her father (MICHAEL DES BARRES). Big mistake. Soon enough Violet, who works as an S&M dominatrix/call girl, causes havoc within the household, wrecking Joy's relationship with her boyfriend, going so far to sleep with him, to sabotaging Joy's tennis career, and seducing her own father.
---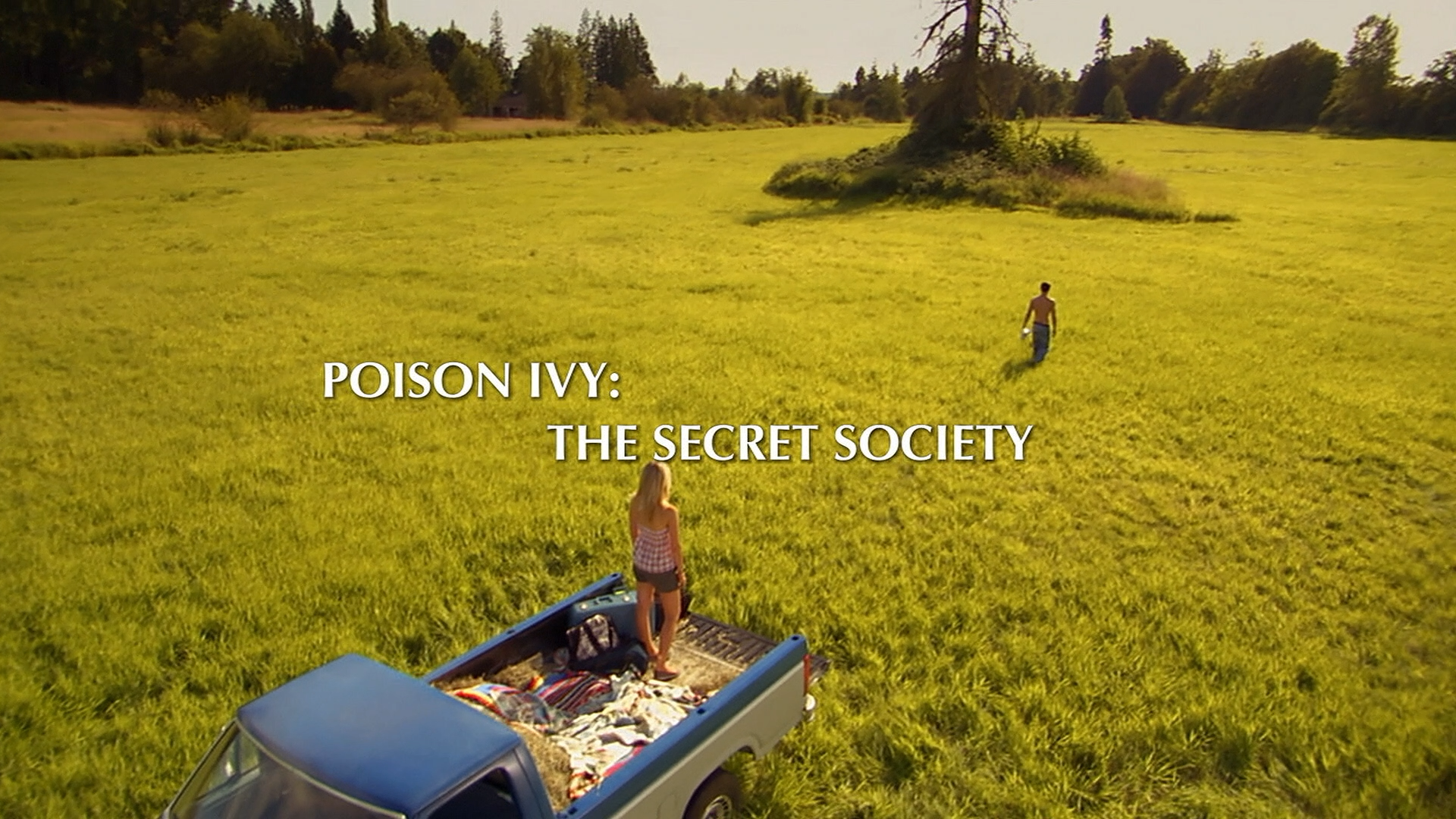 Poison Ivy: The Secret Society (2008) — 1.0/5
The final film, which thankfully doesn't force a connection with the Ivy character, follows Daisy (MIRIAM MCDONALD) newly arriving to college from a small Iowa town where she is recruited into the secret Ivy society, a group of socialites akin to the 'Skull and Bones', just with women. But, kind of like The Skulls, Daisy's innocence is quickly tested, especially by the devious Azalea (SHAWNA WALDRON).
---
---
As I mentioned before, this series never was high art nor was it ever in that illustrious good bad category either. The acting for the most part were at least okay and likely this wouldn't have any kind of a following if not for some of the now "respectable" cast of actresses, most notably Drew Barrymore, Alyssa Milano and Jaime Pressly, all of whom either took it to garner more 'adult' roles and grow out of their child actor ways (Barrymore particularly as well as Miriam McDonald's attempt to shed her innocent Degrassi role) or was their way into the movie business in the case of Pressly.
Speaking of which, strangely I actually think Jaime Pressly was the best of them all, great mixture of fun devilish sexuality with balls-to-wall, batshit craziness that is both hot and absolutely and completely terrifying; only a shame the material wasn't any better, not to mention the cheap production design where it wouldn't surprise me it was shot at a producer's home.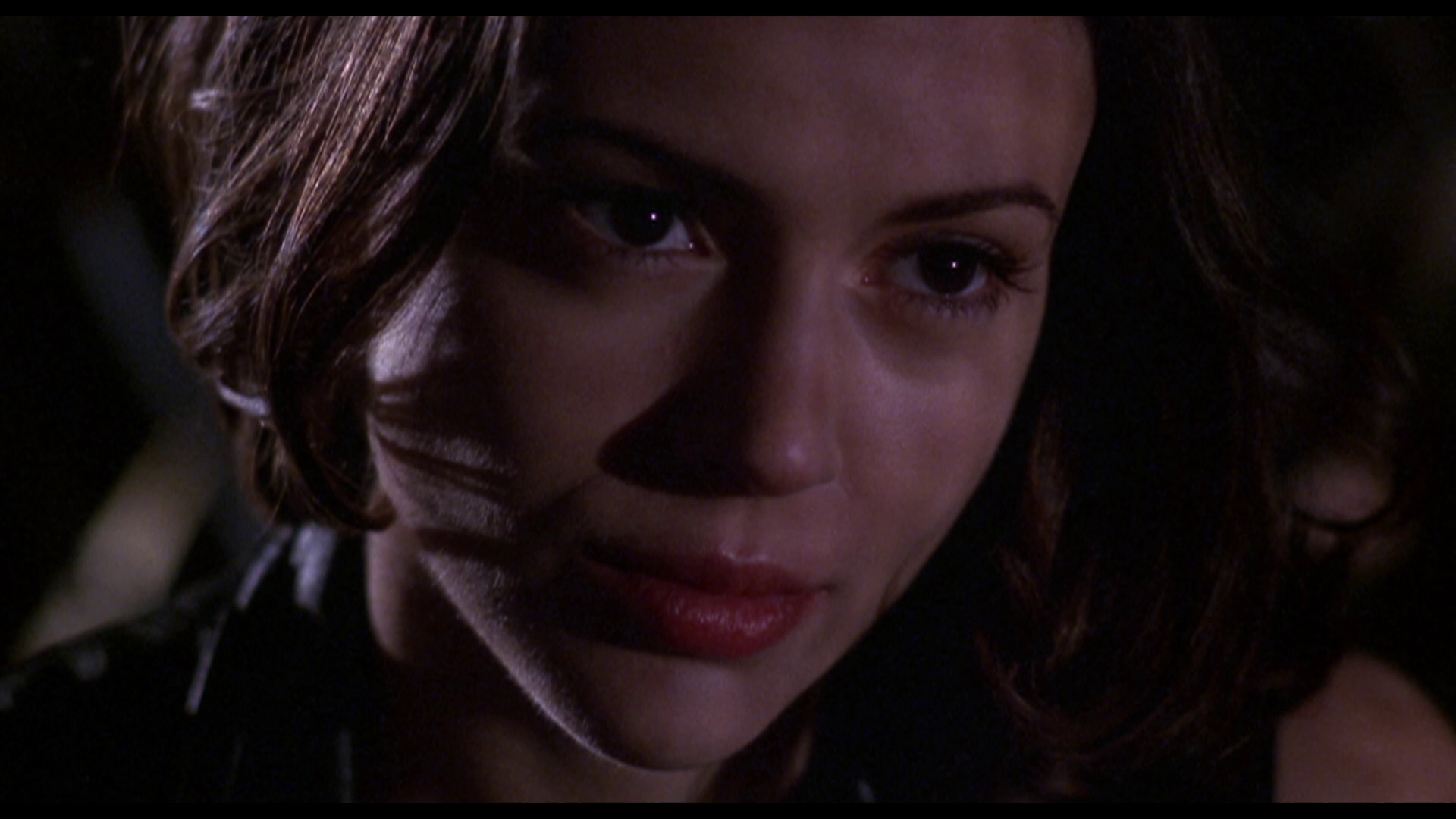 In the end, for all of its potential with plenty of sexual content and nudity, predominantly the three direct-to-video sequels, the Poison Ivy series are just poorly made erotic thrillers, created to exploit some somewhat well known actresses and tease teenage boys who, at the time, didn't have access to porn (not like it is today also) and gives enough T&A to capture their… attention. Otherwise, these are thinly written plots though at the very least some of the performances were are on the adequate side.
SPECIAL FEATURES – 1.5/5
---
This four-disc set comes housed in a matted, side-sliding slip cover. Each film does come with its respective Theatrical Trailer while the first Poison Ivy also has a new Audio Commentary with Co-Writer and Director Katt Shea Ruben.
The first three movies do included their respective "Unrated" versions but presented in standard definition inserts. I decided to watch the unrated cut for The New Seduction just to see the difference, and it is pretty noticeable. Not only is there a visual downgrade, but the movements of the actors (usually more explicit sex scenes) looked like old stop-motion animated with jerky movements. Personally, I would suggest not to watch these versions.
VIDEO – 3.25/5
---
All four films have been given 1080p high-definition transfers, with the first three presented with a 1.85 widescreen aspect ratio and The Secret Society in 1.78 aspect ratio since it originally aired on Lifetime. The quality varies from film to film with the first two not looking too bad, though hardly great. Colors on the first one (3.75/5) are decent enough with skin tones appear natural and there were some pops in the reds in the various outfits worn by Ivy. The sequel (3.5/5) meanwhile wasn't bad. It was pretty bright throughout and detail was somewhat sharp while the picture itself appeared clean. With The New Seduction (2.75/5), the cheaper production comes into play as the picture is on the softer side and is quite dark, though as memory serves, it was fairly dark anyway. But the real sin is the amount of noticeable dust marks, specs and scratches that crop up. The Secret Society (3.0/5) meanwhile looks like a made-for-TV movie with an almost soap opera like sheen and detail is okay, but not exactly sharp.
AUDIO – 2.75/5
---
Each movie comes with a basic but acceptable DTS-HD Master Audio Stereo tracks. You're not going to get exceptional depth with any of these, but they do at least output some of the clear terrible dialogue. The only exception I found was for The New Seduction where there was plenty of hissing in many of the scenes, especially the quieter ones. The other three movies I give a 3/5, this one however gets docked down to a 2.5/5 and I might be generous with that rating…
OVERALL – 2.75/5
---
The Poison Ivy series is no doubt bad and unfortunately not really the good kind of bad outside of a few laughable lines and how some of the sex scenes were "tastefully" shot. On the plus side, for the most part the acting isn't bad especially considering the dialogue they're saddled with. This collection from Shout Factory isn't jam-packed with features though the video and audio transfers are probably a bit better than the previously released DVDs.
Check out some more 1080p screen caps by going to page 2. Please note, these do contain spoilers.