Bound is still my favorite of The Wachowskis movies, even above The Matrix, which itself has also aged quite well. This one has two amazing performances from Jennifer Tilly and Gina Gershon and Joe Pantoliano for his part was wonderfully chaotic.
Bound
— Olive Signature —
(1996)

---
Genre(s): Drama, Crime, Suspense
Olive Films | R / Unrated – 108 min. / 109 min. – $39.95 | August 28, 2018
Date Published: 08/23/2018 | Author: The Movieman
MOVIE INFO:
Directed by: The Wachowskis
Writer(s): The Wachowskis (written by)
Cast: Jennifer Tilly, Gina Gershon, Joe Pantoliano, John Ryan, Christopher Meloni
DISC INFO:
Features: Commentary, Featurettes, Theatrical Trailer
Digital Copy: No
Formats Included: Blu-ray
Number of Discs: 1
Audio: English (DTS-HD MA 2.0)
Video: 1080p/Widescreen 1.85
Subtitles: English SDH
Disc Size: 45.7 GB
Codecs: MPEG-4 AVC
Region(s): A
Olive Films provided me with a free copy of the Blu-ray I reviewed in this Blog Post.
The opinions I share are my own.
THE MOVIE — 4.0/5
---
Plot Synopsis: Sparks fly when Violet (JENNIFER TILLY) sets eyes on Corky (GINA GERSHON) in an elevator. Violet is the girlfriend of a violent gangster, Caesar (JOE PANTOLIANO), while Corky is fresh out of prison and doing renovations on the apartment next door. As the two women launch into a passionate love affair, they assemble an intricate plan for Violet to escape from Caesar, with two million dollars of the mob's money, but the important part is to make it out alive.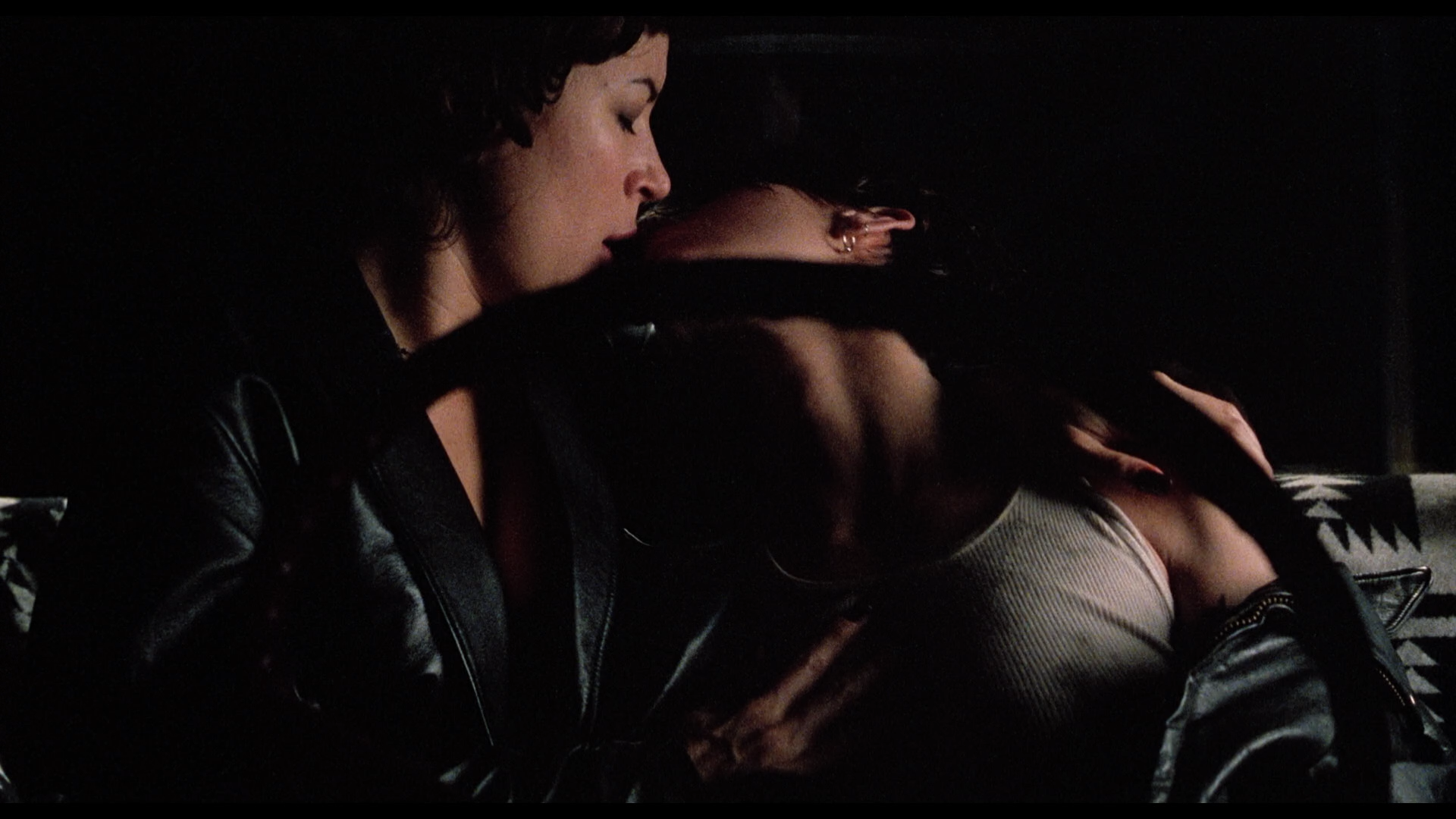 Quick Hit Review: In 1996 Bound ushered in The Wachowskis as a force in Hollywood as only a few short years later they would go on to make The Matrix, one hell of a science fiction flick that has held up quite well all these years later. And the same can be said for Bound, a well made and taut modern film noir, perhaps right up there with The Usual Suspects, featuring amazing performances from the three leads and for some reason did not get any recognition at the Academy Awards; though it joins the likes of Hear which also was apparently forgotten.
It's been probably 3-4 years since I last watched Bound, likely when I overpaid for a French version for some reason (if I recall, might've been the only way to get the Unrated cut in high-definition). In any case, watching it again, the movie just works so damn well. The lighting and photography by Bill Pope (The Jungle Book, Alita: Battle Angel) was fantastic and worked in wonderful conjunction with the well written script and direction from The Wachowskis, if only they would go back to the basics…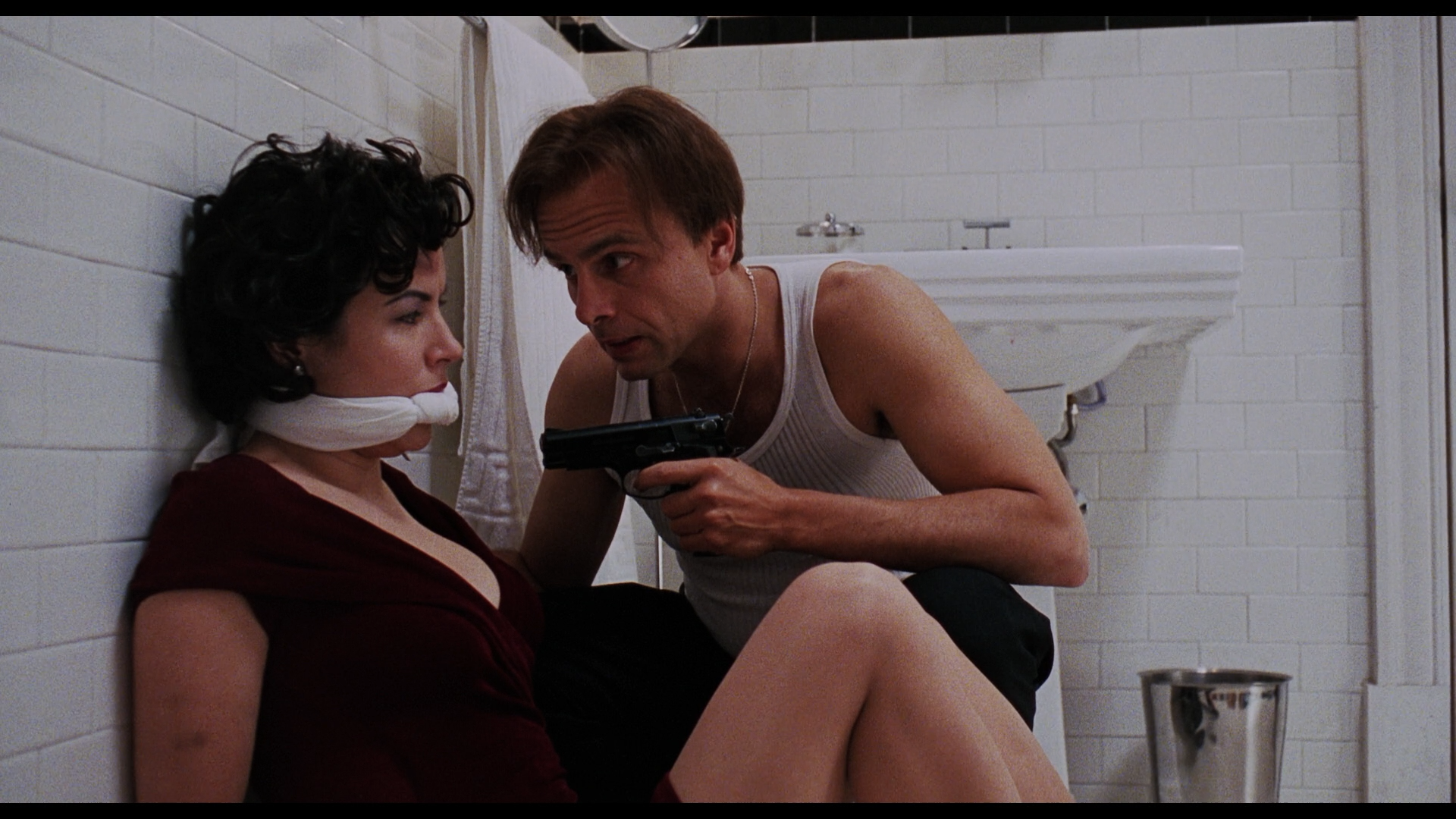 SPECIAL FEATURES – 2.0/5
---
This is the latest release in the "Olive Select" line and comes with a side-sliding and textured slip cover. Inside the clear Blu-ray case is a booklet. Missing from the release, for whatever reason, is the interview with Joe Pantoliano (even though it is listed on the back cover).
Audio Commentary with writer/directors The Wachowskis; actors Joe Pantoliano, Jennifer Tilly and Gina Gershon; film editor Zach Steinbeg; and technical consultant Susie Bright. It's a good track and is quite informative and entertaining. Only available on the Unrated Version.
Interviews:
Part and Parcel (7:10; HD) – Titles designer Patti Podesta
The Difference Between You and Me (17:45; HD) – Scholars B. Ruby Rich and Jen Moorman
Here's Johnny! (10:03; HD) – Actor Christopher Meloni
Femme Fatales (26:53; HD) – Actresses Gina Gershon and Jennifer Tilly
Modern Noir: The Sights and Sounds of Bound (29:25; HD) – Cinematographer Bill Pop, Editor Zach Seeenberg, and Composer Don Davis
This is a good selection of interviews, mostly taken from the UK Arrow release (the one with Podesta is exclusive to this one). Each participant recalls their careers leading into Bound and looking back on its uniqueness and what it brought socially.
Theatrical Trailer (2:06; HD)
VIDEO – 4.5/5
---
Olive Films releases Bound onto Blu-ray where it is presented in its original 1.85 widescreen aspect ratio and a 1080p high-definition transfer which, based on the back cover, is newly restored, though the booklet doesn't exactly say how (presumably it's the same one from Arrow). In any case, from the looks of it, the picture does look great, detail is relatively sharp and colors tended to be more on the darker side in keeping with the film noir realm. It's not entirely clean however, as I did notice a few instances of specs but nothing egregious or noticeable.
AUDIO – 4.0/5
---
The disc includes a basic but effective DTS-HD Master Audio Stereo track which does output crisp and clear dialogue levels and there is some modest depth when it came to the crime elements where we get gunshots and screams. It might not be amazing or anything that will give your surround system any kind of a workout, but it's likely on par or even the same as previous Blu-ray releases.
OVERALL – 4.0/5
---
Overall, Bound is still my favorite of The Wachowskis movies, even above The Matrix, which itself has also aged quite well. This one has two amazing performances from Jennifer Tilly and Gina Gershon and Joe Pantoliano for his part was wonderfully chaotic. This Blu-ray, the latest in the "Olive Signature" line, has a good selection of bonus features and good video/audio transfers.
Check out some more 1080p screen caps by going to page 2. Please note, these do contain spoilers.