Sin City: A Dame to Kill For not only is a movie a few years too late, the narrative isn't quite as strong as the first and the acting, save for a few of the key players, isn't all that memorable, though Rourke, under seemingly heavier does of make-up, is the biggest highlight with Eva Green taking a close second for her performance and… ahem… assets.
Sin City: A Dame to Kill For
(2014)
---
Genre(s): Film Noir, Crime, Drama
Anchor Bay | R – 102 min. – $39.99 | November 18, 2014
MOVIE INFO:


Directed by: Robert Rodriguez and Frank Miller
Writer(s): Frank Miller (graphic novel); Frank Miller (written by)
Cast: Mickey Rourke, Jessica Alba, Josh Brolin, Joseph Gordon-Levitt, Rosario Dawson, Bruce Willis, Eva Green, Powers Boothe, Dennis Haysbert, Ray Liotta, Jamie King, Jeremy Piven, Christopher Meloni, Juno Temple

---

DISC INFO:
Features: Featurettes, Green Screen Version, DVD Copy, Digital Copy
Number of Discs: 3

---

Audio: English (DTS-HD MA 5.1)
Video: 1080p/Widescreen 1.85
Subtitles: English SDH, Spanish
Disc Size: 31.2 GB (2D), 34.4 GB (3D)
Codec: MPEG-4 AVC
Region(s): A
THE MOVIE – 2.25/5
It might not come to anybody's surprise, but Sin City: A Dame to Kill For is style over substance, unfortunately for Robert Rodriguez and company, that style has become passé over the years and this prequel/prologue to 2005's Sin City came several years too late and based on the abysmal box office… the audience seemed to agree.
But beyond the lack of interest, this just was not a very good movie bogged down with a tepid screenplay from Frank Miller and although he tries to replicate the film noir narration, and for sure it might've matched the graphic novel, instead it comes off as flat more than anything.
As in Sin City, A Dame to Kill For is split into segments most not having a lick to do with the "Dame":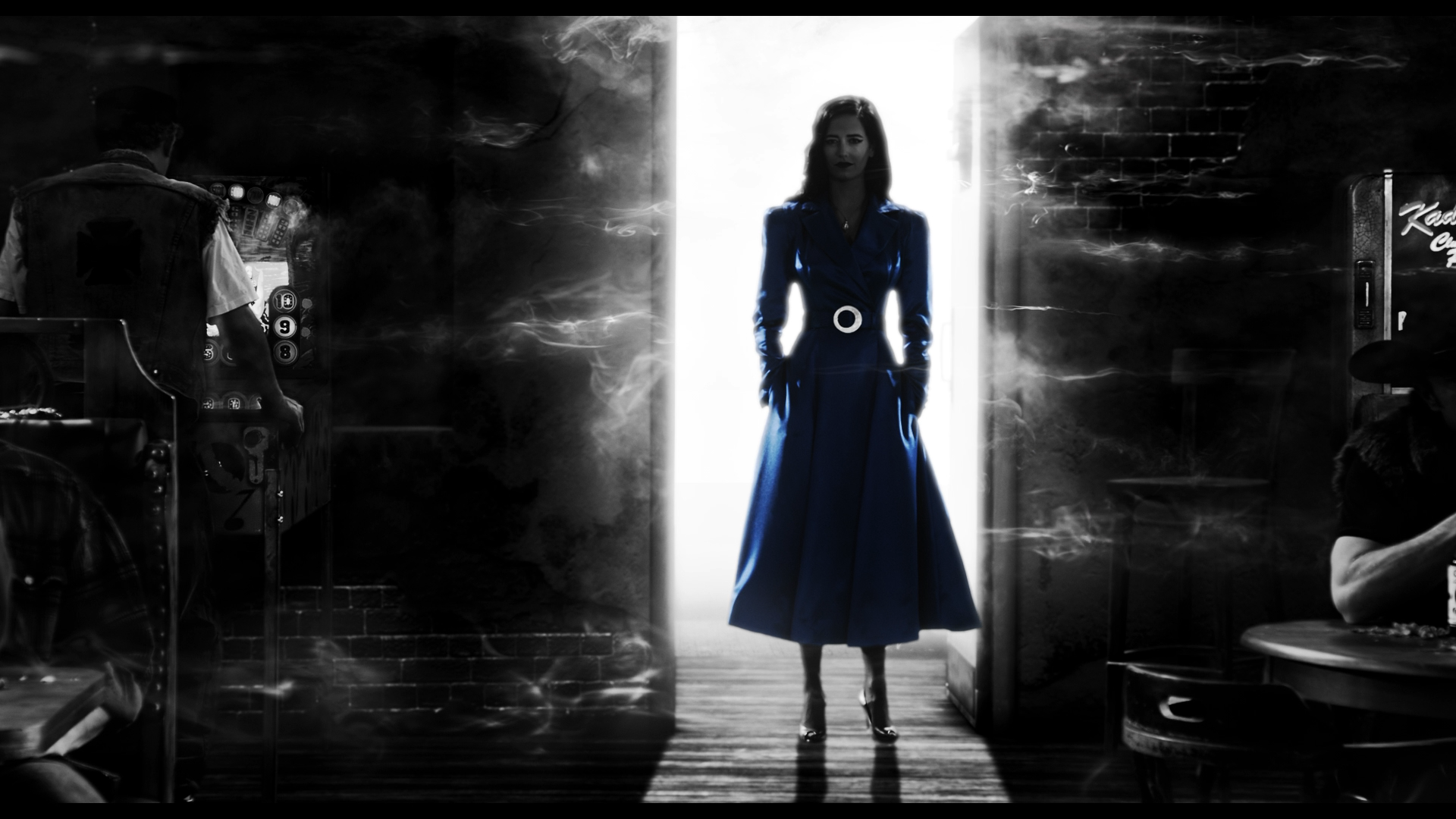 "Just Another Saturday Night": It opens with Marv (MICKEY ROURKE under even heavier makeup to mask his age) escaping a car crash, and surrounded by several dead bodies, but unable to remember how it occurred. Retracing his steps, he goes to Kadie's Saloon where Nancy (JESSICA ALBA) is on stage performing… with clothes on since this is a non-naked strip club apparently. As he goes outside, he encounters four preppies attacking a homeless man and intervenes eventually dispatching each one in gruesome fashion courtesy of some neighborhood "friends."
"The Long Bad Night, Part 1": Young gambler Johnny (JOSEPH GORDON-LEVITT) rolls into town for a high stakes backroom poker game playing the ruthless Senator Roark (POWERS BOOTHE) and thanks to lady luck, in the form of young waitress Marcie (JULIA GARNER), he cleans Roark out going against the advice of a Sin City cop (played by character actor JUDE CICCOLELLA). Johnny soon regrets this decision eventually ending in Rourke's limo who exacts Sin City justice breaking his fingers and then thrown from the speeding car, as often happens in this film…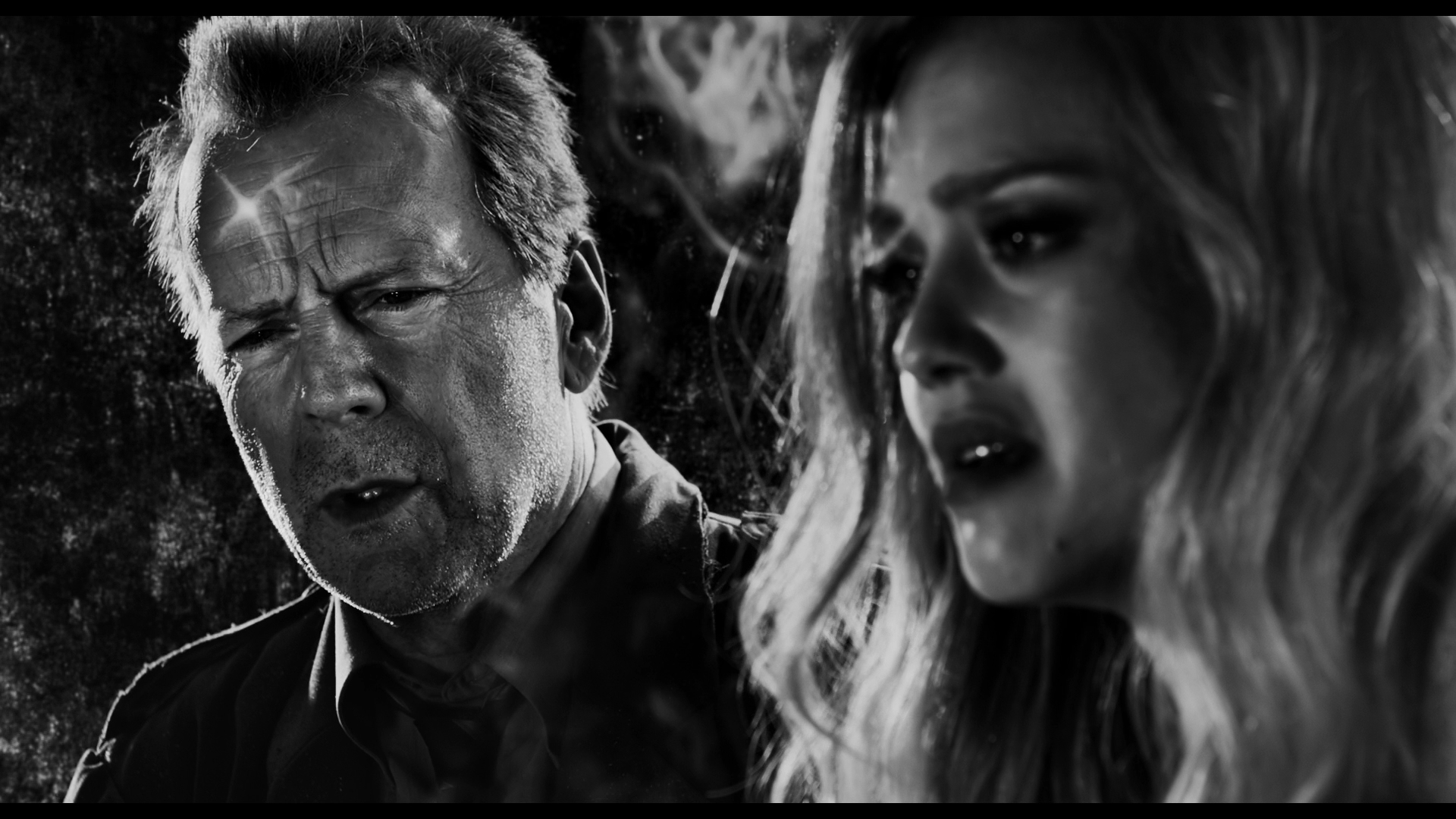 "A Dame to Kill For": Our title segment focuses on Dwight (JOSH BROLIN), a private detective who, when we first meet him, has been hired to take pictures of a cheating husband (RAY LIOTTA) and just as the man is about to kill his mistress, as his wife is becoming suspicious, Dwight literally jumps in to the rescue. Meanwhile, he receives a call from former lover Ava Lord (EVA GREEN) who wants to meet him where she reveals she's afraid for her life from her wealthy husband (MARTON CSOKAS) and is constantly being tracked by henchman Manute (DENNIS HAYSBERT replacing the departed Mark Clarke Duncan). For his efforts to protect Ava, Dwight gets his ass kicked more than a few times resulting in needing facial reconstruction and help from his old friend, Gail (ROSARIO DAWSON).
Related, when Dwight comes back after surgery, it leads to one of the more laughable moments seeing Brolin under makeup to make him look closer to Clive Owen, since it was clear Owen wouldn't return even for a smaller, cameo-like appearance.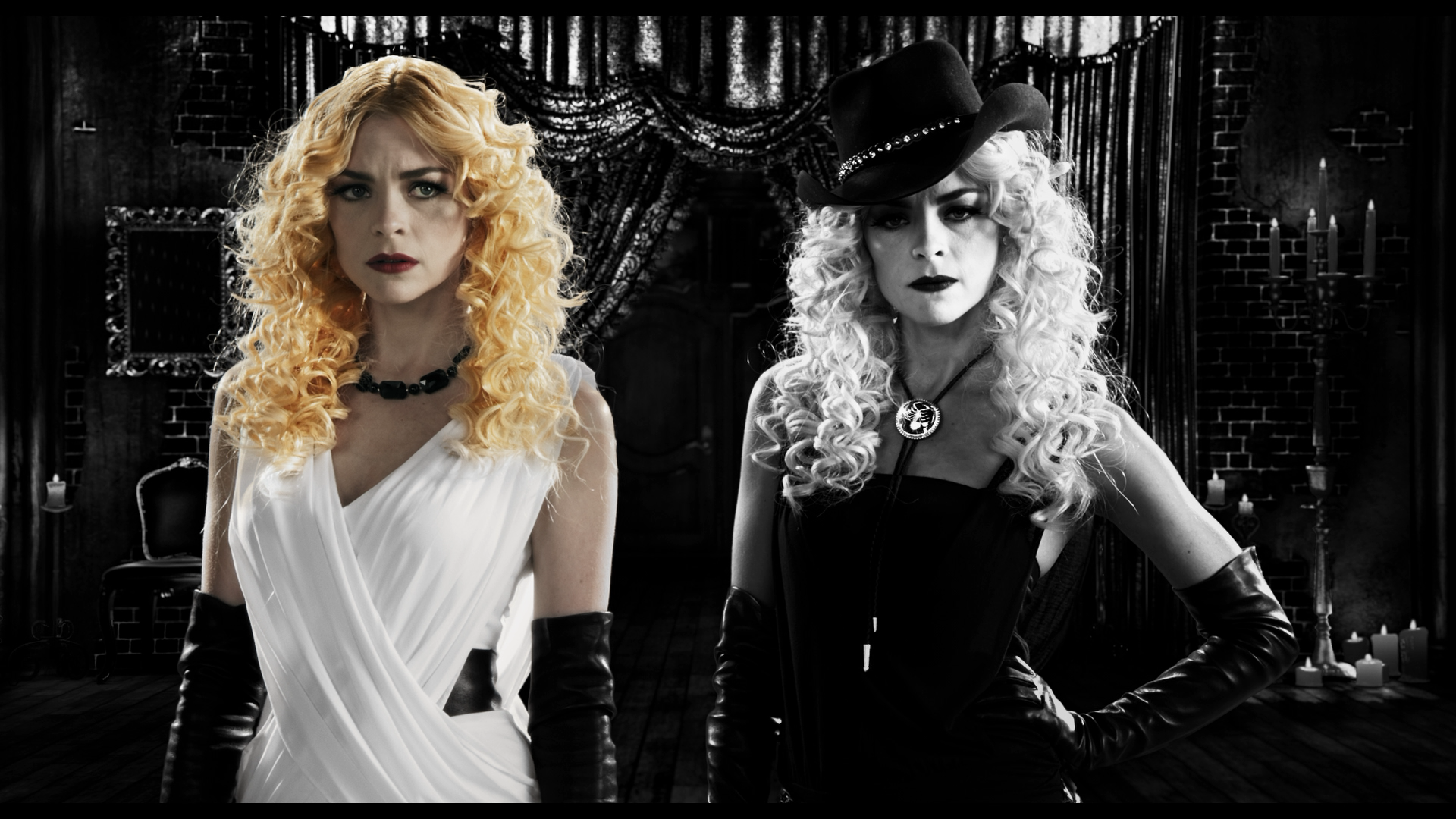 "The Long Bad Night, Part 2": This one more or less concludes Johnny's story as he seeks to rebuild his wealth and, again, ruin Roark as the two have a more personal relationship. On his path to recovery, he receives a gritty bullet removal, and a heroin injection, from back alley doc, Kroenig (CHRISTOPHER LLOYD).
"Nancy's Last Dance": Here we get more of an epilogue to Sin City as Nancy (ALBA) is still reeling from Hartigan (BRUCE WILLIS) who appears in the form of a ghost, wrought over Nancy's despair as she spirals out of control with booze along with vengeance on her mind, determined to kill Roark. Eventually, she seeks the help of Marv who is more than happy to oblige.
Sin City: A Dame to Kill For is a movie not only 6-7 years too late but even if this version came out then, and even retained a modicum of relevance, this was still a poorly made film with little punch and the energy levels was drained. Yeah, the style is more or less the same and acting-wise, Mickey Rourke, Josh Brolin, Eva Green and, surprisingly, Christopher Meloni, all give fine performances (not so much for Alba who needs better scripts anyway), but despite their attempts, it's hard to save something that is relegated to "so that movie exists" status than anything needing to be seen, even in conjunction with the original.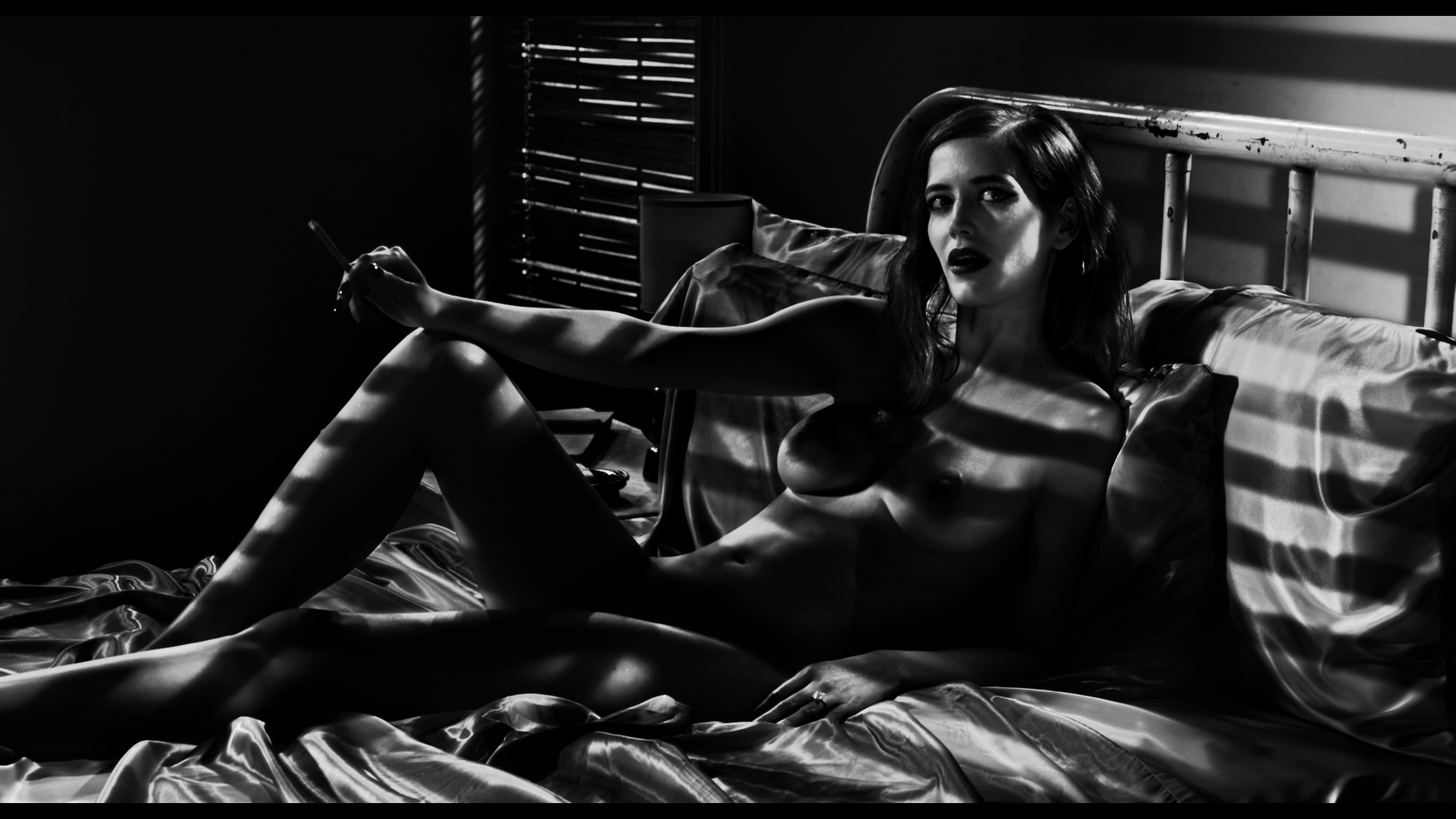 It's not a big surprise that the script isn't great considering Frank Miller's checkered resume, mainly The Spirit which he directed has a holdover for Sin City 2, but Robert Rodriguez's decline from the likes of Planet Terror is startling having helmed more than one stinker in the interim such as a couple Spy Kids sequels (the fourth in particular was god-awful) and Machete Kills which, like A Dame to Kill For, made a splat at the box office, though less so since the budget I'm sure was far lower.
SPECIAL FEATURES – 2.25/5
This 3-disc set (BD 3D, BD, DVD) comes housed in a standard Blu-ray case and comes with a matted slip cover. Inside is a Digital Copy redemption code.
All Green Screen Version (16:28; HD) allows viewers to watch the movie in high-speed w/o the visual effects.
Character Profiles (TRT 13:38; HD) are available for The Dame to Kill For (Eva Green), Nancy (Jessica Alba), Dwight (Josh Brolin) and Johnny (Joseph Gordon-Levitt) where each actor, in between behind-the-scenes footage, talks about their character.
Makeup Effects in Sin City with Greg Nicotero (6:40; HD) has the make-up artist delve through the effects done in A Dame to Kill For.
Stunts of Sin City with Jeff Dashnaw (5:38; HD) where we get a look at the stuntwork.
Theatrical Trailer (2:10; HD)
2D VIDEO – 4.75/5 | 3D VIDEO – 5.0/5

Sin City: A Dame to Kill For lures its way onto Blu-ray shown in its original 1.85 widescreen aspect ratio and a 1080p high-definition transfer. The picture, as one would expect, looks great with stark black levels for the majority but when colors are there, they have a good pop to them which especially shines through in HD from lushish reds on the ladies' lips to the golden hair on Goldie's hair.
The 3D transfer in the meantime has benefits with good depth as Rodriguez/Miller utilize numerous rotation shots and with the dark scenes set against whites and colors, really has a nice punch. It helps that, presumably, this was shot for 3D and Rodriguez makes the most of the technology.
AUDIO – 4.5/5
The 5.1 DTS-HD Master Audio track, albeit strong, is also on the disappointing side especially when you compare to other recent action-oriented movies. Still, the dialogue is crisp and clear while other elements, such as gunfire, blood-spirts and such, do come across the front and rear channels with good clarity. It's not a fantastic lossless track but it's certainly above average.
OVERALL – 3.0/5
Overall, Sin City: A Dame to Kill For not only is a movie a few years too late, the narrative isn't quite as strong as the first and the acting, save for a few of the key players, isn't all that memorable, though Rourke, under seemingly heavier does of make-up, is the biggest highlight with Eva Green taking a close second for her performance and… ahem… assets. The Blu-ray at least has incredible video/audio transfers but sadly the features are lacking thanks in part to its box office bomb thus we won't see a recut version or more expansive features (unless they're already in the works and Weinstein Company, who are hard-up for money, wants to recoup something).
The Movieman
Published: 11/09/2014
Check out some more screen caps by going to page 2. Please note, these do contain spoilers.