3 Days to Kill is yet another Luc Besson-scripted, plug-n-play movie that doesn't really offer anything new to the genre and yet despite all its problems, still manages to be at least a serviceable action-thriller worth a look.
3 Days to Kill
(2014)
---
Genre(s): Action, Suspense/Thriller, Drama
Fox | PG13/Unrated – 113 min. / 117 min. – $29.99 | May 20, 2014
MOVIE INFO:


Directed by: McG
Writer(s): Luc Besson (story), Adi Hasak & Luc Besson (screenplay)
Cast: Kevin Costner, Amber Heard, Hailee Steinfeld, Connie NielsenTheatrical Release Date: February 21, 2014

DISC INFO:


Features: Featurettes, DVD Copy, Digital Copy
Number of Discs: 2Audio: English (DTS-HD MA 5.1)
Video: 1080p/Widescreen 2.40
Subtitles: English SDH, Spanish
Disc Size: 39.9 GB
Codec: MPEG-4 AVC
Region(s): A
THE MOVIE – 3.0/5
Note: This review contains spoilers. Reader beware.
It's simple: 3 Days to Kill is a typical Luc Besson script and story mixed in the mediocrity direction by the likes of McG who somehow was able to royally screw up a Terminator movie, worse so than even Jonathan Mostow had! This action-thriller tries so hard to be a family movie yet fails leaving wayside Besson's wheelhouse of inane and insane action scenes, although there more than a few to admire.
Here we follow CIA Spy and assassin Bryan Mills Ethan Renner (KEVIN COSTNER) during an op headed by a woman named Vivi Delay (AMBER HEARD) to take out a man known as "The Albino" who hopefully will lead to "The Wolf", a worldwide elusive terrorist causing all kind of havoc, yada, yada, yada… The op goes bust when Renner and the others in the team are made resulting in an entire hotel story explosion, gunfire in the streets and all around chaos with dead agents while Renner passes out.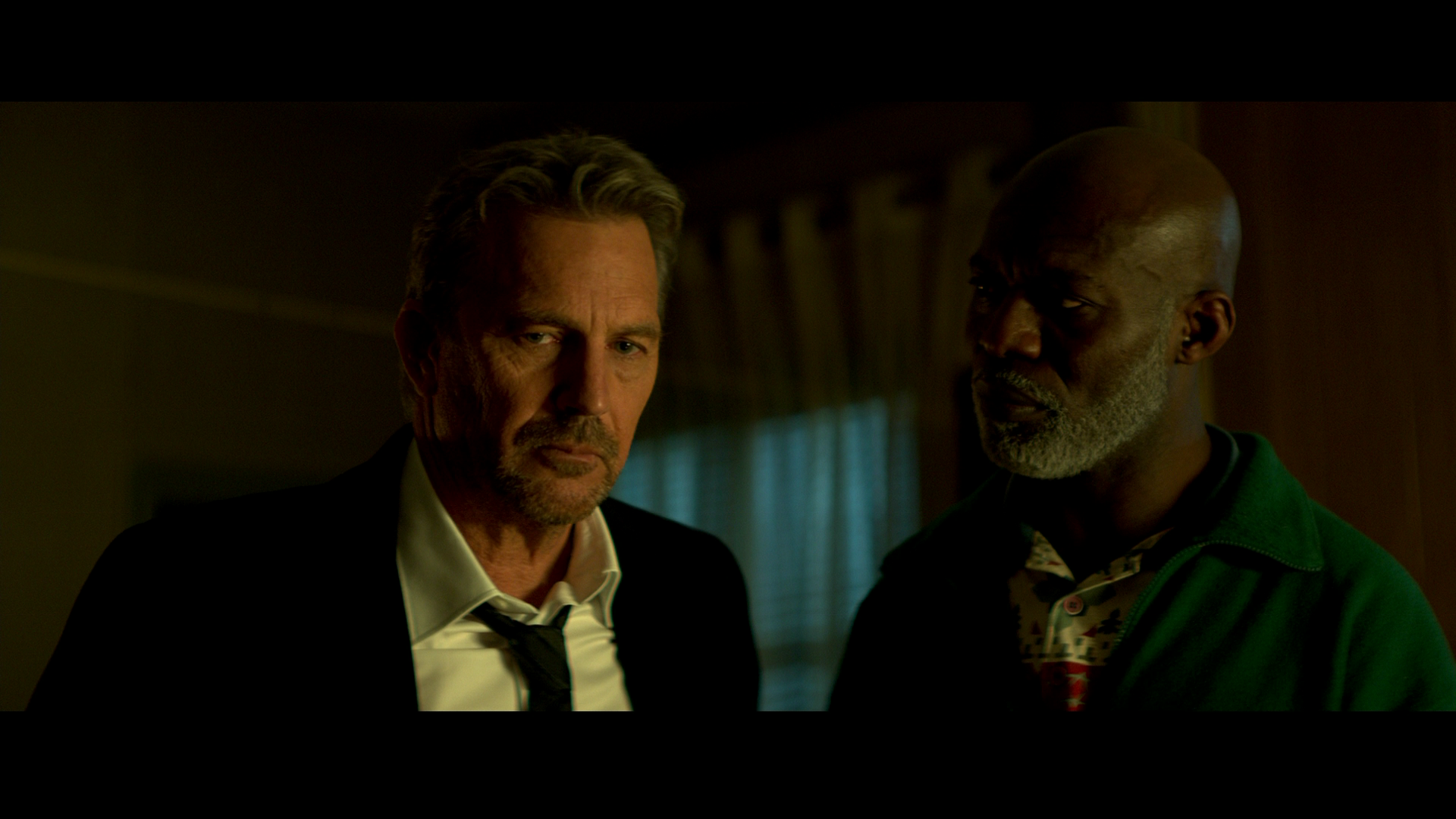 When he awakens, he is told he has a deadly disease whereupon he will be dead within 3-5 months and that he should put his affairs in order. So he goes back home to, where else, Paris (since that's where all Luc Besson movies, save for I think Taken 2 are located) in the hopes of reconnecting with his wife Lenore Christine (CONNIE NIELSON) and estranged daughter Kim Zooey (HAILEE STEINFELD). When Christine is called away on business, Ethan agrees to look after Zooey.
Of course things get complicated when he's approached by Vivi with an offer he could hardly refuse: track down and kill The Wolf and along the way, receive an experimental drug that might cure his disease. He agrees and she leads him to various sources from a luxury car driver (MARC ANDREONI) who then leads to "The Albino" and then "The Wolf", all the while as he juggles a potential breakthrough with Zooey leading to some comedic yet emotional scenes.
3 Days to Kill as you might imagine, is yet another what I'd like to call plug-and-play scripts from Luc Besson and this one in particular, with a few tweaks, could've easily been Taken 3. There's not a whole lot of ingenuity with the film outside the fact it's a bit more family oriented (story wise) than I was expecting and on that front, I was at least pleasantly surprised.
That being said, it's also uneven as all hell especially with the characters. Taking Costner and Steinfeld aside, both of whom are good, Amber Heard is once again woefully underutilized playing a very interesting character that you're not sure you can even trust and between her hair changes – long-haired blonde, brunette, short-haired brunette, etc. – you don't quite know who she really is aside from a (sexy) CIA spook. I really wish there was a bit more development with the character.
As I mentioned, Kevin Costner is in fine form and probably the only reason I would even remotely recommend this movie in the first place. His character isn't overly nuanced, killing at will with little resistence, but thanks to giving him a family to contend with, and attempting to reestablish a relationship with his daughter, he plays it perfectly and Costner himself lends almost immediate credibility. For her part, Hailee Steinfeld is good with a nice transformation from anger and sadness to a teenager wanting her father in her life.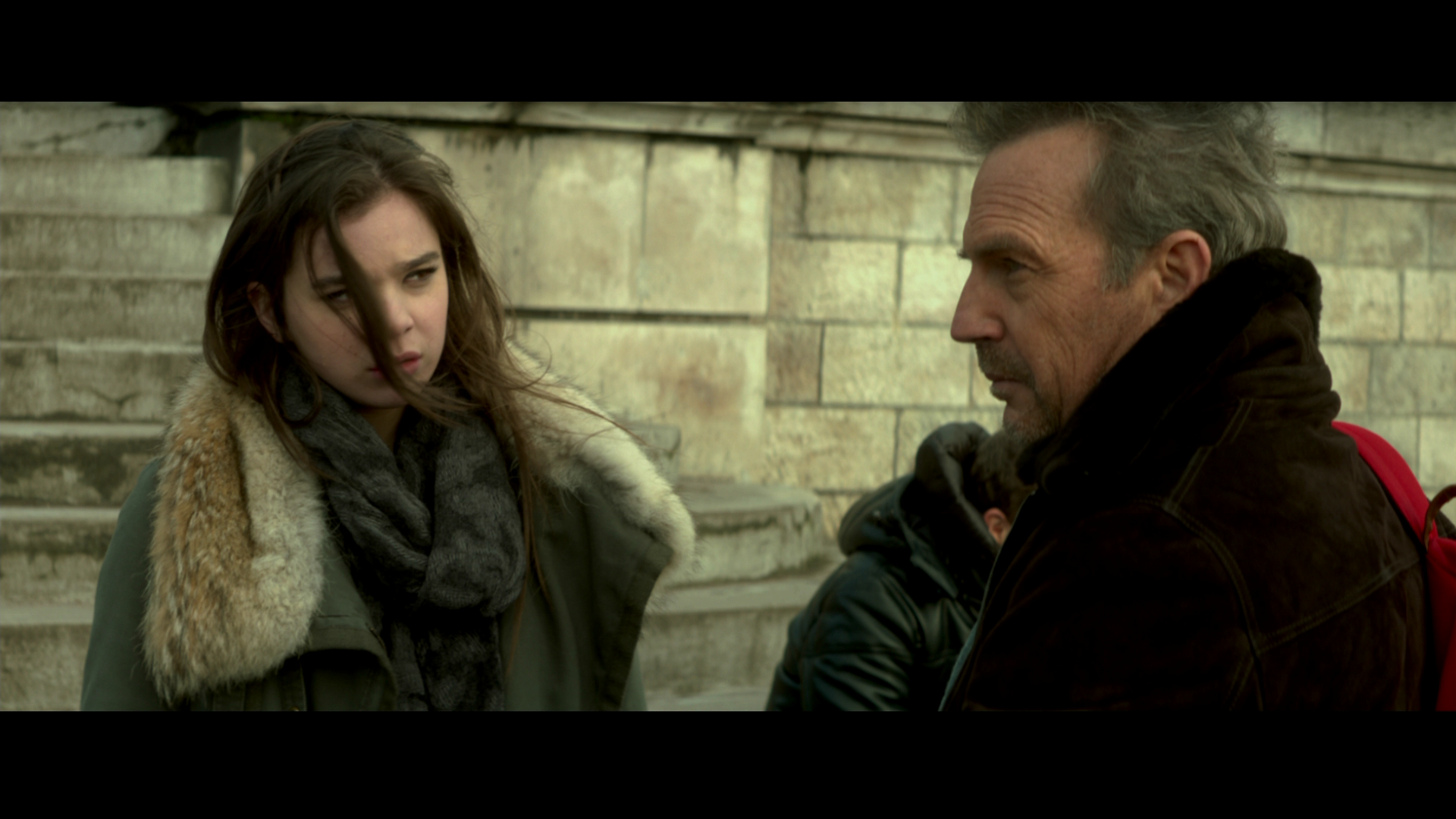 The film was directed by McG who seems to be of late more of a director-for-hire more than anything and follows up the poorly received Terminator Salvation (seriously, how do you muck that up?) and This Means War, though the latter was a poor concept to begin with. His direction in 3 Days to Kill is standard fare for a Besson-written story with some decent car chases and well done action scenes such as the one pre-credits. It's nothing noteworthy but effective enough all things considered.
SPECIAL FEATURES – 2.25/5
This release comes with a semi-glossy slip cover. Inside are a standard DVD Copy and an authorization code for the Digital Copy (both UV and iTunes).
Extended Version (2:02:18; HD) runs about 5-minutes longer over the theatrical one. The biggest difference that I immediately noticed was at the strip club where Ethan meets up with Vivi; this scene now has nudity thus automatically giving the film an R-rating. Another one at the car service office, Ethan actually kills the two thugs, in the theatrical version, this is not shown. Oh, and there's an up-skirt shot for Amber Heard fans (no, you don't see her "bits").
Having watched the theatrical version only for the main review, I can't tell you where the bulk of the extra footage is, but from my sampling, doesn't seem to be significant outside of what I outlined above…
The Making of 3 Days to Kill (9:55; HD) is a simple featurette with behind-the-scenes footage and interviews with the cast (Costner, Heard, Stanfield, Nielson) and crew as they talk about the plot and characters. It's your typical stuff and you don't really learn a whole lot.
McG's Method (4:39; HD) looks at the director's style and how he approaches making the film, especially in and around France.
Covert Operation (5:08; HD) is an interview with a real-life former CIA agent and his time in the agency.
Theatrical Trailer (2:25; HD)
Previews – Out of the Furnace, RoboCop, Oculus, Brick Mansions
VIDEO – 4.5/5
3 Days to Kill arrives on Blu-ray presented in its original theatrical 2.40 widescreen aspect ratio and a 1080p high-definition transfer (MPEG-4 AVC codec). The picture, as one might imagine, looks darn near perfect with excellent details throughout and some well balanced and bright colors. The only issue I'd mention is there are a couple of times where darker scenes show some artifacting but it's fairly minimal.
AUDIO – 4.75/5
The 5.1 DTS-HD Master Audio track mightily benefits from the action-oriented Luc Besson script but even the dialogue levels sound crisp and clear while, when we get to the car chase or club scenes, the audio picks up the pace providing some good depth through the front and rear channels, with the latter also making use for ambient noises.
OVERALL – 3.25/5
Overall, 3 Days to Kill is yet another Luc Besson-scripted, plug-n-play movie that doesn't really offer anything new to the genre and yet despite all its problems, still manages to be at least a serviceable action-thriller worth a look if only for a good performance from Kevin Costner and also to see Amber Heard don some interesting attires, even if she's sadly underused. The Blu-ray released by Fox doesn't have a whole lot to offer in bonus material save for a two-hour unrated cut but the audio and video transfers are both excellent.
The Movieman
Published: 05/13/2014
Check out some more screen caps by going to page 2. Please note, these do contain spoilers.