Fall is a well done survival thriller that features two fine performances and a simple but effective story and makes for an entertaining watch on a quiet weekend.
Fall
(2022)

---
Genre(s): Suspense/Thriller
Lionsgate| PG13 – 107 min. – $39.99 | October 18, 2022
Date Published: 10/10/2022 | Author: The Movieman
MOVIE INFO:
Director: Scott Mann
Writer(s): Jonathan Frank & Scott Mann (written by)
Cast:

Grace Caroline Currey, Virginia Gardner, Jeffrey Dean Morgan

---

DISC INFO:
Features: Commentary, Featurette, Music Video, Trailer
Slip Cover: Yes
Digital Copy: Yes
Formats Included: Blu-ray
Number of Discs:

1

---

Audio: English (DTS-HD MA 5.1)
Video: 1080p/Widescreen 2.00
Subtitles: English SDH
Disc Size: 29.57 GB
Total Bitrate: 31.41 Mbps
Codecs: MPEG-4 AVC
Region(s):

A

---
Lionsgate provided me with a free copy of the Blu-ray I reviewed in this Blog Post.
The opinions I share are my own.
THE MOVIE — 3¾/5
---
Plot Synopsis: For best friends Becky (GRACE CAROLINE CURREY) and Hunter (VIRGINIA GARDNER), life is all about conquering fears and pushing limits. But after they climb 2,000 feet to the top of a remote, abandoned radio tower, they find themselves stranded with no way down. Now Becky and Hunter's expert climbing skills will be put to the ultimate test as they desperately fight to survive the elements, a lack of supplies, and vertigo-inducing heights.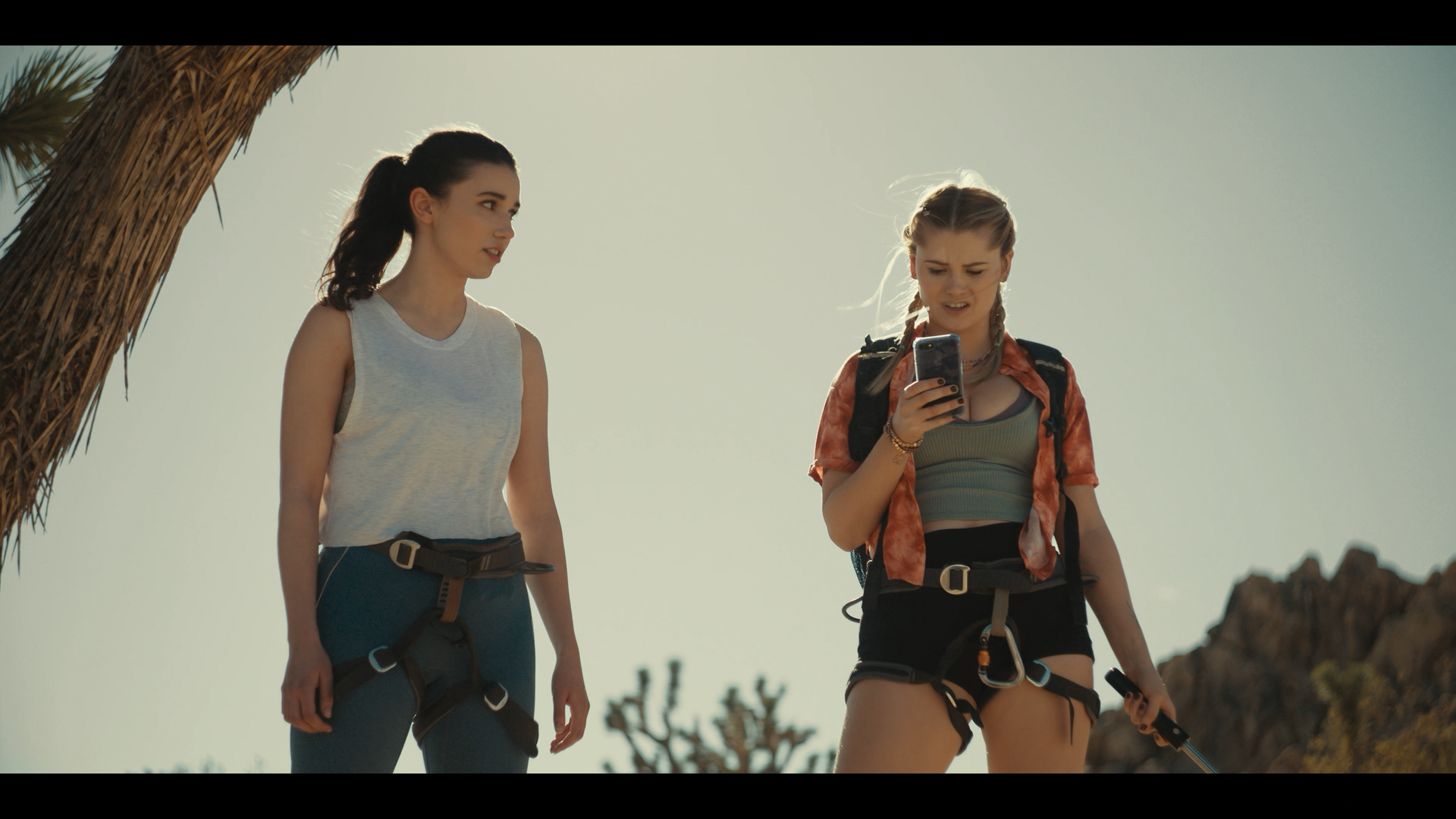 Quick Hit Review: Fall is a survival thriller that succeeds, at least for those of us with the fear of heights, to get an uneasy feeling with the aerial shots. The visual effects used to do those scenes were fairly well done and even though it is a movie with two (naïve) climbers being stuck on top of a tower, the film co-scripted and directed by Scott Mann still was quite entertaining. The performances from both Grace Caroline Currey and Virginia Gardner were well done (Jeffrey Dean Morgan only had a couple minutes of screen time and likely did this as a favor to Mann as the pair previously worked together on 2015's Heist).
Fall isn't a movie I'd watch again, not unlike many other of these survival thrillers (like 47 Meters Down, Shallows, 127 Hours), but it's still well worth a watch especially on a Friday or Saturday night with nothing else that might catch your eye.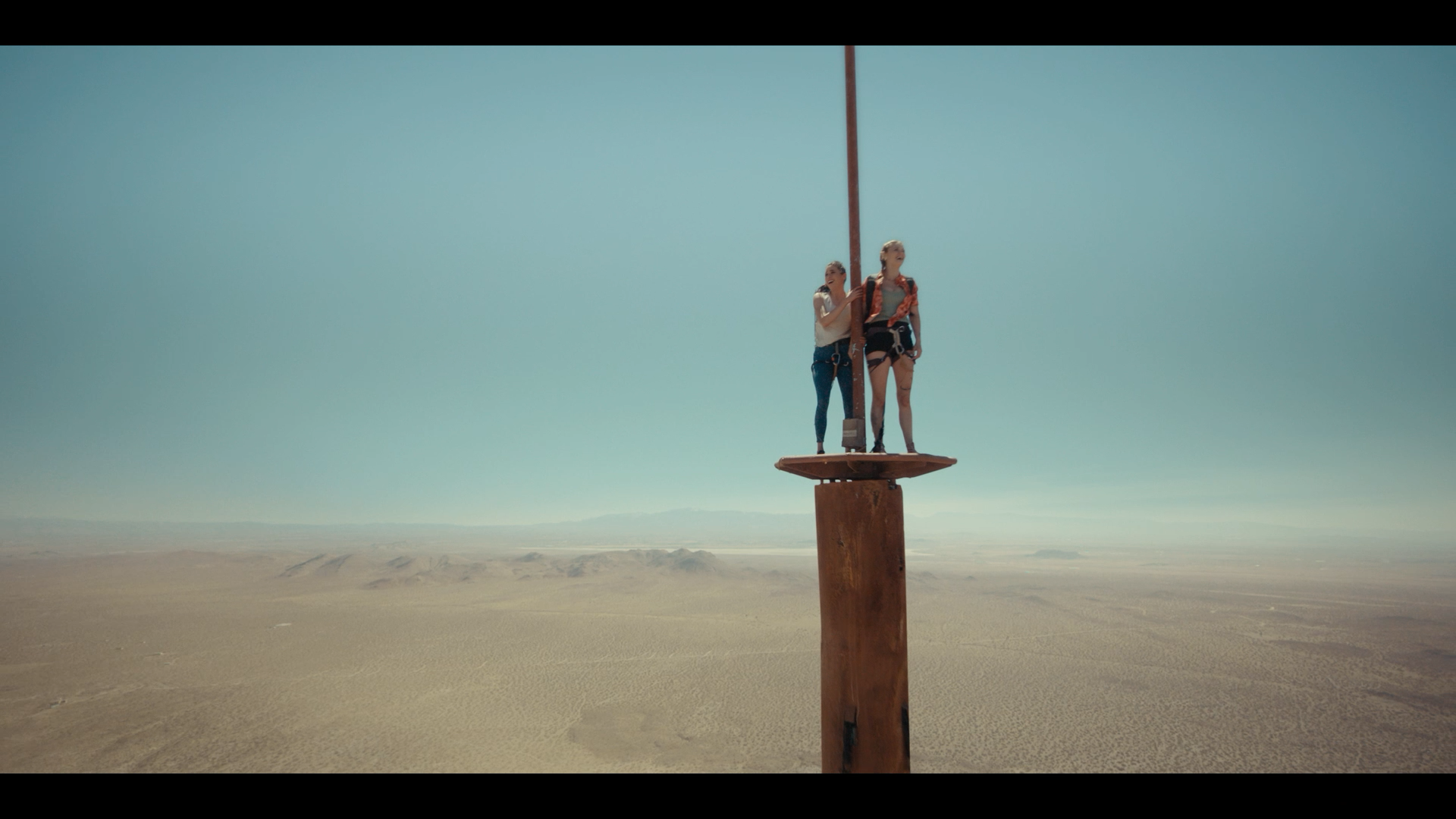 As a side, apparently this was shot for an R-rating with numerous f-bombs which were dubbed over once Lionsgate was distributing and in one scene the replacement of two f-bombs with "fricking" was pretty laughable.
SPECIAL FEATURES – 2½/5
---
This release comes with a semi-glossy and title-embossed slip cover.
Audio Commentary — Producer/Co-Writer/Director Scott Mann and Producer James Harris
Fall: The Making of (15:42) has some interviews with members of the cast and crew set against behind-the-scenes footage.
Music Video (3:25) — "I Have Never Felt More Alive" by Madison Beer
Theatrical Trailer (2:28)
VIDEO – 3¾/5
---
Lionsgate releases Fall onto Blu-ray where it's presented with a 2.00 widescreen aspect ratio and a 1080p high-definition transfer. For the most part this looks fairly good and detail is decent while colors are more on the natural side given the bulk takes place in the desert. That said, I did see some banding with the sky transition shots.
AUDIO – 4/5
---
The movie comes with a DTS-HD Master Audio 5.1 track and although there's no action or explosions, this is still there is good depth such as the desolation of the desert and especially the wind while the ladies are on top of the tower, not to mention the circulating vultures.
OVERALL – 3¾/5
---
Overall, Fall is a well done survival thriller that features two fine performances and a simple but effective story and makes for an entertaining watch on a quiet weekend.
Check out some more 1080p screen caps by going to page 2. Please note, these do contain spoilers.