Death Wish II isn't a great sequel by any means and like the first, hard to really "enjoy" the film or find it terribly entertaining given the assaults early on, though seeing the scumbags getting their justice had satisfying elements at least.
Death Wish II
(1985)

---
Genre(s): Suspense/Thriller, Crime
Vinegar Syndrome | Unrated – 92 min. – $49.99 | April 26, 2022
Date Published: 05/10/2022 | Author: The Movieman
MOVIE INFO:
Directed by: Michael Winner
Writer(s): Brian Garfield (characters); David Engelbach (written by)
Cast:

Charles Bronson, Jill Ireland, Vincent Gardenia

---

DISC INFO:
Features: Commentary, Interviews, Theatrical Trailer
Slip Cover: Yes (Limited Edition)
Digital Copy: No
Formats Included: 4K, Blu-ray
Number of Discs:

2

---

Audio (4K/BD): English (DTS-HD MA 2.0)
Video (4K): 2160p/Widescreen 1.85
Video (BD): 1080p/Widescreen 1.85
Dynamic Range: HDR10
Subtitles: English SDH, French, Spanish
Codecs: HEVC / H.265 (4K), MPEG-4 AVC (BD)
Region(s):

A, B, C

---
Vinegar Syndrome provided me with a free copy of the Blu-ray I reviewed in this Blog Post.
The opinions I share are my own.

Note: The screen captures were taken from the included Blu-ray disc.
THE MOVIE — 2¾/5
---
Plot Synopsis: Paul Kersey (CHARLES BRONSON) thought his days as a vigilante were long behind him. But when his daughter (ROBIN SHERWOOD) and housekeeper (SILVANA GALLARDO) are savagely assaulted and murdered, Paul is forced to take the law back into his own hands, hitting the tough, gang-filled streets of Los Angeles and embarking on a violent quest for justice. Realizing he has a ruthless vigilante on his hands, Lieutenant Frank Ochoa (VINCENT GARDENIA) races to put an end to the building carnage.
Quick Hit Review: Death Wish II is certainly one unnecessary sequel and just shows how unlucky a man like Paul Kersey was. This is not to mention how grisly and gratuitous the assault was this go around, and frankly quite uncomfortable it was to watch. I guess the brutality of the two women's assaults and deaths makes Kersey's pursuit of the attackers all the more pleasurable. For myself however I didn't really find this all that enjoyable or entertaining. It's also feels repetitive seeing Bronson, as tough of a guy as he is, gunning down people, as repulsive and evil as they might be.
Michael Winner returns to the director's chair for this sequel, re-teaming with Charles Bronson for the fifth time following Chato's Land, The Mechanic, The Stone Killer and Death Wish. The pair seems to work well together. Even though Death Wish II was far from great and repetitive not really breaking new ground from the original (Death Wish 3 however was hilariously off-the-walls insane). I would say this one is worth watching but the assaults early on are extremely tough to watch.
SPECIAL FEATURES – 4/5
---
This Limited Edition version does come with a slip cover while the regular one, which I receive for review, does not. However, both releases have reversible cover artwork.
Audio Commentary — Author and Historian Paul Talbot. This track was ported over from the Shout Factory Blu-ray release. Available on both 4K UHD and Blu-ray discs.
Alternate TV Version (1:35:31) is newly released (at least for the North American audience) television version of the film, removing much of the more graphic scenes (but the assaults still heavily implied). It's an interesting one to watch but the unrated cut is the one to re-watch.
Interviews:
Pass (5:28) — Screenwriter David Engelbach
Working with Bronson (7:24) — Actor Robert F. Lyons
Dark Parts (8:10) — Actress Robin Sherwood
Fights in the Theater (7:19) — Todd Roberts, son of executive producer Bobby Roberts
All told, there's about 28-minutes worth of interview footage and for a 40 year old movie it's not a bad selection of folks who worked on the film providing their memories of the production. These are pretty short but informative enough.
Theatrical Trailer (1:57)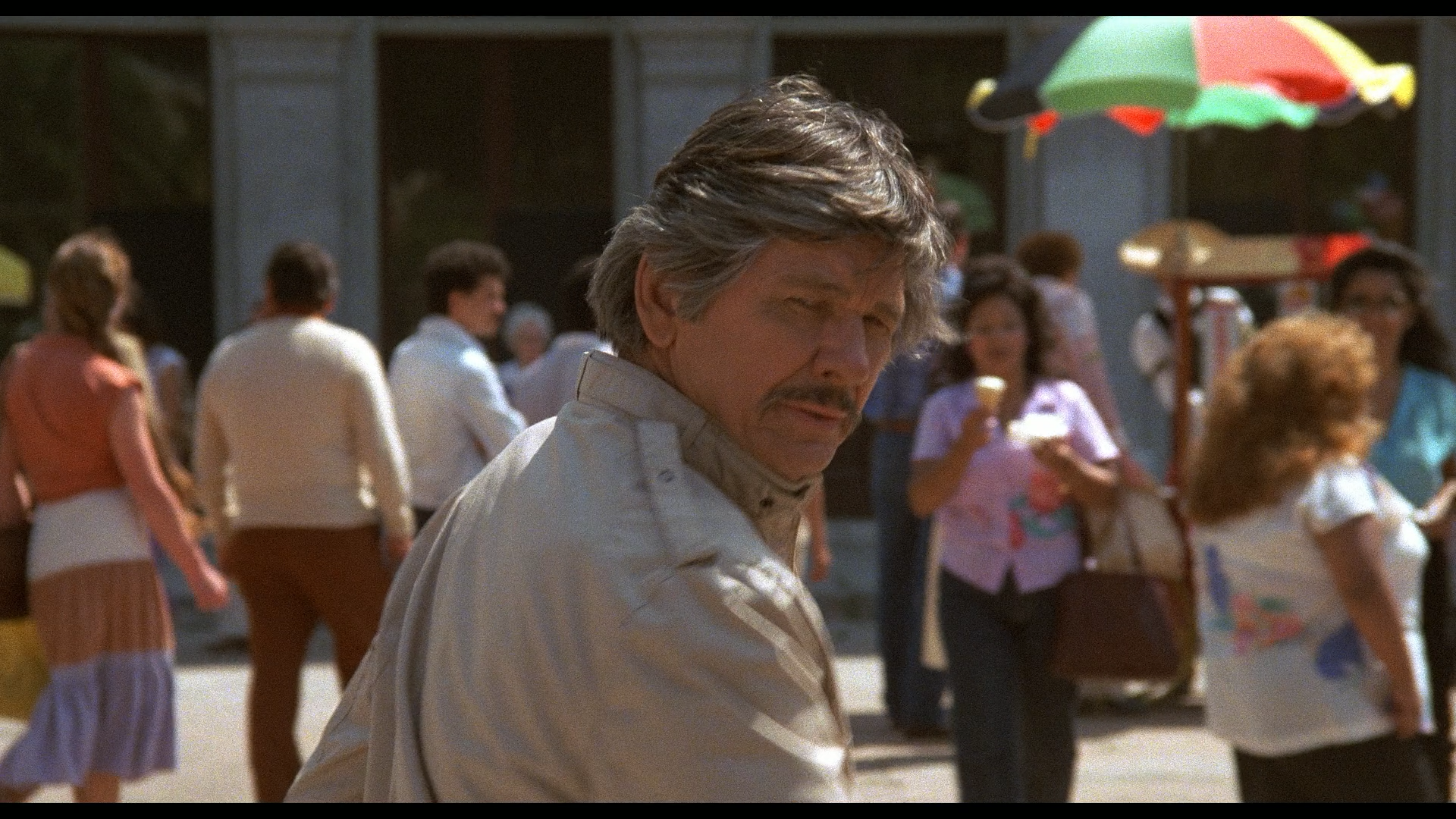 4K VIDEO – 5/5, BLU-RAY VIDEO – 4¾/5
---
Death Wish II marks its debut on 4K Ultra HD through Vinegar Syndrome and is presented in the film's original 1.85 widescreen aspect ratio and a 2160p high-definition transfer. As per the back cover, this new transfer was restored from the 35mm original camera negative. As has been the case with the other 4K releases from VS that I've seen, this too looks absolutely fantastic. Detail is very sharp and well defined throughout, colors are well balanced with some vibrancy for the daylight scenes and black levels are well balanced. The natural film grain and noise has been retained and gives this some good texture.

Meanwhile, the included Blu-ray also was restored and while there is a difference with the 4K being sharper by comparison, the 1080p resolution still looked excellent and a solid upgrade over the Shout Factory release.
AUDIO – 4½/5
---
Both discs come with a DTS-HD Master Audio 2.0 track. The dialogue here is clear and no apparent or obvious signs of hisses, pops or other ailments. I don't know if any restoration was done or the track was provided by MGM and could be similar to the Shout Factory edition. Whatever the case, this is likely a good upgrade over the previous MGM Blu-ray and probably in-line with the Shout Factory version.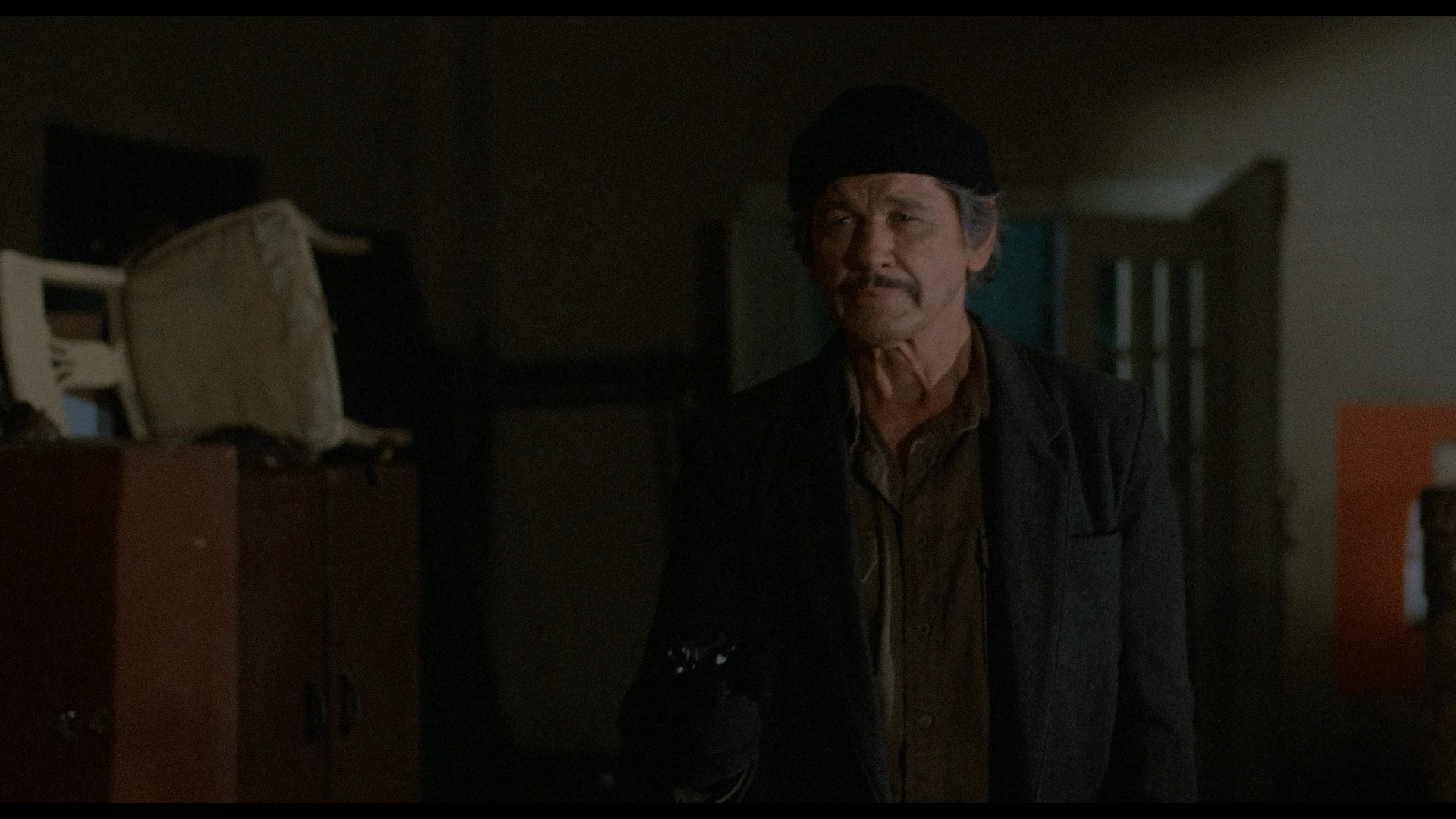 OVERALL – 3½/5
---
Death Wish II isn't a great sequel by any means and like the first, hard to really "enjoy" the film or find it terribly entertaining given the assaults early on, though seeing the scumbags getting their justice had satisfying elements at least. This 4K Ultra HD release from Vinegar Syndrome does have great video transfers alongside good lossless audio.
Check out some more 1080p screen caps by going to page 2. Please note, these do contain spoilers.