Shattered is a forgettable suspense-thriller although I did think both Cameron Monaghan and newcomer Lilly Krug were decent enough in the leads and maybe this is worth a watch when it's available for free down the line.
Shattered
(2022)

---
Genre(s): Suspense/Thriller, Crime
Lionsgate| R – 92 min. – $21.99 | February 22, 2022
Date Published: 02/23/2022 | Author: The Movieman
MOVIE INFO:
Director: Luis Prieto
Writer(s): David Loughery (written by)
Cast:

Cameron Monaghan, Frank Grillo, Lilly Krug, Sasha Luss, John Malkovich

---

DISC INFO:
Features: Featurette, Trailer
Slip Cover: Yes
Digital Copy: Yes
Formats Included: Blu-ray
Number of Discs:

1

---

Audio: English (DTS-HD MA 5.1)
Video: 1080p/Widescreen 2.39
Subtitles: English SDH
Disc Size: 24.44 GB
Total Bitrate: 32.11 Mbps
Codecs: MPEG-4 AVC
Region(s):

A

---
Lionsgate provided me with a free copy of the Blu-ray I reviewed in this Blog Post.
The opinions I share are my own.
THE MOVIE — 2¼/5
---
Plot Synopsis: After lonely tech millionaire Chris Decker (CAMERON MONAGHAN) encounters charming, sexy Sky (LULLY KRUG), passion grows between them — and when he's injured after an attempted robbery, she quickly steps in as his nurse. But Sky's odd behavior makes Chris suspect that she has more sinister intentions, especially when Sky's roommate is found murdered.
Review: Shattered is a suspense-thriller with a decent, if not also well used, idea that could've worked if it went more with a pitch-black comedy element instead of a retread of many other movies, a few of which this writer had done before. Still, it's a well produced film with a nice, rich setting and a capable cast. Unfortunately it's all too predictable just about every step of the way with only one minor twist near the end that's pretty ineffective.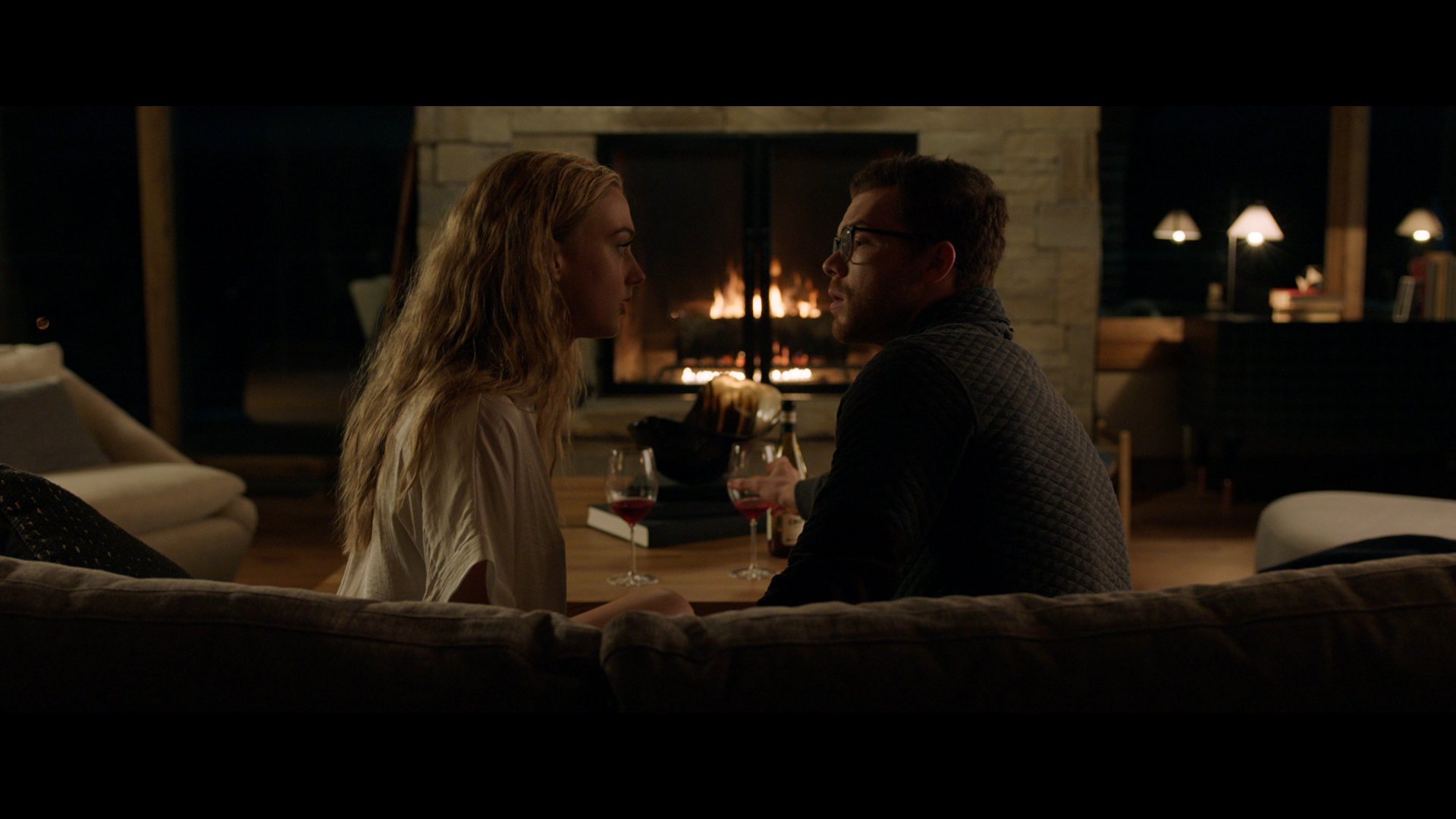 I will say, at the very least Cameron Monaghan and Lilly Klug, in her feature film debut, gave decent performances (even brave I'd argue in Klug's case as there were two fairly steamy sex scenes) and Klug's crazy doesn't go too overboard or campy. The pair work well off of each other, which is something for Monaghan as he spends the bulk of the time taped to a wheelchair.
Meanwhile, Frank Grillo and John Malkovich both have small parts, Malkovich in particular had maybe 5-minutes of screen time; normally I'd say he did this for a quick paycheck but he's also listed as one of four producers, so could did this as a favor since maybe he had a financial stake. Grillo makes his appearance closer to the end and of course he plays a villainous character (as Sky's handsy step-father).
Shattered was directed by Luis Prieto whose previous works included Kidnap, a movie I found bad yet still unintentionally funny. The script was written by David Loughery, with him being credited for a variety of films like Obsessed, Fatale and Lakeview Terrace, and strangely also Dreamscape, Passenger 57 and Star Trek V (he also has a movie called End of the Road starring Queen Latifah coming up). But it's those first few films I listed that are fairly similar but more a mix of Fatal Attraction and Misery.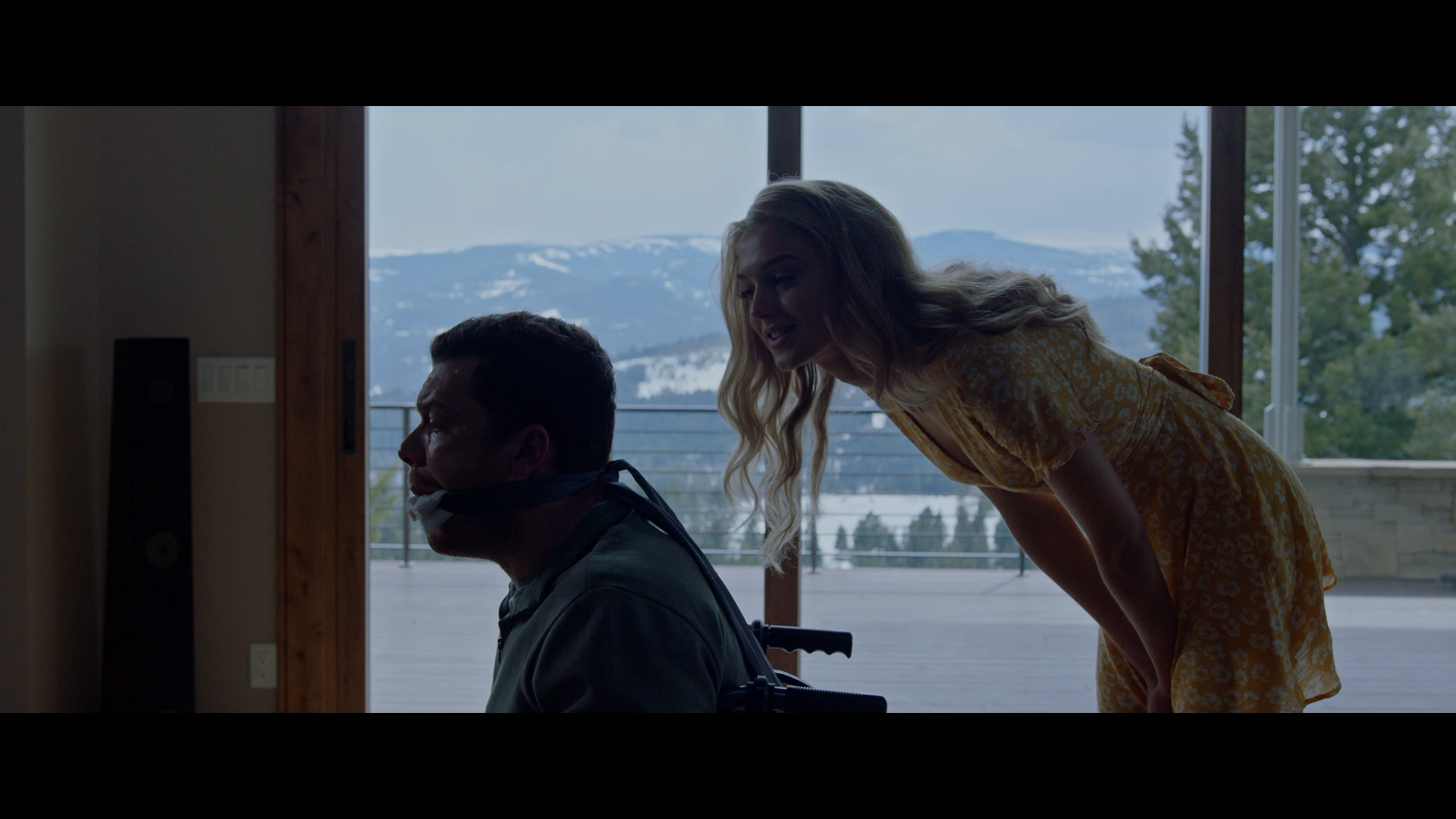 In the end, I don't think Shattered is that bad of a film, not very good and worthy of being direct-to-video, but certainly watchable, although I doubt I'll remember much about it in a month or two (on the other hand, the ending was shocking yet also laughable). I imagine this is the kind of movie that lands on Netflix (a service I don't have) but managed to get a physical copy release.
SPECIAL FEATURES – 2/5
---
This release comes with a title-embossed slip cover. Inside is a redemption code for the Digital HD copy. Features include Mischief in the Mountains: The Story of Shattered (9:57) which is an interview with Luis Prieto and the film's Trailer (2:36).
VIDEO – 4½/5
---
Lionsgate releases Shattered onto Blu-ray, presented with a 2.39 widescreen aspect ratio and a 1080p high-definition transfer. For the most part, the picture here looks fairly high-quality, detail is sharp and the balanced between the light and dark scenes are decent, showing no signs of artifacts. The color scheme for most of this, despite being dark in tone, still has a lightness to it especially with the modern, high-tech house (according to IMDb, this was shot in Montana; wonder if the house belonged to one of the producers).
AUDIO – 4/5
---
The DTS-HD Master Audio 5.1 track is functional if not also standard for a Blu-ray release. Dialogue comes across with precision and there is some okay depth for the few more action-centric scenes, especially the finale where bullets go off and characters fight one another.
OVERALL – 2¼/5
---
Shattered is a forgettable suspense-thriller although I did think both Cameron Monaghan and newcomer Lilly Krug were decent enough in the leads and maybe this is worth a watch when it's available for free down the line.
Check out some more 1080p screen caps by going to page 2. Please note, these do contain spoilers.