Supergirl might not be some misunderstood movies of the 1980s and indeed it is at times pretty awful, particularly in terms of the cheap production design, bad dialogue and nonsensical moments, and yet the movie has its charms, most notably Helen Slater.
Supergirl
— Warner Archive Collection —
(1984)

Genre(s): Comedy, Science Fiction
Warner Bros. | PG – 125 min. – $21.99 | July 24, 2018
Date Published: 09/08/2018 | Author: The Movieman
MOVIE INFO:
Directed by: Jeannot Szarc
Writer(s): Jerry Siegel and Joe Shuster (created by), David O'Dell (screenplay)
Cast: Faye Dunaway, Helen Slater, Hart Buchner, Peter Cook, Mia Farrow, Marc McClure, Brenda Vaccaro, Peter O'Toole
DISC INFO:
Features: Commentary, Featurette, Theatrical Trailer
Digital Copy: No
Formats Included: Blu-ray, DVD
Number of Discs: 2
Audio: English (DTS-HD MA 5.1)
Video: 1080p/Widescreen 2.40
Subtitles: English SDH
Disc Size: 43.1 GB
Codecs: MPEG-4 AVC
Region(s): A, B, C
THE MOVIE — 2.75/5
---
Plot Synopsis: Though Superman grew up believing himself to be the Last Son of Krypton, part of his home planet survived: Argo City, home of his uncle, Zor-El (SIMON WARD), and Zor-El's wife, Alura (MIA FARROW). Saved by the wizardry of Zaltar (PETER O'TOOLE) and the Omegahedron, their daughter Kara (HELEN SLATER) comes of age as a Kryptonian when a disaster whisks the Omegahedron to her cousin's adoptive planet, Earth. Taking upon herself to rescue it from the clutches of evil sorceress Selena (FAYE DUNAWAY), Kara must tackle a steep learning curve so that she can pass the test as both mild-mannered schoolgirl Linda Lee and Supergirl.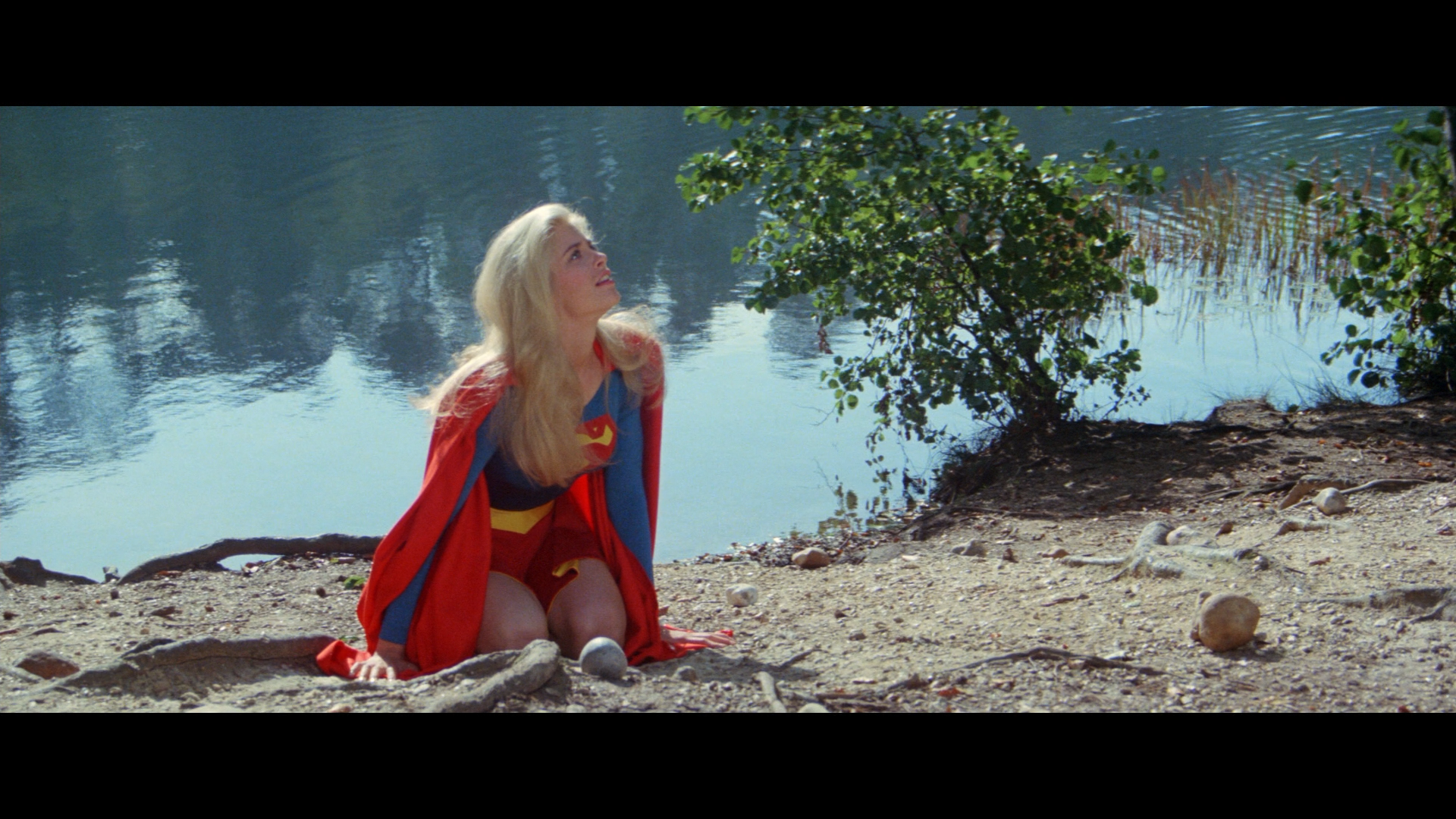 Review: Supergirl is a really oddball of a comic book movie and tonally seemed to adhere more toward the cheesier Superman III and IV than the first two movies which I found less zany by comparison. In the 30 years since its release, it seems there is some weird appreciation for the Girl of Steel feature film debut and now seeing it only for a second time, although indeed there are some really bad moments, I can't help but enjoy certain aspects.
One of things I knew the last time and noticed this go around as well was Helen Slater. It's actually impressive that despite some truly atrocious dialogue and thin plot, not to mention some of the cheaper production design and Dunaway's ham-fisted performance, was just how damn charming Slater was, and was absolutely believable as a relative to Christopher Reeve (as a side, didn't realize this the last time, the film explaining Superman's absence).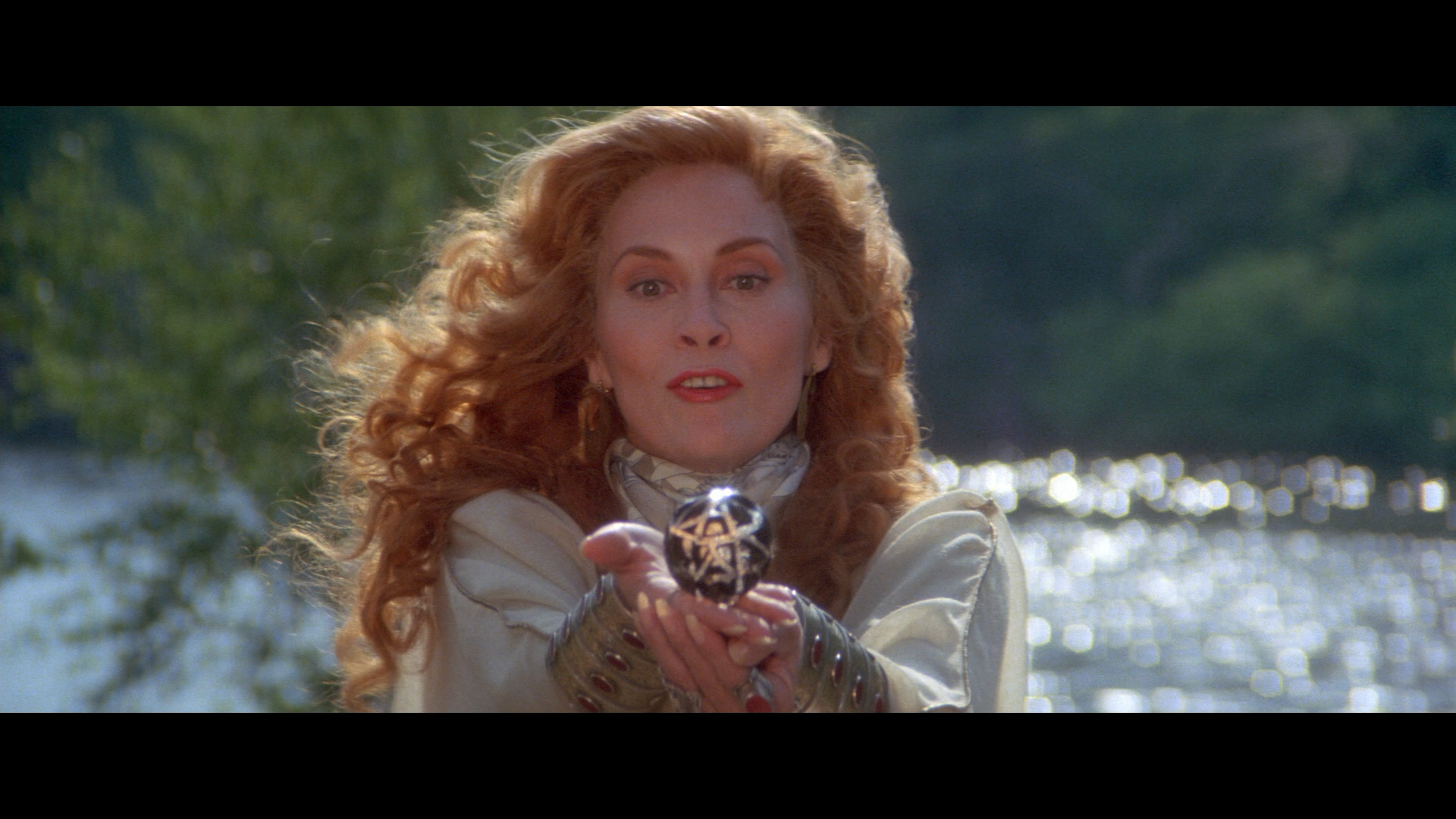 Another element I liked was when Selena, somehow, sends Supergirl into the Phantom Zone. This sequence was actually well shot and although is also had the same cheap set work, I felt it gave Supergirl as a character to really shine as she faced a dark and grimy reality. And it was nice seeing her interaction with Peter O'Toole's far more cynical Zaltar character.
I mentioned these in the last part here, but the plot was rather weak, even by the era this came out. For one, Dunaway's Selena's motivation was just world domination which is fine, but then there's the added wrinkle where she creates a potion to control the mind and have our male lead, portrayed by Hart 'Hans, babe, put away the gun' Buchner, who has the charisma of a block of wood. Now, why she wanted to do this? No clue, only I guess to have her and Supergirl face off is my guess.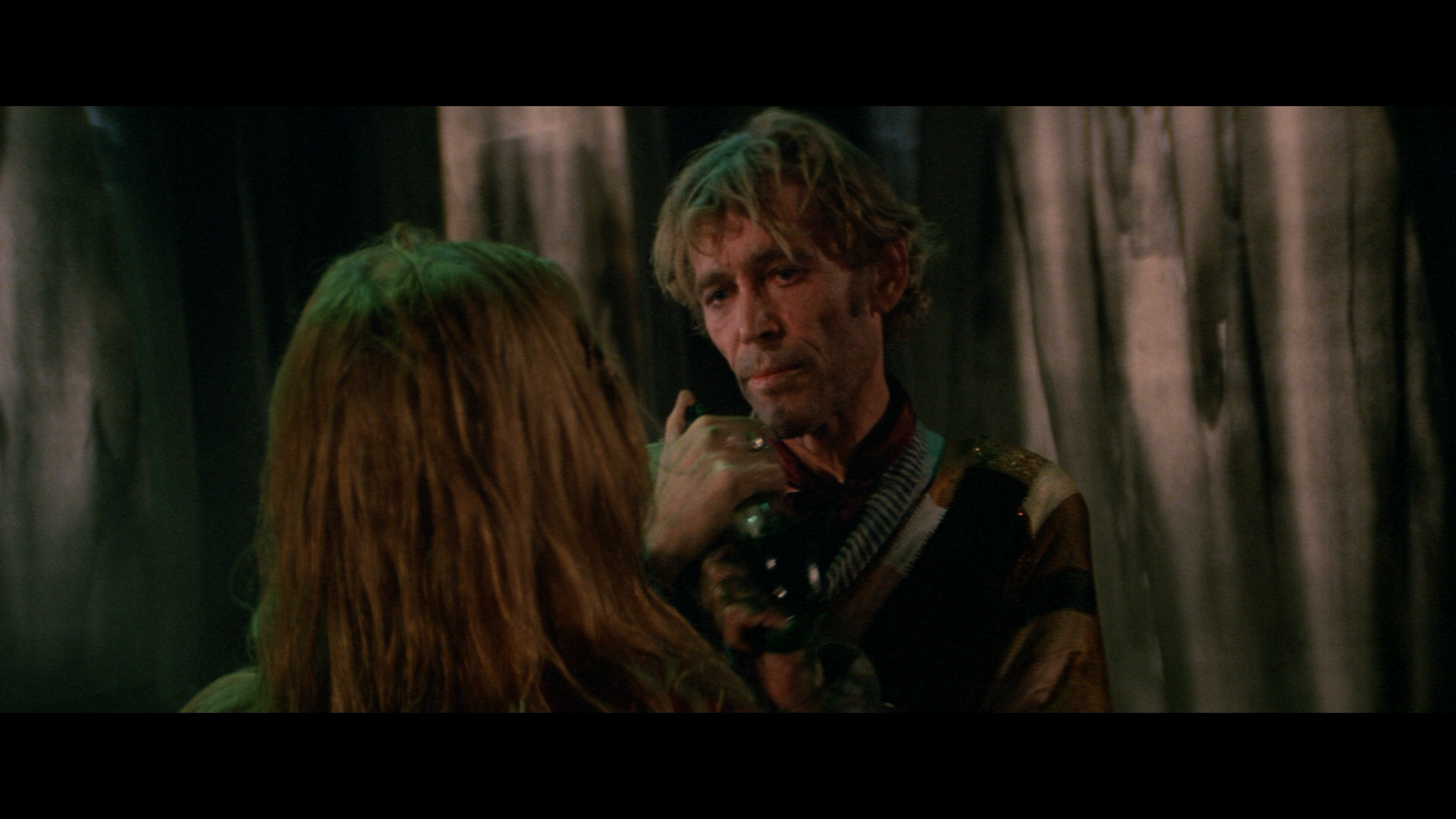 Supergirl is most certainly a bad movie but it does have a certain charm and never comes across as cynical, and at the very least the cast seemed to have fun in their roles, most notably Faye Dunaway hamming it up and Helen Slater doing her best portraying the innocence of the character and you even get the sense a kinship with Christopher Reeve's Superman.
SPECIAL FEATURES — 2.0/5
---
This release does come with a DVD copy of the Director's Cut. Features are on the Blu-ray disc with an Audio Commentary with Director Jeannot Szarc and Special Project Consultant Scott Michael Bosco, vintage The Making of Supergirl (49:48; SD) documentary and the Theatrical Trailer (4:26; HD).
VIDEO — 4.25/5, AUDIO — 4.25/5
---
Supergirl flies onto Blu-ray through Warner's Archive Collection presented in its original 2.40 widescreen aspect ratio and given a new 1080p high-definition transfer. I was pleasantly surprised with the video here, detail was moderately sharp throughout and colors are brilliantly bright, Supergirl's outfit in particular stands out, without appearing to be oversaturated. I did not notice any apparent instances of artifacting, aliasing or other obvious flaws.
The movie comes with a strong DTS-HD Master Audio 5.1 track, showing off the various (cheap) action scenes with fine depth while also outputting clear dialogue levels as well as Jerry Goldsmith's failed attempt with Supergirl's theme. It's not a phenomenal lossless track or anything, but does nicely get the work done.
OVERALL – 2.75/5
---
Overall, Supergirl might not be some misunderstood movies of the 1980s and indeed it is at times pretty awful, particularly in terms of the cheap production design, bad dialogue and nonsensical moments (like how Supergirl changes outfits), and yet the movie has its charms, most notably Helen Slater. This Blu-ray release from the Warner Archive Collection offers great video/audio transfers and an okay selection of bonus features ported over from the "Limited Edition" DVD release.
Check out some more 1080p screen caps by going to page 2. Please note, these do contain spoilers.