The Hitman's Bodyguard is a bit uneven in terms of both the action and comedy, but with the dynamic between Reynolds and Jackson, it's hard not to have a good time with the excessive violence and language, though the film hardly breaks new ground for the mixed-genre.
The Hitman's Bodyguard
(2017)

---
Genre(s): Action, Comedy
Lionsgate | R – 118 min. – $42.99 | November 21, 2017
Date Published: 11/20/2017 | Author: The Movieman
MOVIE INFO:
Directed by: Patrick Hughes
Writer(s): Tom O'Connor (written by)
Cast: Ryan Reynolds, Samuel L. Jackson, Gary Oldman, Salma Hayek, Elodie Yung
DISC INFO:
Features: Commentary, Featurettes, Deleted/Extended/Alternate Scenes, Outtakes
Digital Copy: Yes
Formats Included: 4K, Blu-ray
Number of Discs: 2
Audio (4K/BD): English (Dolby Atmos)
Video (4K): 2160p/Widescreen 2.40
Video (BD): 1080p/Widescreen 2.40
Dynamic Range: HDR10, Dolby Vision
Subtitles: English SDH, Spanish
Codecs: HEVC / H.265 (4K), MPEG-4 AVC (BD)
Region(s): A, B, C
THE MOVIE — 3.25/5
---
Action comedies are usually hit or miss as sometimes you can completely whiff on both fronts. The Hitman's Bodyguard is one that is mostly hit — and has the feel of 1980s along the lines of 48 HRS — but sometimes the jokes don't always land including a running gag about a car smelling like "ass".
Michael Bryce (RYAN REYNOLDS) is a hired hand to bodyguard those who are targeted such as, when the film opens, a Japanese arms dealer who unfortunately for Bryce, gets killed on the private plane. Fast forward two years later and Bryce is on hard times as his business has flailed.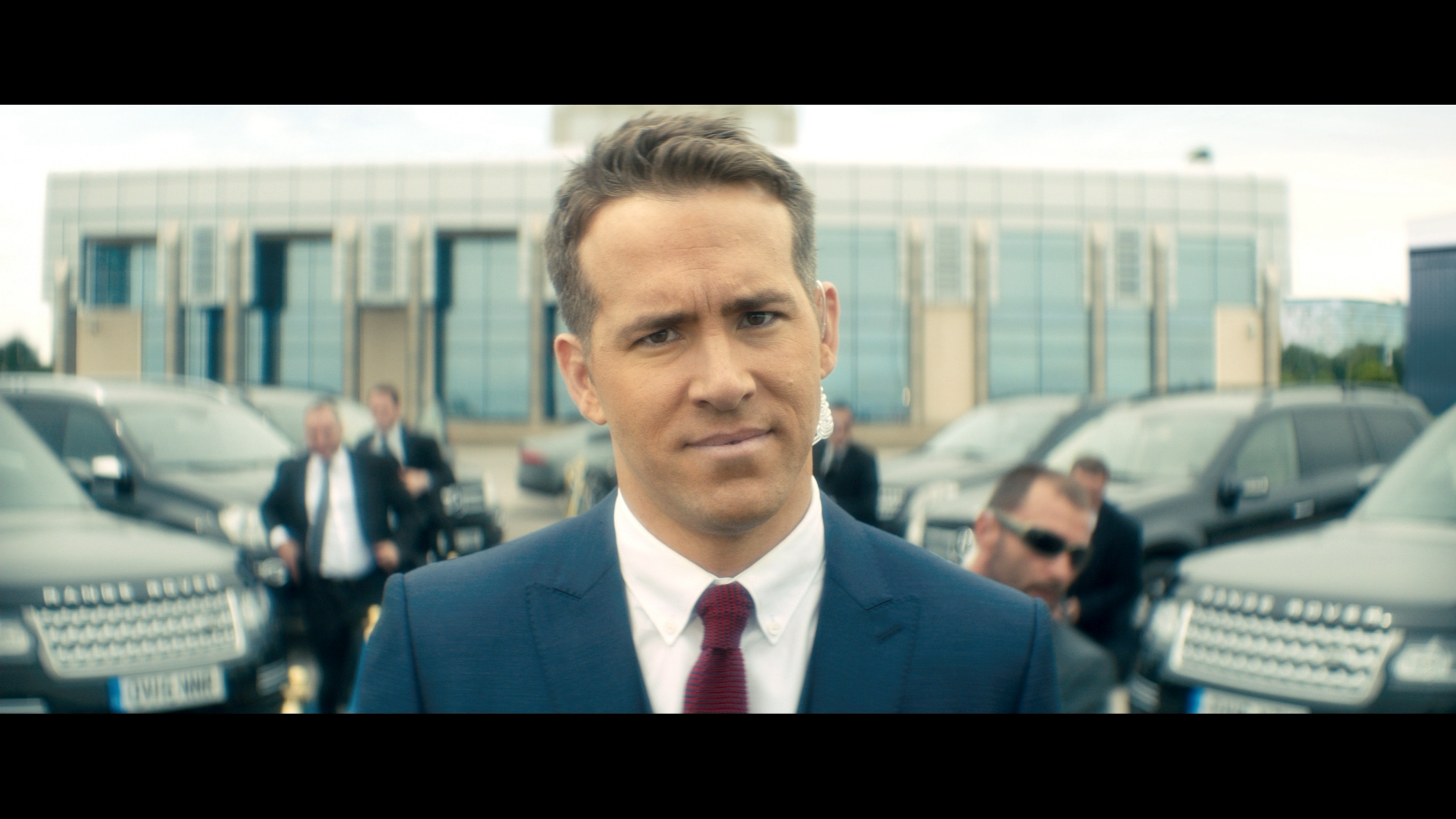 Meanwhile, hitman Darius Kincaid (SAMUEL L. JACKSON), under arrest, has agreed to testify against the notorious and brutal dictator Vladislav Dukhovich (GARY OLDMAN) accused of war crimes. His testimony is crucial to placed Vlad in the Hague. In turn, Kincaid's wife (SALMA HAYEK) receives full immunity and will be released from prison. Well, best laid plans and all that, as Kincaid is being transported, the convoy is ambushed killing nearly everybody except Kincaid and Interpol agent Amelia Roussel (ELODIE YUNG).
Realizing there is a mole within the agency, and it's revealed early on so no real mystery who, Roussel calls ex-boyfriend Bryce to come in and protect Kincaid. Despite their, let's say, rocky relationship, he agrees, though unbeknownst to Roussel, Bryce and Kincaid have a sordid past, crossing paths over their careers. Now they must work together to stay alive from a slew of relentless hired goons who very well may kill them… if they don't kill each other first! Yuk yuk yuk.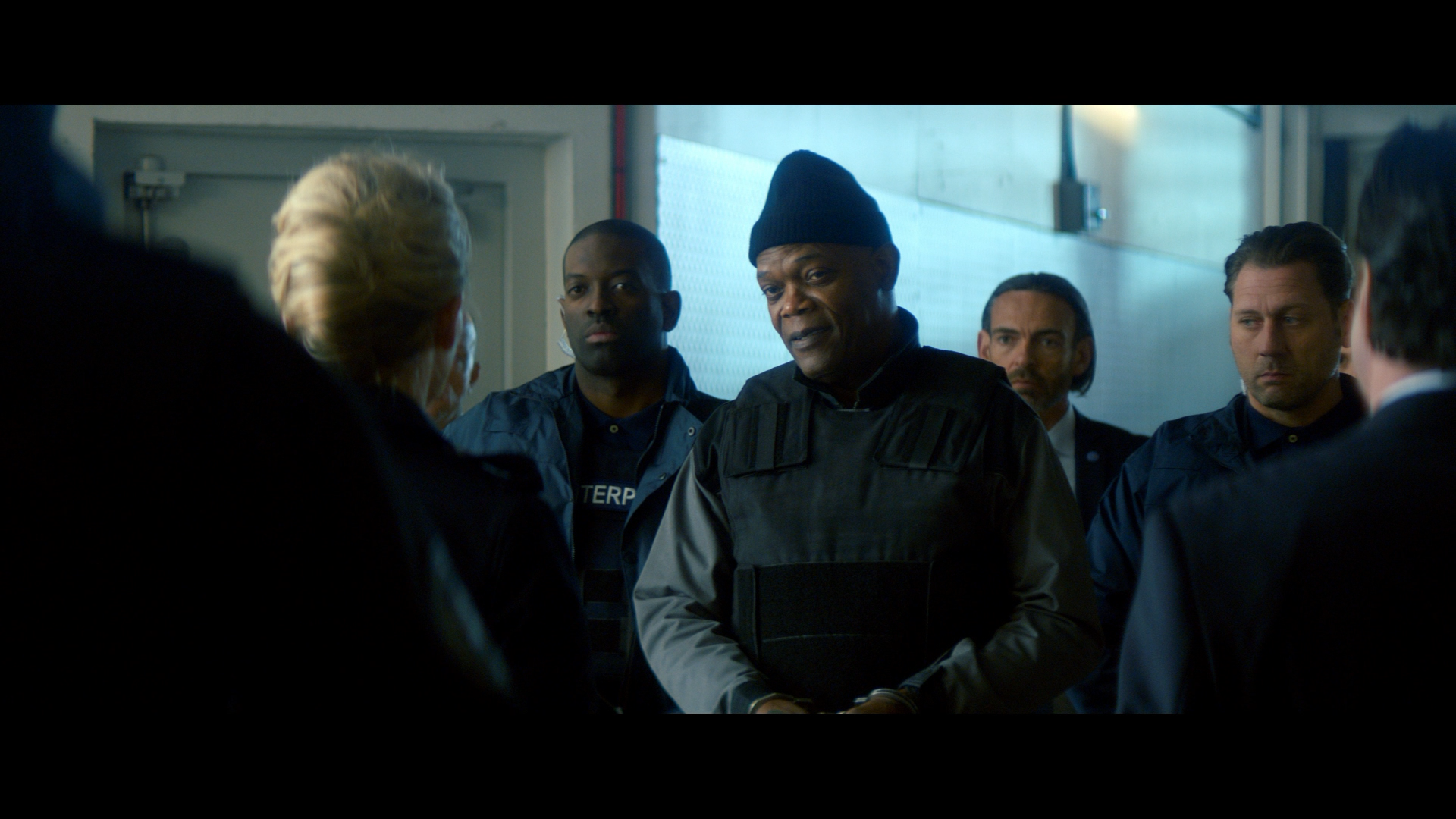 I actually found the film to be amiable enough. It doesn't exactly break new ground in any fashion and even has tints of Deadpool with the relentless amount of bloodshed, dead bodies, all around violence and language all intermingled with bouts of humor and jokes. In place of a so-so story and throwaway villain Ryan Reynolds and Samuel L. Jackson playing nicely opposite one another. Now, their characters are more or less their respective personalities (Reynolds sarcastic quips, Jackson yelling f-bombs and laughing) but even so, if you like either one of them, this will satisfy your thirst action-comedy.
The supporting cast is mostly a waste, headlined by Gary Oldman as the aforementioned one-dimensional villain. But because it is such a fantastic actor, every scene he's in is made all the better with merely his presence. Elodie Yung is cute to look at and has a couple okay scenes while Salma Hayek spends nearly her entire time in a cell as a tough woman who takes no s**t from anybody.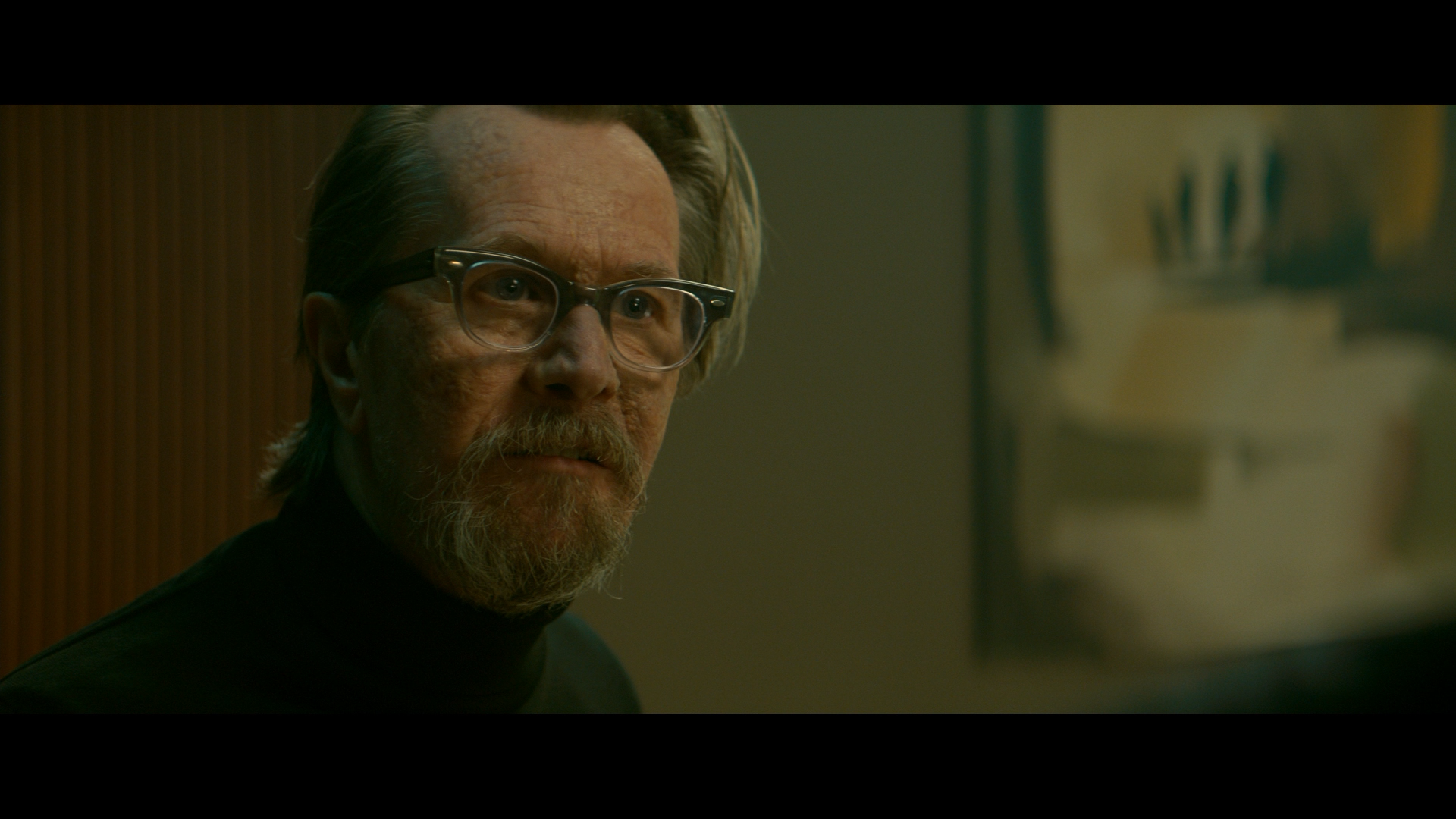 The Hitman's Bodyguard was written by Tom O'Connor, marking only his second film following 2012's Fire with Fire, and helmed by action-director Patrick Hughes, The Expendables 3, which was easily the worst of that disappointing trilogy. At least here the action is a bit crisper and there is somewhat of a style with some of the fight scenes.
While this isn't some great action-comedy, it's an okay way to pass two hours.
SPECIAL FEATURES – 3.25/5
---
This release comes with a glossy and semi-reflective slip cover. Inside is a redemption code for the Digital HD copy. The features are on both the 4K and Blu-ray discs.
Audio Commentary – Director Patrick Hughes sits down offering insights into his approach to making the movie and inspirations for how certain scenes were shot.
Outtakes (5:23; HD) – This has plenty of line flubs and on-set issues. The last one on the reel is featured at the end of the movie.
Deleted Scenes (5:01; HD) – There were four scenes that for one reason or another did not make the final cut, probably due to pacing issues or redundancy.
Extended Scenes (3:21; HD) – More footage cut down from the final release.
Alternate Scenes (TRT 3:24; HD) – Want more? You got it! Well, two alternate scenes at least.
The Hitman's Bodyguard: A Love Story (8:56; HD) looks at the evolving bromance between Reynolds and Jackson's characters.
Hitman vs. Bodyguard (4:23; HD) – This is just a collection of footage from the movie. Not sure what the point of this was…
Dangerous Women (8:22; HD) is on the two female leads, played by Salma Hayek and Elodie Yung.
Big Action in a Big World (7:53; HD) – This featurette is a behind-the-scenes look at the action sequences.
4K VIDEO – 4.5/5, BD VIDEO — 4.0/5

---
Lionsgate hires The Hitman's Bodyguard onto 4K and Blu-ray presented in 2160p and 1080p high-definition respectively and shown in the original 2.40 widescreen aspect ratio. The 4K disc looks quite good though, like the Blu-ray, there is a certain softness to some of the scenes. Doubtful this is a transfer issue and more how the movie was shot instead. Even so, detail still is quite sharp and colors do have a certain pop thanks to the HDR (the disc also includes Dolby Vision).
4K/BD AUDIO – 4.75/5
---
Both the 4K and BD include Dolby Atmos tracks and each instance this is just the kind of movie that benefits from the new(ish) audio codec. Dialogue levels of course sound clean even during such things like a car chase, but where this track comes to life is with the onslaught of gunfire, cars slamming into one another and other action odds and ends. For extra measure, the LFE channel does kick for added effect.
OVERALL – 3.5/5
---
Overall, The Hitman's Bodyguard is a bit uneven in terms of both the action and comedy, but with the dynamic between Reynolds and Jackson, it's hard not to have a good time with the excessive violence and language, though the film hardly breaks new ground for the mixed-genre. The 4K release has good video and audio transfers with some so-so special features.
Check out some more 1080p screen caps by going to page 2. Please note, these do contain spoilers.