The Amazing Spider-Man 2 was a disappointment for me mainly because I think the first movie set the right tone but the sequel instead squandered many opportunities particularly in the villain department who had little development to go along with a thin plot that for the most consisted of hating Spider-Man more than anything.
The Amazing Spider-Man 2
(2014)
---
Genre(s): Action, Adventure, Suspense/Thriller
Sony | PG13 – 141 min. – $45.99 | August 19, 2014
MOVIE INFO:


Directed by: Marc Webb
Writer(s): Stan Lee & Steve Ditko (characters); Alex Kurtzman & Robert Orci & Jeff Pinkner and James Vanderbilt (screen story), Alex Kurtzman & Robert Orci & Jeff Pinkner (screenplay)
Cast: Andrew Garfield, Emma Stone, Jamie Foxx, Dane DeHaan, Campbell Scott, Colm Feore, Sally Field

---

DISC INFO:
Features: Commentary, Featurettes, Deleted Scenes, Music Video, DVD Copy
Number of Discs: 3

---

Audio: English (DTS-HD MA 5.1), French (Dolby Digital 5.1), Spanish (Dolby Digital 5.1)
Video: 1080p/Widescreen 2.40
Subtitles: English SDH, English, French, Spanish
Disc Size: NA
Codec: MPEG-4 AVC
Region(s): A, B, C
THE MOVIE – 2.5/5
After watching The Amazing Spider-Man 2 at the theater some four months ago, the aftermath I found myself finding more things to dislike than like and a second viewing only magnified those areas of concern and they are aplenty, mainly with the plot and screenwriting, much of which makes any of the shortcomings in Raimi's Spider-Man 3 seem insignificant.
The story this go around finds Peter Parker/Spider-Man (ANDREW GARFIELD) still taking on crime as the movie opens attempting to stop the robbery of plutonium out of the back of a armed vehicle which itself is being towed by a big rig driven by Russian muscle man Aleksei Sytsevich (PAUL GIAMATTI) and after some cheerful banter, and Giamatti's laughable accent, between Spider-Man and Sytsevich, the web-slinger takes care of business and makes it to his high school graduation where girlfriend Gwen Stacy (EMMA STONE) is making her heartfelt and not at all foreshadowing valedictorian speech.
Even though Peter and Gwen are still madly in love, Pete continues to see the disapproving ghost of Gwen's deceased father, Captain George Stacy (DENIS LEARY), because at the end of Amazing Spider-Man 1, he made Peter promise to leave Gwen alone knowing he'll only bring pain and put her in danger. So, with Ghost Stacy and Peter's overwhelming guilt, breaks up with Gwen… right outside of a joyous family gathering to celebrate her graduation. What a champ. If only this was the only d-bag thing Peter would do in this film. So, broken up, Peter spends the bulk of his time saving New York City from the variety of criminals.
Meanwhile, we also get to meet Edward Nigma… err… Max Dillon (JAMIE FOXX), a nerdy introvert who was the chief designer of the Oscorp power grid, though his plans were more or less stolen and he's treated as a stooge, looked down upon by colleagues if acknowledged at all. But he has a mad crush on Spider-Man even being saved during that opening chase sequence. But one day as he tries to fix an electrical problem, he falls into a tank full of eels, gets shocked over and over again, fried and ends up at the morgue where he awakens, shakes off his crusty skin and is able to drain electricity in order to build up energy.
Max's wanderings lead him to Times Square, are surrounded by the cops and despite the efforts of Spider-Man to help, get shot at and now Max is angry at Spidey for not only supposedly betraying him but also hogging all the attention and admiration of the folks around. But he's soon enough captured and placed in an Oscorp facility to be experimented on and where he takes on his arch-villain name of Electro.
Now, if the movie needed more to go on, alongside a plane crash sequence involving Peter's parents, where his scientist father can kick the ass of a trained assassin, we're also introduced to Peter's childhood friend, Harry Osborn (DANE DEHAAN) who has returned to town to sit at the bedside of his dying father, Norman (CHRIS COOPER in an uncredited cameo) who, after berating his son, gives him the potential key to cure the Osborn cursed disease which Harry also is inflicted with. Harry takes over Oscorp but finds corruption within caused by the events of the Lizard from the first film.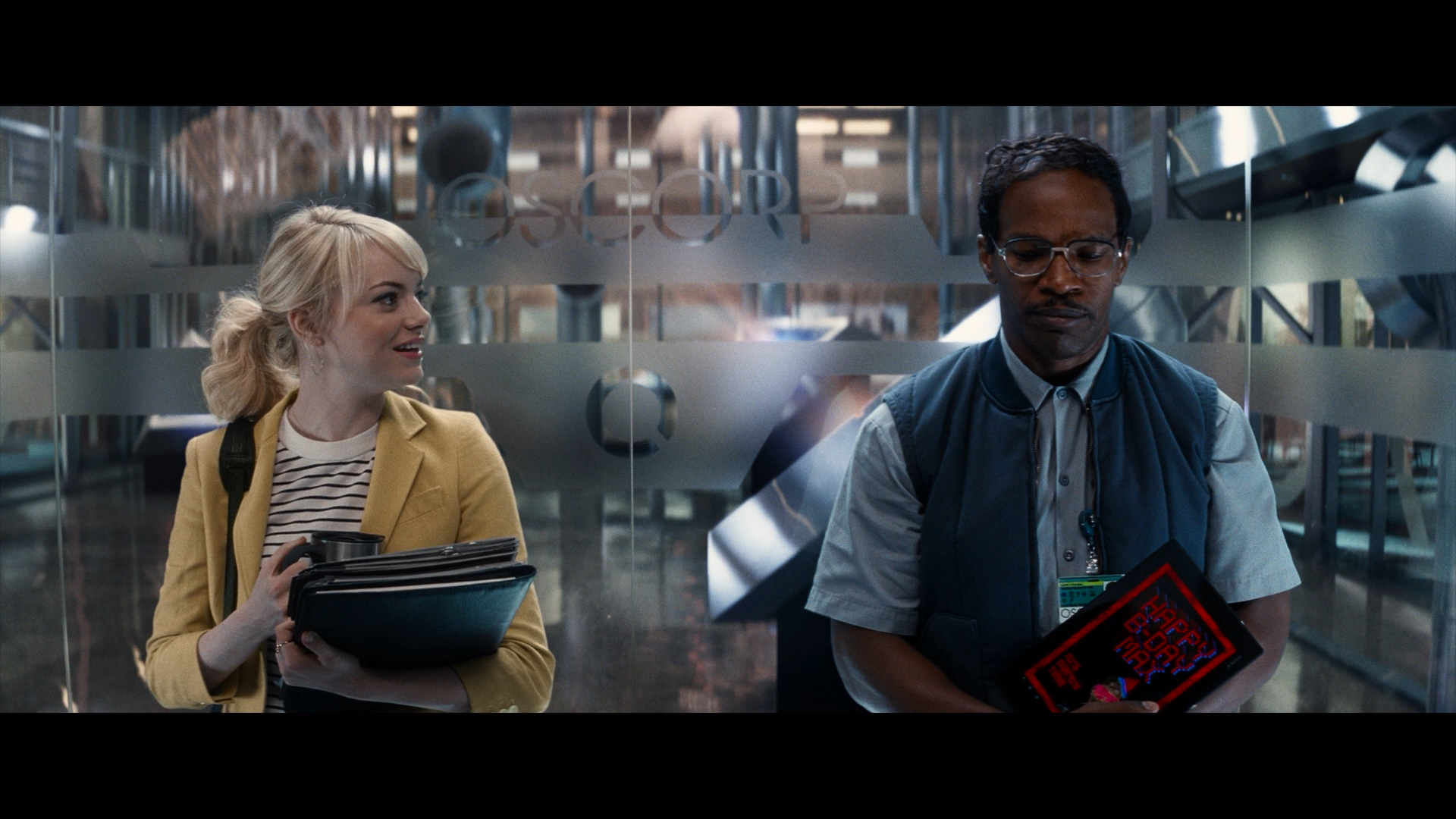 Alright, so speaking as someone who actually liked the first Amazing Spider-Man finding it to be an enjoyable reboot that had several factors over the Raimi version (comparing the first for each), I walked away from The Amazing Spider-Man 2 fairly disappointed. Before I go into the negatives, there are some good elements including the visual effects, costume designs, the production values, much of the supporting cast including Sally Field (huge upgrade over Rosemary Harris) and the chemistry between Andrew Garfield and Emma Stone is wonderful, if only the script could do their character's justice.
But for all the good, there's so much wrong with this movie. First, the origin of Electro is dumb as is the character Max himself. He's not only underdeveloped but his transformation from a scared guy to evil arch-nemesis just didn't add up, although Hans Zimmer's score makes it clear inserting his voices into the music ("He lied to me. He shot at me. He hates on me. He's using me. He's dead to me. He is my enemy"). So, not sure if it's Spidey's fault or Zimmer, but I'm going with the latter on this one. Now, in fairness, and blame should be placed on Marc Webb, but Max did have more scenes that were deleted involving his overbearing and ill mother. Really wish that was kept in there.
And then there is Harry Osborn. Now, I don't mind introducing him and actually Dane DeHaan was pretty damn good, bringing something different over James Franco's version, however, for whatever reason – though I suspect so Sony could rush out a Sinister Six feature film – they once again rushed his transformation (like Max) and so his transition from Harry's childhood friend to creepy (and a bit emo) supervillain Green Goblin within a span of probably only 15 minutes or so. A little more development for such an important character would've gone a long way and instead adds to the messy script and basically non-existent plotline that doesn't go much beyond merely hating Spider-Man (although in fairness, Harry's motivations was to find a cure which led to hating Spidey).
The Amazing Spider-Man 2 was once again helmed by the appropriately named Marc Webb but much like Sam Raimi for Spider-Man 3, it seems Webb was more guided by studio notes than putting together a coherent and entertaining storyline with well rounded and interesting characters, and shoving in one character who had no business being there other than to set up a potential spin-off (Sinister Six), this one in the form of Aleksei Sytsevich aka Rhino played by no less an Academy Award winner, Paul Giamatti. What a waste and little to no payoff except the studio wanted to end the film on a high note and, yet again, lead us into Sinister Six.
This is a film of lots of lost opportunities and as someone who did enjoy the first Amazing Spider-Man, the potential was there with Andrew Garfield as a decent Peter Parker/Spider-Man sharing amazing chemistry with the delightful Emma Stone, but with a script – co-written by Alex Kurtzman & Robert Orci & Jeff Pinkner – half developed and characters who have little to no development (primarily the two villains), it's a shame this wasn't better because on the technical front, there's a lot of good here but the bad easily outweighs it all.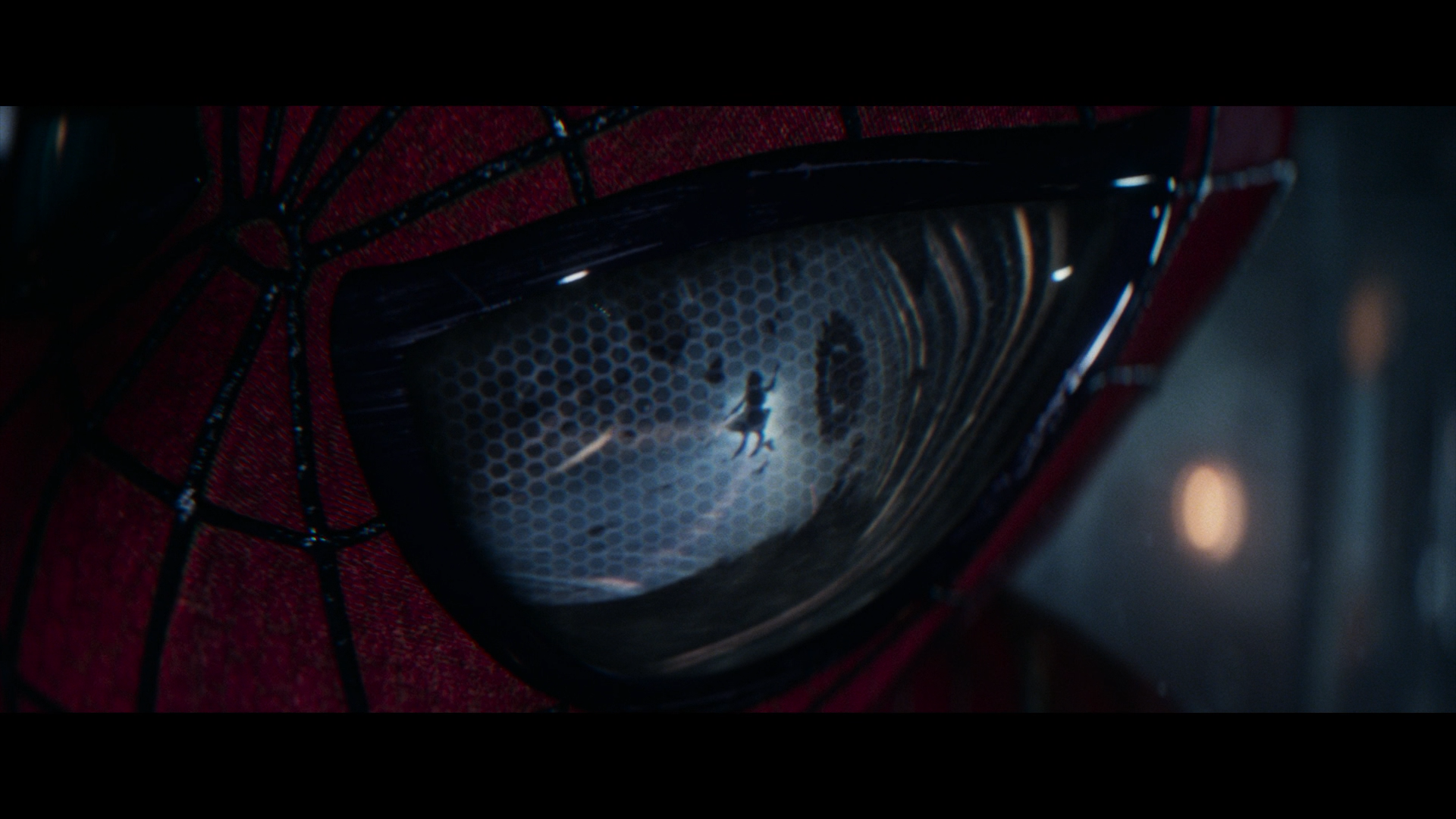 SPECIAL FEATURES – 4.5/5
The 3-disc set comes housed in a double thick, clear Blu-ray case and has a glossy and reflective slip cover. Inside is a redemption code for the Digital Copy.
Audio Commentary features Co-Writers Alex Kurtzman and Jeff Pinkner, Producers Matt Tolmach and Avi Arad, strangely missing, since he did do commentary for the deleted scenes, is director Marc Webb. Even so, each member is able to give their perspective running down the plot, characters, actors, etc.
Deleted/Alternate Scenes (23:01; HD) – 13 scenes, 9 of which are Blu-ray exclusives, includes a scene where Peter's father visits his son at the graveyard. There's also a decent scenes where Gwen stops by Peter's home and speaks to Aunt May, it's not bad and would help (sort of) explain how Peter knew where she was to web out the message. These are accompanied by an optional commentary with Marc Webb.
The Wages of Heroism: The Making of The Amazing Spider-Man 2 (1:43:42; HD) – This six-part behind-the-scenes featurette takes us through the process of making the movie, features on-set interviews with the cast and crew talking about the plot and showing some of the cool visual effects.
The Music of The Amazing Spider-Man 2 (8:09; HD) looks at the score as conducted by Hans Zimmer and some of the choice cues that he and Webb came up with for each character.
Last up with the Music Video (3:49; HD) for the Alicia Keys song, "It's On Again".
2D VIDEO – 5.0/5 | 3D VIDEO – 4.0/5

The Amazing Spider-Man 2 swings into action onto Blu-ray presented in its original theatrical 2.40 widescreen aspect ratio and 1080p high-definition transfer. The picture, unsurprisingly, looks incredible with excellent sharpness throughout where you can see the threading in Spider-Man's costume and colors are vibrant between the reds in said costume to the mossy green make-up on the Green Goblin. I might not have been a fan of the movie, but this is easily reference quality video.
The 3D version also isn't at all bad. There's some good depth and if there's any movie, outside of Avatar of course, to utilize the 3D technology it's this one where Spider-Man swings through the streets and rooftops of New York City providing as much of a viewpoint as possible. Not the best 3D transfer but it's still quite impressive on the whole.
AUDIO – 4.75/5
The 5.1 DTS-HD Master Audio track is quite good, though it could've been fantastic if Sony gave it the 7 channel treatment (heck, even Toy Story of Terror is 7.1 channels!) but still, dialogue is very clear and understandable, the action scenes help provide depth spread across each speaker and the music and score envelops the room mostly the same way as it did in the theater (for once I can make a direct comparison). It's a fine lossless track that helps give the film life.
OVERALL – 3.5/5
Overall, The Amazing Spider-Man 2 was a disappointment for me mainly because I think the first movie set the right tone but the sequel instead squandered many opportunities particularly in the villain department who had little development to go along with a thin plot that for the most consisted of hating Spider-Man more than anything, especially for Foxx's Electro. Still, Dane DeHaan as Harry Osborn was a treat, the visual effects are good and the direction, specifically getting Spider-Man's viewpoint as he swung from building to building, was impressive. The Blu-ray released by Sony does offer up incredible audio and video transfers and the features are good and in-depth providing some nice behind-the-scenes footage.
The Movieman
Published: 08/11/2014
Check out some more screen caps by going to page 2. Please note, these do contain spoilers.