Fire in the Sky is an okay science fiction drama that's basic on a dubious true story, though I can still admire the performance from Robert Patrick and special effects work by ILM as their alien design was pretty cool.
Fire in the Sky
(1993)

---
Genre(s): Science Fiction, Drama, Horror
Shout Factory| PG13 – 109 min. – $32.98 | June 21, 2022
Date Published: 07/04/2022 | Author: The Movieman
MOVIE INFO:
Director: Robert Lieberman
Writer(s): Travis Walton (book "The Walton Experience"); Tracy Torme (screenplay)
Cast:

D.B. Sweeney, James Garner, Robert Patrick, Craig Sheffer, Peter Berg, Henry Thomas

---

DISC INFO:
Features: Interviews, Gallery, Theatrical Trailer
Slip Cover: No
Digital Copy: No
Formats Included: Blu-ray
Number of Discs:

1

---

Audio: English (DTS-HD MA 5.1), English (DTS-HD MA 2.0)
Video: 1080p/Widescreen 2.35
Subtitles: English SDH
Disc Size: 45.80 GB
Total Bitrate: 40.75 Mbps
Codecs: MPEG-4 AVC
Region(s):

A

---
Shout Factory provided me with a free copy of the Blu-ray I reviewed in this Blog Post.
The opinions I share are my own.
THE MOVIE — 2¾/5
---
Plot Synopsis: In 1975, a group of five men are driving home after working in a forest when they see a mysterious light. Intrigued, Travis Walton (D.B. SWEENEY) leaves the truck — only to be sucked up by a flying saucer. The other four men report the strange event, but they are skeptically interrogated by Lt. Frank Watters (JAMES GARNER), who suspects that murder is behind Walton's disappearance. When Walton reappears five days later, his story of alien abduction is met with disbelief.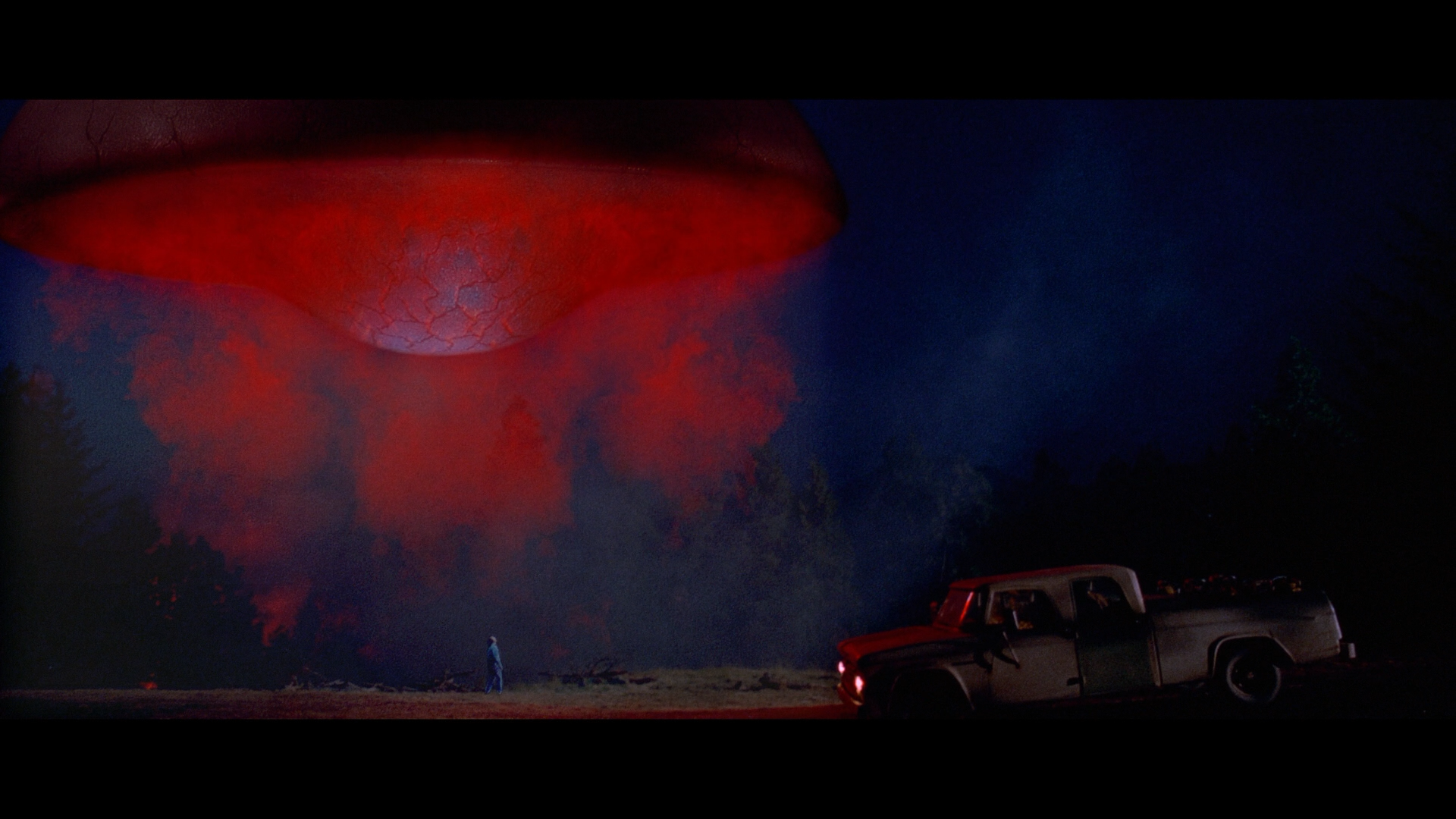 Quick Hit Review: Fire in the Sky is a movie I last saw probably in 1994 or 1995 likely on Showtime or HBO. I didn't think much of it then, despite being big into The X-Files, and seeing it again 20+ years later, I didn't find it all that enthralling. This isn't to say there's nothing to admire as the effects work by Industrial Light & Magic was pretty darn good for the time, mainly the work on the spaceship and the alien design, not to mention the abduction itself.
As for the cast, everyone carried themselves pretty well, though particularly Robert Patrick was a standout, D.B. Sweeney as the abductee was alright especially during the alien experimentation scene, and veteran James Garner brought a bit of weight even if his character is pretty one-note. The rest of the cast that includes Craig Sheffer, Peter Berg and Henry Thomas (i.e. Elliot from E.T.) were fine if not also unremarkable, though Sheffer at least was having a fun time trying to play a bad boy.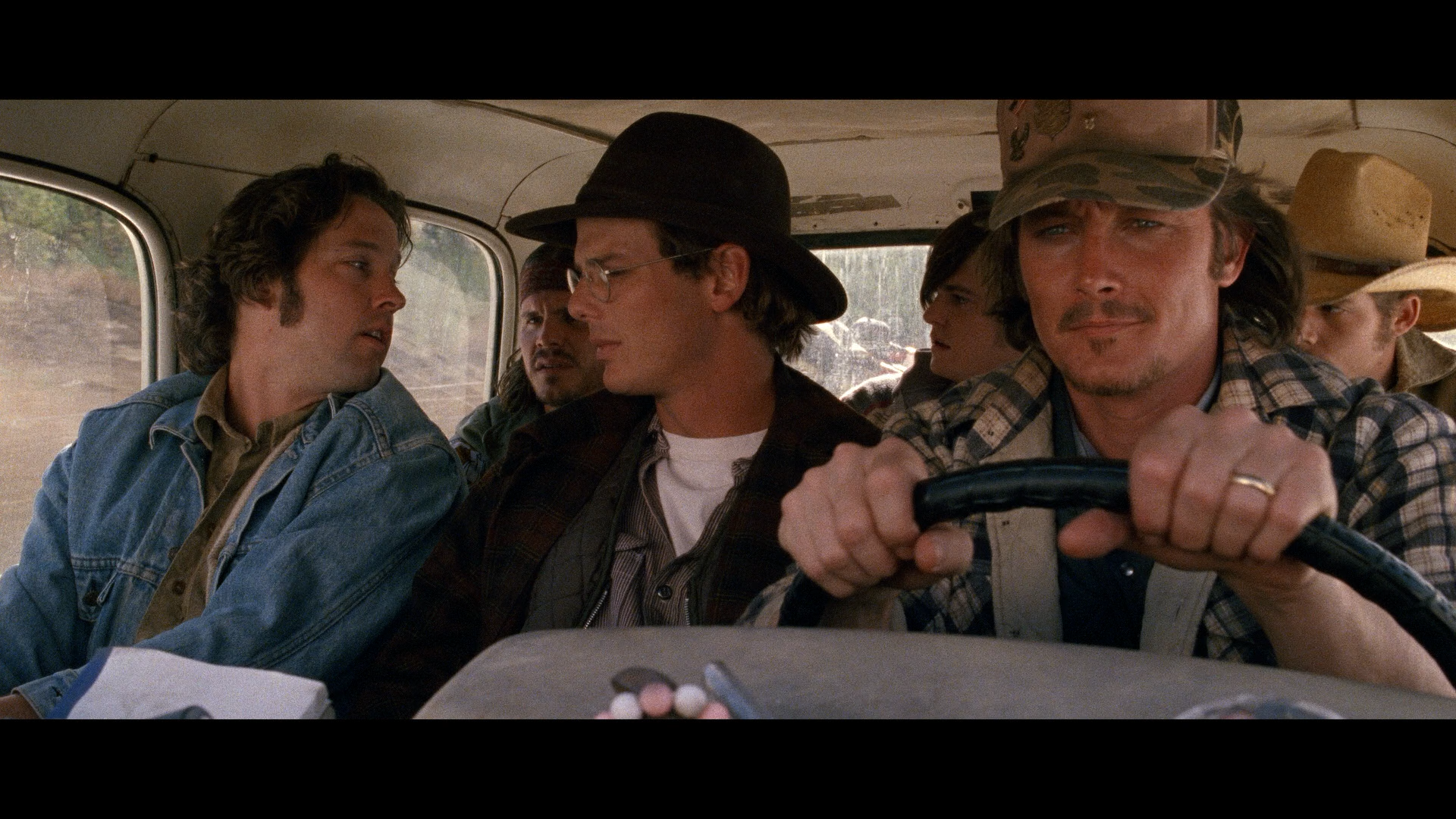 Fire in the Sky was directed by Robert Lieberman, whose career has mostly consisted of TV work on a variety of productions including Dexter, Haven and The Expanse, he also directed D3: The Might Ducks, a movie frankly I forgot existed. As for this film, it's a workman like direction, nothing especially noteworthy but he did his best with not the best material.
SPECIAL FEATURES – 3½/5
---
There's no slip cover for this release or a reversible cover.
Interviews:
Cinematic Abduction (26:20) — Director Robert Lieberman (NEW)
Touched by Light (15:19) — Actor D.B. Sweeney
We Gotta Go Back (11:11) —Actor Robert Patrick
Borrowed Time (11:41) — Composer Mark Isham
This is a good cluster of bonus features (totally ~65 minutes) each one was though was audio only set against production stills and footage from the film. However, that doesn't negate the information they impart on how they joined the production or behind-the-scenes stories.
Also included is a Photo Gallery and the Theatrical Trailer (1:14).
VIDEO – 4½/5
---
Fire in the Sky debuts on Blu-ray courtesy of Shout Factory and is presented with a 2.35 widescreen aspect ratio and given a 1080p high-definition transfer, which was taken from a new 4K scan from the original camera negative. This one does look pretty dang good, and that includes the early 1990s visual effects shots. Detail throughout is sharp and well defined with the natural film grain still intact and I didn't notice any obvious signs of wear like dust marks or artifacts.
AUDIO – 4/5
---
The movie comes with 5.1 and 2.0 DTS-HD Master Audio tracks, the former the default option. I wouldn't say this is anything incredible but certainly adequate allowing for crisp and clear dialogue coming out of the center speaker. There is some decent enough depth especially during the abduction scene as well as the sequence inside the alien spacecraft which showcases the respectable sound design where you discern the hollowness of the craft's interior.
OVERALL – 3¼/5
---
Overall, Fire in the Sky is an okay science fiction drama that's basic on a dubious true story, though I can still admire the performance from Robert Patrick and special effects work by ILM as their alien design was pretty cool.
Check out some more 1080p screen caps by going to page 2. Please note, these do contain spoilers.