Vampires isn't a great horror movie and certainly not top shelf in John Carpenter's vast resume, but it does have its moments, including a fun performance from James Woods, and an interesting, even unique, origin of the vampires.
Vampires
— Collector's Edition —
(1998)

Genre(s): Horror, Action
Shout Factory | R – 108 min. – $29.99 | September 24, 2019
Date Published: 09/12/2019 | Author: The Movieman
MOVIE INFO:
Directed by: John Carpenter
Writer(s): John Steakley (novel); Don Jakoby (screenplay)
Cast:

James Woods, Daniel Baldwin, Sheryl Lee, Thomas Ian Griffith, Maximilian Schell, Tim Guinee

---

DISC INFO:
Features: Commentary, Featurette, Interviews, Theatrical Trailer
Slip Cover: Yes
Digital Copy: No
Formats Included: Blu-ray
Number of Discs:

1

---

Audio: English (DTS-HD MA 5.1), English (DTS-HD MA 2.0)
Video: 1080p/Widescreen 2.35
Subtitles: English SDH
Disc Size: 46.93 GB
Total Bitrate: 44.89 Mbps
Codecs: MPEG-4 AVC
Region(s):

A

---
Shout Factory provided me with a free copy of the Blu-ray I reviewed in this Blog Post.
The opinions I share are my own.
THE MOVIE — 3.0/5
---
Plot Synopsis: "Forget everything you've ever heard about vampires," warns Jack Crow (JAMES WOODS), the leader of Team Crow, a relentless group of mercenary vampire slayers. When Master Vampire Valek (THOMAS IAN GRIFFITH) decimates Jack's entire team, Crow and the sole team survivor, Montoya (DANIEL BALDWIN), set out in pursuit. Breaking all the rules, Crow and Montoya take one of Valek's victim's hostage – a beautiful but unlucky prostitute (SHERYL LEE). She is the sole psychic link to Valek and they use her to track down the leader of the undead. As Valek nears the climax of his 600-year search for the Berziers Cross, Jack and the new Team Crow do everything possible to prevent him from possessing the only thing that can grant him and all the vampires the omnipotent power to walk the world in daylight.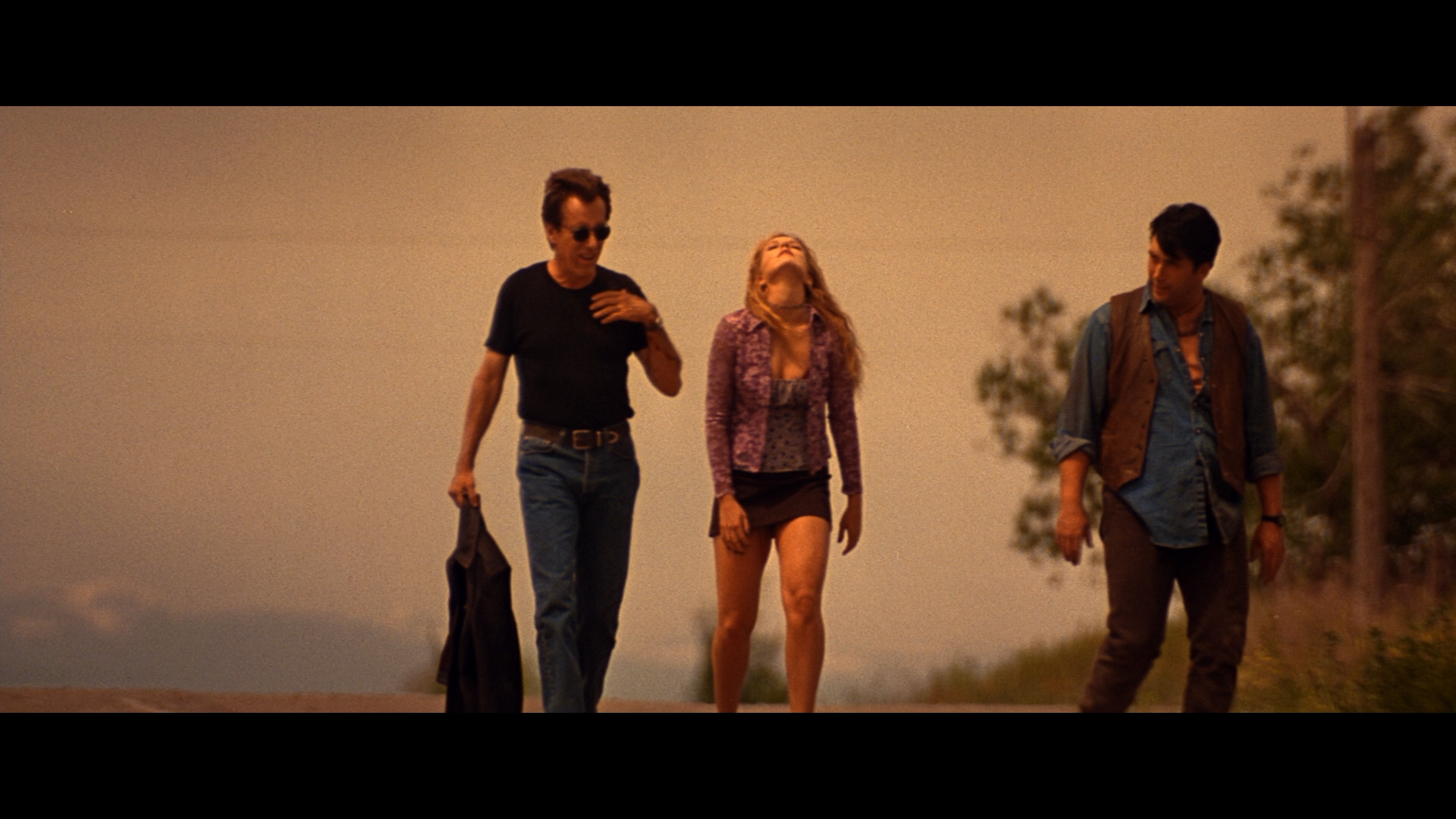 Quick Hit Review: John Carpenter is an amazing filmmaker not only for being the architect behind classics like Halloween (1978), The Fog, Escape from New York and The Thing and Big Trouble in Little China but he has had some lesser movies including Ghosts of Mars and to some extent Memoirs of an Invisible Man, but I will say he never pigeonholed himself into one genre as he could've easily just did versions of Halloween over and over again.
Vampires is a vampire-horror movie based off of a novel from John Steakley released back in 1996 and while this is not top shelf Carpenter, and it does seem he was losing a bit of his touch in his last few films (the last was back in 2010 with The Ward) before I guess retiring from the director's chair and since focusing on some composing on the newer Halloween films and a variety of projects. In any case, this one is by no stretch a favorite of mine and seeing it a few times over the years and this last time, it had some entertainment value and James Woods as usual was a blast, and the story in of itself was fine, the direction from Carpenter felt off, and the editing, especially towards the end, was messy perhaps due to a smaller budget where we only hear the slayers going after the vampires in voiceovers up against a dusk skyline. It was such an awkward cut that doesn't really appear before.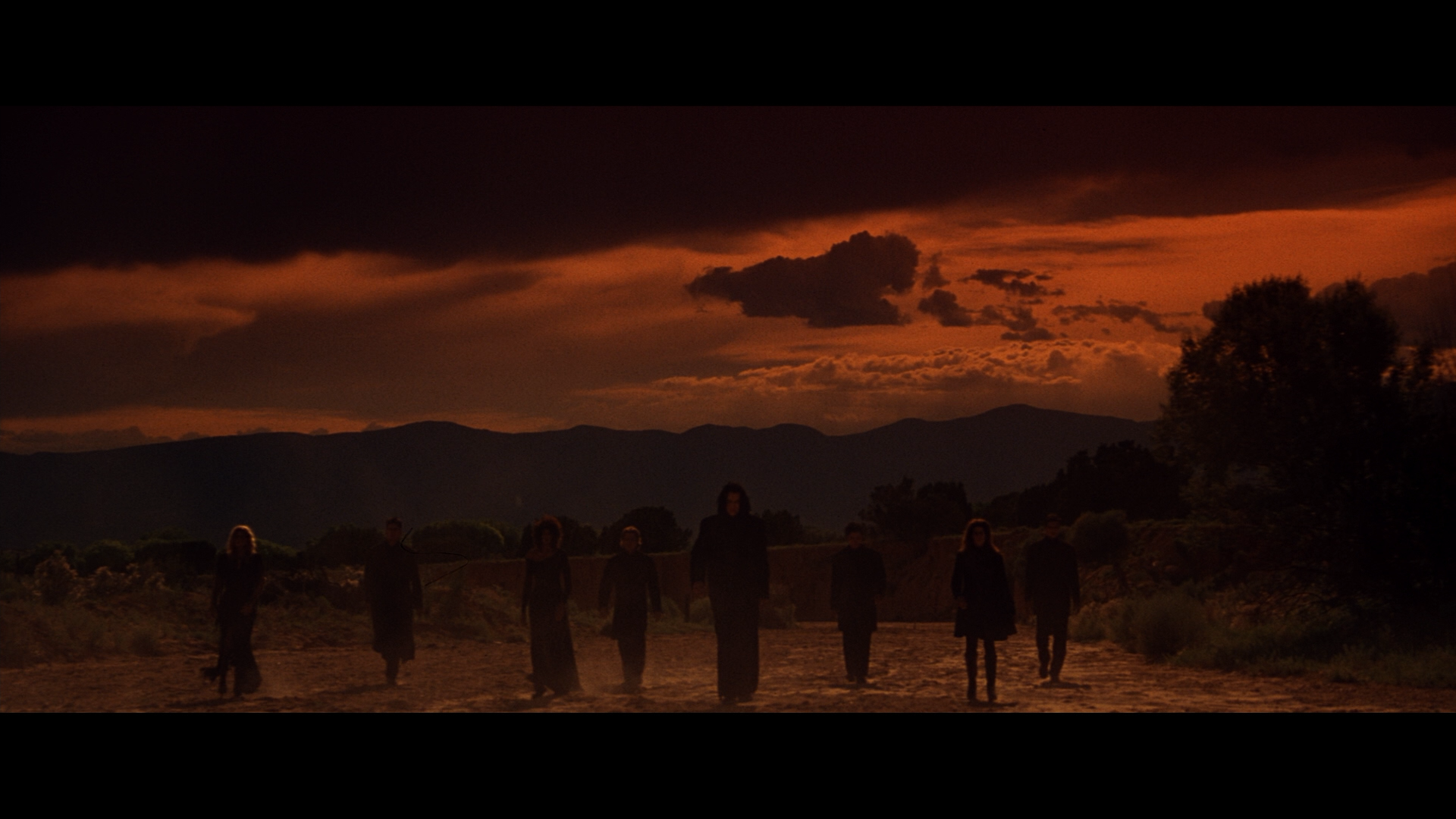 Along with Woods, I also actually enjoyed Daniel Baldwin. While he doesn't deliver some sort of career-defining performance, but he does well opposite Woods and Sheryl Lee does a fine vampire and has a strange semi-nude scene that doesn't make a whole lot of sense. Meanwhile Thomas Ian Griffith hams it up as the film's main baddie, Valek, the Master vampire; he tends to be ridiculous at times but oh so fun knowing just what kind of a movie he's in.
Might not rank among the best of vampire movies or even in John Carpenter's esteemed career, Vampires had a few moments going for it.
SPECIAL FEATURES – 4.5/5
---
This release comes with a matted slip cover. Although this previously did get a release on Twilight Time (now no longer available through their site, just this version), this one did get a few new features.
Audio Commentary – Composer/Director John Carpenter keeps the tracking going at a good pace, giving the listeners some behind-the-scenes information on certain locations, expanding on the plot and working with the various actors.
Interviews:
Time to Kill Some Vampires (12:25) – Composer/Director John Carpenter, Producer Sandy King Carpenter and Cinematographer Gary B. Kibbe
Jack the Vampire Slayer (22:18) – Actor James Woods
The First Vampire (9:38) – Actor Thomas Ian Griffith
Raising the Stakes (10:20) – Special Effects Artist Greg Nicotero
Padre (12:45) – Actor Tim Guinee
Really good collection of new interviews, all of which were fairly interesting, though certainly James Woods's was the best being totally honest in some instances, such as regretting the scene when the hotel blew up as he walks away.
Original Making-of Featurette (23:41) includes behind-the-scenes footage, archive interviews with John Carpenter, James Woods, Daniel Baldwin and Sheryl Lee.
Also included is the Theatrical Trailer (2:06), TV Spots (3:16) and a Still Gallery (6:12).
VIDEO – 4.5/5
---
Shout Factory releases Vampires on Blu-ray presented in its original 2.35 widescreen aspect ratio and given a 1080p high-definition transfer. Considering there's no mention of any sort of restoration or new transfer either on the back cover or the Shout Factory website, I have to assume this is the same one provided by Sony to the Twilight Time release from 2015. As it is, still looks great, detail is sharp and colors more on the natural side of things considering the stark desert setting with a splash of orange in the dusk skyline or red of the blood.
AUDIO – 4.25/5
---
Similarly, there's a good likelihood the included DTS-HD Master Audio 5.1 track is also pretty much the same. Even so, the track does feature some good depth throughout and dialogue came through the center speaker with good clarity and the other channels come to life with some of the vampire killings and battles.
OVERALL – 3.75/5
---
Vampires isn't a great horror movie and certainly not top shelf in John Carpenter's vast resume, but it does have its moments, including a fun performance from James Woods, and an interesting, even unique, origin of the vampires. This Collector's Edition Blu-ray offers up solid video and audio transfers and a great selection of bonus material.
Check out some more 1080p screen caps by going to page 2. Please note, these do contain spoilers.