Atomic Blonde might not have lived up to my expectations but it is still an entertaining Cold War spy thriller excelling both with some well done fight sequences and solid performances from Charlize Theron and James McAvoy.
Atomic Blonde
(2017)

---
Genre(s): Action, Thriller
Universal Pictures | R – 115 min. – $44.98 | November 14, 2017
Date Published: 11/03/2017 | Author: The Movieman
MOVIE INFO:
Directed by: David Leitch
Writer(s): Antony Johnston ("The Coldest City" graphic novel); Kurt Johnstad (screenplay)
Cast: Charlize Theron, James McAvoy, John Goodman, Til Schweiger, Eddie Marsan, Sofia Boutella, Toby Jones, Bill Skarsgård
DISC INFO:
Features: Commentary, Featurettes, Deleted/Extended Scenes
Digital Copy: Yes
Formats Included: 4K, Blu-ray
Number of Discs: 2
Audio (4K): English (DTS:X), Portuguese (DTS 5.1), French (DTS 5.1), Spanish (DTS 5.1)
Audio (BD): English (DTS:X), French (DTS 5.1), Spanish (DTS 5.1)
Video (4K): 2160p/Widescreen 2.40
Video (BD): 1080p/Widescreen 2.40
Subtitles (4K): English SDH, Portuguese, Dutch, French, Spanish
Subtitles (BD): English SDH, French, Spanish
Disc Size: NA
Codecs: MPEG-4 AVC
Region(s): A, B, C
THE MOVIE — 3.0/5
---
With the release and success of the John Wick movies, it's not too surprising studios would try to emulate and we get, more or less, the female equivalent even if Atomic Blonde is a spy-thriller with some action. From the first trailer, I was interested in the film but afterward? Eh, it's an alright movie for sure, but with some issues.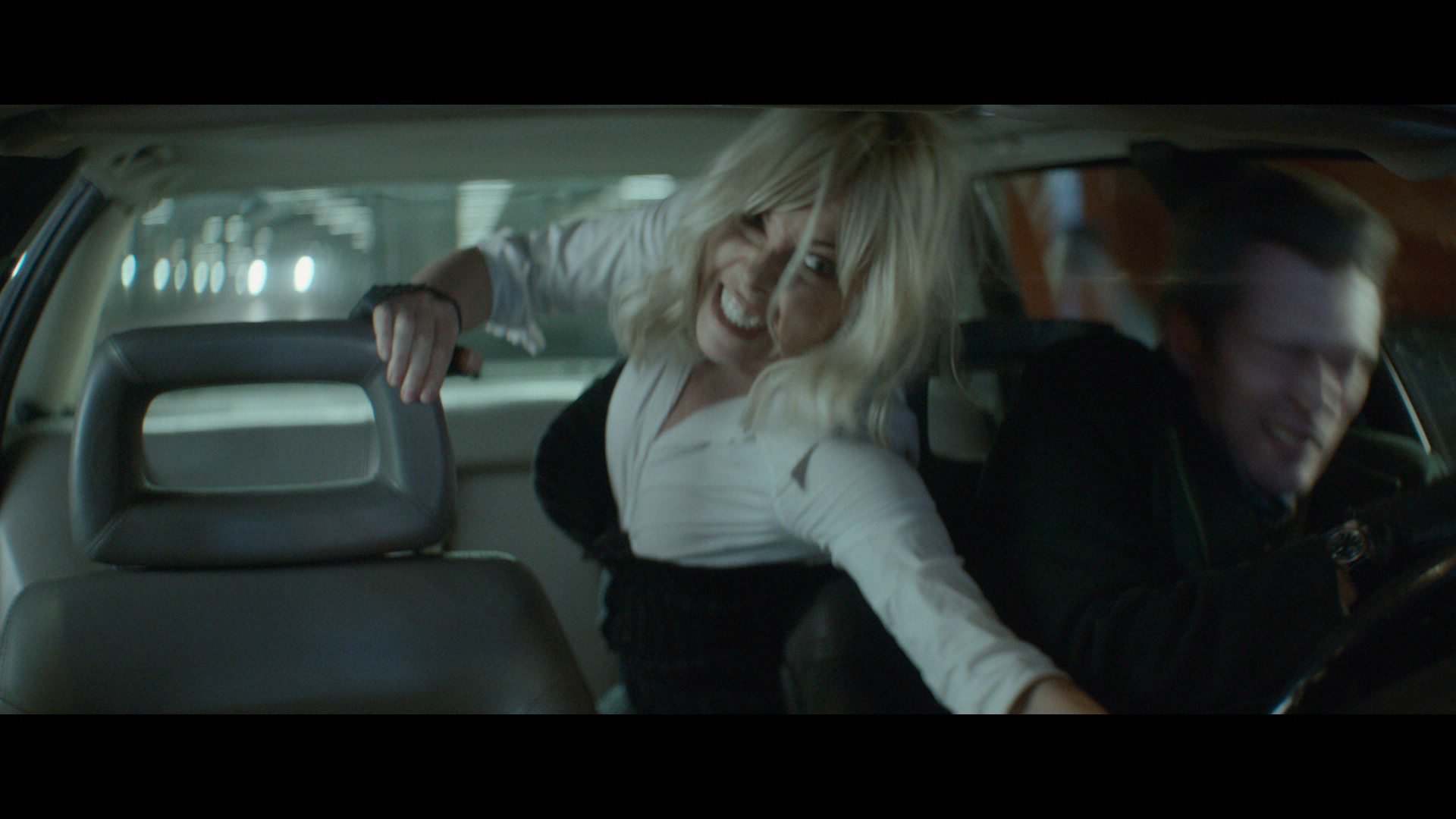 Atomic Blonde, taking place just weeks before the Berlin Wall came down, focuses on Agent Lorraine Broughton (CHARLIZE THERON) is one of MI6's top spies. Told via flashbacks during a debriefing conducted by MI6 chief Eric Gray (TOBY JONES) and CIA agent Emmett Kurzfeld (JOHN GOODMAN), her assignment is to go into West Berlin and make contact with David Percival (JAMES MCAVOY), a fellow agent who has been imbedded for some time.
With Percival's help, or not, she is to track down and retrieve a list of double agents around and in the wrong hands, they will be in mortal danger (Mission: Impossible anyone?). The dossier was provided by a man codename of Spyglass (EDDIE MARSAN) who also has the names memorized. Broughton also is to discern the identity of a spy and take him dead or alive.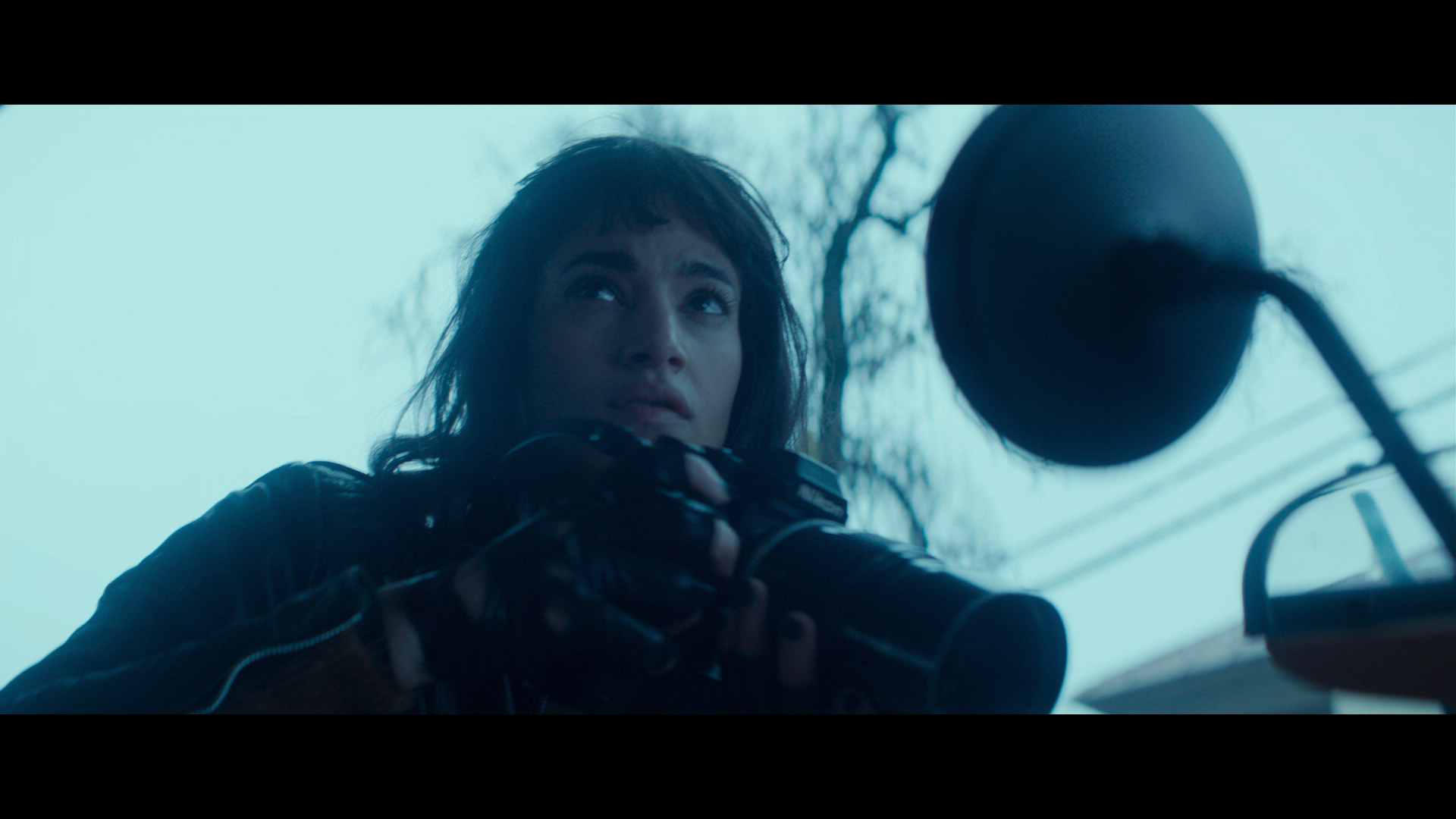 It's rather apparent to Broughton that the politics of spying is chaos in the city with Percival misleading her, being tracked by a French agent Delphine Lasalle (SOFIA BOUTELLA) — and yes, the two have quite passionate relations — plus the Russian KGB and Berlin authorities. Point is, it is quite the mess. As we've seen in the trailers, Broughton must fight against multiple assailants in some of the great sequences in the film culminating with a one-shot brutal, blood and all-around awesome fight toward the end.
Although Atomic Blonde does have its problems, mainly with the pacing I felt the scenes didn't exactly flow smoothly from the fight/action sequences to spy drama to "present day" (interrogation/debriefing room) and flashbacks, not to mention a muddy plot that may seem simple but is awfully confusing – perhaps the point with the whole spy vs. spy vs. spy aspect – and yet it was hard not to enjoy the film.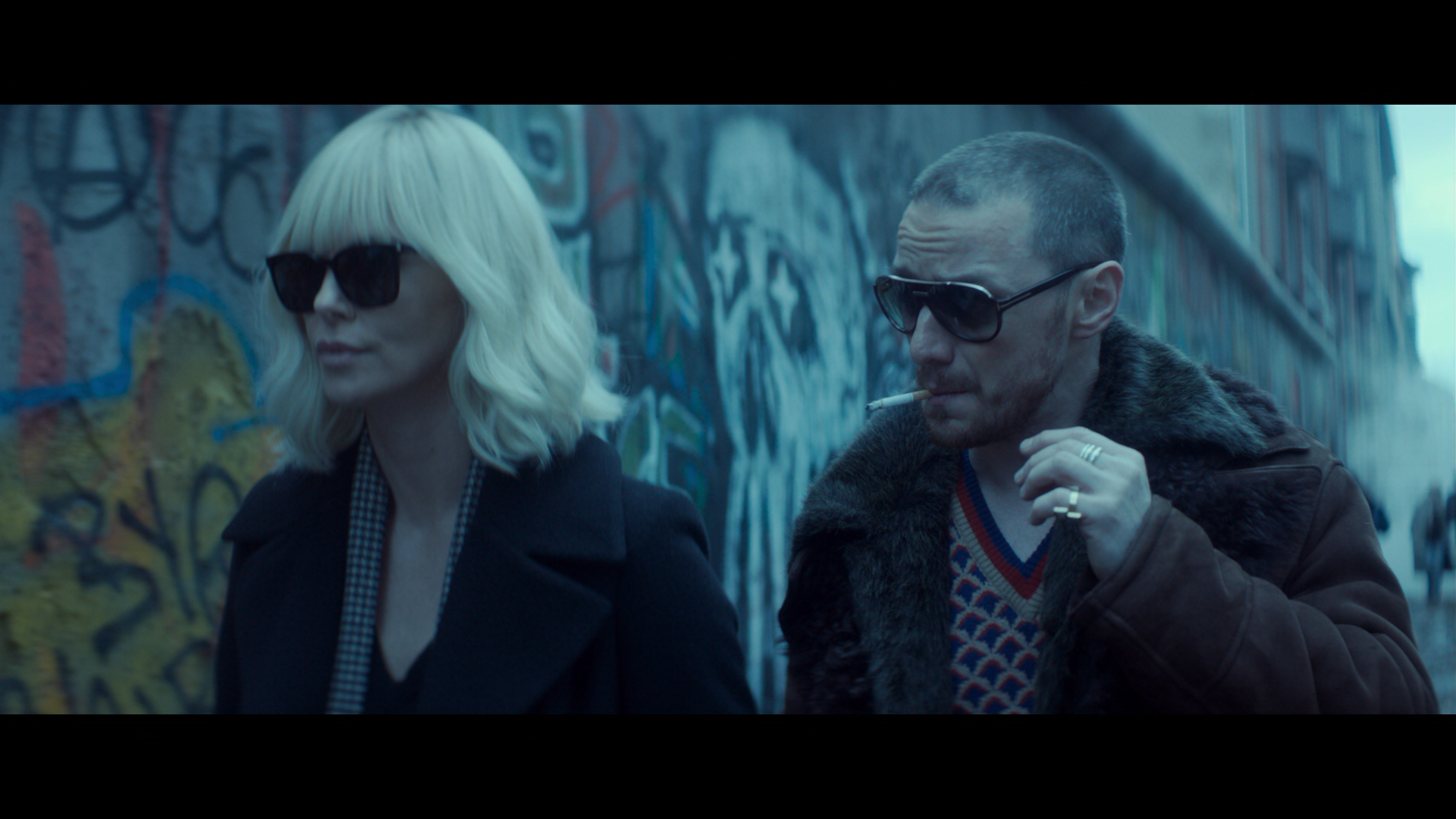 The acting from Charlize Theron and James McAvoy were both top-notch, both having a grand time playing gray-moral characters and the supporting cast is well done from Toby Jones and John Goodman, an actor whose presence is never unappreciated and while he doesn't have a whole lot to do, still has a couple good scenes.
Based on "The Coldest City" graphic novel, it's easy to see why David Leitch was chosen to direct following the success of co-helming John Wick and there are some Wick-esque scenes such as the whip/hose scene and the aforementioned one-shot sequence, those two perhaps elevating this from average territory to all around entertaining.
And in the end, you can't ask for much more from something like Atomic Blonde, an entertaining spy-action-thriller with amazing 1980s music, well done production design and at least something that will keep your attention for the two-hour duration and not regret it afterwards.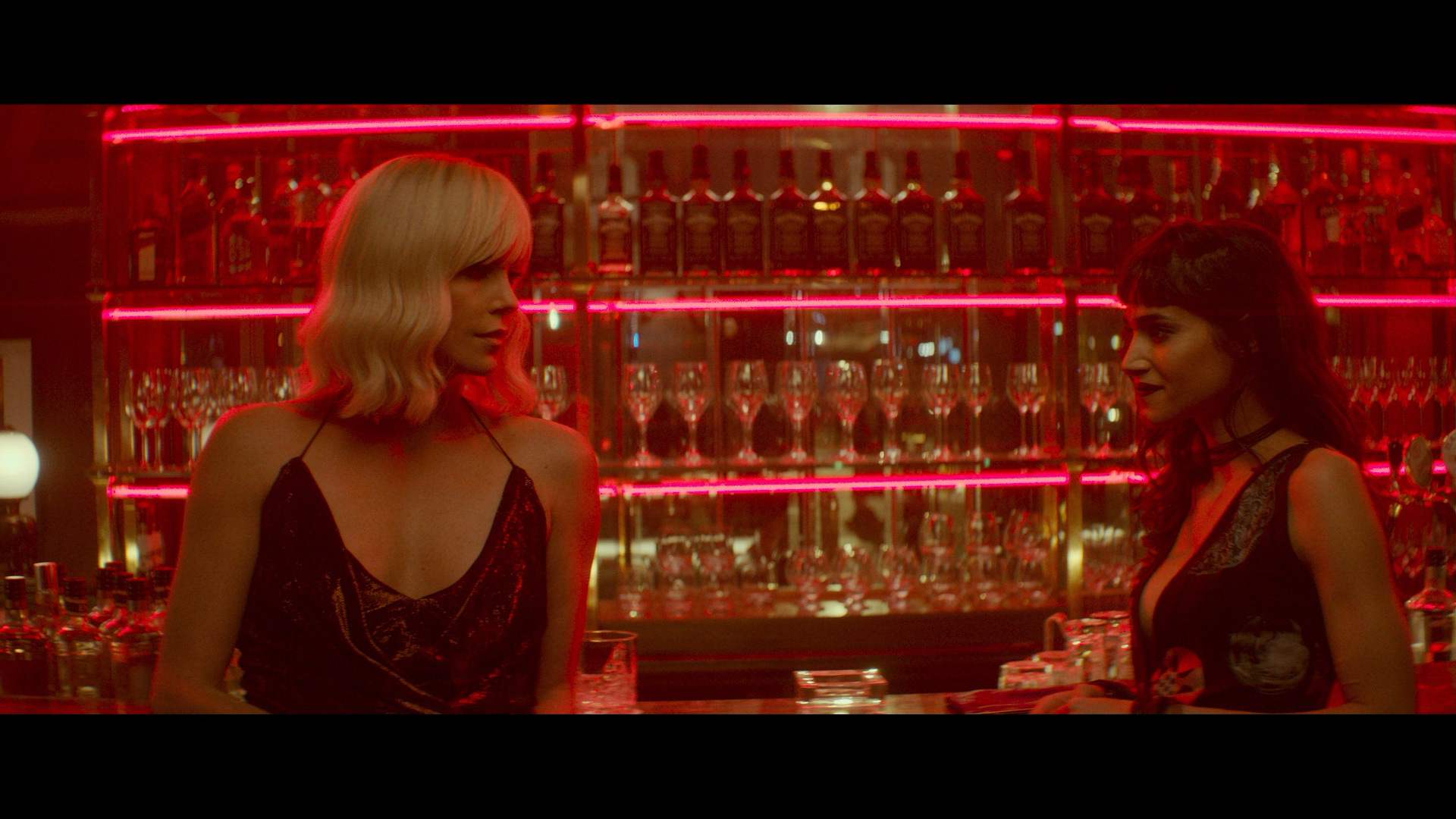 SPECIAL FEATURES – 3.5/5
---
This two-disc release comes with a title-embossed slip cover. Inside is a slip with the redemption code for the Digital HD copy.
Audio Commentary – Director David Leitch and Editor Elisabet Ronaldsdottir sit down for a casual and fun yet still informative track giving information on filming locations, the importance of music and working with the cast.
Deleted/Extended Scenes (7:23; HD) – There were six scenes either removed or cut down, likely to move the film along.
Welcome to Berlin (4:33; HD) looks at the setting of the German city and its history and fitting in to the story.
Blondes Have More Gun (7:01; HD) is on Charlize Theron and her kick-assery. There is some behind-the-scenes footage along with sound bites by the cast and crew.
Spymaster (4:18; HD) covers director David Leitch and his take on the movie.
Anatomy of a Fight Scene (7:52; HD) breaks down one of the key scenes in the film: the long take toward the end with behind-the-scenes footage of rehearsal and Leitch narrating over the scene.
Story in Motion are storyboards for two scenes with optional commentary.
Agent Broughton (2:16)
The Chase (1:38)
4K VIDEO – 5.0/5, BD VIDEO – 5.0/5

---
Universal unleashes Charlize "Atomic Blonde" Theron onto the 4K format presented in its original theatrical 2.40 widescreen aspect ratio and in glorious 2160p ultra high-definition transfer. I knew from watching the trailers this would look great in the new format and boy does it ever. Not only is detail sharp throughout, the neon 1980s colors certainly pops off the screen, perhaps the second best next to Blade Runner. The 1080p Blu-ray transfer ain't too bad either as the colors there still looks bright and while the detail isn't quite as crisp, it still looks fantastic.
4K/BD AUDIO – 5.0/5
---
Nice that both the 4K and Blu-ray discs comes with a DTS:X tracks and in both cases, that magnificent '80s soundtrack blares through every available channel and offers some excellent depth for the few action scenes, car chases and gunplay. It's an absolutely dynamic track and combined with the incredible video, makes for a reference quality work.
OVERALL – 4.0/5
---
Overall, Atomic Blonde might not have lived up to my expectations but it is still an entertaining Cold War spy thriller excelling both with some well done fight sequences and solid performances from Charlize Theron and James McAvoy. The 4K release has excellent video and audio transfers while the features, albeit nothing great, still had an okay selection.
Check out some more 1080p screen caps by going to page 2. Please note, these do contain spoilers.