Batman: Mask of the Phantasm is one of the better feature films with the Dark Knight and just a well written and amazingly animated film all around with a great voice cast.
Batman: Mask of the Phantasm
(1993)

---
Genre(s): Action, Suspense/Thriller
Warner Bros. | PG – 76 min. – $33.99 | September 12, 2023
Date Published: 09/22/2023 | Author: The Movieman
MOVIE INFO:
Directed by: Eric Randomski, Bruce Timm
Writer(s): Alan Burnett, Paul Dini, Martin Pasko, Michael Reaves (screenplay), Alan Burnett (story)
Voice Cast:

Kevin Conroy, Dana Delaney, Mark Hamill, Hart Bochner, Stacy Keach

---

DISC INFO:
Features: Featurette
Slip Cover: Yes
Digital Copy: Yes
Formats Included: 4K Ultra HD
Number of Discs:

1

---

Audio: English (DTS-HD MA 5.1), English (Dolby Digital 2.0), French (Dolby Digital 2.0), Spanish (Dolby Digital 2.0)
Video: 2160p/Widescreen 1.85
Dynamic Range: HDR10
Subtitles: English SDH, French, Spanish
Codecs: HEVC / H.265
Region(s):

A, B, C

---
Warner Bros. Home Entertainment provided me with a free copy of the Blu-ray I reviewed in this Blog Post.
The opinions I share are my own.
Note: Portions were copied from my 2017 Blu-ray review.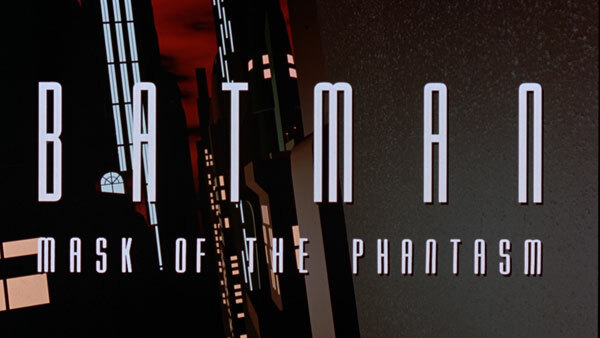 THE MOVIE — 4¼/5
---
When a woman from Bruce Wayne's (KEVIN CONROY) past, Andrea Beaumont (DANA DELANEY), comes back into his life, Bruce questions whether he should continue protecting Gotham City as Batman. But his introspection is short-lived when the city's most notorious crime bosses are killed and the Caped Crusader is blamed for their murders. The Dark Knight sets out to clear his name, revealing a new masked vigilante: The Phantasm.
Quick Hit Review: Arguably one of the best Batman feature films, Batman: Mask of the Phantasm was initially going to be a direct-to-video release before the studio decided to up the animation budget and give it a theatrical release. Although it made a mere $5.6M (or $12M adjusted for ticket inflation), the film has gathered somewhat of a cult status in the 24 years since its release, and for good reason; this is a wonderful, finely written movie that delves deeper in Bruce Wayne's personal life and merging it with his bat-persona.
Watching this for the first time in a number of years, I was enthralled more with the development of Wayne as a character more-so than the story which, to be honest, isn't the most mysterious aspect, heck wasn't that mystifying when it first was released. But even on that front, there is some deeply moving scenes while the action itself is nicely animated and rather thrilling, such as Batman's attempts to escape from the custody of the GCPD.
Obviously the animation is beautiful carried over from the popular Batman: The Animated Series which was an amazing show in itself and Mask of the Phantasm is, thankfully, more of the same. The voice acting isn't half-bad either with Kevin Conroy being, to some, the quintessential voice of the Caped Crusader to Dana Delany as Wayne's love interest, and of course, speaking of quintessential voice, Mark Hamill as The Joker which is (almost) always appreciated, except for that atrocious Batman: The Killing Joke, but that wasn't the fault of Hamill or Conroy but a terrible script.
SPECIAL FEATURES – 2/5
---
This release comes with a semi-glossy slip cover and includes the Digital HD redemption code. The only feature included is Kevin Conroy: I Am the Knight (26:08), a profile on the late great voice actor behind Batman.
VIDEO – 4½/5, AUDIO – 4¼/5
---
Warner Bros. releases Batman: Mask of the Phantasm onto 4K Ultra HD where it's shown in its original theatrical 1.85 widescreen aspect ratio and a 2160p high-definition transfer. For the most part this is a good looking picture, detail is well defined and colors nicely balanced, including the black levels which were stark but not crushed. As animated movies go, and one released 30 years ago, it's a fine looking 4K presentation that is a slight upgrade over the Blu-ray, which was open matted at 1.78.
The audio has been upgraded as well with a DTS-HD Master Audio 5.1 track (whereas the Blu-ray was 2.0 stereo) and while not exactly awe-inspiring during the action sequences, this track does showcase strong dialogue levels via the center channel and there was some okay depth, especially in regards to the wonderful score by Shirley Walker.
OVERALL — 3½/5
---
Batman: Mask of the Phantasm is one of the better feature films with the Dark Knight and just a well written and amazingly animated film all around with a great voice cast.