The Texas Chain Saw Massacre gets yet another release and while this is a case of squeezing as much money out of the strong fan base as possible, this movie has never looked or sounded better.
The Texas Chain Saw Massacre
(1974)

---
Genre(s): Horror
MPI Media Group | R – 83 min. – $59.98 | February 28, 2023
Date Published: 02/19/2023 | Author: The Movieman
MOVIE INFO:
Directed by: Tobe Hooper
Writer(s): Kim Henkel & Tobe Hooper (story) (screenplay)
Cast:

Marilyn Burns, Allen Danziger, Paul A. Partain, William Vail, Gunnar Hansen

---

DISC INFO:
Features: Commentaries, Featurettes, Deleted/Extended Scenes, Outtakes, Promotional Materials
Slip Cover: No
Digital Copy: No
Formats Included: 4K Ultra HD
Number of Discs:

2

---

Audio: English (Dolby Atmos), English (DTS-HD MA 7.1), English (DTS-HD MA 2.0), English (DTS-HD MA 1.0)
Video: 2160p/Widescreen 1.85
Dynamic Range: HDR10, Dolby Vision
Subtitles: English SDH
Codecs: HEVC / H.265
Region(s):

A, B, C

---
MPI Media Group provided me with a free copy of the Blu-ray I reviewed in this Blog Post.
The opinions I share are my own.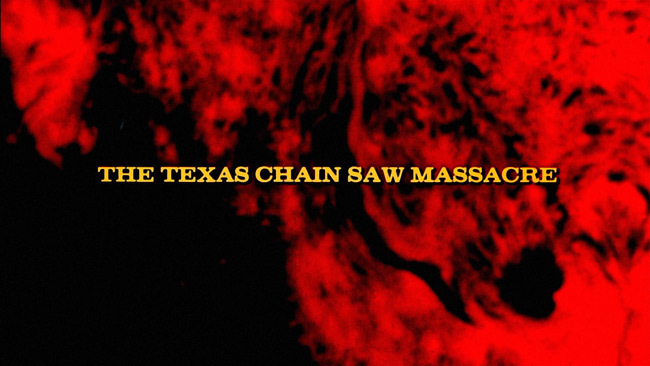 THE MOVIE — 4/5
---
Plot Summary: Sally Hardesty (MARILYN BURNS) and her paraplegic brother, Franklin (PAUL A. PARTAIN), travel with three friends, Jerry (ALLEN DANZIGER), Kirk (WILLIAM VAIL), and Pam (TERI MCMINN), to visit the grave of the Hardestys' grandfather to investigate reports of vandalism and grave robbing. Afterwards they decide to visit the old Hardesty family homestead. With the local gas station out of gas, the four split up, with Kirk and Pam going off to a local swimming hole and Sally and Franklin staying behind in the hopes the station receives a refuel delivery.
When Kirk and Pam find the watering hole dried up, they hear a generator in the distance and come upon a rundown house. They go to inquire about getting gas for their van and this is when we get our first glimpse at the grotesque but terrifying Leatherface (GUNNAR HANSEN) as he kills both without really breaking a sweat. As night falls, Sally and Franklin go looking for their friends but Leatherface awaits and the night, particularly for Sally, will become torturous as we are introduced to the f**ked up and insane family from which Leatherface came.
Quick Hit Review: The horror genre has never quite been my thing, though I do enjoy the occasional one like John Carpenter's Halloween (even Halloween H20), Scream (which spoofed horrors of course), Friday the 13th (to an extent) and the first Saw movie (the others I can leave). Then there's the what I think most consider The Godfather of horror, The Texas Chain Saw Massacre, a 1974 ultra-low budget flick that has gone beyond gathering a cult following and has spawned numerous sequels, quasi-sequels and a remake (and a prequel to the remake) to varying degree of quality (though mostly on the lower end, of course).
My view, I appreciate it for the budget constraints and the fact you have amateur actors and crew members able to put together a truly frightening film that doesn't resort to the jump scares which have permeated numerous horror-thrillers today and instead smacks you over the head with its excess and blood. It doesn't rank very high on my list but it's still a good little horror flick that has stood the test of time.
SPECIAL FEATURES – 5/5
---
This two-disc release comes housed in a Steelbook case and comes with a fold-out poster. The movie is only on the 4K Ultra HD disc while the features are on the bonus Blu-ray disc.
DISC 1:
Audio Commentaries:
Writer/Producer/Director Tobe Hooper, Actor Gunnar Hansen and Cinematographer Daniel Pearl
Actors Marilyn Burns, Allen Danziger and Paul A. Partain & Production Designer Robert Burns
Writer/Producer/Director Tobe Hooper
Cinematographer Daniel Pearl, Editor J. Larry Carroll and Sound Recordist Ted Nicolaou
DISC 2:
The Legacy of The Texas Chain Saw Massacre (1:22:45) is a newly produced feature-length documentary on the iconic and classic horror film.
The Cinefamily Presents Friedkin/Hooper: A Conversation About The Texas Chain Saw Massacre (54:09) is an interview between William Friedkin and Tobe Hooper.
The Texas Chain Saw Massacre: The Shocking Truth (1:12:49) is the story behind how this low-budget film got made under difficult circumstances (filming in the Texas heat) and how it became a cult classic.
Flesh Wounds: Seven Stories of the Saw (11:42) provide some more stories behind the production of TCM.
A Tour of the TCSM House (8:03) has the original Leatherface going through the original house back in 1993.
Off the Hook with Teri McMinn (17:02) has the actress recount her time working on the movie including her trip scene where she sustained bruises.
The Business of Chain Saw: An Interview with Production Manager Ron Boxman (16:27) – Here Boxman chats about working on the movie and how he became involved with it.
Deleted Scenes & Outtakes (15:07) are rough footage, mostly silent, giving some additional scenes.
Grandpa's Tales: An Interview with John Dugan (15:48) – Dugan gives his own stories working on the movie.
Cutting Chain Saw (10:47) is an interview with Editor J. Larry Carroll.
Deleted Scenes & Outtakes (25:23) include more scenes, though nothing of particular interest but some fans will get something out of them…
Blooper Reel (2:22) provides footage of line flubs and on-set outtakes.
Outtakes from "The Shocking Truth" (7:40) – Yes, even the documentary has some outtake footage…
Horror's Hallowed Grounds: TCSM (20:19) is easily one of my favorite shows and this addition is no different where host Sean Clark takes viewers back to the original locations.
Dr. W.E. Barnes Presents "Making Grandpa" (2:45) – This shots, via a slideshow, shows the progression for the make-up process.
Also included are a Still Gallery, three Trailers and TV & Radio Spots.
VIDEO – 5/5, AUDIO – 5/5
---
The Texas Chain Saw Massacre marks its debut on 4K Ultra HD (at least in North America) where it's presented in its original theatrical 1.85 widescreen aspect ratio and a 2160p high-definition transfer. Although this was always a grainy looking movie, and one independently produced, this picture brings that grittiness to life showcasing the oversaturated colors under the hot Texas skies along with well balanced dark levels.
The disc includes a strong Dolby Atmos track which, best I can tell, new for this movie though I believe the previous Blu-ray release(s) did have a Dolby TrueHD 7.1 track, so this one is a minor upgrade. Even so, dialogue comes across with good clarity and when the horror and carnage, this lossless track really comes to life with no notable bouts of pops or hisses.
OVERALL — 4¾/5
---
The Texas Chain Saw Massacre gets yet another release and while this is a case of squeezing as much money out of the strong fan base as possible, this movie has never looked or sounded better and can say this is the ultimate release with a plethora of bonus features including two new featurettes. That said, in order to watch the movie, you will at least need a 4K player as the Blu-ray disc only contains the bonus materials.