While Pulp Fiction isn't a masterpiece of filmmaking as some might contend, it's still a very well made picture with the sharp writing we expect from Tarantino and one of the better ensemble casts put together.
Pulp Fiction
— Limited Edition Steelbook —
(1994)

---
Genre(s): Drama, Crime
Paramount | R – 154 min. – $30.99 | December 6, 2022
Date Published: 12/04/2022 | Author: The Movieman
MOVIE INFO:
Directed by: Quentin Tarantino
Writer(s): Quentin Tarantino (written by)
Cast: John Travolta, Samuel L. Jackson, Uma Thurman, Harvey Keitel, Tim Roth, Amanda Plummer, Maria de Medeiros, Ving Rhames, Eric Stoltz, Rosanna Arquette, Christopher Walken, Bruce Willis

---

DISC INFO:
Features: Featurettes, Marketing Gallery
Slip Cover: No
Digital Copy: Yes
Formats Included: 4K, Blu-ray
Number of Discs:

2

---

Audio: English (DTS-HD MA 5.1), German (DTS-HD MA 5.1), Italian (Dolby Digital 5.1), French (Dolby Digital 2.0), Japanese (Dolby Digital 2.0)
Video: 2160p/Widescreen 2.35
Dynamic Range: HDR10, Dolby Vision
Subtitles: English SDH, English, Dutch, French, German, Italian, Japanese, Korean, Spanish
Codecs: HEVC / H.265
Region(s): A, B, C

---
Paramount provided me with a free copy of the Blu-ray I reviewed in this Blog Post.
The opinions I share are my own.
Note: The movie, features and audio portions were copied from my 2011 Blu-ray review.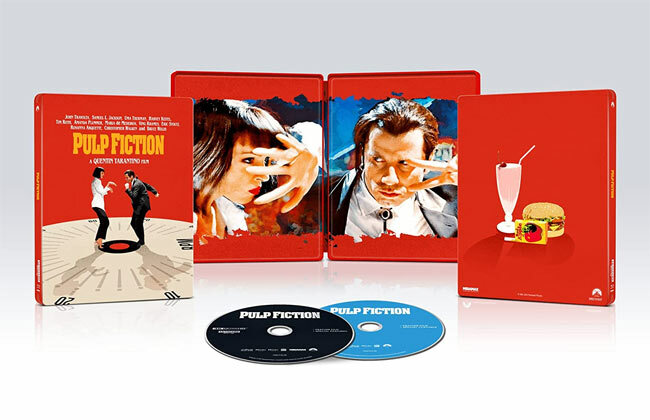 THE MOVIE — 4¼/5
---
Quentin Tarantino, love him or loathe him, is a talented writer and fine director with a few solid films under his belt. Reservoir Dogs introduced the world to Tarantino's unique dialogue followed by this 1994 gem, Pulp Fiction which accomplished a few things including reigniting John Travolta's slugging career and showing that Tarantino was hardly a flash in the pan writer/director.
Pulp Fiction tells a non-linear story, though easy enough to put together, where we meet several distinctive individuals: Vincent (JOHN TRAVOLTA) and Jules (SAMIEL L. JACKSON) work as collectors for mobster Marsellus Wallace (VING RHAMES); Mia (UMA THURMAN) is Marsellus' attractive wife whom takes a shining to Vincent after a night of hip dining and a giant needle full of adrenaline to the chest; and Butch (BRUCE WILLIS) is a washed-up boxer who, under Marsellus' direction, is told to take a dive but Butch has other plans. Characters intersect and go on wild rides with Marsellus/Butch's journey being the strangest and probably most random in cinematic history… or at least within the last 20 years.
When it comes to Quentin Tarantino, I'm hardly a huge fan of his. Sure, I enjoy his movies but when his next film gets announced, I don't normally get overexcited and generally won't check out the film in theaters. However, there is no doubt the man has talent and sticks with his guns and doesn't compromise with studio demands making the films he wants to make; none more so than his collaboration with Robert Rodriguez in Grindhouse, a risky project by The Weinstein Company which floundered at the box office yet still was a decent double-billed romp (I preferred Rodriguez's Planet Terror, though).
In terms of Pulp Fiction, I think it's still Tarantino's best film although Inglorious Basterds comes in a close second, but Fiction gets the edge thanks to an ensemble that is so great and perfectly cast beginning with John Travolta and Samuel L. Jackson who are absolutely fantastic and gives the film its initial push during their famous "Royale with Cheese" conversation. This isn't to discount the rest of the cast as Bruce Willis whose career, like Travolta, wasn't exactly going smoothly with box office and critical flops in The Bonfire of the Vanities, Hudson Hawk and Striking Distance (not to mention the awful North which came out the same year).
With regards to the supporting cast, they all pull their weight well enough from Tim Roth and Amanda Plummer as two love birds robbing a café to Ving Rhames as the heavy Marsellus Wallace who, along with Willis' Butch, gets into a strange/twisted encounter with a hick named Zed (PETER GREENE of… a ton of supporting roles) to Harvey Keitel in a small but very funny sequence as the cleaner. Tarantino has brought together an incredible ensemble all around.
Pulp Fiction wasn't just some trendy flick with hip dialogue and too cool for school characters but instead it's a well made, finely crafted crime-drama that has only gotten better over the years. It's probably Tarantino's best work and certainly Travolta's best work not coming close since (though he had tons of fun with 1997's Face Off. Obviously it's a highly recommendation if you haven't seen it already and even if you have, it still holds up quite well after all these years.
SPECIAL FEATURES – 3¾/5
---
This release comes in Steelbook packaging and inside is a redemption code for the Digital HD copy.
Not the Usual Mindless Boring Getting to Know You Chit Chat (43:01) – This well detailed titled featurette covers the basics on how Pulp Fiction came to be from Tarantino's first meeting with Travolta. We learn some good tidbits about the production from those on the cast including Travolta, Samuel L. Jackson, Tim Roth, Eric Stoltz, etc. It's a quiet, no frills featurette which I appreciate. However, missing is Uma Thurman, Ving Rhames and Tarantino himself.
Here Are Some Facts on the Fiction (20:37) is a roundtable discussion with some random critics as they talk about why Pulp Fiction stood out and how it stood the test of time (though the panel has its distracter as well).
Pulp Fiction: The Facts – Documentary (30:31) is a retrospective feature covering the origins of the film as well as how Quentin Tarantino broke into the business with Reservoir Dogs. It also features interviews with others involved with the production.
Deleted Scenes (24:39) – There are five scenes included here along with an introduction by Tarantino explaining why these were removed from the film. One scene is an extended take at Jack Rabbit Slim's.
Behind The Scenes Montages are a collection of footage during filming during the Jack Rabbit Slim's (4:44) and Butch Hits Marsellus (6:02) scenes.
Production Design Featurette (6:22) primarily features production designer David Wasco as he explains what he and Tarantino were going for in Pulp Fiction from the diner and Jack Rabbit Slim's to the various knick-knacks.
Siskel & Ebert's "At the Movies": The Tarantino Generation (16:00) has the former dynamic critic duo talking about how the writer/director has possibly influenced other filmmakers.
Independent Spirit Awards (11:29) and Cannes Film Festival: Palme D'or Acceptance Speech (5:20; SD) just shows off the accolades Pulp Fiction received via these award ceremonies.
Charlie Rose Show (55:27) – Here you can check out the entire episode about Pulp Fiction which aired on "Charlie Rose" as the host interviews Tarantino at length.
Last up are Marketing Galleries with a few Theatrical Trailers and TV Spots and Still Galleries.
The disc also includes a trivia track which can be viewing while watching the movie and a Soundtrack Chapters feature to go straight to a scene with your favorite song.
VIDEO – 4½/5, AUDIO – 4½/5
---
Pulp Fiction arrives on 4K Ultra HD for the first time and, apparently, approved by Tarantino, though I often wonder if it's a matter of watching one shot and calling it good. Whatever the case, this 2160p high-definition transfer does look great and a decent upgrade over the previous Blu-ray release. Detail is well defined and colors appear well balanced. Watching I didn't notice any significant or obvious signs of artifacts, aliasing or other flaws.
The disc has a rich sounding DTS-HD Master Audio track that comes to life especially when we get Tarantino's wonderful soundtrack selection from "Girl, You'll Be a Woman Soon" and "Son of a Preacher Man" but it also excels during the dialogue-driven scenes (for which there more than a few…).
OVERALL — 4/5
---
While Pulp Fiction isn't a masterpiece of filmmaking as some might contend, it's still a very well made picture with the sharp writing we expect from Tarantino and one of the better ensemble casts put together. I may not be in love with the film, but I do appreciate the artistic value and the place it has in cinematic history.