5-25-77 arrives on Blu-ray and DVD from MVD Entertainment and stars John Francis Daley, Colleen Camp and Neil Flynn and features include an audio commentary, Q&A and photo galleries.
5-25-77
(2017)

---
Genre(s): Comedy, Drama
MVD Visual| NR – 132 min. – $24.95 | November 22, 2022
Date Published: 12/01/2022 | Author: The Movieman
MOVIE INFO:
Director: Patrick Read Johnson
Writer(s): Patrick Read Johnson (written by)
Cast:

John Francis Daley, Colleen Camp, Neil Flynn, Austin Pendleton

---

DISC INFO:
Features: Commentary, Q&A, Galleries
Slip Cover: Yes
Digital Copy: No
Formats Included: Blu-ray
Number of Discs:

1

---

Audio: English (DTS-HD MA 5.1), English (PCM 2.0)
Video: 1080p/Widescreen 1.78/2.35
Subtitles: English SDH
Codecs: MPEG-4 AVC
Region(s):

A

---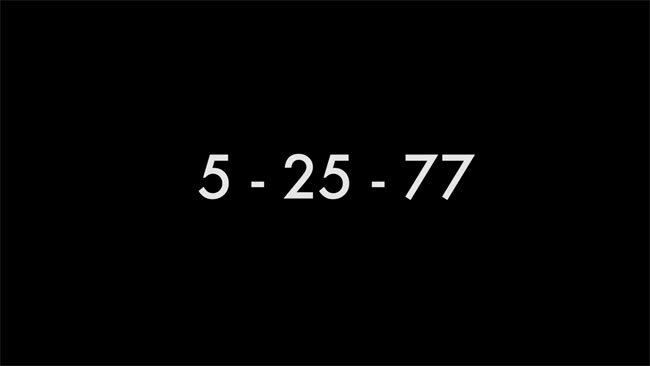 PLOT SYNOPSIS
---
During the spring of 1977, sci-fi obsessed teenager Pat Johnson (JOHN FRANCIS DALEY) finds himself torn between making 8mm sequels to his favorite movies and pursuing the girl of his dreams, Linda (EMMI CHEN). Desperate to help her son escape his likely future in Wadsworth, Illinois, (populating 750), his mother (COLLEEN CAMP) cold-calls the editor of 'American Cinematographer' magazine and Pat soon finds himself on "the ultimate trip" to Hollywood, becoming the very first outsider to see the film that would change him (and movies) forever… Star Wars. But when Pat returns to his hometown existence, he struggles to choose between chasing a seemingly impossible dream and accepting the comforting familiarity of home.
SPECIAL FEATURES – 2¾/5
---
This release comes with a matted slip cover. Features include an Audio Commentary with Writer/Director Patrick Read Johnson, moderated by Seth Gaven; Q&A from the 2013 Fantasia Film Festival (52:43) with Johnson; a and last Photo Galleries.
VIDEO – 4¼/5, AUDIO – 4/5
---
5-25-77 comes to Blu-ray presented in a variety of aspect ratios ranging from 1.78 (which makes up most of the movie) to 2.35 and in between. In any case, this 1080p AVC codec transfer looks good with fine detail on close-ups while colors generally are vibrant.
The movie comes with a basic but effective DTS-HD Master Audio 5.1 track. The bulk of the film is dialogue heavy which comes across the center channel with fine clarity and there is some modest depth with the score making use of the front and rear speakers.