The Polar Express arrives on 4K Ultra HD in time for Christmas and comes with several bonus features carried over from previous releases.
The Polar Express
(2004)

---
Genre(s): Animation, Adventure, Family, Fantasy
Warner Bros. | G – 100 min. – $24.99 | November 1, 2022
Date Published: 11/21/2022 | Author: The Movieman
MOVIE INFO:
Directed by: Robert Zemeckis
Writer(s): Chris Van Allsburg (book); Robert Zemeckis & William Broyles Jr. (screenplay)
Voice Cast:

Tom Hanks, Daryl Sabara, Nona Gaye, Jimmy Bennett, Eddie Deezen, Michael Jeter

---

DISC INFO:
Features: Featurettes, Theatrical Trailer
Slip Cover: Yes
Digital Copy: Yes
Formats Included: 4K, Blu-ray
Number of Discs:

2

---

Audio (4K/BD): English (DTS-HD MA 5.1)
Video (4K): 2160p/Widescreen 2.35
Video (BD): 1080p/Widescreen 2.35
Dynamic Range: HDR10
Subtitles: English SDH, French, Spanish
Codecs: HEVC / H.265 (4K), MPEG-4 AVC (BD)
Region(s):

A, B, C

---
Warner Bros. Home Entertainment provided me with a free copy of the Blu-ray I reviewed in this Blog Post.
The opinions I share are my own.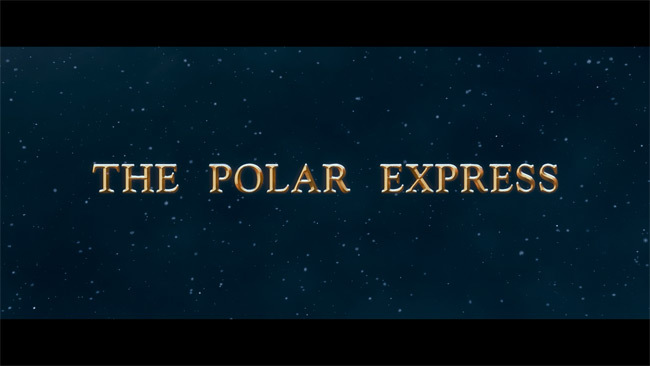 PLOT SYNOPSIS
---
When a doubting young boy takes an extraordinary train ride to the North Pole, he embarks on a journey of self-discovery that shows him that the wonder of life never fades for those who believe.
SPECIAL FEATURES – 3½/5
---
This two-disc release comes with a glossy slip cover and inside a redemption code for the Digital HD copy. All of the bonus features are on the Blu-ray disc.
You Look Familiar (4:10) — This featurette looks at the motion capture work done.
A Genuine Ticket to Ride (12:25) is a six-part feature taking viewers behind-the-scenes.
True Inspirations: An Author's Adventure (5:29) is a look at the author, Chris Van Allsburg.
Believe: Behind the Scenes (4:24) is a more condensed featurette on how the film was made.
Flurry of Effects (8:51) are a set of five comparison scenes with the motion capture and final animation.
Also included: Deleted Song (7:23) "Smokey and Steamer"; Josh Grobin at the Greek (4:34), Meet the Snow Angels (2:44) and last the Theatrical Trailer (2:31).
VIDEO – 4¾/5, AUDIO – 4½/5
---
Mortal Kombat rips out the heart of the 4K Ultra HD and Blu-ray, presented here in the original 2.39 widescreen aspect ratio. The 2160p and 1080p high-definition transfers, respectively, look rather good, if not top notch in comparison with other releases, specifically with the 4K disc. Still, detail is well defined and colors have some nice vibrancy especially when set against a darker backdrop, since a fair portion of this movie takes place in dark locations. I didn't notice any significant instances of dust marks, aliasing or other blemishes.
The disc comes with a DTS-HD Master Audio 5.1 track which offers up clear dialogue and some good depth from the kids chattering on the Polar Express to the whimsical music and score written by Alan Silvestri.