Mystery Men had some potential but the execution and script made for a less than entertaining experience, although some of the jokes at least got a chuckle out of me, but after that I found it rather dull at times.
Mystery Men
(2021)

---
Genre(s): Action, Comedy, Fantasy
Kino Lorber | PG13 – 121 min. – $39.95 | November 22, 2022
Date Published: 11/21/2022 | Author: The Movieman
MOVIE INFO:
Directed by: Kinka Usher
Writer(s): Bob Burden (comic book); Neil Cuthbert (screenplay)
Cast:

Hank Azaria, Claire Forlani, Janeane Garafolo, Eddie Izzard, Greg Kinnear, William H. Macy, Kel Mitchell, Lena Olin, Paul Reubens, Geoffrey Rush, Ben Stiller, Wes Studi, Tom Waits

---

DISC INFO:
Features: Commentary, Featurette, Interviews, Deleted Scenes, Theatrical Trailer
Slip Cover: Yes
Digital Copy: No
Formats Included: 4K Ultra HD, Blu-ray
Number of Discs:

2

---

Audio (4K/BD): English (DTS-HD MA 5.1), English (DTS-HD MA 2.0)
Video (4K): 2160p/Widescreen 1.85
Video (BD): 1080p/Widescreen 1.85
Dynamic Range: HDR10, Dolby Vision
Subtitles: English
Codecs: HEVC / H.265 (4K), MPEG-4 AVC (BD)
Region(s):

A, B, C

---
Kino Lorber provided me with a free copy of the Blu-ray I reviewed in this Blog Post.
The opinions I share are my own.
Note: The screen captures were taken from the included Blu-ray disc.
THE MOVIE — 2½/5
---
Plot Synopsis: When Captain Amazing (GREG KINNEAR), Champion City's legendary superhero, falls into the hands of the madman Casanova Frankenstein (GEOFFREY RUSH) and his disco-dancing henchmen, there's suddenly a chance for the Mystery Men to show what they can do. They're a ragtag team of superhero wannabes featuring: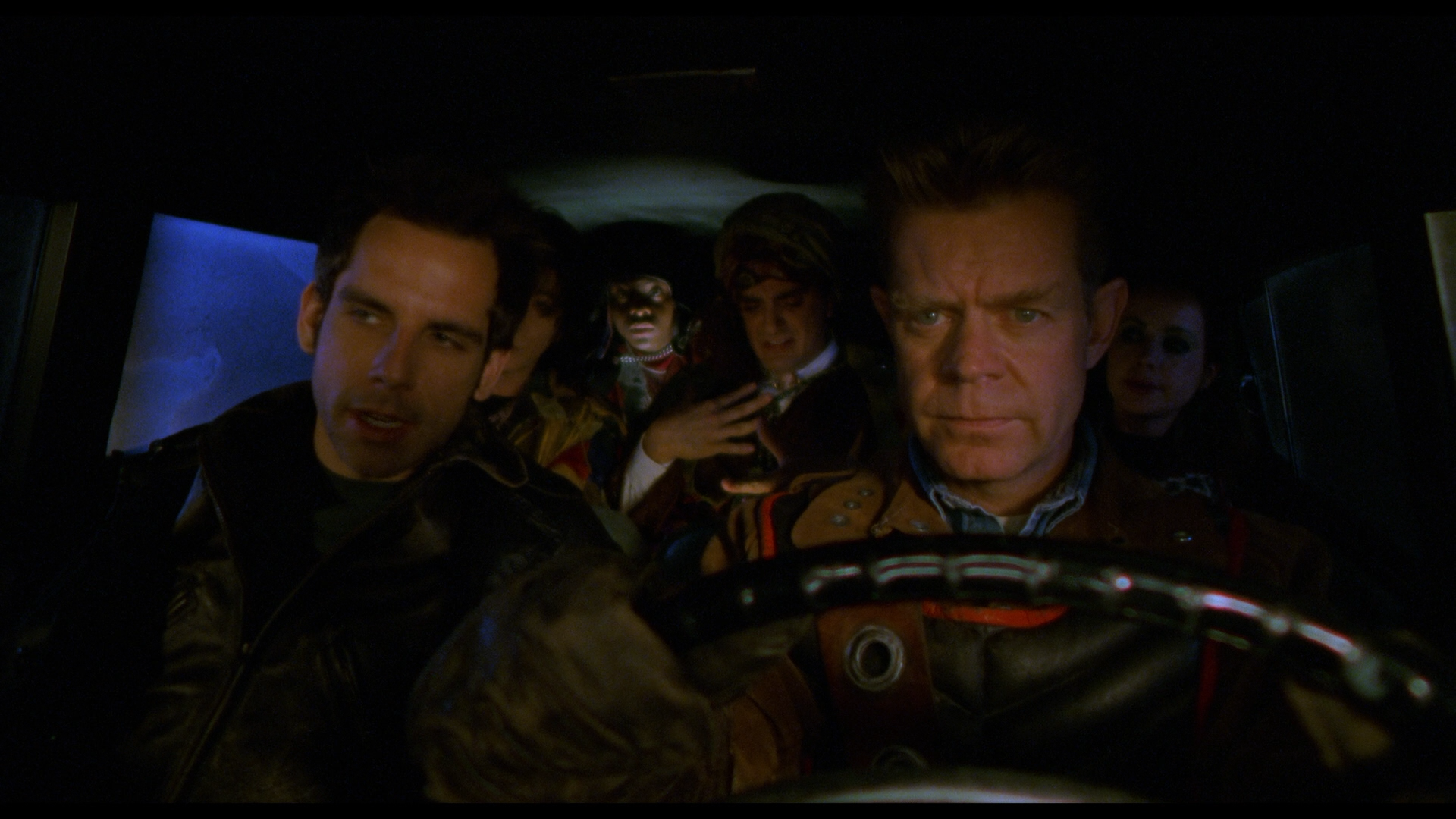 Furious (BEN STILLER), whose power comes from his boundless rage
The Shoveler (WILLIAM H. MACY), a father who shovels "better than anyone"
The Blue Raja (HANK AZARIA), a fork-flinging mama's boy
The Bowler (JANEANE GAROFOLO), who fights crime with the help of her father's skull
The Spleen (PAUL REUBENS), whose power is pure flatulence
Invisible Boy (KEL MITCHELL), who's only invisible when no one's watching
The Sphinx (WES STUDI), a cliché-spewing philosopher
Quick Hit Review: Mystery Men is a movie I last watched back in 1999/2000 depending on when the original DVD was first released. While watching this go around I didn't remember very much, my opinion as a whole remained the same: it's an okay if not forgettable film. No doubt it has its moments as I did manage to chuckle a few times but otherwise I felt it was rather dull, including the spectacle of a finale that I really couldn't care less about. In addition, the 'romance' between Ben Stiller and Claire Forlani was woefully underdeveloped and I wonder if that relationship was trimmed in the final cut.
Mystery Men on paper should've worked, though also perhaps was a head of its time as its spoofing was well before the superhero genre exploded, due to a solid cast who do the best they can with their roles but the script they had to work with didn't help. I've never read the omic series this was based on so it might be one of those cases the source material was difficult to put to the big screen, however I do wonder if someone like James Gunn could make it work today.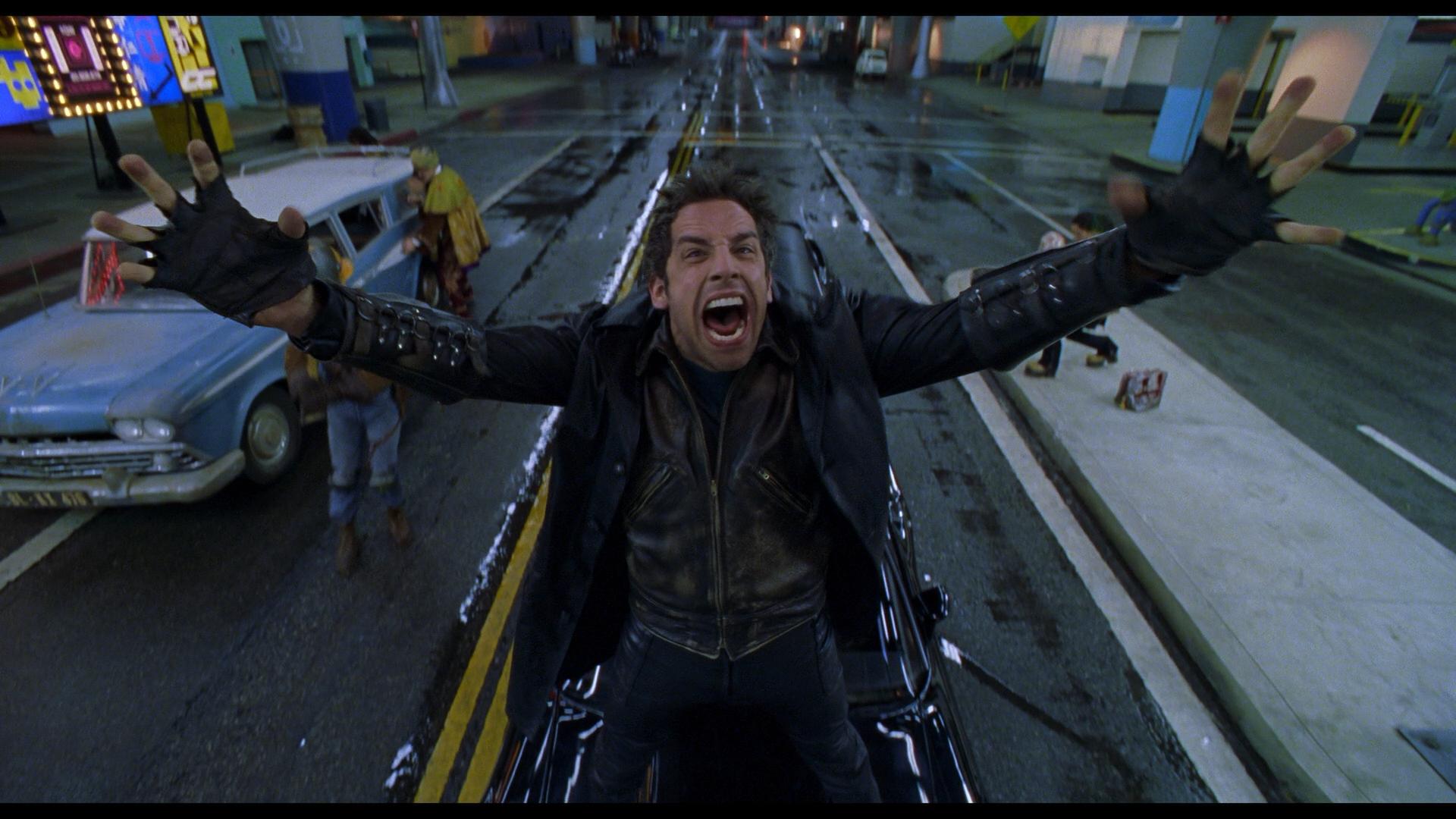 The film was directed by Kinka Usher, in his one and only feature films coming from the commercial world, and it kind of shows with some weird angles and shots that didn't exactly inject the comedic intended undertone. According to the IMDb trivia, Usher wanted nothing to do with Hollywood after this and I can't really blame him.
SPECIAL FEATURES – 4/5
---
This release comes with a matted slip cover.
Audio Commentary with Director Kinka Usher
Interviews:
We're the Others: The Making of Mystery Men (23:39) — Director Kinka Usher
I'm a Superhero, Mother! (12:01) — Costume Designer Marilyn Vance
Inside Champion City (9:27) — VFX Supervisor Todd Tucker
Disco is Life: The Score(s) of Mystery Men (8:33) — Film Music Historian Daniel Schweiger
This is a good selection of new interviews with each individual, save for Schweiger, discussing their parts in the production while Schweiger talks about the music score of the movie.
Spotlight on Location: The Original Making of Mystery Men (17:40) is an older featurette from 1998/99 taking viewers behind-the-scenes.
Deleted Scenes (19:40) are a selection of scenes cut down or out.
Theatrical Trailer (2:24)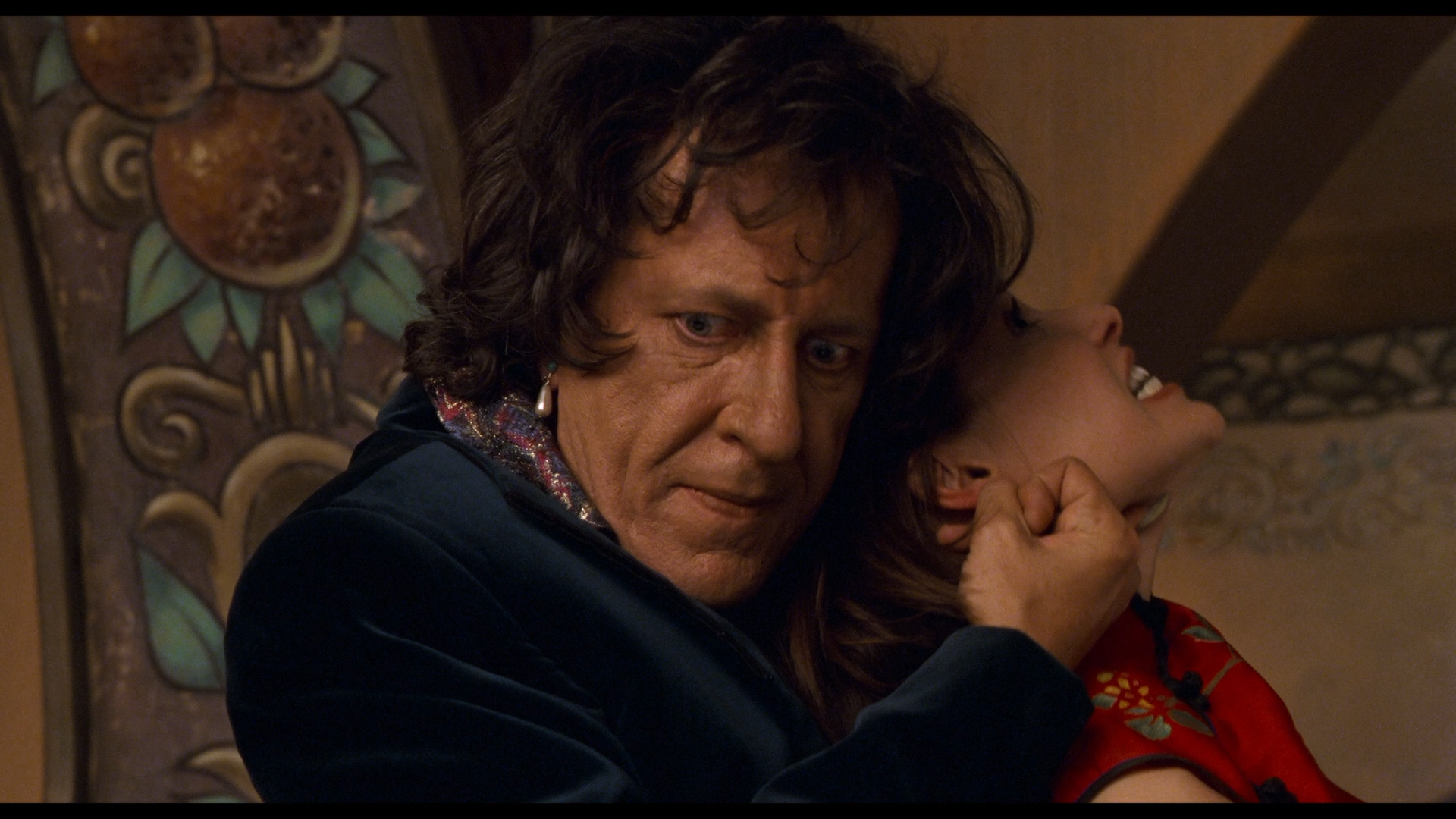 4K VIDEO – 4¾/5, BLU-RAY VIDEO – 4½/5
---
Kino Lorber releases Mystery Men onto 4K Ultra HD and Blu-ray where it's presented in its original 1.85 widescreen aspect ratio and given a new 2160p and 1080p high-definition transfers respectively. According to the back cover, this is a new HDR/Dolby Vision Master, taken from a 4K scan of the Original Camera Negative. And it is, on both formats, a brilliant looking picture with its sharp detail throughout and includes the natural film grain still being retained. There were no detectable specs or other flaws. Although I can't compare this to Universal's previous Blu-ray release, I would guess this is a marked improvement.
AUDIO – 4¼/5
---
The movie comes with both a 5.1 and 2.0 DTS-HD Master Audio tracks which were serviceable providing some decent depth for the action sequences, particularly during the finale. Nothing exceptional and it won't give your system much of a workout, however it's perfectly functional.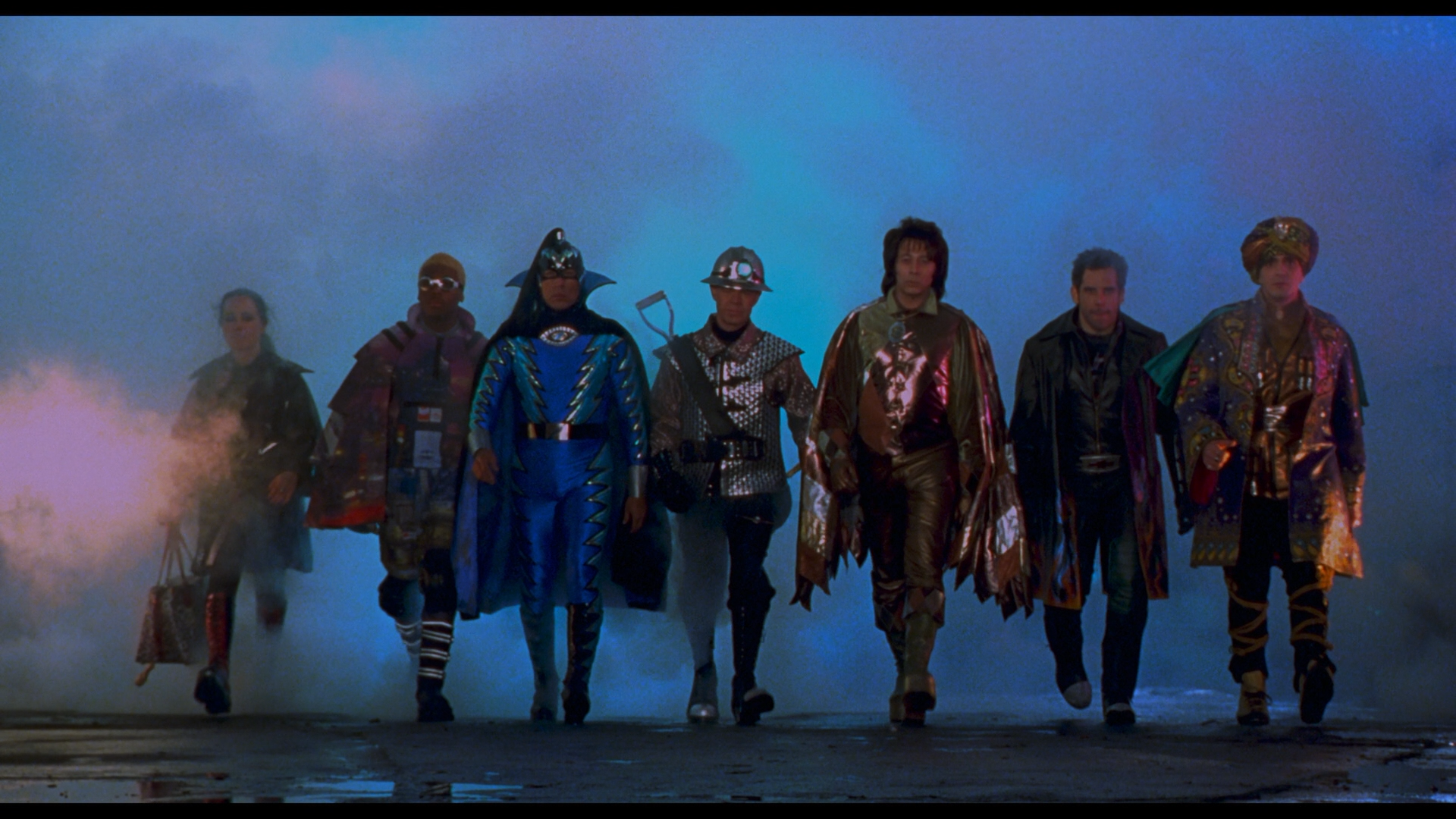 OVERALL — 3¼/5
---
Mystery Men had some potential but the execution and script made for a less than entertaining experience, although some of the jokes at least got a chuckle out of me, but after that I found it rather dull at times.