Satan's Little Helper arrives on Blu-ray from Synapse Films. This indie horror-comedy stars Katheryn Winnick, Alexander Brickel and Amanda Plummer and includes a commentary track, a couple featurettes and trailer.
Satan's Little Helper
(2004)

---
Genre(s): Horror, Comedy
Synapse Films| R – 100 min. – $29.95 | October 25, 2022
Date Published: 10/20/2022 | Author: The Movieman
MOVIE INFO:
Director: Jeff Liberman
Writer(s): Jeff Liberman (written by)
Cast:

Katheryn Winnick, Alexander Brickel, Stephen Graham, Amanda Plummer

---

DISC INFO:
Features: Commentary, Featurettes, Trailer
Slip Cover: Yes?
Digital Copy: No
Formats Included: Blu-ray
Number of Discs:

1

---

Audio: English (DTS-HD MA 2.0)
Video: 1080p/Widescreen 1.78
Subtitles: English SDH
Codecs: MPEG-4 AVC
Region(s):

A

---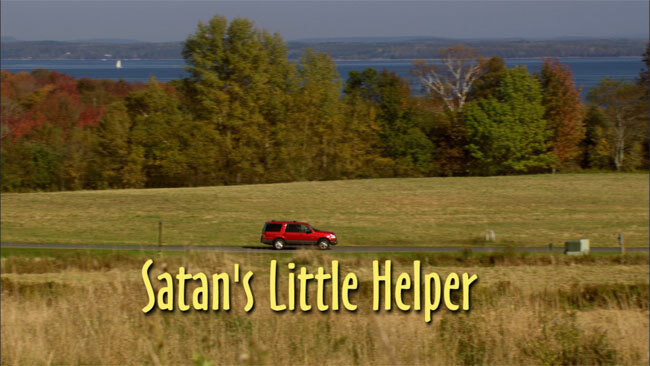 PLOT SYNOPSIS
---
Nine-year-old Douglas Whooly (ALEXANDER BRICKEL) is obsessed with the handheld video game "Satan's Little Helper," and annoyed that the attention of his big sister Jenna (KATHERYN WINNICK) is being distracted by her new boyfriend Alex (STEPHEN GRAHAM). These two concerns collide on Halloween, when Douglas witnesses a serial killer in a devil mask (JOSHUA ANNEX) posing his victims like outdoor All Hallow's Eve displays. Not comprehending how real the carnage is, Douglas becomes this Satan's little helper – and that's very bad news for Alex, for Douglas and Jenna's mom Merril (AMANDA PLUMMER), and ultimately for their entire town.
SPECIAL FEATURES – 3¼/5
---
While my copy did come with one, apparently this did come with a slip cover. In any case, features include an Audio Commentary with Director Jeff Lieberman; Vintage Behind-the-Scenes (4:58) featurette; The Devil and the Details: Making Satan's Little Helper (32:38) with interviews by the crew; Mister Satan's Neighborhood (22:37) which is a tour of filming locations with Director Jeff Lieberman; and finally the Promotional Trailer.
VIDEO – 4/5, AUDIO – 4¼/5
---
The movie was released by Synapse Films and is presented in the original 1.78 widescreen aspect ratio which looks good for what I assume was a low budget production, not to mention a film released nearly 20 years ago.
The included DTS-HD Master Audio 2.0 stereo track is more than serviceable for a movie like this offering up crisp dialogue and some okay depth for Satan doing his evil acts.