Scream 2 might not hold up compared to my memories seeing it in theaters back in '97 but it's still a solid slasher and has some fun and gory moments to make it a good sequel in the series. Available Tuesday, October 4th.
Scream 2
— 25th Anniversary Limited Edition —
(1997)

---
Genre(s): Horror, Suspense/Thriller
Paramount | R – 120 min. – $30.99 | October 4, 2022
Date Published: 09/30/2022 | Author: The Movieman
MOVIE INFO:
Directed by: Wes Craven
Writer(s): Kevin Williamson (characters) (written by)
Cast:

David Arquette, Neve Campbell, Courtney Cox, Sarah Michelle Gellar, Jamie Kennedy, Laurie Metcalf, Jerry O'Connell, Timothy Olyphant, Jada Pinkett, Live Schreiber, Omar Epps

---

DISC INFO:
Features: Commentary, Featurette, Deleted Scenes, Outtakes, Music Video, Theatrical Trailer
Slip Cover: No
Digital Copy: Yes
Formats Included: 4K Ultra HD, Blu-ray
Number of Discs:

2

---

Audio: English (DTS-HD MA 5.1), German (Dolby Digital 2.0), Spanish (Dolby Digital 2.0), French (Dolby Digital 2.0), Italian (Dolby Digital 2.0), Japanese (Dolby Digital 2.0)
Video: 2160p/Widescreen 2.35
Dynamic Range: HDR10, Dolby Vision
Subtitles: English SDH, Danish, Dutch, Finnish, French, German, Japanese, Korean, Norwegian, Spanish, Swedish
Codecs: HEVC / H.265
Region(s):

A, B, C

---
Paramount provided me with a free copy of the Blu-ray I reviewed in this Blog Post.
The opinions I share are my own.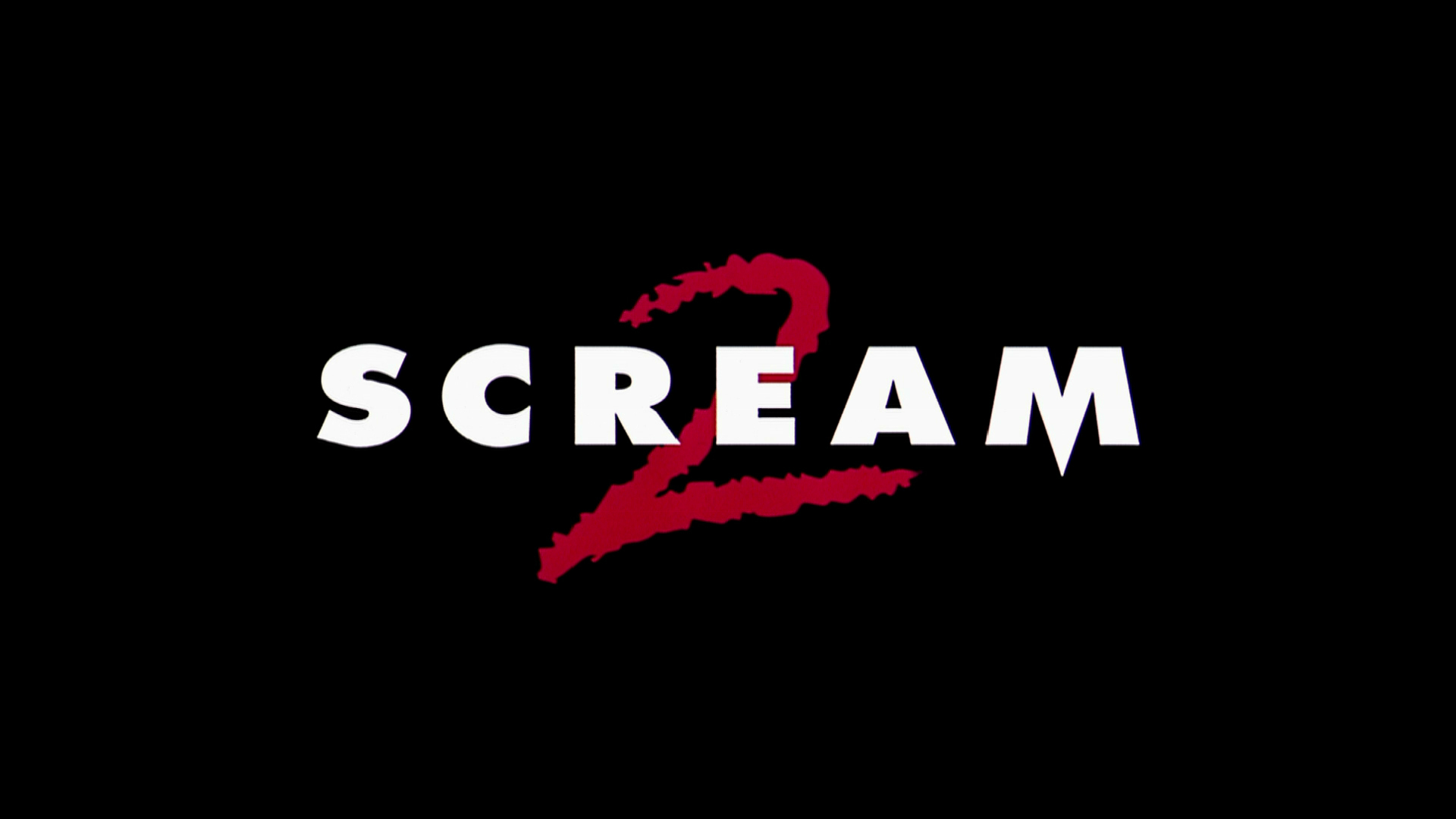 THE MOVIE — 4/5
---
Note: This review was originally published in 2011.

"Who'd want to do that? Sequels suck!"

With the original Scream hauling in a hefty amount, not a year later the sequel was released. As with most sequels, Scream 2 mainly rehashes what happened in the original but gives it a slight twist that isn't quite as clever yet at the same time is still one hell of an entertaining film.

The movie begins much like the original with not one but two cameos by Omar Epps and Jada Pinkett, our new Ghost Face killer's first kills. The two are a couple attending the wild opening night of "Stab", a movie based upon the events that occurred in Woodsboro the year before and based upon the book by Gail Weathers. After a fun movie-within-a-movie sequence starring Heather Graham, Ghost Face strikes with a vengeance kicking off a "real life" sequel within a sequel.

We then go and are reintroduced to Sidney Prescott (NEVE CAMPBELL) attending college and trying to put the events from the year before behind her. When the killings from the night prior are reported, her world begins to fall apart piece by piece once again as she confides in Randy (JAMIE KENNEDY) who is in denial that the murders has anything to do with them. Not before long, the press has swarmed the college town including Gale Weathers (COURTNEY COX) sporting a new look and with the recently released Cotton Weary (LIEV SCHREIBER) in tow in the hopes to score an exclusive reunion interview which Sidney wants no part of. And wanting no part of Gale is obviously ex-boyfriend Dewey Riley (DAVID ARQUETTE) who is obviously still attracted to Gale but disgusted by her cavalier attitude in covering the story.

After another killing, this time of a sorority sister (SARAH MICHELLE GELLAR) tossed off the balcony, the panic begins to set in and soon Dewey and Gale figure out what the killer is doing: he's recreating the killings from the year before, offing people with similar names from the victims in Woodsboro. Stunned by what they've found, they now realize Sidney is in real danger so the town's sheriff has his "two best detectives" protecting the girl. I guess the word "best" is all relative as we'll learn later on towards the third act…

And obviously the sequel would not be complete if Sidney didn't have a boyfriend for the viewer to be wary of. His name is Derek (JERRY O'CONNELL), a frat brother who looks suspicious 90% of the time and lost/dumbfounded the other 10%. He's on the list of suspects with others especially those originally from Woodsboro including Cotton.

I remember going to see Scream 2 at the theater back in '97 and came out loving every second of it and in fact rating it much higher than the original. Now 13.4 years later and several viewings at home later including this latest, it doesn't hold up quite as well especially if you watch it within a day after the first one. Now, the killings are pretty standard but the Scream series have rarely been about the actual killing – most often it's Ghost Face coming from behind and stabbing the victim in the chest before finishing him or her off – but the who's next and ultimately the reveal of who the killer is at the end which the series is known for.

Casting wise, it's all fairly similar to the first. Yeah, you have the originals between Campbell, Kennedy, Arquette and Cox – who all slip back into their parts just fine – but the additions of Liev Schreiber, Timothy Olyphant, Elise Neal and Sarah Michelle Gellar (for as large a part as it was) were decent replacements for who was lost after the slaughters in Scream. I've always been a big fan of Liev Schreiber which during this period was his breakout in film between Random in '96, Scream 2 in '97 and Phantoms, Sphere (bad film, great cast) and Twilight (no not the vampire soap opera) in '98. He's a stellar actor who's only gotten better over time but he brings intensity to the role of Cotton Weary that Scream 2 needed.

Also back in the fold is director Wes Craven and writer Kevin Williamson still cashing in on his surprise success which included selling off I Know What You Did Last Summer (co-starring Gellar) to Sony, a film that nearly epitomizes what the Scream movies mocked about the horror genre. It's obvious that the influence of Williamson has had on these movies compared with Scream 3 where Dimension decided to go with Ehren Kruger after an apparent dispute with the studio.

Scream 2 doesn't quite measure up to my initial memories of my first viewing nor is it as good as the original especially when essentially watching them back to back, but as far as sequels to horror movies go, and to horror movies that poke fun at the genre, it's not bad at all supplying some good suspense and a decent twist at the end.
SPECIAL FEATURES – 3¼/5
---
This 2-disc release is housed in a Steelbook case with a thin j-card. Inside is a redemption code for the Digital HD copy. All features from the previous Blu-ray release have been ported over.
Audio Commentary with Director Wes Craven, Producer Marianne Maddalena and Editor Patrick Lussier which is pretty good providing behind-the-scenes information on how the project came together, story elements, etc.
Deleted Scenes (4:09) with optional commentary by Craven and the gang.
Outtakes (8:54)
EPK Featurette (7:05) that's so mundane that it's only called "featurette"
Two Music Videos from Master P and Rottonmouth
Last up is the Theatrical Trailer (2:16) and TV Spots.
VIDEO – 4¼/5
---
Scream 2 slashes onto the 4K Ultra HD format where it's shown with a 2.35 widescreen aspect ratio and given a 2160p high-definition transfer. This one looks fairly good in 4K however nothing I'd call incredible, albeit an okay upgrade over the previous Blu-ray versions. Detail is sharp and well defined especially on close-ups while colors appear nicely balanced. On the negative side, I did notice some jittering on some of the motion shots, especially the more distant ones.
AUDIO – 4/5
---
The 5.1 DTS-HD Master Audio track is pretty good once again showing off the numerous screams both for those dying and those who find the dead. Dialogue is crystal clear and easy to comprehend and Marco Beltrami's score comes across quite well. Rear channels don't get used a whole lot but I did notice ambient noises like birds chirping or general chatter from extras. (copied from 2011 Blu-ray review)
OVERALL — 4/5
---
Overall, Scream 2 might not hold up compared to my memories seeing it in theaters back in '97 but it's still a solid slasher and has some fun and gory moments to make it a good sequel in the series.