Murder at Yellowstone City arrives on Blu-ray and DVD from RLJE Films and stars Gabriel Byrne, Thomas Jane, Nat Wolff and Richard Dreyfuss.
Murder at Yellowstone City
(2022)

---
Genre(s): Western
RLJE Films| NR – 127 min. – $29.97 | August 23, 2022
Date Published: 09/15/2022 | Author: The Movieman
MOVIE INFO:
Director: Richard Gray
Writer(s): Eric Belgau (written by)
Cast:

Gabriel Byrne, Thomas Jane, Isaiah Mustafa, Anna Camp, Nat Wolff, Richard Dreyfuss

---

DISC INFO:
Features: Commentary, Featurette, Deleted Scenes
Slip Cover: Yes
Digital Copy: No
Formats Included: Blu-ray
Number of Discs:

1

---

Audio: English (DTS-HD MA 5.1)
Video: 1080p/Widescreen 2.39
Subtitles: English SDH
Disc Size: 43.73 GB
Total Bitrate: 41.91 Mbps
Codecs: MPEG-4 AVC
Region(s):

A

---
PLOT SYNOPSIS
---
The once peaceful and booming Yellowstone City has fallen on hard times, but when a local prospector strikes gold, things seem to be turning around. Any hope is soon shattered when the prospector is found dead and the Sheriff (GABRIEL BYRNE) quickly arrests a mysterious newcomer. But nothing is so simple in this sleepy western town, and more than a few of the locals have secrets to keep and reasons to kill. As the brutal murders continue, pitting neighbor against neighbor, Yellowstone City goes down a bloody path to a final showdown that not all will survive.
SPECIAL FEATURES – 3/5
---
This release comes with a title-embossed slip cover.
Audio Commentary — Director Richard Gray, Actresses Anna Camp, Scottie Thompson, Aimee Garcia, Tanaya Beattie and Isabella Ruby & Writer Eric Belgau. It's not often you get a group commentary of this size (even if they're recording via Zoom) and they give some background on the production and their respective characters.
The Making of Murder at Yellowstone City (10:01) is a short featurette with behind-the-scenes footage and on-set interviews.
Deleted Scenes (6:48)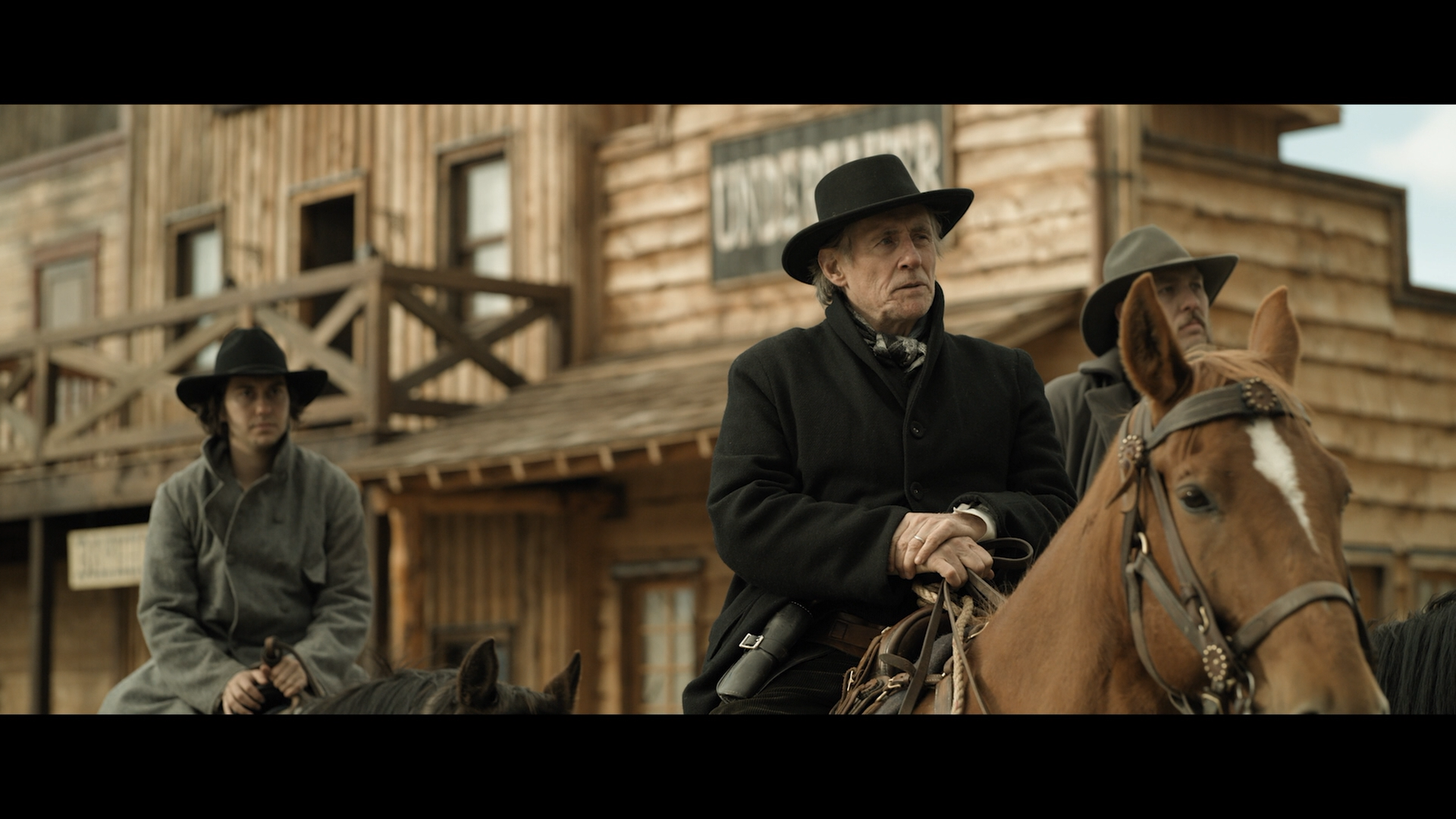 VIDEO – 4¼/5, AUDIO – 4/5
---
RLJE Films releases Murder at Yellowstone City onto Blu-ray, presented with a 2.39 widescreen aspect ratio and a 1080p high-definition transfer. As one would expect from a western, colors are tamped down (with some vibrancy with some of the ladies' dresses) with a more natural tones. The picture is clean with no obvious signs of banding or artifacts.
The movie comes with a DTS-HD Master Audio 5.1 track which I found to be more than serviceable providing for crisp and clean dialogue and some decent depth for the few gun fights or the ambient noises from the small western townsfolk.