Cat People arrives on 4K Ultra HD from Shout Factory with a new 4K scan from the original camera negative. The film stars Natassia Kinski, Malcolm McDowell, John Heard and Annette O'Toole.
Cat People
(1982)

---
Genre(s): Horror, Fantasy
Shout Factory | R – 118 min. – $36.98 | August 30, 2022
Date Published: 08/28/2022 | Author: The Movieman
MOVIE INFO:
Directed by: Paul Schrader
Writer(s): Alan Ormsby (screenplay), Dewitt Bodeen (story)
Cast:

Nastassja Kinski, Malcolm McDowell, John Heard, Annette O'Toole

---

DISC INFO:
Features: Commentary, Interviews, TV Spot, Theatrical Trailer, Photo Gallery
Slip Cover: Yes
Digital Copy: No
Formats Included: 4K, Blu-ray
Number of Discs:

2

---

Audio (4K): English (DTS-HD MA 5.1), English (DTS-HD MA 2.0)
Audio (BD): English (DTS-HD MA 5.1) , English (DTS-HD MA 2.0)
Video (4K): 2160p/Widescreen 1.85
Video (BD): 1080p/Widescreen 1.85
Dynamic Range: HDR10, Dolby Vision
Subtitles: English SDH, French, Spanish
Codecs: HEVC / H.265 (4K), MPEG-4 AVC (BD)
Region(s):

A, B, C

---
Shout Factory provided me with a free copy of the Blu-ray I reviewed in this Blog Post.
The opinions I share are my own.
Note: The screen captures were taken from the included Blu-ray disc.
PLOT SYNOPSIS
---
Irena (NASTASSIA KINSKI) is a beautiful young woman who discovers her love for the first time only to find the experience brings tragic consequences. The tremendous passion of this woman's first romantic love is so strong, however, it bypasses the chaos around her – including the extraordinary demands of her brother (MALCOLM MCDOWELL) – as it pushes her on to her own bizarre destiny.
SPECIAL FEATURES – 4½/5
---
This release comes with a matted slip cover and the inside cover is reversible with the film's original artwork.

Disc 1 (4K Ultra HD):
Audio Commentary — Director Paul Schrader
Disc 2 (Bluray):
Audio Commentary — Director Paul Schrader
Interviews:

More Than a Remake (9:13) — Director Paul Schrader
Unleashing the Animal Within (5:56) — Actress Natassja Kinski
Making Memories (8:25) — Actress Annette O'Toole
Caging the Animal (6:12) — Actor John Heard
Reconnecting with Cat People (7:34) — Actor Malcolm McDowell
Cat Fight (5:53) — Actress Lynn Lowery
Composing a Cult Classic (5:32) — Composer Giorgio Moroder

An Intimate Portrait (25:23) — This is an archive interview with Schrader.
On the Set with Paul Schrader 10:21() is an old interview with Schrader from 1982.
Filmmaker Robert Wise on the Producer of the Original Cat People, Val Newton (3:33) — This interview has Wise delving into Newton and his career. Circa 2001.
Special Makeup Effects by Tom Burman (11:14) — Interview with Burman from 2001.
Matte Paintings (3:10)
Photo Gallery
Production Art
Theatrical Trailer (2:49)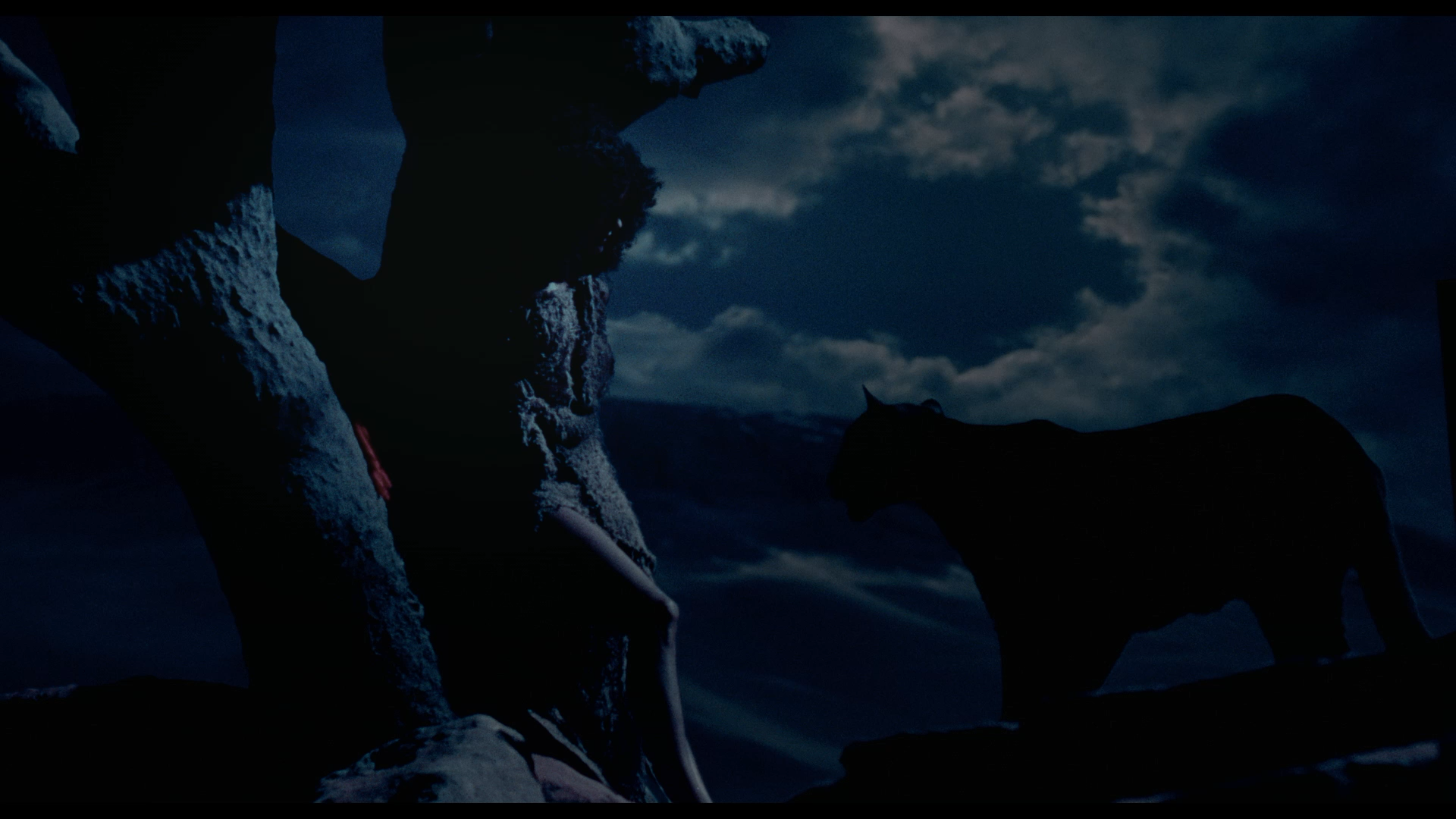 4K VIDEO – 4¾/5, BLU-RAY VIDEO – 4½/5
---
Considering my old review, the transfer was less than stellar, it's welcoming to see Shout Factory give this another crack for both the 4K and Blu-ray discs. Detail on this transfer does look excellent with incredible sharpness throughout and colors also appear to be nicely balanced. I didn't notice any significant or obvious signs of things like aliasing, artifacts, scratches or other apparent film damage. It appears the Blu-ray picture is the same new 4K scan just downgraded to 1080p yet still looks very impressive, just in case you don't own a 4K player.
AUDIO – 3¾/5
---
Both the 4K and Blu-ray discs come equipped with DTS-HD Master Audio 5.1 and 2.0 tracks. I can't be 100& positive but it wouldn't surprise me if this is the same or similar to the track from the original Blu-ray release. Even so, dialogue does come across with good clarity and depth on either track is decent enough however it won't wow you or give the surround system a workout.