Monday Morning is a very obscure movie from the late 80s or early 90s (kind of hard to find out when exactly it was released) that might've had B-movie fun if not for a third act involving a hostage situation at a high school.
Monday Morning
— MVD Rewind Collection —
(1990)

---
Genre(s): Drama, Thriller
MVD Entertainment Group| R – 97 min. – $24.95 | June 21, 2022
Date Published: 07/07/2022 | Author: The Movieman
MOVIE INFO:
Director: Don Murphy
Writer(s): Don Murphy (written by)
Cast:

Noah Blake, Julianne McNamara, Brandon Hooper, Karl Wiedergott, Jason Lively, Shannon Absher, Brian Cole, Richard Dean Logan, Lisa Rinna

---

DISC INFO:
Features: Interviews
Slip Cover: Yes
Digital Copy: No
Formats Included: Blu-ray
Number of Discs:

1

---

Audio: English (PCM 2.0 Mono)
Video: 1080p/Widescreen 1.85
Subtitles: English SDH
Disc Size: 48.11 GB
Total Bitrate: 33.81 Mbps
Codecs: MPEG-4 AVC
Region(s):

A, B, C

---
MVD Entertainment provided me with a free copy of the Blu-ray I reviewed in this Blog Post.
The opinions I share are my own.
THE MOVIE — 2¾/5
---
Plot Synopsis: Bobby Parker (NOAH BLAKE) is a poor kid from the wrong side of the tracks. He and his best friend Bill (KARL WIDERGOTT) are new to Oceana High and their presence is not welcome. James Hedges (BRANDON HOOPER), the student leader, cannot stand any outsider and he especially doesn't like someone who "doesn't know his place". To make matters worse, James discovers that Bobby is dating his sister (JULIANNE MCNAMARA). On Monday morning, to teach Bobby a lesson, James and his friends pull a gun to scare Bobby into straightening out, but the plan fails. The two struggle and when a teacher is shot, everyone is ready to blame Bobby.
With no place to turn, Bobby grabs the gun and instructs everyone to sit tight. When the police show up ready for action, Bobby must convince the class of his innocence – before it's too late.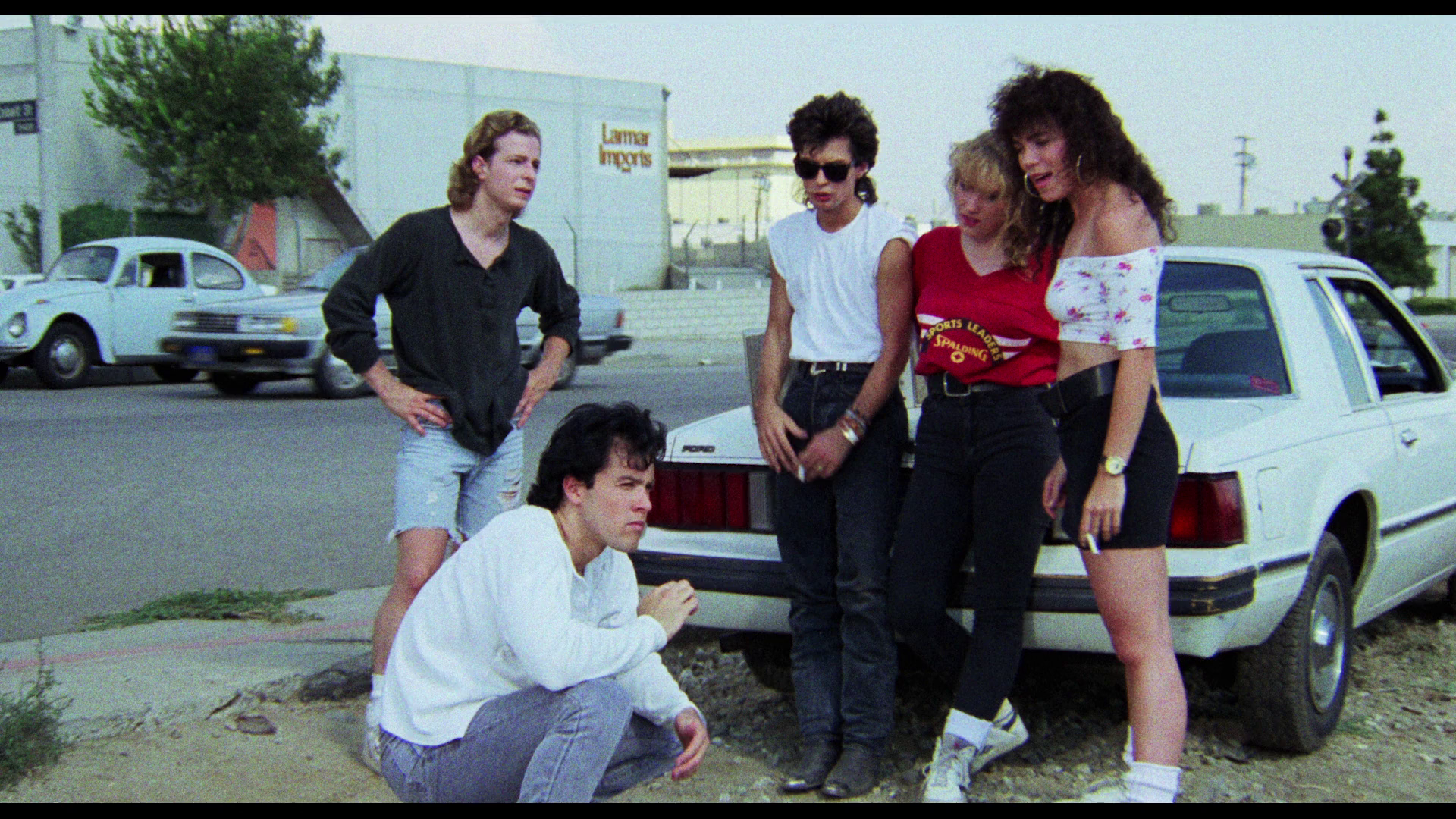 Quick Hit Review: Generally I can have fun with these late 80s/early 90s films with the cheesy acting (comes in spades with lead Noah Blake and his odd facial expressions) and melodramatic plotline and characters, with some often bonkers and confusing scenes that makes me question whether the filmmakers and/or cast were on something.
Monday Morning a.k.a. Class of Fear had plenty of that… for the first two-thirds, that is until a third act which finds, after an accidental shooting, finds out lead holding a class hostage fearing he'll be blamed. Given the rise in school shootings over the past 20 plus years, this was pretty uncomfortable to watch let alone enjoy. In fact, sitting alone watching, I was rather uncomfortable and can't imagine the experience would be any better watching in a group setting. Could be a good enough reason, since this movie wasn't some social commentary on guns or violence in high school, that perhaps it should have remained in obscurity.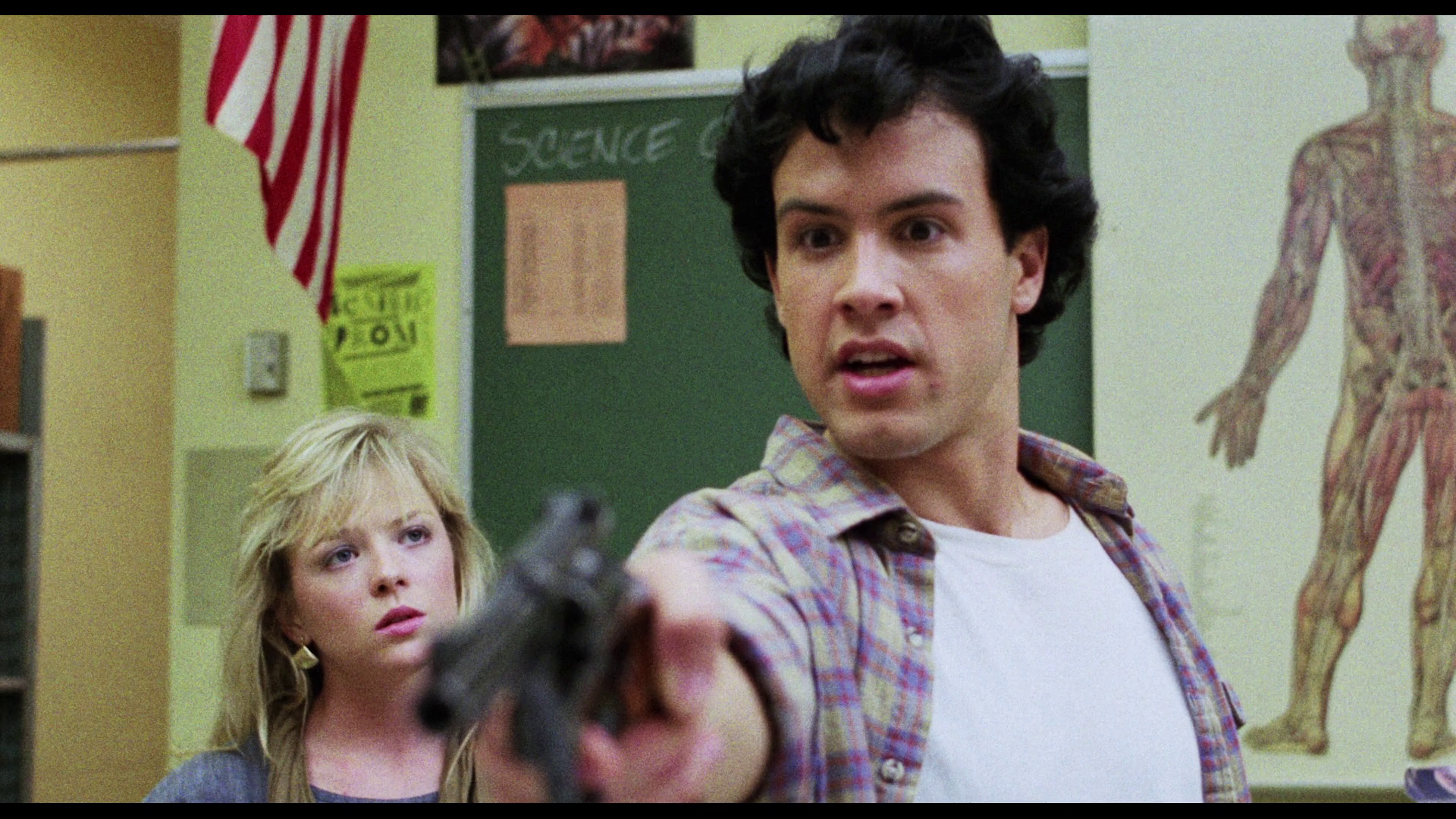 The movie was written, executive produced and directed by Don Murphy, a high-roller producer in Hollywood with his named attached to numerous projects like Natural Born Killers, From Hell, Shoot 'Em Up and the Transformers franchise (plus Bumblebee).
SPECIAL FEATURES – 3/5
---
This "MVD Rewind Collection" release (#38) comes with a matted slip cover and the inside artwork is reversible with the film's original poster art.
Not a bunch of features, however there is an extensive Interview (52:51) with Writer/Director Don Murphy and Don Murphy: Portrait of a Producer (24:01) which I believe was a featurette made for the Double Dragons release.
Also included is the Original VHS Version (1:37:34) with its alternate title, "Class of Fear".
VIDEO – 4¼/5
---
Monday Morning arrives on Blu-ray from MVD Entertainment presented in its original 1.85 widescreen aspect ratio and a 1080p high-definition transfer. Best I can tell, along with a DVD release on the same day, this is the first time this movie has been released on disc, previously only available on VHS. So with that, especially for a very obscure film (only 64 votes on IMDb, my own included).
As it is, this actually is a fairly good looking picture with some flaws for sure. First, there are many specs and bits of film damage that permeates throughout; second there were two glitches where a horizontal frame from the previous shot showed up, the first one I was able to get a screen grab of. I don't know if this was a flaw with the original camera negative or film, but these were noticeable. All of that said, the transfer still was sharp and nicely defined. Colors weren't terribly vibrant but I assume this has to do how this was filmed yet still these were well balanced.
AUDIO – 3½/5
---
The disc includes a PCM 2.0 Mono track. As with the video transfer, this too had its issues but I do cut it some slack for the presumably low budget and when this was filmed. Dialogue mostly sounded fine however there were some sound level issues and some muffling or heavy bass in many scenes. For scenes without dialogue though, it sounded pretty clean with maybe a few moments of crackling but these were minimal and didn't detract from the viewing experience.
OVERALL – 3/5
---
Monday Morning is a very obscure movie from the late 80s or early 90s (kind of hard to find out when exactly it was released) that might've had B-movie fun if not for a third act involving a hostage situation at a high school, which was rather uncomfortable to watch let alone find all that entertaining.
Check out some more 1080p screen caps by going to page 2. Please note, these do contain spoilers.