Stunt Rock might've been an interesting idea on paper and admittedly Grant Page has a great personality to the point I wish this was a documentary on the man instead of mixing a fictionalized storyline.
Stunt Rock
(1978)

---
Genre(s): Action, Music
Kino Lorber| PG – 91 min. – $29.95 | June 7, 2022
Date Published: 05/30/2022 | Author: The Movieman
MOVIE INFO:
Director: Brian Trenchard-Smith
Writer(s): Paul-Michel Melchie Jr. and Brian Trenchard-Smith (screenplay)
Cast: Grant Page, Monique Van De Ven, Margaret Gerard

---

DISC INFO:
Features: Commentary, Interviews, Theatrical Trailer
Slip Cover: Yes
Digital Copy: No
Formats Included: Blu-ray
Number of Discs:

1

---

Audio: English (DTS-HD MA 2.0)
Video: 1080p/Widescreen 2.35
Subtitles: English
Disc Size: 45.66 GB
Total Bitrate: 43.07 Mbps
Codecs: MPEG-4 AVC
Region(s):

A

---
Kino Lorber provided me with a free copy of the Blu-ray I reviewed in this Blog Post.
The opinions I share are my own.
THE MOVIE — 2½/5
---
Plot Synopsis: Real-life Australian stuntman Grant Page goes to L.A. and meets up with a theatrical rock band Sorcery, and Page impresses the rockers so much with his daredevil antics that they hire him for their act. While his first stunt lands him in the hospital, the reckless Page defies his doctors' orders, escaping out of the ward's fifth-story window. Page soon finds himself the focus the ladies, attracting both a newspaper reporter (MARGARET GERARD) and a television star (MONIQUE VAN DE VEN), much to the annoyance of her manager (RICHARD BLACKBURN).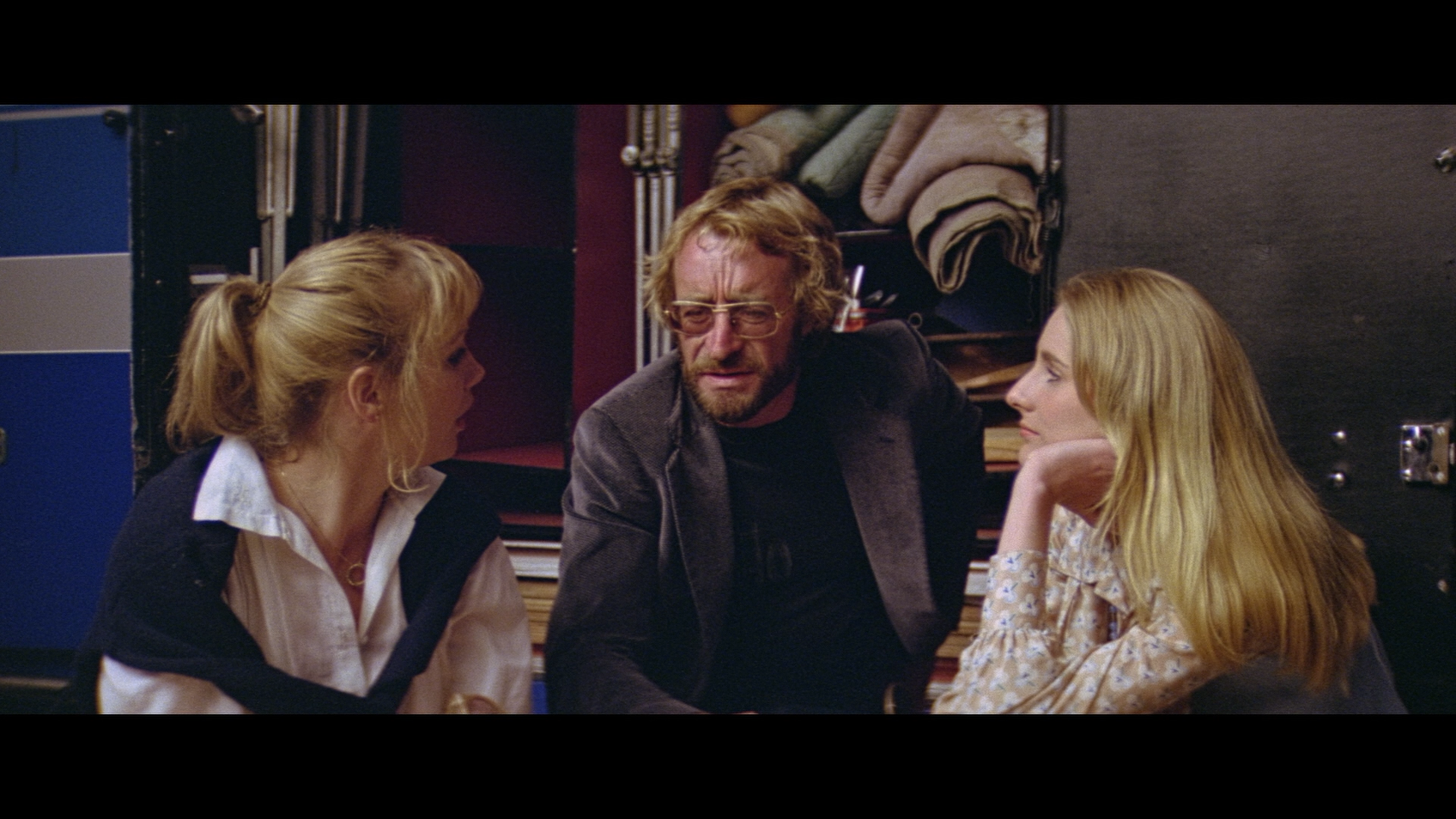 Quick Hit Review: Maybe it's because it was the 70s but not sure who thought blending stunt work and rock and roll was a brilliant mash-up but here we are with Stunt Rock, which has fine elements in both aspects but together it made for a movie that felt far longer than it was with either playing a full set with the band or showing clips of stuntman Grant Page's other works, like the original Gone in Sixty Seconds. I will say that Page does possess a bit of charm even though he is not a professional actor but I would've much rather see a well produced documentary on him or the world of stunts than this fictionalized story.
I wouldn't say Stunt Rock is bad and the film does have a cult following, though I'm guessing thanks in part to the recommendation from Quentin Tarantino, however for myself I didn't think the blending of two meshed all that well and I found the concert scenes to be tedious. I guess if you have a fondness for 1970s rock and roll maybe those parts will hit the right spot.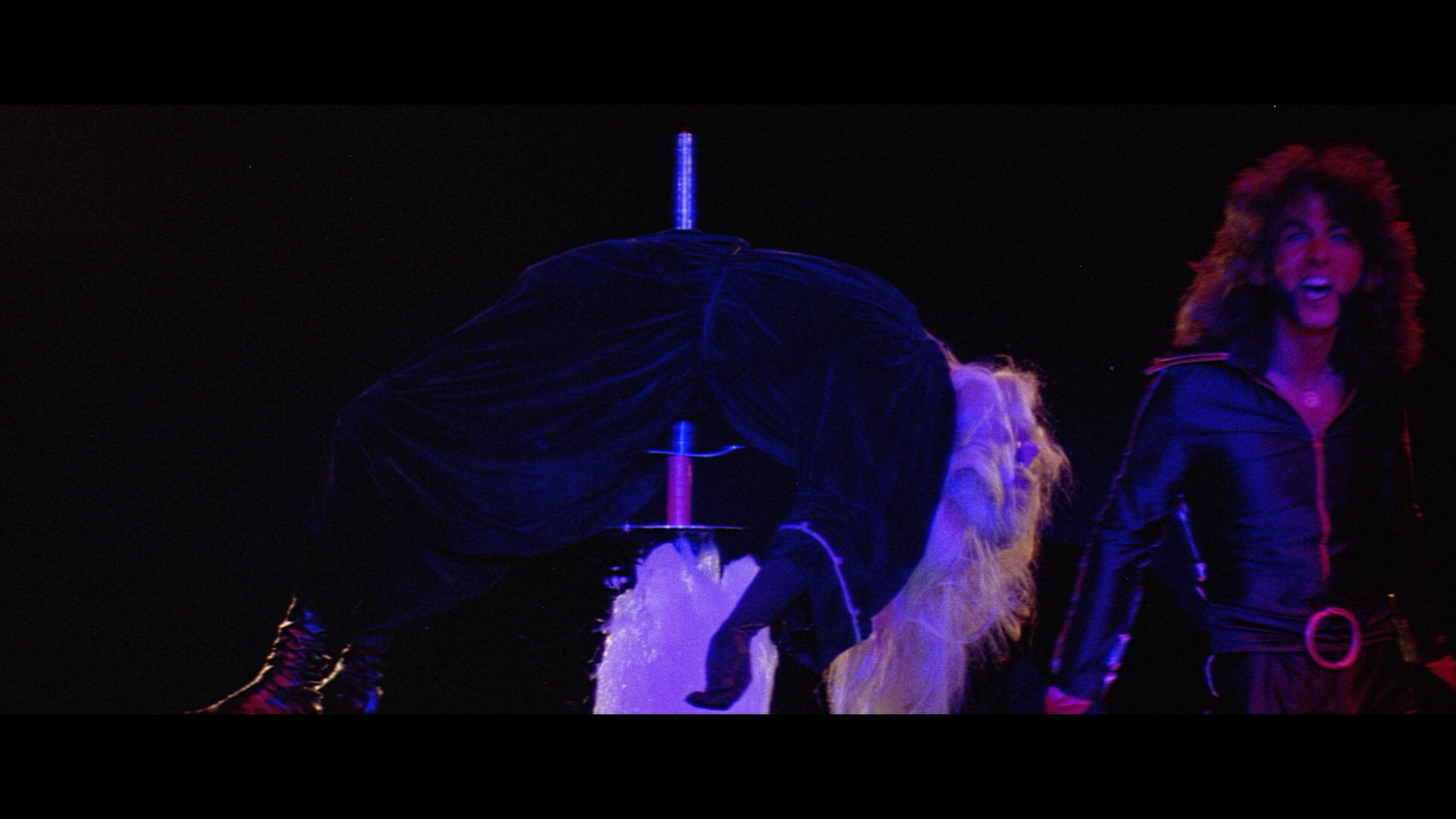 SPECIAL FEATURES – 4½/5
---
This release comes with a matted slip cover. Luckily the inside artwork is different with the film's original poster art.
Audio Commentary by Director Brian Trenchard-Smith & Actors Grant Page and Margaret Trenchard-Smith (formerly Margaret Gerard). The trio looks back fondly on making the movie and provides some information on the production and insights into the stunt work.
The Ultimate Rush (1:20:08) is an extensive interview/conversation with Brian and Margaret Trenchard-Smith.
Interviews:
Director Brian Trenchard-Smith (14:06)
Lead Actor/Stuntman Grant Page (3:22)
Brian Trenchard-Smith, Sorcery Lead Guitarist Smokey Huff, Producer Marty Fink and Actor Richard Blackburn (from 2009) (1:08:34)
Also included are four tracks from the soundtrack and the Theatrical Trailer (2:22).
VIDEO – 3¾/5
---
Stunt Rock is released to Blu-ray from Kino Lorber with the 1080p high-definition transfer was newly restored in 4K. The video, presented in its original 2.35 widescreen aspect ratio, looks fairly good with sharp detail for the most part and colors well balanced. There were, however, some film damage and a few scenes showing more damage than others. There were noticeable specs and dirt but on the whole I thought this was a solid transfer from KL Studio Classics.
AUDIO – 4/5
---
The disc includes a DTS-HD Master Audio 2.0 track which I found to be serviceable for a movie like this. Dialogue comes across with decent enough clarity and there is some good depth through the concert sequences.
OVERALL – 2¾/5
---
Stunt Rock might've been an interesting idea on paper and admittedly Grant Page has a great personality to the point I wish this was a documentary on the man instead of mixing a fictionalized storyline along with the rock and roll music which was okay but also tedious. I know this has a following but it never quite worked.
Check out some more 1080p screen caps by going to page 2. Please note, these do contain spoilers.