Superhost is a passably entertaining horror-thriller thanks to Gracie Gillum's performance as an imbalanced crazy person while the social commentary on vlogging is pretty fun to watch.
Superhost
(2021)

---
Genre(s): Horror, Suspense/Thriller
RLJE Films| NR – 84 min. – $28.96 | February 1, 2022
Date Published: 01/22/2022 | Author: The Movieman
MOVIE INFO:
Director: Brandon Christensen
Writer(s): Brandon Christensen (written by)
Cast: Sara Canning, Osric Chau, Gracie Gillum, Barbara Crampton

---

DISC INFO:
Features: Commentary, Featurettes, Outtakes, Photo Gallery
Slip Cover: Yes
Digital Copy: No
Formats Included: Blu-ray
Number of Discs:

1

---

Audio: English (DTS-HD MA 5.1)
Video: 1080p/Widescreen 2.35
Subtitles: English SDH, Spanish
Disc Size: 24.87 GB
Total Bitrate: 30.54 Mbps
Codecs: MPEG-4 AVC
Region(s):

A

---
RLJE Films provided me with a free copy of the Blu-ray I reviewed in this Blog Post.
The opinions I share are my own.
THE MOVIE — 2¾/5
---
Plot Synopsis: Teddy (OSRIC CHAU) and Claire (SARA CANNING) are vacation home vloggers who run a channel called "Superhost" and, until recently, had become successful doing it. With a dwindling subscriber count, they must get more creative with their content. Cue Rebecca (GRACIE GILLUM), the host of their most recent trip who seems to have a few screws loose. But as Teddy and Claire investigate Rebecca's past, they unlock a horrifying truth and discover that she'll do whatever it takes to get a good review…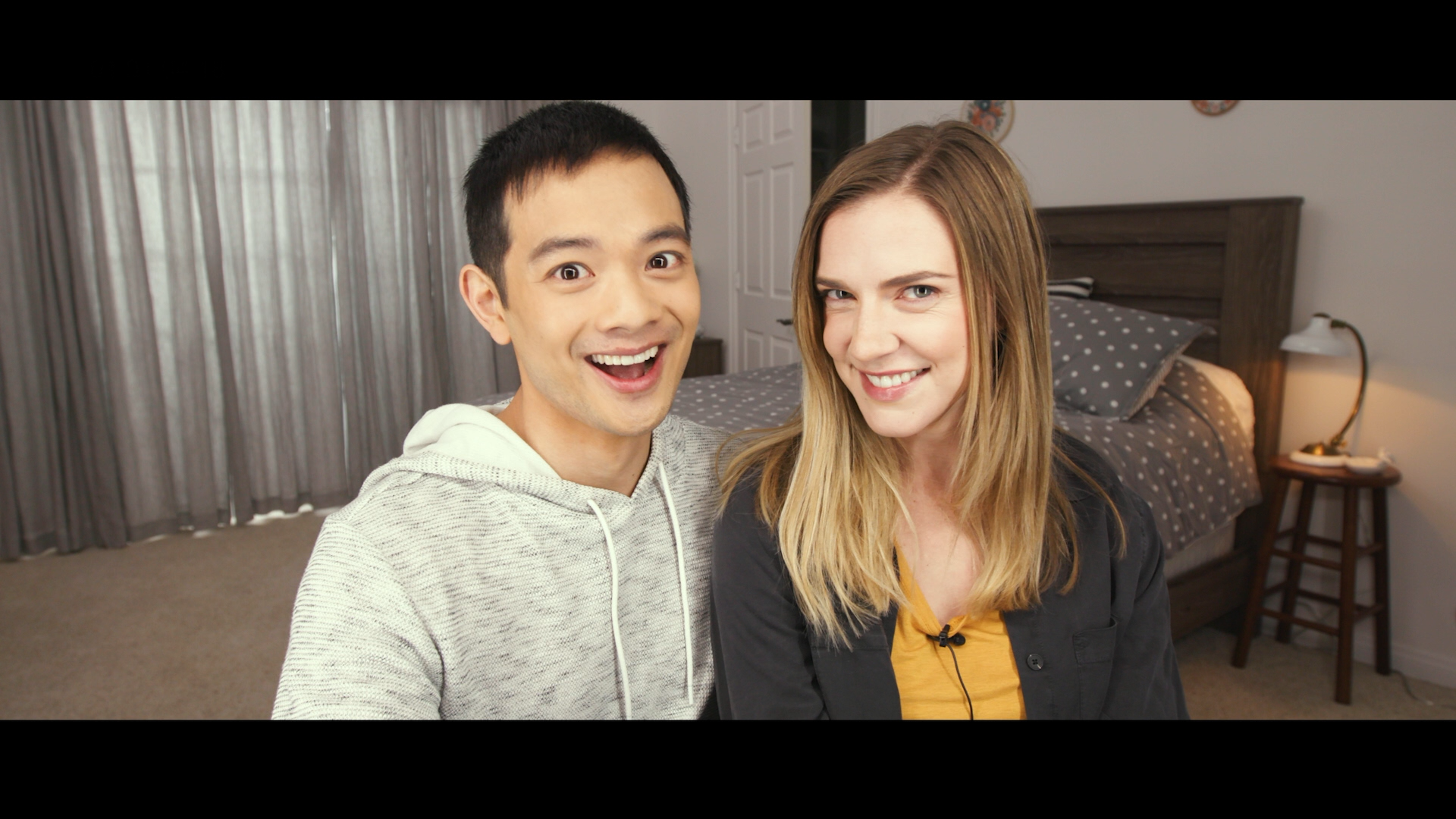 Quick Hit Review: A lot of times these independent, low budget horror movies can be a mixed bag, more often on the poorer side of spectrum than great. So going into Superhost, I was pleasantly surprised that it actually is quite watchable. Sure, it's also predictable, especially in the finale given how most modern horror movies end, but still was entertained considering I have seen a few of these YouTube vloggers and the two actors pull it off pretty well, particularly with Claire's obsession with losing subscribers.
Superhost was written and directed by Brandon Christensen whose previous films included 2017's Still/Born and 2019's Z, neither of which had seen (and the latter didn't ever seem to get a domestic distribution). Nothing really noteworthy about the direction or the movie as a whole. I guess Gracie Gillum plays crazy pretty well and a kill she does isn't half bad, but otherwise this is a one-off viewing, but I do believe those obsessed with YouTube over-the-top vloggers might get a kick out of some of this.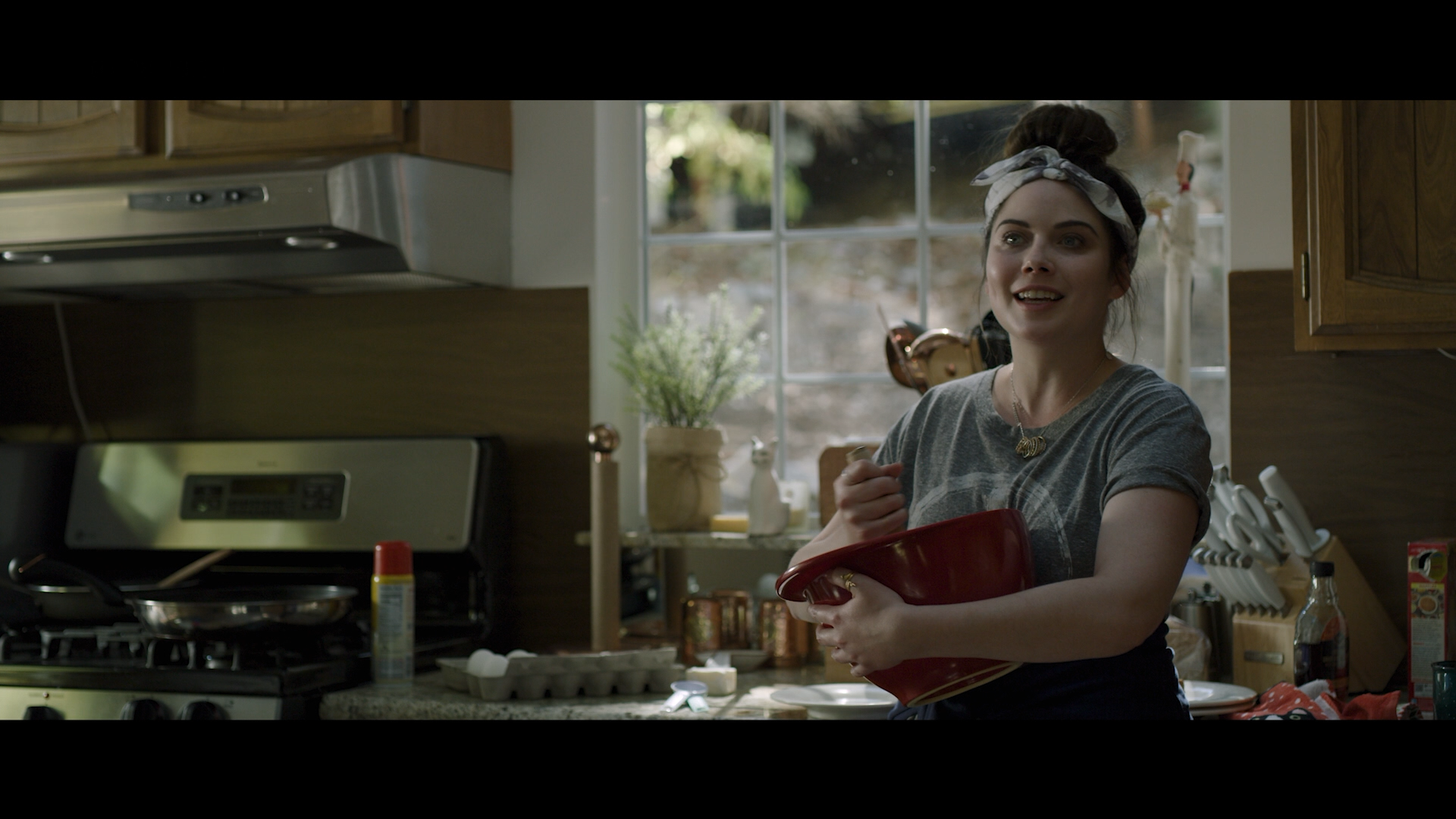 SPECIAL FEATURES – 3¼/5
---
This release does come with a title-embossed slip cover and comes with a fair amount of features:
Audio Commentary by Writer-Director Brandon Christensen
Behind-the-Scenes of Superhost (10:31) with some on-location footage and interviews.
Shooting in a Pandemic (6:39) focuses on how they filmed during the days of COVID.
Bloopers (3:36) containing flubbed lines.
Superhost VFX (2:46) shows off some of the visual effects work.
Behind-the-Scenes Photo Gallery (1:32) with production photos.
"Scaredycats" Episodes 1 & 2, two shorts I'm not at all familiar with.
VIDEO – 4/5
---
Superhost comes to Blu-ray from RLJE Films, presented with a 2.35 widescreen aspect ratio and a 1080p high-definition transfer. For the most part the picture looks solid, nothing amazing but fairly good. Detail is relatively sharp and well defined while colors are bright and nicely balanced. There were no apparent signs of artifacting, aliasing, pixilation or other visual flaws.
AUDIO – 3¾/5
---
The disc comes with a DTS-HD Master Audio 5.1 track which outputs crisp and clean dialogue mostly from the center speaker and the front and rear channels were used for the basic score and some ambient noises.
OVERALL – 3¼/5
---
Overall, Superhost is a passably entertaining horror-thriller thanks to Gracie Gillum's performance as an imbalanced crazy person while the social commentary on vlogging is pretty fun to watch. I would say this is worth a rental, but I don't think I have much desire to revisit.
Check out some more 1080p screen caps by going to page 2. Please note, these do contain spoilers.