12 Monkeys is a unique time-traveling sci-fi drama that features some great performances from Bruce Willis (showing what he can do when he cares), Madeline Stowe and Brad Pitt in one his more unique roles.
Twelve Monkeys
— Limited Edition Steelbook —
(1995)

---
Genre(s): Science Fiction, Drama, Suspense
Arrow Films| R – 129 min. – $39.95 | May 25, 2021
Date Published: 05/28/2021 | Author: The Movieman
MOVIE INFO:
Director: Terry Gilliam
Writer(s): Chris Marker (film 'La Jetee'); David Peoples & Janet Peoples (screenplay)
Cast:

Bruce Willis, Madeleine Stowe, Brad Pitt, Christopher Plummer, Jon Seda, David Morse

---

DISC INFO:
Features: Commentary, Interviews, Featurettes, Theatrical Trailer
Slip Cover: No
Digital Copy: No
Formats Included: Blu-ray
Number of Discs:

1

---

Audio: English (DTS-HD MA 5.1), English (DTS-HD MA 2.0)
Video: 1080p/Widescreen 1.85
Subtitles: English SDH
Disc Size: 47.34 GB
Total Bitrate: 35.24 Mbps
Codecs: MPEG-4 AVC
Region(s):

A

---
Arrow Films provided me with a free copy of the Blu-ray I reviewed in this Blog Post.
The opinions I share are my own.
THE MOVIE — 4/5
---
Plot Synopsis: Traveling back in time isn't simple, as James Cole (BRUCE WILLIS) learns the hard way. Imprisoned in the 2030s, James is recruited for a mission that will send him back to the 1990s. Once there, he's supposed to gather information about a nascent plague that's about to exterminate the vast majority of the world's population. But, aside from the manic Jeffrey (BRAD PITT), he gets little in the way of cooperation, not least from psychologist Dr. Kathryn Railly (MADELEINE STOWE).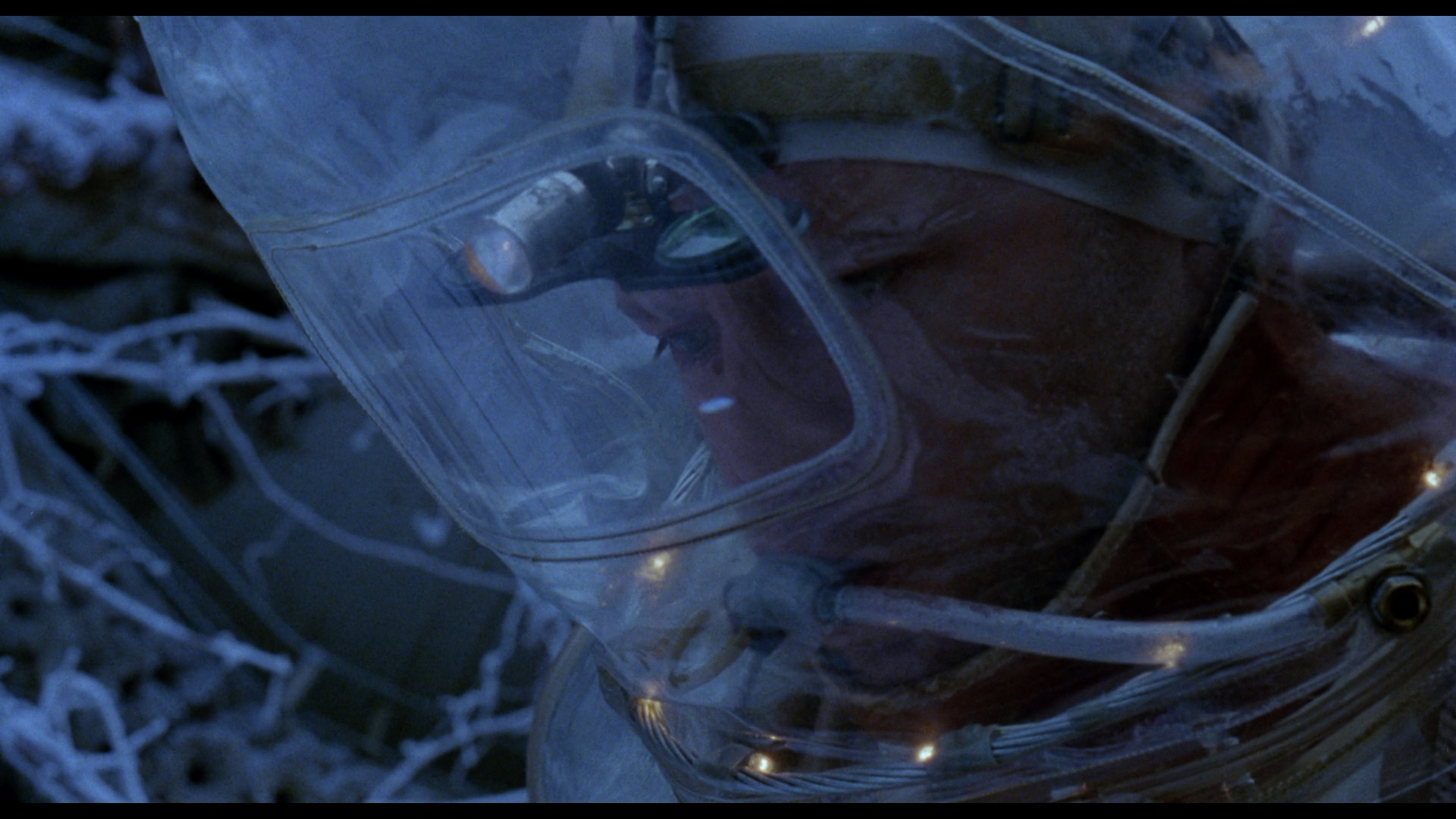 Quick Hit Review: 12 Monkeys is a movie I last watched a long time ago, probably 15 years ago at least, and based on my rating from IMDb, apparently didn't care very much for it. Seeing it for a second time now, and not really remember a whole lot save for a scene or two, have found a better appreciation for the Terry Gilliam film. Outside of this film, not terribly familiar with his other works, though had seen Fisher King some time ago.
The performances from the core cast was all great, Bruce Willis showcasing some emotional depth in a time when he gave a damn (as he also had a year prior with Pulp Fiction) before doing movies strictly for the paycheck (and now in straight-to-video purgatory); Madeline Stowe gives a tenderness and does a 180 from questioning Cole to being his advocate; and Brad Pitt is bonkers, an almost prelude to his Tyler Durden in Fight Club, and was deserved of his Academy Award nomination.
Beyond the acting, the aesthetics are eye-catching, particularly during the future sphere (the rest is mid-90s wonderfulness) and an interesting production design, specifically the time traveling apparatus (basically akin to a birthing tube). Not quite to the levels of H.R. Giger influence on the Alien franchise, but still striking nonetheless.
SPECIAL FEATURES – 4½/5
---
This new release comes housed in a Steelbook and inside is a booklet.
Audio Commentary — Director Terry Gilliam and Producer Charles Roven
The Hamster Factor and Other Tales of Twelve Monkeys (1:27:34) is a feature-length documentary from 1996 on the making of the film. Includes behind-the-scenes footage.
The Film Exchange with Terry Gilliam (23:50) — Interview with Gilliam conducted by Jonathan Romney that was recorded at the 1996 London Film Festival.
Appreciation by Ian Christie (16:11) — Newly film appreciation by the author of "Gilliam on Gilliam".
Twelve Monkeys Archive (39:32) is a gallery of logo designs, sketches, storyboards, production photographs and poster artwork.
Theatrical Trailer (2:26)
VIDEO – 5/5
---
Twelve Monkeys comes to Blu-ray from Arrow Films presented in the original 1.85 widescreen aspect ratio and given a 1080p high-definition transfer. I assume this is the same disc from the Limited Edition release from a couple years back. The transfer was taken from the 35mm camera negative and then scanned in 4K resolution and the grading was supervised and approved by Terry Gilliam. The picture itself looks absolutely fantastic, detail is incredibly sharp with the natural film grain and noise still being retained. There were no apparent or obvious signs of artifacting, aliasing or other significant flaws.
AUDIO – 4½/5
---
The movie comes with a choice of 5.1 and 2.0 DTS-HD Master Audio tracks, were remastered by NBC Universal. Both are well balanced, dialogue comes through with good clarity and some nice depth for ambient noises along with the score by the late Paul Buckmaster (Son of Dracula).
OVERALL – 4/5
---
12 Monkeys is a unique time-traveling sci-fi drama that features some great performances from Bruce Willis (showing what he can do when he cares), Madeline Stowe and Brad Pitt in one his more unique roles. This Blu-ray release from Arrow Films offers up excellent video and audio transfers and a good selection of bonus materials, albeit most previously released.
Check out some more 1080p screen caps by going to page 2. Please note, these do contain spoilers.