Event Horizon is a movie I've seen a few times and my ratings ranged from 3.25-3.75 with this go-around on the lower end. There is some entertainment value but the film doesn't exactly reach its full potential.
Event Horizon
— Collector's Edition —
(1997)

---
Genre(s): Science Fiction, Horror
Shout Factory| R – 95 min. – $34.98 | March 25, 2021
Date Published: 03/21/2021 | Author: The Movieman
MOVIE INFO:
Director: Paul W.S. Anderson
Writer(s): Philip Eisner (written by)
Cast:

Laurence Fishburne, Sam Neill, Kathleen Quinlan, Joely Richardson, Richard T. Jones, Jack Noseworthy, Jason Isaacs, Sean Pertwee

---

DISC INFO:
Features:

Commentary, Featurettes, Interviews, Deleted Scenes, Theatrical Trailer

Slip Cover: Yes
Digital Copy: No
Formats Included: Blu-ray
Number of Discs:

1

---

Audio: English (DTS-HD MA 5.1), English (DTS-HD MA 2.0)
Video: 1080p/Widescreen 2.35
Subtitles: English SDH
Disc Size: 42.17 GB
Total Bitrate: 36.89 Mbps
Codecs: MPEG-4 AVC
Region(s):

A

---
Shout Factory provided me with a free copy of the Blu-ray I reviewed in this Blog Post.
The opinions I share are my own.
THE MOVIE — 3¼/5
---
Plot Synopsis: Its name: Event Horizon. The high-tech, pioneering research spacecraft mysteriously vanished without a trace on its maiden voyage seven years ago. But a weak, persistent signal from the long-missing craft prompts a rescue team, headed by the intrepid Captain Miller (LAURENCE FISHBURNE), to wing its way through the galaxy on a bold rescue mission. Accompanying Miller is his elite crew — Medical Technician Peters (KATHLEEN QUINLAN), Communications and Executive Officer Lt. Stark (JOELY RICHARDSON), Rescue Technician Cooper (RICHARD T. JONES), Chief Engineer Ensign Justin (JACK NOSEWORTHY), Medical Doctor D.J. (JASON ISAACS) and Pilot Smith (SEAN PERTWEE) — and the lost ship's designer, Dr. Weir (SAM NEILL). What they uncover is unimaginable interstellar horror.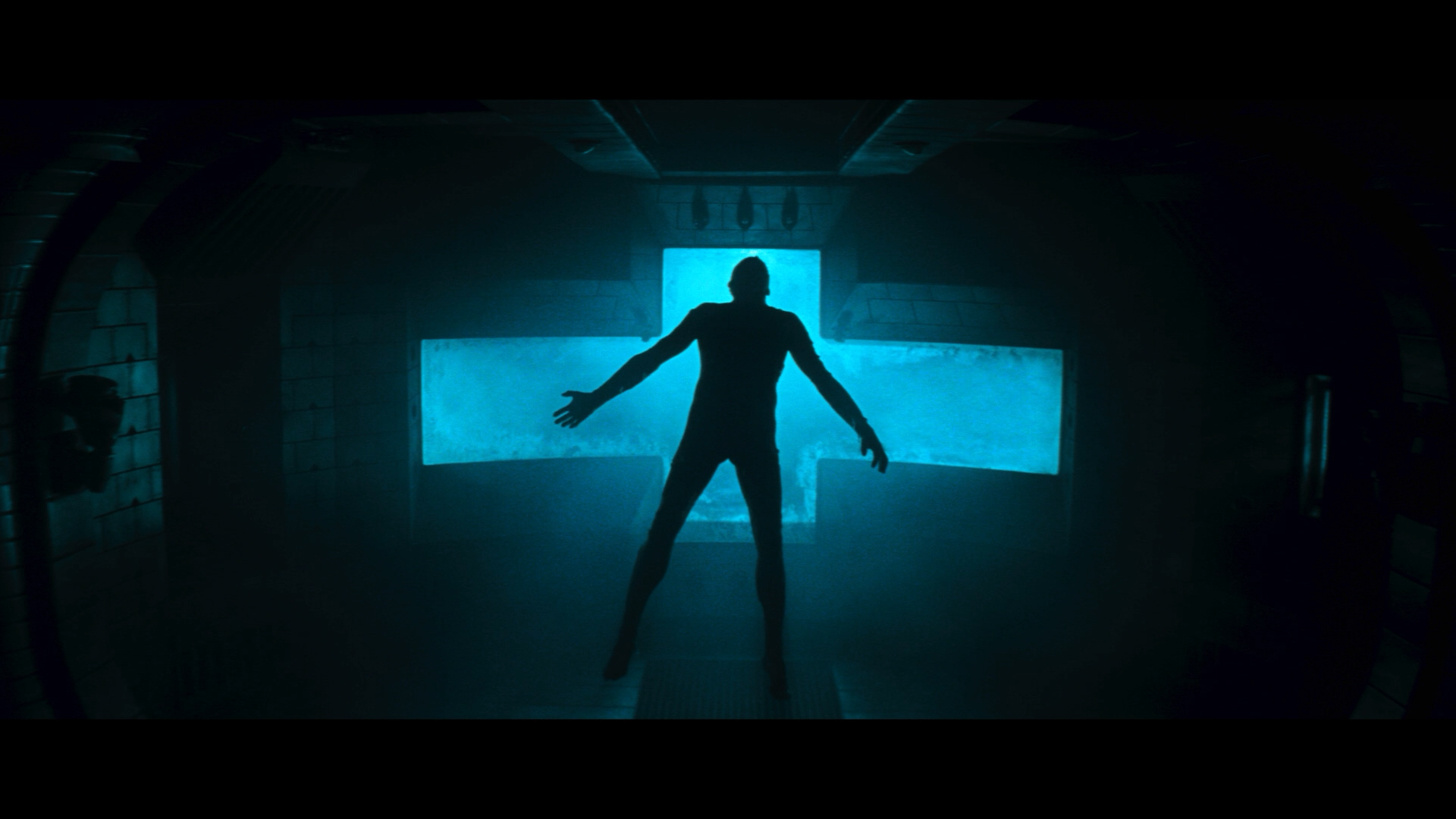 Quick Hit Review: Event Horizon is a movie I've watched a few times over the years, pretty much every time there's been a new home video release. In some respects, it's an interesting concept not entirely executed all that well by director Paul W.S. Anderson and, at least in terms of set design, outside of the core, has designs seen numerous times in other, better made, sci-fi horror films (Alien for one). However, one has to appreciate some of the model designs so on that level, I give Anderson and crew praise. The CGI though does look terribly dated but forgivable.
There are some silly moments, or at least characters making dumb decisions like one character following what surely she knew were a hallucination at this point in the film, only to take a plunge down an obvious hole; was almost cartoonish and actually made me shake my head and chuckle. I suppose one could chalk it up to hysteria and clearly not thinking straight, but the way it played out just didn't work.
That being said, I still found this somewhat entertaining thanks to a respectable ensemble cast led way by bad ass Laurence Fishburne two years before he would really breakout with The Matrix, along with Sam Neill who plays devious rather nicely, and a set of a nice supporting cast that includes Kathleen Quinlan (Apollo 13), Richard T. Jones (Kiss the Girls), Sean Pertwee (TV's Gotham) and Jason Isaacs (Harry Potter franchise).
Event Horizon was directed by Paul W.S. Anderson who took on this project following the success of Mortal Kombat, turning down the opportunity to helm X-Men, mainly because he wanted to direct R-rated material. Probably not the wisest decision, but admittedly somewhere in here probably was a solid sci-fi horror flick and sadly a 2+ hour director's cut has been lost to the annals of time, the footage unpreserved and long gone.
SPECIAL FEATURES – 4½/5
---
This long-waited "Collector's Edition" Blu-ray comes with a matted slip cover and the interior sleeve is reversible with the film's original poster artwork. This is packed with bonus features both new and ported over from previous releases.
Audio Commentary by Director Paul W.S. Anderson and Producer Jeremy Bolt. This is an older track but still worth a listen as the pair discuss the project and breaks down certain scenes.
Interviews (TRT 1:08:16):
Reflecting on Hell (10:06) — Director Paul W.S. Anderson
Haunted Galleon (9:00) — Writer Philip Eisner
Organized Chaos (7:51) — Actress Kathleen Quinlan
Compassion in Space (8:33) — Actor Jack Noseworthy
The Doomed Captain (2:55) — Actor Peter Marinker
Space Cathedral (5:32) — Production Designer Joseph Bennett
Something New (7:31) — Set Decorator Crispian Sallis
Taking Care of It (3:21) — Production Manager Dusty Symonds
Reinforcements (3:53) — Second Unit Director Robin Vidgeon
Almost Real (2:57) — Location Manager Derek Harrington
Screams from the Cosmos (6:37) — Sound Designer Campbell Askew
Always have to give props to Shout Factory with their full-fledged releases bringing together as many contributors as possible even done via Zoom or other video conferencing mediums. Probably the best of the bunch is Anderson, say what you will, he's pretty interesting and looking back on this film, he's pretty cordial.
The Making of Event Horizon (1:43:00) is a feature-length 5-part documentary from 2006 chronicling nearly every aspect of the production and includes archive interviews with members of the cast and crew plus behind-the-scenes footage.
The Point of No Return: The Filming of Event Horizon (8:12) is some behind-the-scenes footage with commentary by Anderson.
Secrets (2:49) is a set of three deleted/extended scenes with optional commentary with Anderson.
The Unseen Event Horizon (2:57/3:52) is a storyboard of an un-filmed rescue scene and some conceptual art.
Last up is the Theatrical Trailer (2:29) and Video Trailer (1:48).
VIDEO – 4½/5
---
Shout Factory releases Event Horizon onto Blu-ray with a new 1080p high-definition transfer in its original 2.35 widescreen aspect ratio. There are no notes on what, if any, work was done except for it was a 4K scan of the original camera negative. With that in mind, the picture here does look quite good. Detail is relatively sharp throughout and despite being a dark film taking place on a dimly lit vessel, there are splashes of color or brightness like in the core or when Weir is inside the mainframe which has a stark green lighting. While watching and when doing screen grabs, I did not notice any apparent dust marks, scratches or other flaws.
AUDIO – 4¾/5
---
The disc includes a DTS-HD Master Audio 5.1 track while the 2008 Blu-ray was Dolby TrueHD 5.1, but I'm guessing it's pretty much similar if not nearly the same. In any case, the track is darn new incredible, dialogue comes across with good clarity and there is a nice punch with the LFE channel kicking on at certain key moments. There were no discernible hissing, pops or other aural ailments.
OVERALL – 3¾/5
---
Event Horizon is a movie I've seen a few times and my ratings ranged from 3.25-3.75 with this go-around on the lower end. There is some entertainment value but the film doesn't exactly reach its full potential and can only wonder what that lost Director's Cut included. But this new "Collector's Edition" offers up good video and audio transfers but the highlight is a solid selection of bonus features.
Check out some more 1080p screen caps by going to page 2. Please note, these do contain spoilers.