Dora and the Lost City of Gold was a movie I was not looking forward to as often this is not my kind of humor and there are a few cringy moments, yet the third act was surprisingly enjoyable, reminiscent of Raiders of the Lost Ark.
Dora and the Lost City of Gold
(2019)

Genre(s): Adventure, Family, Comedy
Paramount | PG – 104 min. – $31.99 | November 19, 2019
Date Published: 11/10/2019 | Author: The Movieman
MOVIE INFO:
Directed by: James Bobin
Writer(s): Chris Gifford & Valerie Walsh & Eric Weiner (series created by); Tom Wheeler and Nicholas Stoller (story), Nicholas Stoller and Matthew Robinson (screenplay)
Cast:

Isabela Moner, Eugenio Derbez, Michael Peña, Eva Longoria, Danny Trejo, Jeff Wahlberg, Madeleine Madden, Nicholas Coombe, Q'orianka Kilcher, Temuera Morrison

---

DISC INFO:
Features: Featurettes, Deleted/Extended Scenes, Outtakes
Slip Cover: Yes
Digital Copy: Yes
Formats Included: Blu-ray, DVD
Number of Discs:

2

---

Audio: English (Dolby Atmos), French (Dolby Digital 5.1), Spanish (Dolby Digital 5.1), Japanese (Dolby Digital 5.1), Thai (Dolby Digital 5.1)
Video: 1080p/Widescreen 1.78
Subtitles: English SDH, Chinese, French, Hindi, Japanese, Korean, Malay, Spanish, Thai
Disc Size: 39.77 GB
Total Bitrate: 39.80 Mbps
Codecs: MPEG-4 AVC
Region(s):

A, B, C

---
Paramount provided me with a free copy of the Blu-ray I reviewed in this Blog Post.
The opinions I share are my own.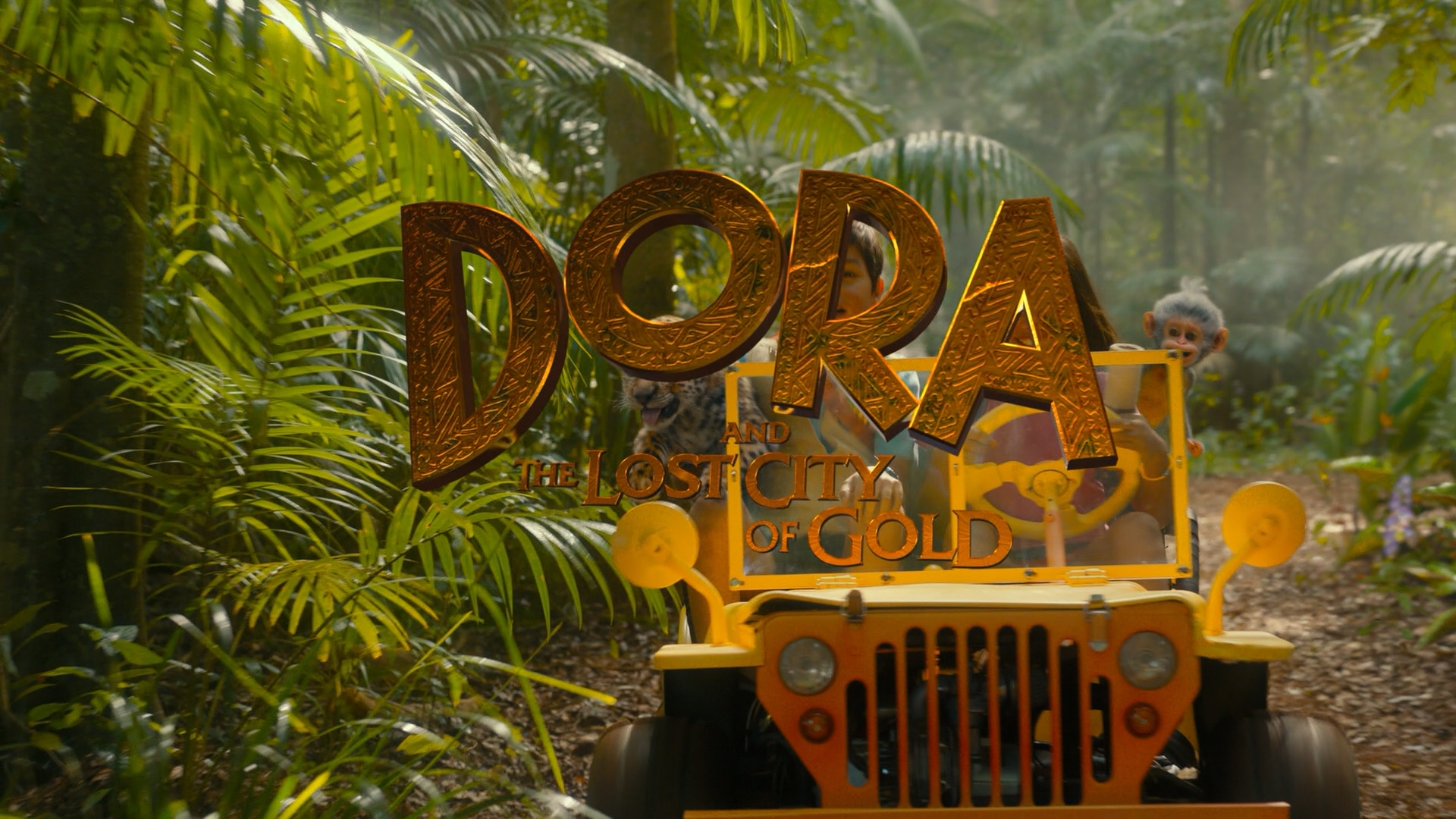 THE MOVIE — 3.0/5
---
Plot Synopsis: Having spent most of her life exploring the jungle, nothing could prepare Dora (ISABELA MONER) for her most dangerous adventure yet — high school. Accompanied by a ragtag group of teens (JEFF WAHLBERG, MADELEINE MADDEN, NICHOLAS COOMBE) and Boots the monkey, Dora embarks on a quest to save her parents (EVA LONGORIA, MICHAEL PENA) while trying to solve the seemingly impossible mystery behind a lost Incan civilization.
Review: Admittedly, within the first 15 minutes I was concerned Dora and the Lost City of Gold was going to be a slog to get through as I had never seen a single episode of Dora the Explorer and in fact probably have been more parodies (like skits on Robot Chicken) than even a scene. So, there are obvious in-jokes for the fans of the show and should be noted, this film was not made for a non-fan nearing 40. So keep that in mind.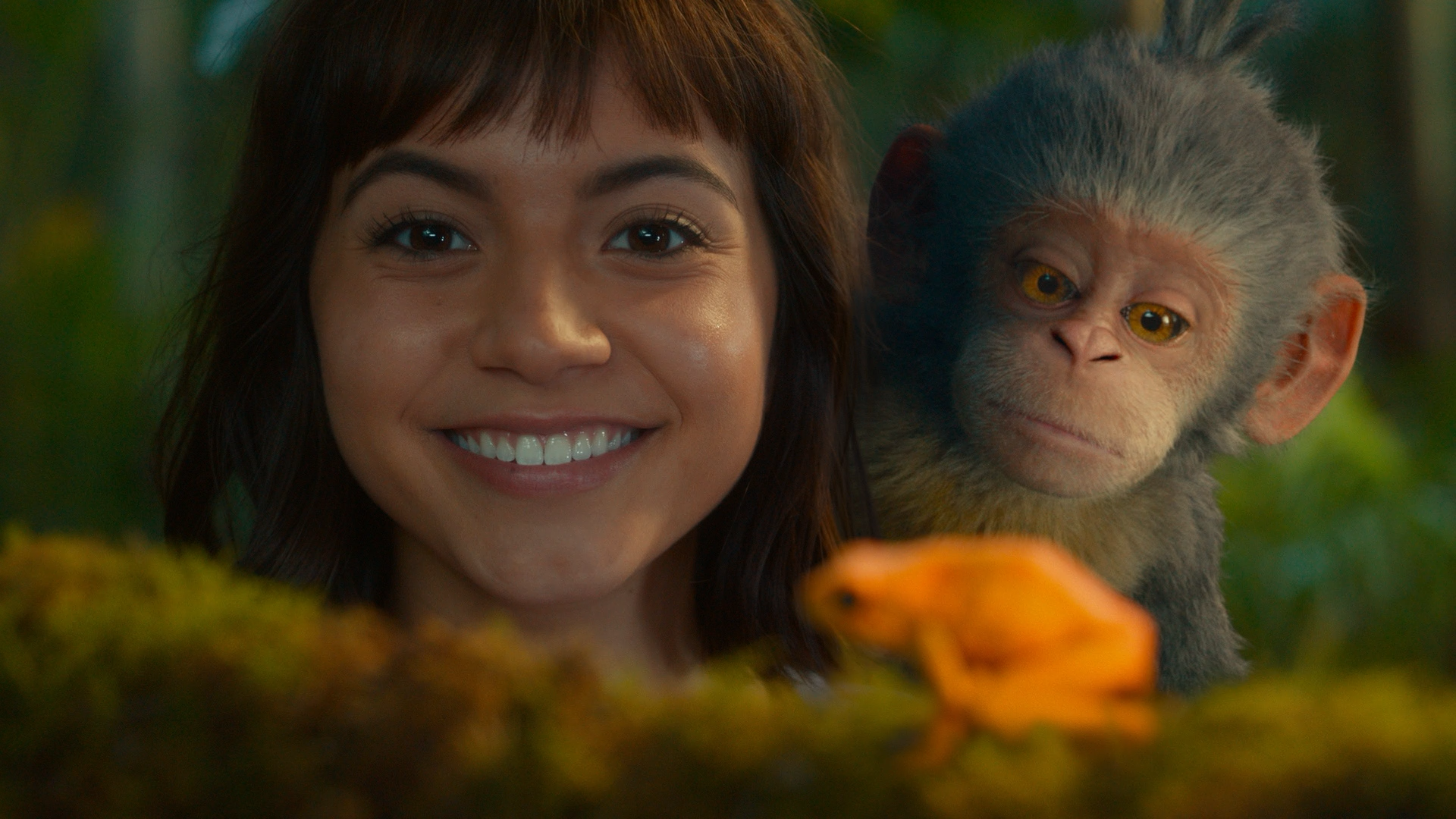 That being said, after getting used to the humor, much of which aimed at the 'tween demographic, I will say while it's not all that 'good', it's also not half-bad. Given my annoyance at precocious children in movies, Dora, as portrayed with gusto by Isabela Moner, was actually somewhat charismatic and pretty funny. Seems like the right choice for the lead.
The supporting cast for the most part was decent including Dora's adventurer pals including Jeff Wahlberg and Madeleine Madden; Michael Peña and Eva Longoria had a couple humorous moments, along with some overacting; however, the film also features Eugenio Derbez, who is absolutely the worst, and yet somehow gets consistent work in primary roles…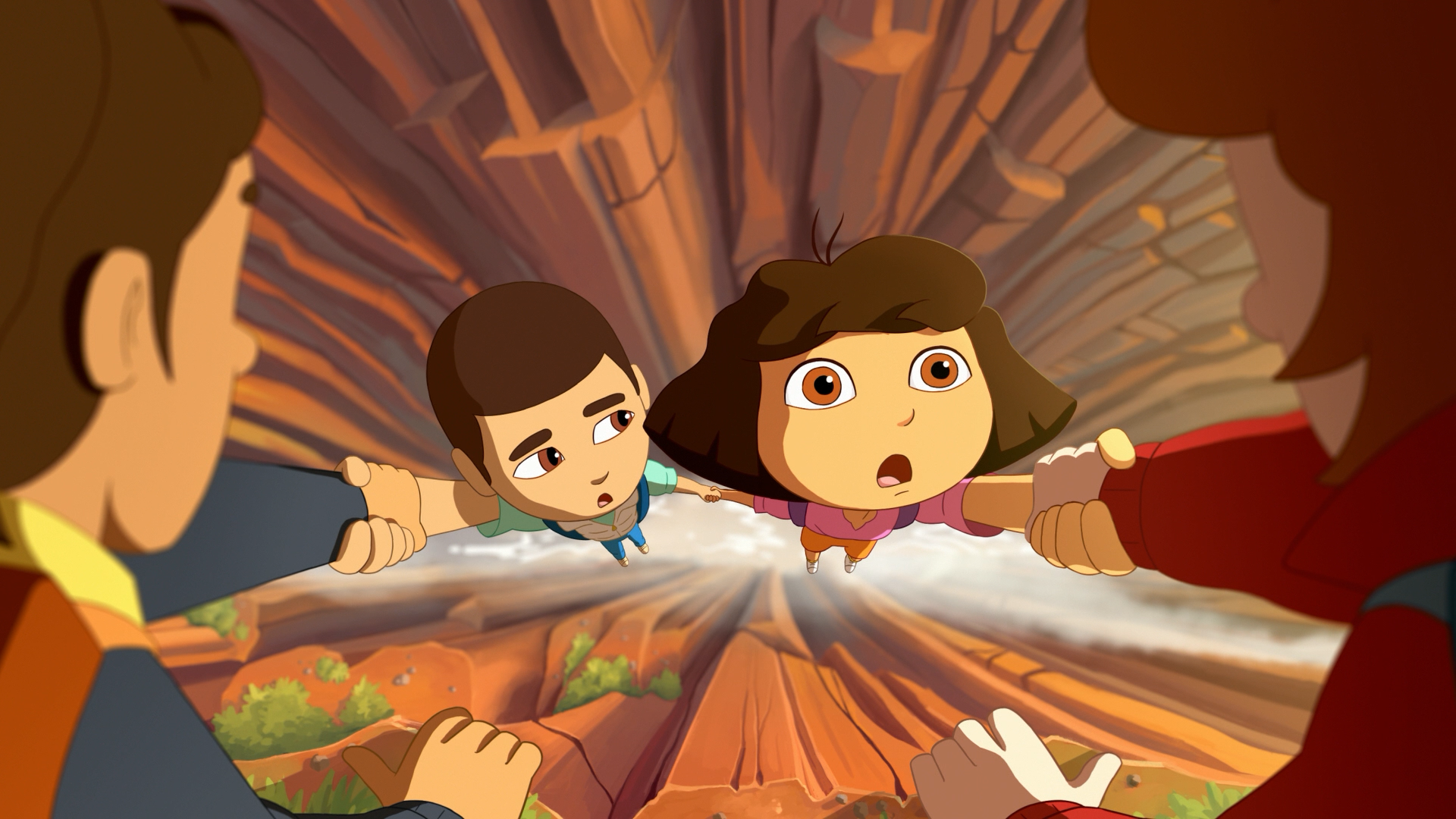 James Bobin, director of other family-friendly films like The Muppets, The Muppets Most Wanted and Alice Through the Looking Glass, helmed Dora and the Lost City of Gold and although the material isn't of the highest quality probably was the right one for the job, with humor that's mostly aimed at a much younger audience, with one exception, a scene where characters more or less undergo a hallucinogenic trip in one an animated sequence.
All in all, Dora and the Lost City of Gold is a perfectly safe family adventure film and even the basic humor wasn't annoying and there were passably entertaining moments.
SPECIAL FEATURES – 2.5/5
---
This release comes with a title-embossed slip cover and redemption code for the Digital HD copy.
FEATURETTES:
All About Dora (8:40) is a behind-the-scenes featurette about adapting the cartoon series into a live action movie and expanding the limited source material. Contains interviews by Isabela Moner, Eva Longoria, director James Bobin and others.
Can You Say Película? (4:33) — Featurette on actor Eugenio Derbez.
Dora in Flower Vision (4:16) breaks down the animated sequence I mentioned prior.
Dora's Jungle House (3:45) looks at the production design of the home.
Deleted and Extended Scenes (12:35) contains footage either cut down or completely removed. 11 scenes in all. Pretty amusing seeing the statue stand-in for Boots, though.
Bloopers (2:12) with line flubs and on-location tomfoolery.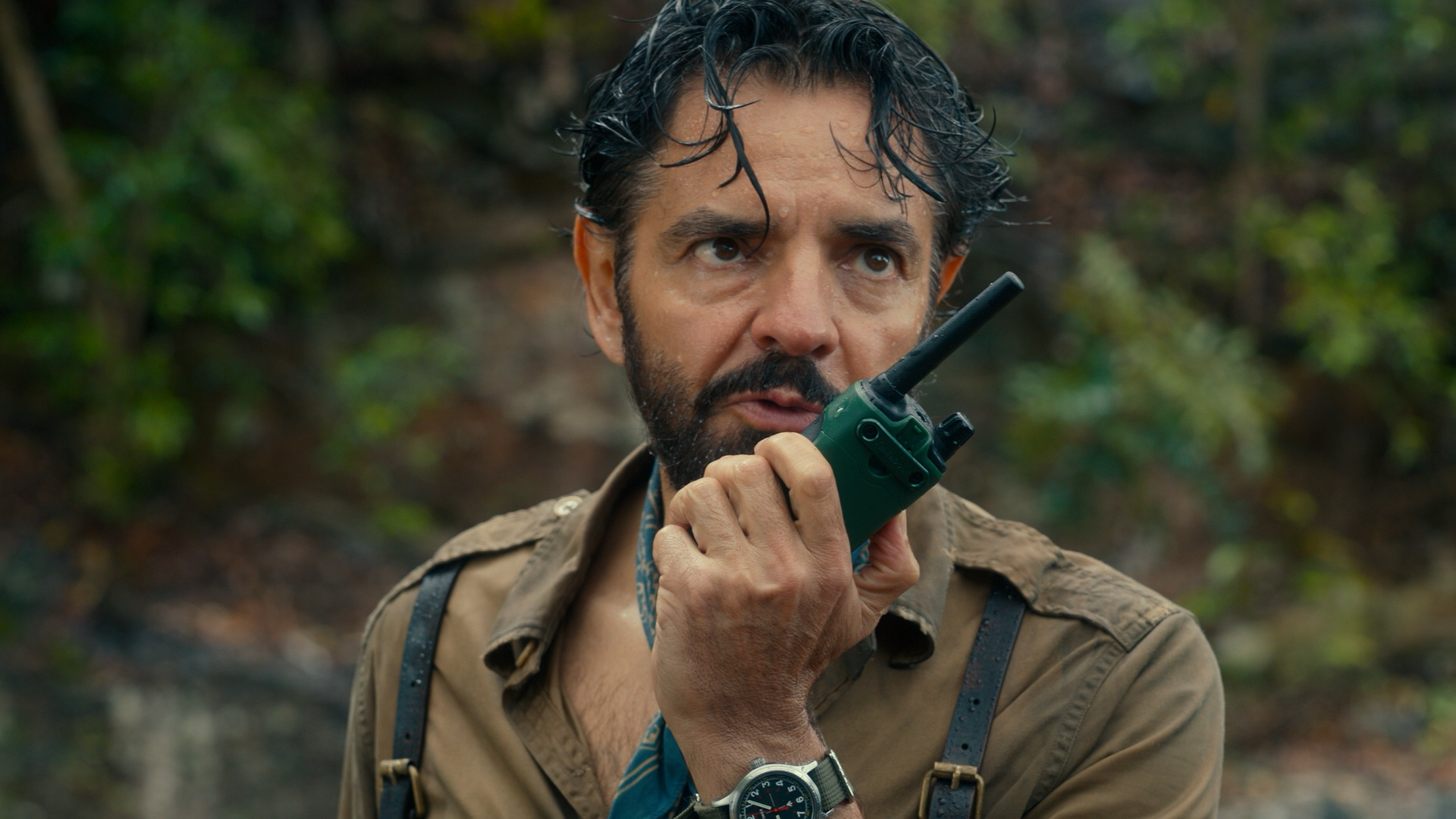 VIDEO – 4.75/5
---
Paramount publicado Dora and the Lost City of Gold onto Blu-ray presented with an open-matted 1.78 widescreen aspect ratio and given a 1080p high-definition transfer. This being based on a children's program and the humor aimed towards a younger viewership, colors are amazingly vibrant throughout, from Dora's outfits to the jungle settings where even the darker scenes never get a serious vibe. Detail is sharp and this appears to be a clean picture with no obvious signs of artifacting or aliasing.
AUDIO – 4.5/5
---
The disc includes a satisfying Dolby Atmos track which normally would be a bit too strong for a movie of this ilk, but still sounds wonderful, outputting clear dialogue via the center speaker and some impressive surrounds especially noticeable during the scenes within the jungles.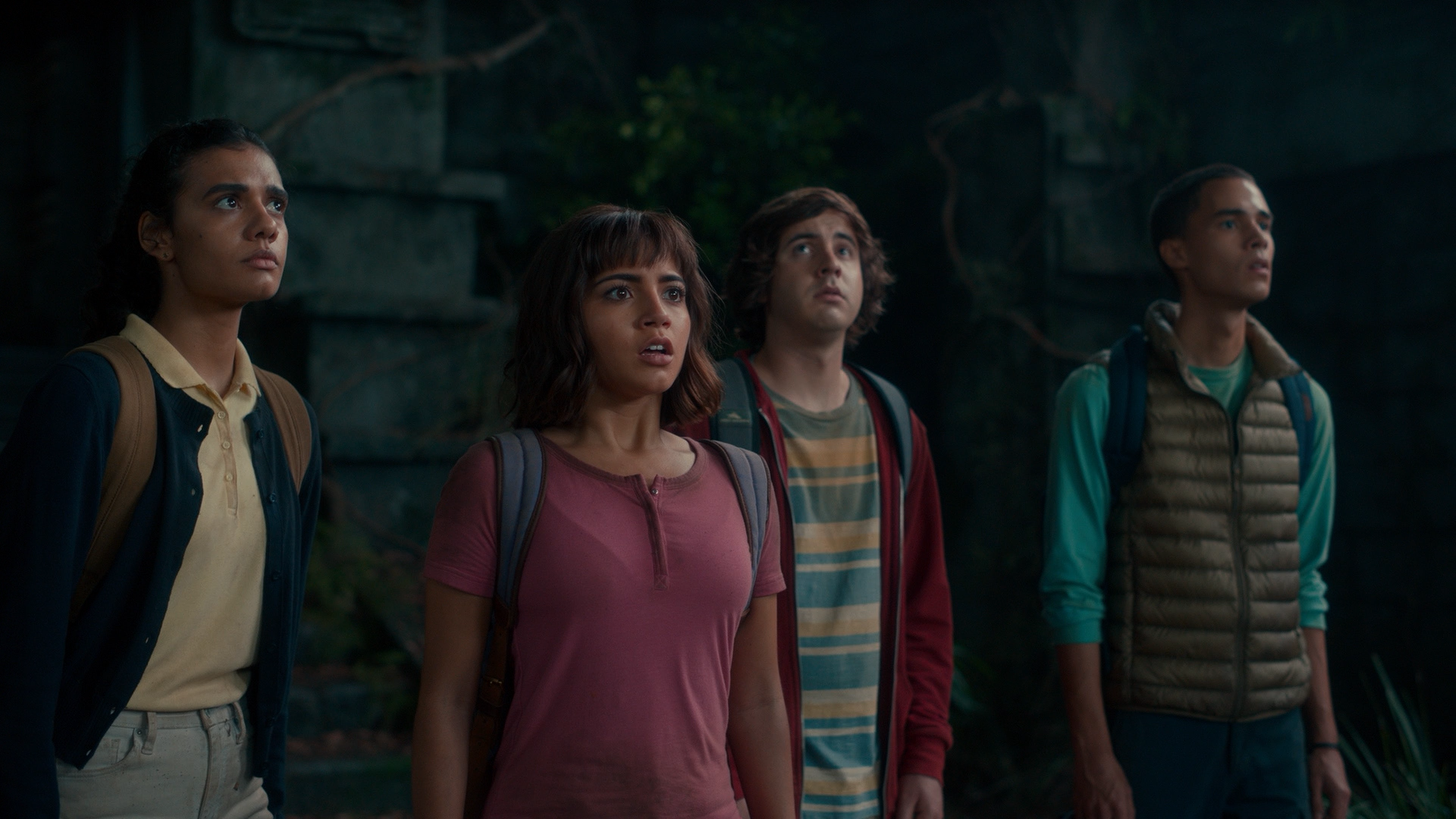 OVERALL – 3.25/5
---
Dora and the Lost City of Gold was a movie I was not looking forward to as often this is not my kind of humor and there are a few cringy moments, yet the third act was surprisingly enjoyable, reminiscent of Raiders of the Lost Ark. The Blu-ray release from Paramount doesn't have great amount of bonus features but the video and audio transfers are asombroso!
Check out some more 1080p screen caps by going to page 2. Please note, these do contain spoilers.