The Aladdin: Signature Collection Blu-ray is virtually the same from the Diamond Edition from four years ago, though this is a nice set if you don't already own that version as the video and audio transfers are both excellent and the bonus material were at least fine.
Aladdin
— The Signature Collection —
(1992)

Genre(s): Animation, Adventure, Family
Buena Vista Home Entertainment | G – 91 min. – $39.99 | September 10, 2019
Date Published: 09/10/2019 | Author: The Movieman
MOVIE INFO:
Directed by: Ron Clements, John Musker
Writer(s): Ron Clements & John Musker and Ted Elliott & Terry Rossio (screenplay)
Voice Cast:

Scott Weinger, Robin Williams, Linda Larkin, Jonathan Freeman, Frank Welker, Gilbert Gottfried, Douglas Seale

---

DISC INFO:
Features: Audio Commentaries, Featurettes, Deleted Scenes, Outtakes
Slip Cover: Yes
Digital Copy: Yes
Formats Included: Blu-ray, DVD
Number of Discs:

2

---

Audio: English (DTS-HD MA 5.1), French (Dolby Digital 5.1), Spanish (Dolby Digital 5.1)
Video: 1080p/Widescreen 1.66
Subtitles: English SDH, English, French, Spanish
Disc Size: 45.74 GB
Total Bitrate: 38.64 Mbps
Codecs: MPEG-4 AVC
Region(s):

A, B, C

---
Buena Vista Home Entertainment provided me with a free copy of the Blu-ray I reviewed in this Blog Post.
The opinions I share are my own.
Note: Portions of this was copied over from my original 2015 Diamond Edition review. From what I can tell, both the video and audio transfers are virtually the same
(with the only change in aspect ratios).
THE MOVIE — 4.5/5
---
Outside of perhaps 1940s and 50s Disney, the late 80s/early 90s were a golden age for the Mickey Company. Between The Little Mermaid (1989), Beauty and the Beast (1991), The Lion King (1994) and Aladdin, it was a great era before Disney decided to go cheap with numerous direct-to-video sequels. Luckily with Pixar, with a few exceptions (Cars 1 & 2), has regained its crown in the animation (albeit CGI) realm.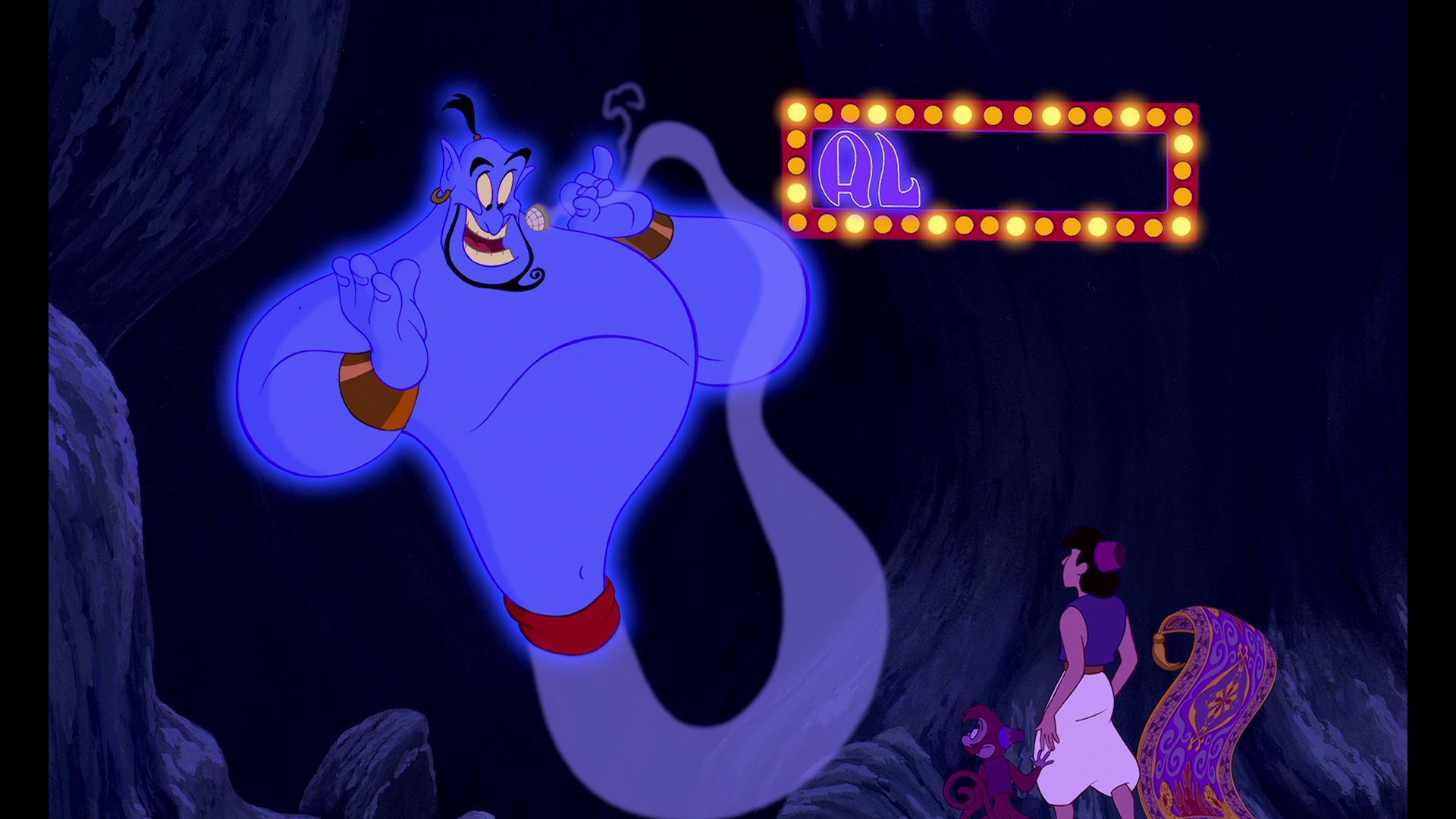 1992's Aladdin is a fantastic family musical romp that is nearly perfect between amazing animation all culminated with brilliant voice work headlined, of course, by the late and great Robin Williams who, if anyone deserved an Oscar for voicing an animated character, it was him. Having watching this film again after many years, it struck me how well it has aged and how much it appeals to both children and adults alike.
The plot surrounds street-urchin Aladdin (voiced by SCOTT WEINGER) who lives day to day stealing scraps, with his trusted monkey sidekick Abu, from street vendors and avoiding the strong arms of guards. When the evil Jafar (JONATHAN FREEMAN), consultant for the kingdom's sultan (DOUGLAS SEALE), attempts to retrieve a magical lamp but only the chosen one may do so and it just so happens to be Aladdin.
Meanwhile, within the lavish palace, Princess Jasmine (LINDA LARKIN) yearns to be free and runs away and discovers the hard life on the streets where she's aided by Aladdin after being caught trying to steal. The pair makes an instant connection though soon enough, Aladdin is taken by guards at the behest of Jafar.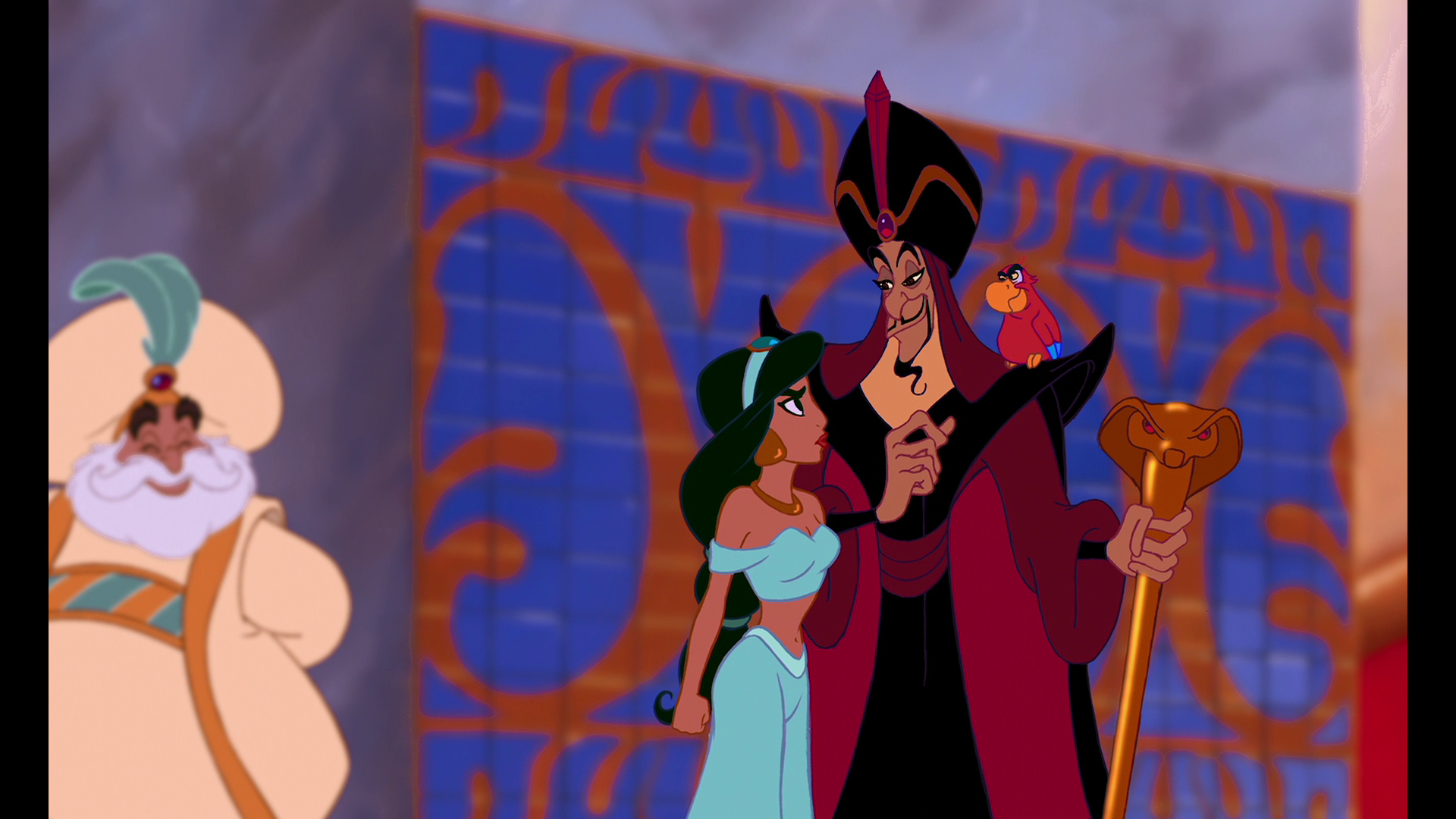 Aladdin is manipulated to retrieve the lamp but is, obviously, double-crossed by Jafar though before the dark one could get his hands on it, Aladdin gets it back, thanks to Abu, and needing to escape a closed in cave, rubs the lamp and out pops Genie (ROBIN WILLIAMS) who, after some zany antics, tells Aladdin the rules: he gets three wishes but there are caveats like he can't wish for more wishes, he cannot wish for someone to fall in love and he can't wish for the dead to come back to life.
When Aladdin learns Princess Jasmine, through law, is to marry a prince, his first wish is to become a prince and all the flair that entails however, its apparent Jasmine has little interest. At the same time, Jafar hatches his own plans now that he doesn't have the lamp to grab absolute power over the kingdom and overthrow its hapless sultan.
Aladdin is such a great and timeless film that even after seeing it again after so many years (at least a decade if not longer), I found it to be not only entertaining but a good heart at its core, especially with the wild Robin Williams going wild. The soundtrack, which I basically had on repeat back in the day, is fantastic with so many catchy songs. Although it might take a backseat to the likes of The Lion King and Beauty and the Beast, it's still one of Disney's strongest animated films and a nice addition to the quad of classics from them between 1989 and 1994.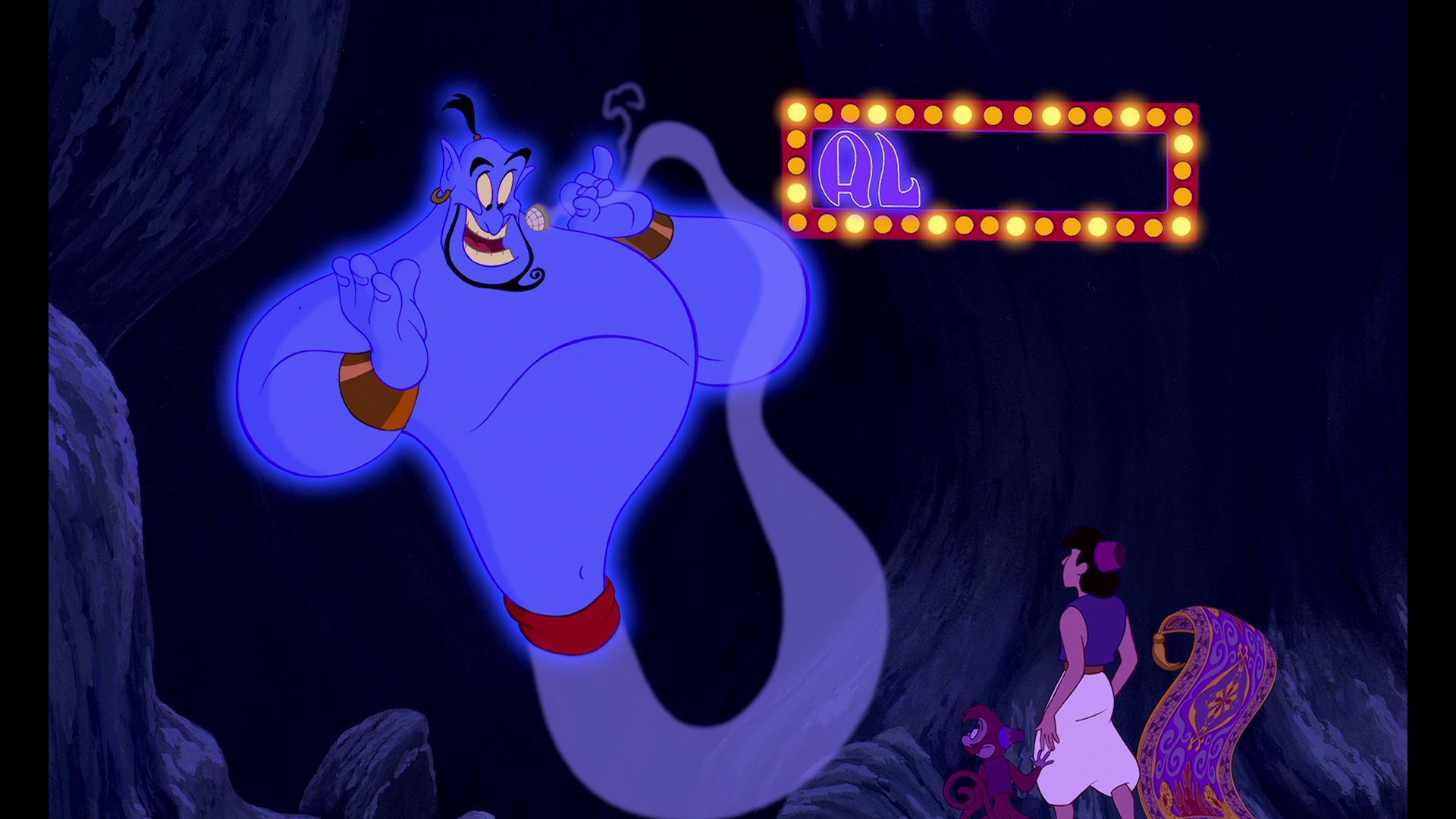 SPECIAL FEATURES – 4.0/5
---
This release comes with a title-embossed slip cover and redemption code for the Digital HD copy. Unfortunately for whatever reason, not all of the features were ported over from the Diamond Edition.
Sing-Along Mode allows you to watch karaoke style with the music lyrics showing up on screen.
Aladdin on Aladdin (30:27) – This is a new interview with voice actor Scott Weinger on his life over the course of 27 years since voicing Aladdin and going to the important places and interviewing those involved including Linda Larkin (Jasmine), Gilbert Gottfried (Iago) and Jonathan Freeman (Jafar).
Let's Not Be Too Hasty: The Voices of Aladdin (2:58) – This is a short featurette with introductions from 1991 of the voices for the movie with brief footage of them recording.
Alternate Endings (2:05) – Are a few scenes, shown via storyboards, with a reprise of "Arabian Nights" that were ultimately not used.
---
CLASSIC FEATURES:
Audio Commentaries:
Producers/Directors John Musker and Ron Clements & Co-Producer Amy Pell
Supervising Animators Andreas Deja, Will Finn, Eric Goldberg and Glen Keane
The Genie Outtakes (8:53) has some outtake recordings from Robin Williams. This includes an intro with the directors as they recount working with him.
Aladdin: Creating Broadway Magic (18:53) is a fascinating behind-the-scenes look at the popular musical.
Genie 101 (3:59) delves into the impersonations done by big blue guy; hosted by Scott Weinger.
Ron & John: You Ain't Never Had a Friend Like Me (5:36) looks at the friendship and history between directors Ron Clements and John Musker.
Disney Song Selection allows you to jump to your favorite song in the movie.
VIDEO – 5.0/5
---
Aladdin arises onto Blu-ray shown in its original 1.66 widescreen aspect ratio and presented with a 1080p high-definition transfer. The colors, unsurprisingly, are brilliant from beginning to end and details, even by animation standards, are good. The most impressive, beyond the colors, is the clean transfer which is free of dust marks, scratches and other flaws that sometimes can permeate the older, traditional animated films.
AUDIO – 5.0/5
---
Not to be outdone, the disc comes with a nice and finely balanced DTS-HD Master Audio 7.1 track. These Disney movies certainly benefit from the newly minted lossless tracks between the clear dialogue to the numerous musical scenes which help round things out and make the most out of the front and rear channels. It's a fantastic aural experience that any fan will appreciate.
OVERALL – 4.5/5
---
The Aladdin: Signature Collection Blu-ray is virtually the same from the Diamond Edition from four years ago, though this is a nice set if you don't already own that version as the video and audio transfers are both excellent and the bonus material were at least fine, just a shame all the features from both the Diamond and Platinum Editions were not ported over.
Check out some more 1080p screen caps by going to page 2. Please note, these do contain spoilers.