Batman (1989) was a transformative superhero movie taking a character that largely was known as a light-hearted joke and turning him into the rightfully brooding and Dark Knight.
Batman
(1989)

---
Genre(s): Action, Adventure
Warner Bros. | PG13 – 126 min. – $41.99 | June 4, 2019
Date Published: 05/26/2019 | Author: The Movieman
MOVIE INFO:
Directed by: Tim Burton
Writer(s): Sam Hamm (story), Sam Hamm and Warren Skaaren (screenplay)
Cast: Jack Nicholson, Michael Keaton, Kim Basinger, Robert Wuhl, Pat Hingle, Billy Dee Williams, Michael Gough, Jack Palance
DISC INFO:
Features: Commentary, Featurettes, Theatrical Trailer
Slip Cover: Yes
Digital Copy: Yes
Formats Included: 4K, Blu-ray
Number of Discs: 2
Audio: English (Dolby Atmos), French (Dolby Digital 5.1), Spanish (Dolby Digital 5.1)
Video (4K): 2160p/Widescreen 1.85
Dynamic Range: HDR10
Subtitles: English SDH, French, Spanish
Codecs: HEVC / H.265
Region(s): A, B, C
Warner Bros. Home Entertainment provided me with a free copy of the Blu-ray I reviewed in this Blog Post.
The opinions I share are my own.
THE MOVIE — 4.0/5
---
Normally I don't talk about personal experiences in my reviews, but I feel this is the appropriate time to do so. Like many out there, Tim Burton's Batman has always had a place in my movie heart. It was 1989, I was 8 years old when, while on vacation to the coast with my family, my favorite comic book character was coming to life on the big screen. Luckily there was a theater in town (a classic one to boot) where my parents took me to what was not only a movie experience, but also my very first PG-13 film which, though not on the same level, but something a kid will remember feeling a bit special, almost as if getting beyond some invisible velvet rope.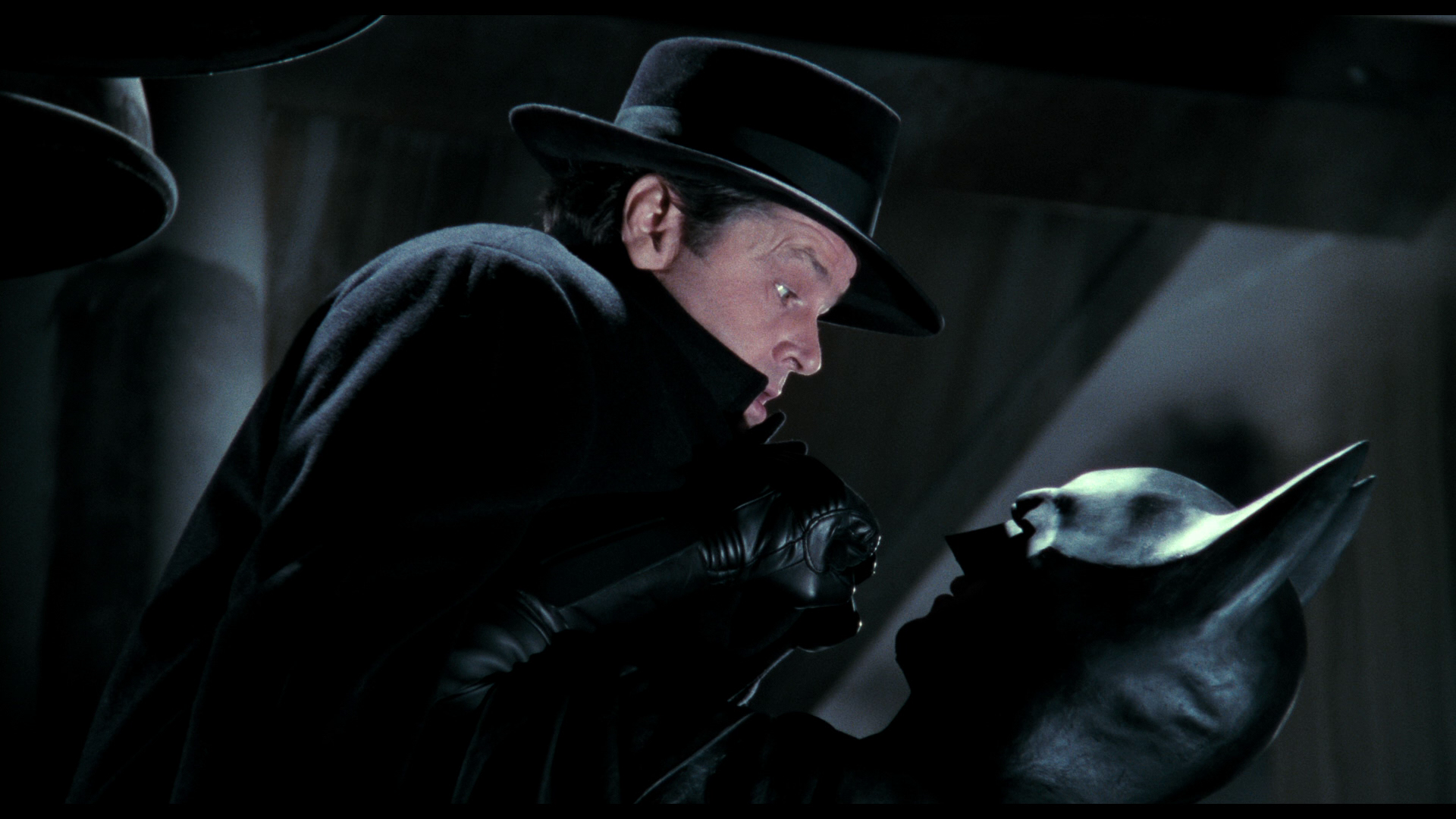 Point is, I always felt that Batman was a great movie. A great, iconic character matching up with the most vicious villain of any of the comics (DC or Marvel), a film with a wonderful, fantastical look and just something that I always felt like I loved; that is, until Batman Begins. After buying the Anthology set (along with Begins), I decided to pop in Batman as I hadn't seen it in a couple years (during which I had already seen Begins 4 times). To my surprise — or perhaps chagrin –, I found Batman to be merely a good movie that pales in comparison to the latest vision.
I think what happened was after seeing what Nolan, Goyer and company did with the character of Wayne/Batman, it made Burton's version just that, a Tim Burton film. OK, I guess I can accept that… but oddly enough, my opinion on Jack Nicholson's Joker also seemed to be off. Was there anything wrong with him? Not really. My problem with his Joker stemmed from the fact that he was the focal point while our hero was a distant second to a script that gave him little to work with. Again, though, this movie has been around for 16 years… what happened? Batman Begins. So the question now is, is that fair? Shouldn't I just look at these as two different films? I should, but I truly cannot. I know there are a ton of people out there that feel Batman '89 is better than Batman Begins, and there are plenty who like both equally and then there are those (like me) who have changed their minds.
While I will always remember going to see the movie early in my youth, I just cannot say that it's that great of film any longer. Is it still good? Sure. While I have my reservations about the Joker, Nicholson does give a good performance worthy of remembrance. But it is a new era in the world of Batman. Just as he has had plenty of reinventions in the comic, so has he in this new franchise.
2019 Update: I've seen this movie many, many times over the years, the last though was probably in 2009, so re-watching it I wondered how well it would hold up. In a word, it held up fine, though this go around I found myself not the biggest fan of Burton's production design, yet story wise, even with the Joker being the Wayne's killer, was fairly strong as was the performance from Michael Keaton, it is a shame he didn't play the part beyond Batman Returns, would've been nice to see more development from him. Jack Nicholson is, well Jack Nicholson but at least looked like he was having a blast with the Joker; Kim Basinger was alright as the love interest, and she and Keaton shared some decent chemistry despite only having one real date.
In the end, Batman (1989) was really entertaining even though it does come across a bit dated in places.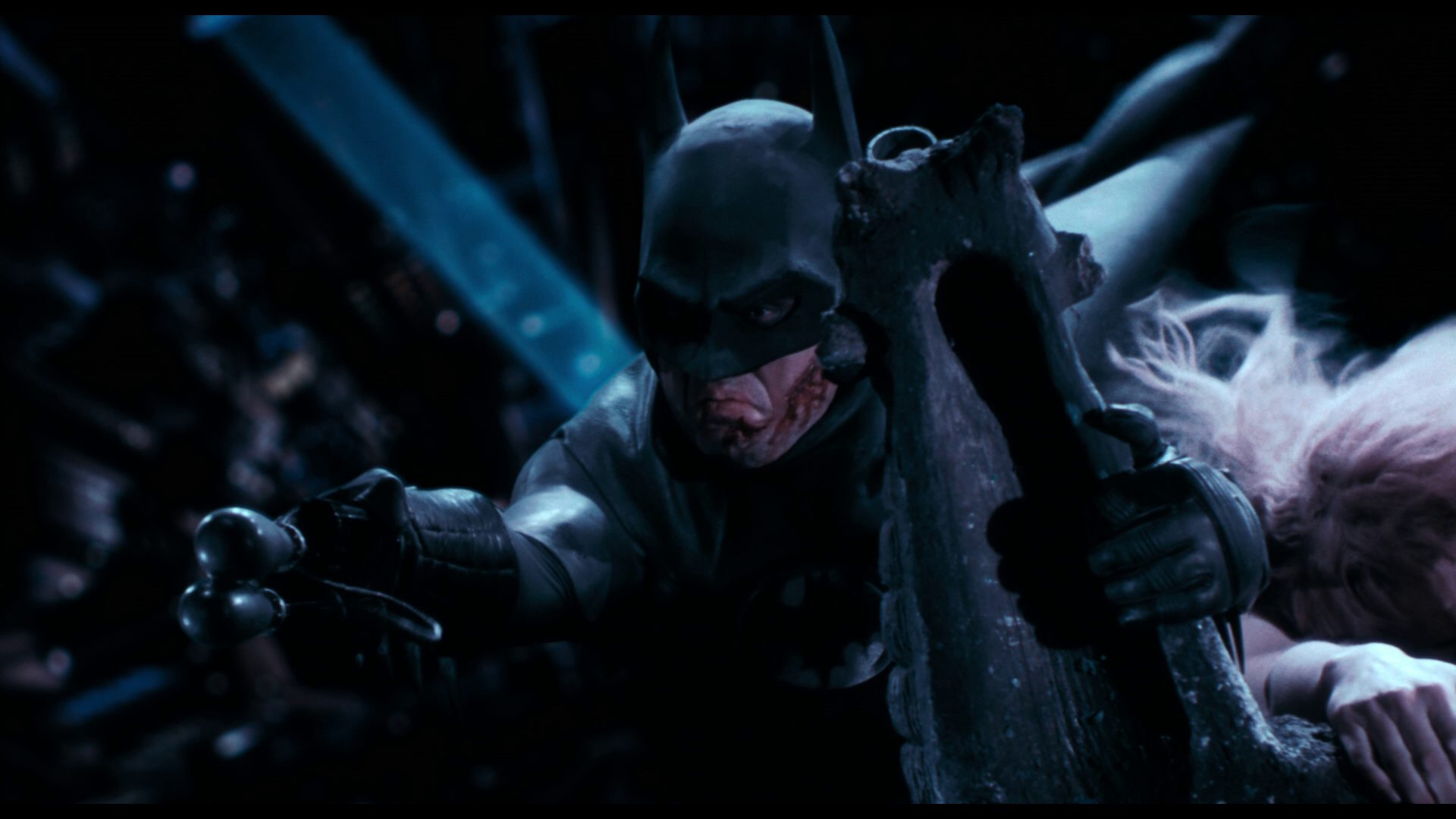 SPECIAL FEATURES – 5.0/5
---
This release comes with a semi-glossy and reflective slip cover. Inside is a redemption code for the Digital HD copy along with a remastered Blu-ray disc.
Feature Commentary – Even though this is not the most entertaining tracks I've listened to, Burton certainly has a lot of things to say and, outside the occasional lapse, uses up the two plus hours. Some of his comments are obvious such as casting Nicholson as The Joker, but other things like what he wanted to accomplish with really his first major film were interesting.
Legends of the Dark Knight: The History of Batman (40:36) is an in-depth look at, well, the history of Batman as a comic book character. This features interviews with past "Batman" comic book writers/artists, those involved with the movie as well as Kevin Smith and "The Man" himself, Stan Lee who had sort of an odd-couple relationship with Batman creator Bob Kane (demonstrated by Kane always taunting Lee about having one of his characters getting a box office winning movie whereas, at that time, Spider-Man wasn't in development). Although his clips were short, you could see that Lee had admiration and respect for Kane, which is cool to see from two rivals.
Segway into, On the Set with Bob Kane (2:33) which is a featurette made (I assume for TV) back in 1988, in which Kane walks around the Batman set for a bit. It's fairly short, running under 3-minutes, but any kind of footage of a man who had so much to do with where comics are today, is always good.
Shadows of the Bat: The Cinematic Saga of the Dark Knight – Parts 1-3 (71:40) is an extensive documentary split into three parts: "The Road to Gotham City", "The Gathering Storm", and "The Legend Reborn" which covers the beginning stages of trying to get Batman to the big screen and the troubles faced doing so. After some wheeling and dealing, an agreement finally came through, but dangling on the edge of oblivion. These featurettes goes through the approach Tim Burton and writer Sam Hamm wanted to take with the movie, the inclusion (or not as was the case) of Robin, the casting and the negative publicity when Michael Keaton (known more for a goofy actor) as Bruce Wayne/Batman. But with Nicholson's signing as The Joker, it brought the project some credibility. Throughout this, I was glad to see that, although Keaton's stuff was old, Nicholson did a new interview for this DVD, and truly seemed to have enjoyed his time making the movie.
Next in line are The Heroes and Villains Profile Galleries (19:53) that, on the surface, sounds like a bunch of production stills and some on-screen text. Instead, each of the major characters are quickly analyzed by the previous interviewees. Here, Batman, Vicki Vale, Alexander Knoxe, Commissioner Gordon, Harvey Dent, The Joker and Bob the Goon.
Beyond Batman (TRT 50:23):
Visualizing Gotham: The Production Design of Gotham (10:16) goes into some nice detail on Tim Burton's vision of Gotham and that he didn't want the city to have any real time period to it (though it does borrow from the 30s/40s); Burton wanted Gotham to be a "parallel version of New York." Gotham itself is a mixture of different cultures as well as the art deco and such.
Building the Batmobile (9:15) is a lot like the same featurette shown on the Batman Begins DVD. The art director and others recount how they made Batman's vehicle. We also get to see sketches and photos of the skeleton of the car where the designers admit they hadn't figured how to make an entrance for it.
Those Wonderful Toys: The Props and Gadgets of Batman (5:53) obviously talks about Batman's (and The Joker's) arsenal of weapons and how they were created. Again, there's more interview material as well as footage from the film.
Designing the Batsuit (6:49) is another interesting featurette/documentary that explains Batman's costume and its purpose. Burton always wanted the suit to be black since keeping it in-line with the comic book (blue and grey) would've been dumb (I'm interpreting here). This is fairly detailed with some concept drawings of the suit and the process of making it.
From Jack to Joker (10:30) is one of the better mini-documentaries of the bunch, mainly because I find Nicholson to be an interesting person and to hear him talk even more about his time playing The Joker was fun. But going beyond just that, they also show how much work had to go into putting on Nicholson's Joker makeup (and his flesh color over the white stuff).
Nocturnal Overtures: The Music of Batman (6:55) in which Danny Elfman talks about how he came up with what is now an infamous score that is instantly recognizable. His inspiration for the score came while walking around the set of Gotham at night.
Batman: The Complete Robin Storyboard Sequence (4:15) came about when, early in the writing process, Warner Brothers was thinking of including Dick Grayson in a small role. According to the storyboard, The Flying Grayson's are performing and get caught in the middle. I had somewhat of a hard time following, somehow Batman manages to get on a horse (since it was established in early drafts that he rode one) and Grayson helps out.
Lastly are three Prince Music Videos which were popular back then, but sure as hell have not aged too well. There is also the Theatrical Trailer.
VIDEO – 4.5/5
---
Warner Brothers releases the 1989 classic Batman where it is presented in its original 1.85 widescreen aspect ratio and given a 2160p high-definition transfer (HEVC / H.265 codec). I wasn't sure how well this 30 year movie would show on such a new format, but to my surprise this was a sharp looking picture throughout and even though this is a generally dark movie by both look and tone, I did notice some good brightness, such as the yellow in the Batman symbol on his costume, the purples in Joker's outfit and such, though thankfully it didn't look bolstered for the sake of the included HDR. Outside of that, the black levels did look really good, never appearing crushed where you can still discern certain details (like the ridges on the batsuit, batmobile, etc).
AUDIO – 4.75/5
---
Not only did the video get an upgrade, but the audio as well (both 4K and Blu-ray discs). The original 2009 Blu-ray had a strong Dolby TrueHD 5.1 but this comes with a new Dolby Atmos track. This is a pretty amazing upgrade, dialogue does come through with good clarity though the ADR work was more obvious than before (which was perceptible in the past to be fair) and where it really comes to life is during the many action sequences, like the factory explosion or the Joker vs. Batplane scene. This was an impressive track, though I can't really give it a perfect score due to some minor background noise.
OVERALL – 4.5/5
---
Overall, Batman (1989) was a transformative superhero movie taking a character that largely was known as a light-hearted joke thanks to the Adam West classic television series, and turning him into the rightfully brooding and Dark Knight that he should've been with Michael Keaton doing a great job in the role. This 4K Ultra HD/Blu-ray combo pack ports over some amazing bonus features to go along with great video/audio transfers (with the Blu-rays also getting remastered). Depending on the price, I'd say it's worth the upgrade.
The screen captures came from the Blu-ray copy and are here to add visuals to the review and do not represent the 4K video.