Scorpion King: Book of Souls is exactly what you'd expect from a DTV sequel to a franchise that you either forgot or about or, in my case, can't even remember the previous entries, including the original.
Scorpion King: Book of Souls
(2018)

Genre(s): Adventure, Action, Fantasy
Universal | R – 102 min. – $22.98 | October 23, 2018
Date Published: 10/25/2018 | Author: The Movieman
MOVIE INFO:
Directed by: Don Michael Paul
Writer(s): David Alton Hedges & Frank De John (written by)
Cast: Zach McGowan, Peter Mensah, Pearl Thusi, Katy Louise Saunders, Nathan Jones, Mayling Ng
DISC INFO:
Features: None
Digital Copy: Yes
Formats Included: Blu-ray, DVD
Number of Discs: 2
Audio: English (DTS-HD MA 5.1), French (DTS 5.1), Spanish (DTS 5.1)
Video: 1080p/Widescreen 1.78
Subtitles: English SDH, French, Spanish
Disc Size: 29.7 GB
Codecs: MPEG-4 AVC
Region(s): A, B, C (not tested)
Universal Pictures Home Entertainment provided me with a free copy of the Blu-ray I reviewed in this Blog Post.
The opinions I share are my own.
THE MOVIE — 1.75/5
---
The Scorpion King franchise isn't exactly vaunted, one that began early on in Dwayne Johnson's, going under The Rock back then, career. It wasn't very good. At all. Honestly, it didn't give me much hope The Rock would be a good action star… thankfully I was wrong and not ashamed to admit, I'm an avid fan of his, even his lesser efforts.
Fast forward, and there were no less than three direct-to-video sequels, one starring Michael Copon and the other two Victor Webster. At the very least Copon and Webster could plausibly be the same character portrayed by big ass Samoan Dwayne Johnson, and for this fifth installment, Book of Souls finds… Zach McGowan in the lead role. WTH? And I'm to believe that this character, and remember we're still in prequel mode, would later appear in The Mummy Returns… Taking the looks aside, though, Scorpion King: Book of Souls is still a lousy movie.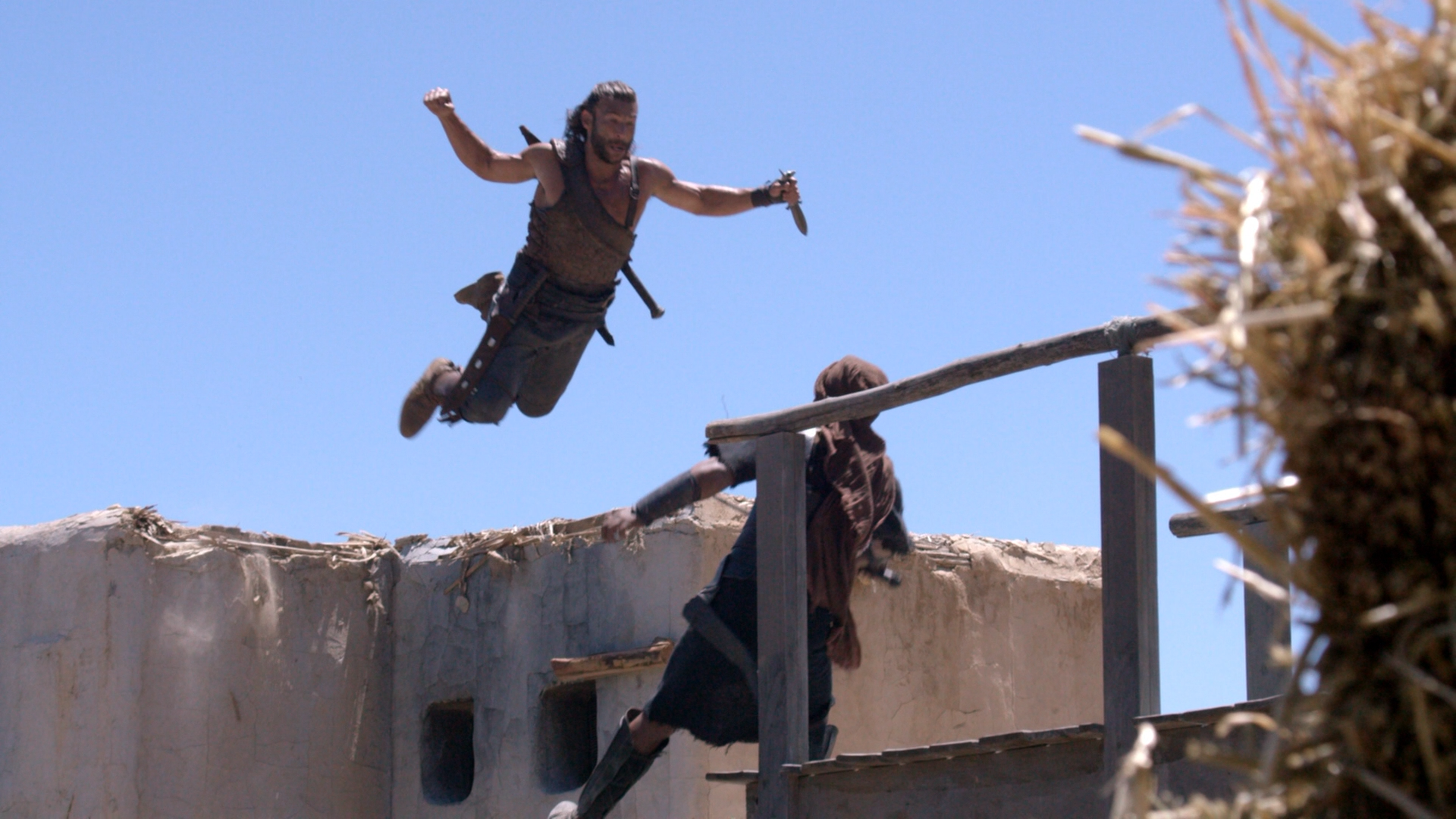 The film opens with Nebserek (PETER MENSAH), an evil warlord who comes upon a cursed sword which takes the soul with every victim it encounters (not unlike Katana's weapon in Suicide Squad) and each soul is written in a book, which is hidden. Meanwhile, now wielding unholy power, Nebserek seeks vengeance for the deaths of his ancestors at the hands of the ancestors of Mathayus aka The Scorpion King (ZACH MCGOWAN), who is working as a blacksmith in a rural village.
Mathayus is easily captured by Nebserek's henchwoman (MAYLING NG) but on the way to being handed to Nebserek, is rescued by Nubian Princess Tala (PEARL THUSI). She needs Mathayus's help to find the location of the Book of Souls. Despite his hesitation, Mathayus agrees though he loathes going on quests and also resists channeling his inner Scorpion King.
Tala is part of a long descendent of warriors who were entrusted to protect this Book of Souls and utilizing some ancient scribes and what looks like a cryptex to decipher the portal to take them to the location of his book. Upon their arrival through this portal (not necessary to explain how, involves a full moon on such and such a day, etc), however, they encounter a woman named Amina (KATY LOUISE SAUNDERS) who has a mysterious past and is being protected by a rock monster (NATHAN JONES), and together they make the trek to follow more clues to find how to defeat Nebserek and his soul-taking sword.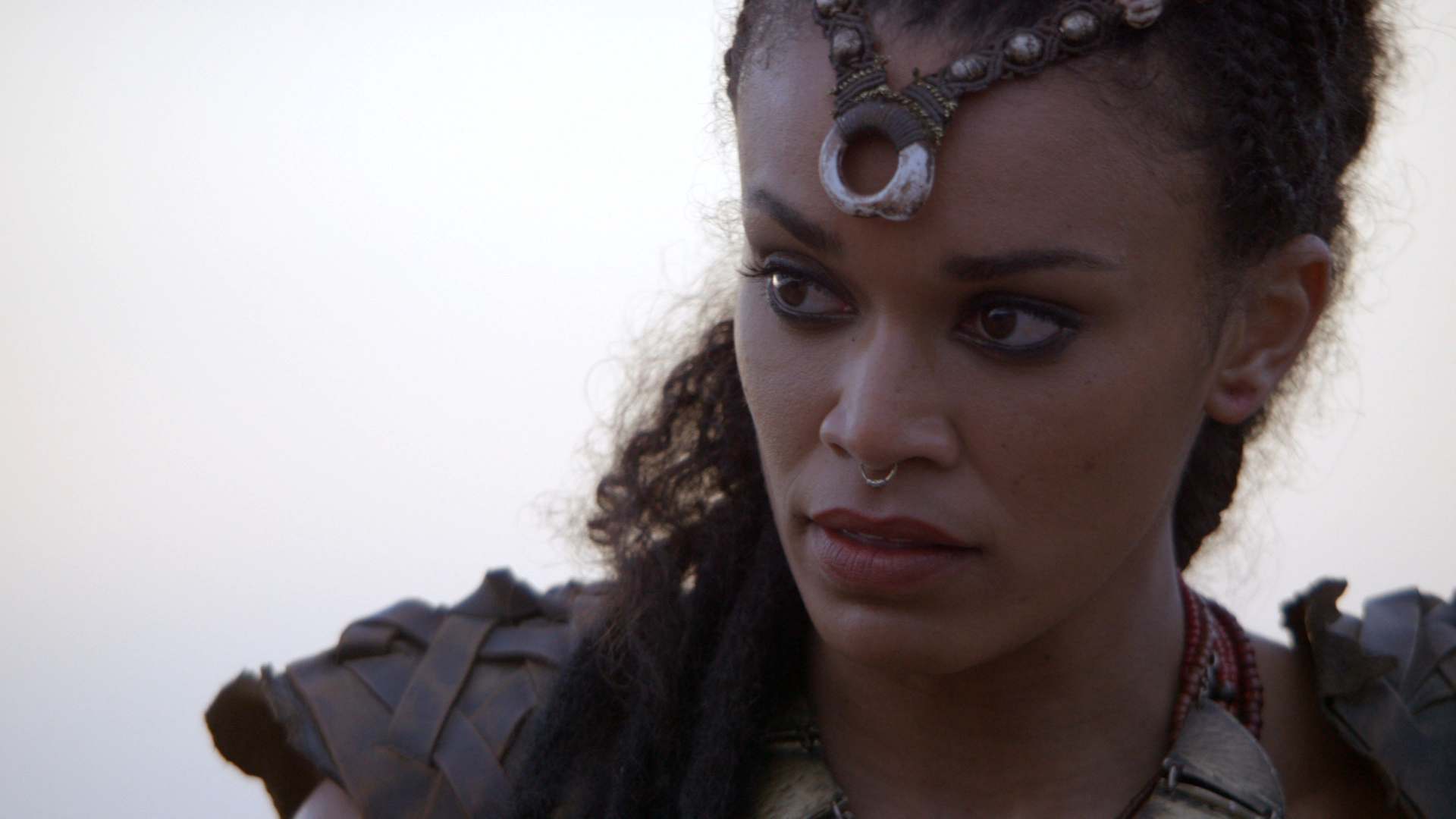 Scorpion King: Book of Souls at its core does have an interesting story and even a little emotional dramatics, it's a shame just about everything else failed: the acting is substandard although Zach McGowan purports himself well enough but badly miscast in the title role while Pearl Thusi has the attitude but being saddled with terrible dialogue did her no favors, Katy Louise Saunders was fine in an important role and Peter Mensah knows exactly what kind of movie he's in and hams it up to the fullest.
Beyond the performances, the editing during the poorly choreographed fight scenes were nauseating under the direction of Don Michael Paul, Universal's go-to guy having helmed two Tremors and two Sniper DTV sequels and the recently released (and reviewed here) Death Race: Beyond Anarchy, and I suppose he does the most with a constrained budget. I'll just say, for whatever it's worth, was more entertained by Beyond Anarchy than I was here…
In the end, Scorpion King: Book of Souls is really your run-of-the-mill direct-to-video sequels though since I can't remember a damn thing about any of these Scorpion King movies, including the one with The Rock, not really sure how this entry compares, only that McGowan taking over the lead was an odd choice, though I do like the actor himself, just not in this role.
SPECIAL FEATURES – 0/5
---
This release comes with a sandy-like textured slip cover and inside a redemption code for the Digital HD copy. Unfortunately there are no features. Or maybe it's fortunate. Kind of surprised this even got a main menu…
VIDEO – 4.0/5
---
Universal unleashes Scorpion King: Book of Souls presented with a 1.78 widescreen aspect ratio and given a 1080p high-definition transfer. Nothing mind-blowingly beautiful or anything but still the picture is relatively sharp while colors are more on the saturated side in keeping with the (mostly) desert setting.
AUDIO – 50/5
---
What was surprising was the aggressive DTS-HD Master Audio 5.1 track which shows off amazing depth for the action sequences while also providing crisp and clean dialogue levels via the center channel while the front and rear speakers are reserved for ambient noises and a generic score. The LFE channel also kicks on for that extra oomph shaking the floor but not to the point it was overbearing or too strong. Of all movies, this is one that will give a surround system a nice workout.
OVERALL – 1.5/5
---
Overall, Scorpion King: Book of Souls is exactly what you'd expect from a DTV sequel to a franchise that you either forgot or about or, in my case, can't even remember the previous entries, including the original. As it stands, it's a messy movie that's not very well made, although if there were a saving grace, at least there's a kernel of a good story, but poorly executed to go along with a miscast leading role. The Blu-ray itself has good video, excellent audio however no bonus material.
Check out some more 1080p screen caps by going to page 2. Please note, these do contain spoilers.