Transformers: Dark of the Moon is hardly the high point of action but I must admit that I actually mostly enjoyed this installment possibly because the previous sequel was so bad that it made this film look like Citizen Kane. In any case, once again the visual effects are incredible and the story was at least acceptable.
Transformers: Dark of the Moon
(2011)

---
Genre(s): Action, Science Fiction
Paramount | PG13 – 154 min. – $31.99 | December 5, 2017
Date Published: 12/02/2017 | Author: The Movieman
MOVIE INFO:
Directed by: Michael Bay
Writer(s): Ehren Kruger (written by)
Cast: Shia LaBeouf, Josh Duhamel, John Turturro, Tyrese Gibson, Rosie Huntington-Whiteley, Patrick Dempsey, Kevin Dunn, Julie White, John Malkovich, Francis McDormand, Alan Tudyk, Peter Cullen (voice), Leonard Nimoy (voice)
DISC INFO:
Features: Featurettes, Multi-Angle Sequences, Gallery, Theatrical Trailers
Digital Copy: Yes
Formats Included: 4K, Blu-ray
Number of Discs: 3
Audio: English (Dolby Atmos), French (Dolby Digital 5.1), Spanish (Dolby Digital 5.1), Portuguese (Dolby Digital 5.1)
Video: 2160p/Widescreen 2.40
Dynamic Range: HDR10, Dolby Vision
Subtitles: English SDH, French, Spanish, Portuguese
Codecs: HEVC / H.265
Region(s): A, B, C
Note: The movie and features portions were ported over from
my 2012 Blu-ray review with minor changes. Also the screen captures are from the included Blu-ray disc.
THE MOVIE — 3.0/5
---
There's no mistaking that Michael Bay is a talented filmmaker. Of course, there's also no mistaking that he places CGI, trailer shots and gorgeous looking camera angles over any semblance of a story. This was the case for the first two Transformers™ movies with the last one, Revenge of the Fallen, being the most egregious as it was truly a mind-numbingly awful movie. The sequel was so bad that I finally had given up on the franchise and chose not to see the latest, Dark of the Moon, in the theaters. While I can't say DotM is a good movie, it is at least on par with the first film which was mostly passable entertainment.
The latest installment begins back in the 1960s when the space program under JFK starts up but not for the reasons we've been led to believe. The United States detected something on the dark side of the moon and so have the Russians, thus begins the space race which culminates in Apollo 11 landing on the moon. Astronauts Neil Armstrong and Buzz Aldrin (who appears as himself later) do the moon landing, walking around and all the iconic imagery before the feed goes dark and the real mission starts as they explore a huge craft. This craft had landed there after a fierce battle between the Autobots™ and Decepticons™ on Cybertron™ and there's something on there that threatens humanity.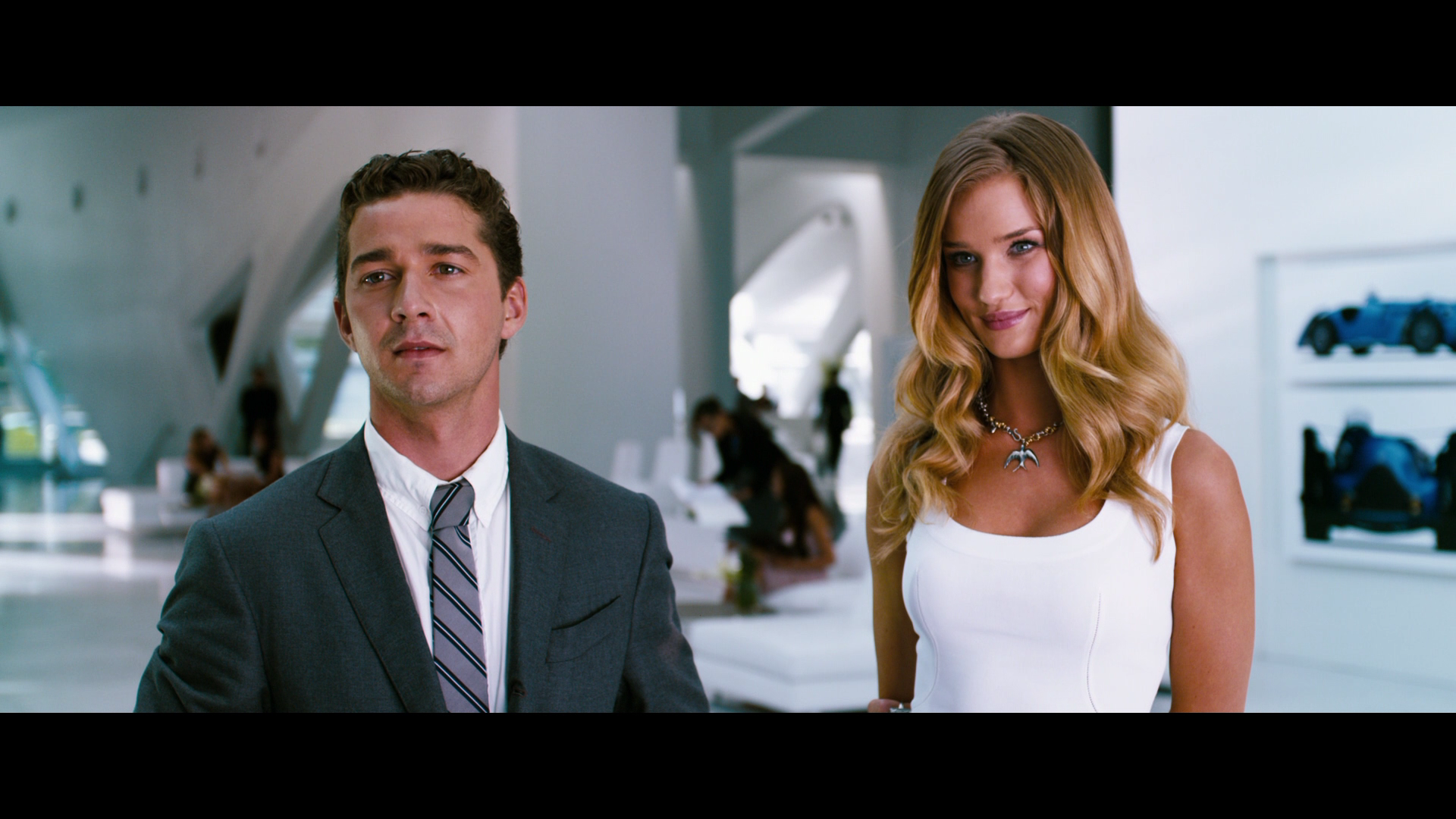 Fast forward to the present day and what I honestly thought was a commercial as Carly Spencer (ROSIE HUNTINGTON-WHITELEY) climbs up a flight of steps, rear end stick out as she greets boyfriend Sam Witwicky (SHIA LABEOUF) as he wakes up in bed. The two do a little flirting before getting somewhat caught up with Sam's life as he's about to receive a medal from the President. But despite saving the world twice before, Sam is unable to find steady employment and the film takes us through some of his job interviews at a variety of workplaces before coming upon an eccentric businessman named Bruce Brazos (JOHN MALKOVICH).
Yes, Sam's parents once again show up this time in an RV (they sold their home), out to embarrass their son with dad (KEVIN DUNN) being tough with his son for not having a job and mamma (JULIE WHITE) worried about her son's relationship status. Basically it's more of the same and obvious parental movie clichés.
In any case, as with Huntington-Whiteley and Malkovich, the movie does introduce us to a few new characters: Dylan Gould (PATRICK DEMPSEY) is a rich tool who, in a shocking twist, reveals himself to be working with the Decepticons™, oh and he's Carly's boss(!); Mearing (FRANCES MCDORMAND) is the Secretary of Defense who has been keeping secrets (surprise, surprise); and Dutch (ALAN TUDYK) is the assistant to Simmons (JOHN TURTURRO) who has become successful in his endeavors talking about the Transformers wars via books and television interviews.
As for the Transformers™, you know the title characters the race is on for Autobots™ led by Optimus Prime (voiced once again by PETER CULLEN) to stop the Decepticons™ and learn about the true reason for the United States' intentions to get to the moon. So Optimus and Ratchet (voiced by ROBERT FOXWORTH) take a ship to the moon where they discover the body of Sentinel Prime (voiced by LEONARD NIMOY) and take him back to Earth.
Alright, so basically, and not to overcomplicate things since it's not that complicated, there are hundreds of pillars hidden around the world and the Decepticons™ are after them to open a portal to bring back Cybertron™ but at the expense of planet Earth. Will the Autobots™ triumph for a third time? Will the film end with a dramatic monologue by Optimus Prime? Will we get to hear yet another Lincoln Park ballad?
I have to admit up front that even though I loathed nearly everything about Revenge of the Fallen and felt the original was merely acceptable, I found Transformers: Dark of the Moon to be mildly entertaining. This isn't to say it's a particularly good movie mind you, but it has its moments especially towards the third act and the assault in Chicago. It's a spectacle sequence and thankfully it wasn't nearly as inane or chaotic in comparison to the action scenes in Revenge of the Fallen.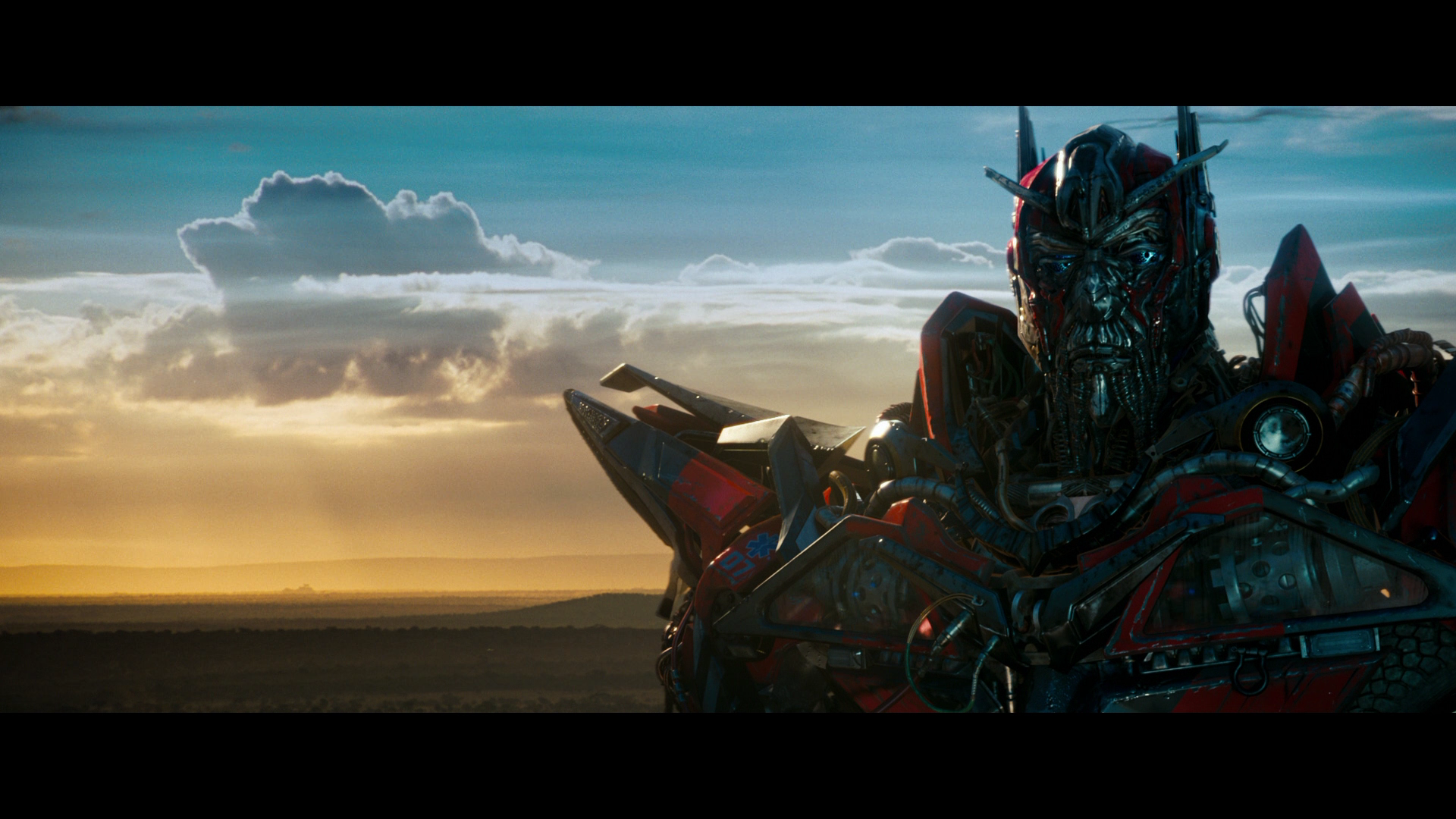 Michael Bay once again proves that he's a bit of a mad scientist. He's not a great filmmaker yet he still manages to create absolutely beautiful looking scenes. Yeah, the man loves his visual effects but at least here it's interesting to watch and some of the more practical effects were fun (the aerial stunt work was impressive). So Bay might not be a phenomenal filmmaker but he knows what he wants and gets it. The Internet might lambast him yet audiences eat it up.
With regards to the story, it's nothing special. No surprise there. At the same time, the human side of it wasn't nearly as annoying compared with the previous installment while the fight scenes between the Transformers™ wasn't nearly as confusing, albeit there were a couple of moments where I wasn't sure who was the good robot and who was the bad one. That said, the biggest positive: NO ROBOT HEAVEN. That alone bumps the film's rating up a half star…
Casting wise, I think all Michael Bay and company ask is to make it look believable acting against a blue screen or on partial sets. At this point it's more of the same for Transformers™ vets Shia LaBeouf, Josh Duhamel and Tyrese Gibson. These aren't juicy or challenging parts (the physicality is, of course) and for LaBeouf specifically, it's getting to the point where I wonder how much more they stretch the Witwicky character. I suppose as long as LaBeouf is willing to cash in a paycheck, the writers will continue to contrive ways for Witwicky to keep saving the world.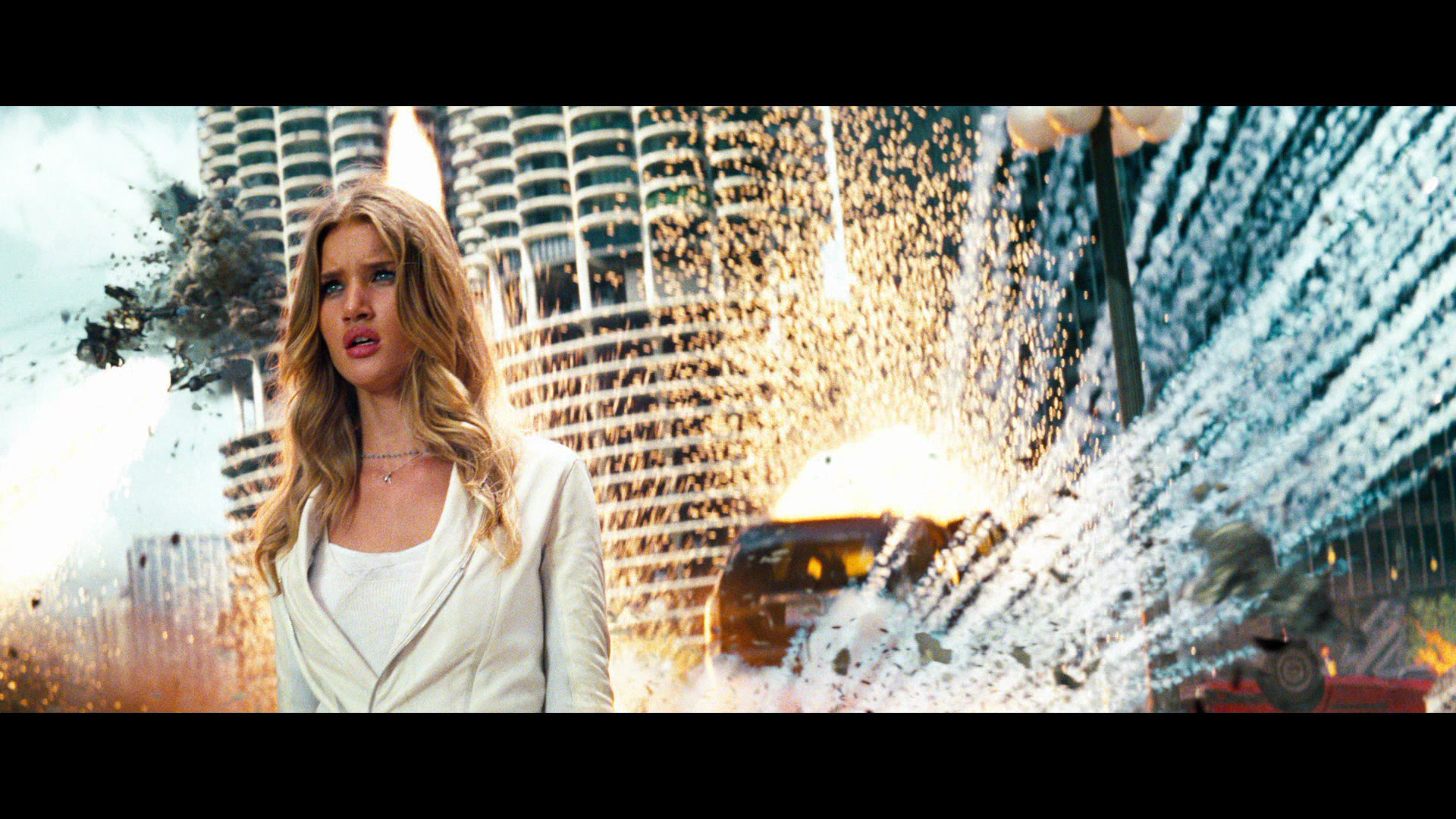 As for the elephant on the proverbial set, runway model Rosie Huntington-Whiteley proves just how overrated Megan Fox (and useless) was for this franchise. The female lead in these Transformers™ movies is plug-and-play. All they have to accomplish is looking good in slow-mo and have a well defined ass for those… more "artistic shots"; which was the case early on as we get a unique introduction to Huntington-Whitely (as described earlier in this review). Make no mistake, I don't think she's a good actress but she fulfills the role well enough.
Transformers: Dark of the Moon might not be a great action movie but at least it's a competent one, something I couldn't say about Revenge of the Fallen. As much as I respect Michael Bay and what he brings to the table, I have to wonder what a filmmaker with a philosophy of substance over style could offer but I doubt that'll happen any time soon as I don't think Bay will relinquish the director's chair for this franchise.
SPECIAL FEATURES – 5.0/5
---
This three-disc release comes with a glossy title-embossed slip cover. Inside is a redemption code for the Digital HD copy.
Above and Beyond: Exploring Dark of the Moon (1:50:46; HD) – This is a five-part 'making-of' documentary covering "Development and Design", "Filming Across America", "Shooting in Chicago", "Aerial Stunts" and "Post-Production and Release". As with the 'making-of' included on Revenge of the Fallen, this covers just about every aspect of the filmmaking process offering up interviews with the cast (LaBeouf, Huntington-Whiteley, Josh Duhamel, etc.) and crew (Michael Bay, Ehren Kruger and others). The documentary also briefly covers the failures behind Revenge of the Fallen (including replacing Megan Fox), which is a nice bit of honesty.
Uncharted Territory: NASA's Future Then and Now (26:15; HD) takes a look at the history of NASA from the perspectives from the experts in the field (as well as a few comments by Michael Bay) and where the space program is headed. It's a nice featurette where you get a Cliff's Notes on NASA.
Reconstructing Chicago: Multi-Angle Sequences – With this you can check out the Revisualizations (17:05; HD) and Visual Effects (18:36; HD) used for various scenes. They come with an optional commentary by the visual effects supervisor.
The Art of Cybertron is comprised of 5 galleries of artwork of the Transformers.
The Dark of the Moon Archive is a variety of short promotional featurettes including 3D: A Transforming Visual Art (3:06) which is a convention interview with Michael Bay and James Cameron; Moscow World Premiere (2:29) where the filmmakers gush over the movie on the red carpet; Siromen Featurette (2:28) covers the aerial stunts used in Chicago; Cody's iPad (2:07) and The Sound of Transformers: Dark of the Moon (9:17) shows off the sound design for the movie.
The Matrix of Marketing contains submenus for the Trailers (teaser and regular) and Marketing Galleries with posters, style guide, promo items and concession items.
4K VIDEO – 5.0/5
---
Transformers: Dark Side of the Moon lands on 4K presented with a 2.40 widescreen aspect ratio and 2160p high-definition transfer. As with the other installments in this franchise, this looks absolutely amazing. Detail is incredibly sharp throughout, colors are vibrant and dark levels are stark without losing any elements in those shots. The transfer is also clean, free of any major signs of aliasing or artifacts.
4K AUDIO – 5.0/5
---
The disc does get a solid upgrade going from Dolby TrueHD 7.1 to Dolby Atmos, though the former already was incredible. As with the video, Michael Bay movies fully benefit from this Atmos track where the plethora action sequences envelops the entire home theater room with excellent clarity and the LFE kicks in to rumble the walls and floors giving that extra depth. Dialogue levels, including both Optimus Prime and Sentinel Prime's boisterous voices, and main action coming from the center speakers is crisp and clean. (Copied from my Transformers 4K review as they are virtually the same in sound quality)
OVERALL – 4.0/5
---
Overall, Transformers: Dark of the Moon is hardly the high point of action but I must admit that I actually mostly enjoyed this installment possibly because the previous sequel was so bad that it made this film look like Citizen Kane. In any case, once again the visual effects are incredible and the story was at least acceptable. Not much of a surprise, but the video and audio transfers on this 4K release were astounding to go along with an excellent selection of bonus material.
Check out some more 1080p screen caps by going to page 2. Please note, these do contain spoilers.