Batman Begins is perhaps one of the best superhero origin movies ever made, maybe slightly behind Superman but ahead of Iron Man. The performances from (most) of the cast is solid and Bale was genius casting helped by a legendary supporting cast.
Batman Begins
(2005)

---
Genre(s): Action, Adventure, Thriller
Warner Bros. | PG13 – 140 min. – $41.99 | December 19, 2017
Date Published: 12/24/2017 | Author: The Movieman
MOVIE INFO:
Directed by: Christopher Nolan
Writer(s): Bob Kane (characters); David S. Goyer (story), Christopher Nolan and David S. Goyer (screenplay)
Cast: Christian Bale, Michael Caine, Liam Neeson, Katie Holmes, Gary Oldman, Morgan Freeman, Cillian Murphy, Tom Wilkinson, Rutger Hauer, Ken Watanabe
DISC INFO:
Features: Featurettes, Theatrical Trailer
Digital Copy: Yes
Formats Included: 4K, Blu-ray
Number of Discs: 3
Audio: English (DTS-HD MA 5.1), French (Dolby Digital 5.1), Spanish (Dolby Digital 5.1)
Video: 2160p/Widescreen 2.40
Dynamic Range: HDR10
Subtitles: English SDH, French, Spanish
Codecs: HEVC / H.265
Region(s): A, B, C
Note: The screen captures are from the included Blu-ray disc.
THE MOVIE — 4.5/5
---
Note: This portion was copied from my original 2005 theatrical review so keep that in mind when reading.
"To conquer fear, you must become fear."
June 15th is a day thousands if not millions of 'Batman' fans have been waiting for. Back in 1989 (and subsequently in '92 with its sequel), Tim Burton provided an interesting vision of this unique "super"-hero but never quite got a full grasp of who Batman truly is. He is not just some "nut" who puts on a mask and fights crime… And when Warner Brothers decided to put a lighter spin on their piggie bank franchise, they turned to Joel Schumacher, a man who will not want to cross paths with a loyal fan (and that is all I will say on THAT subject).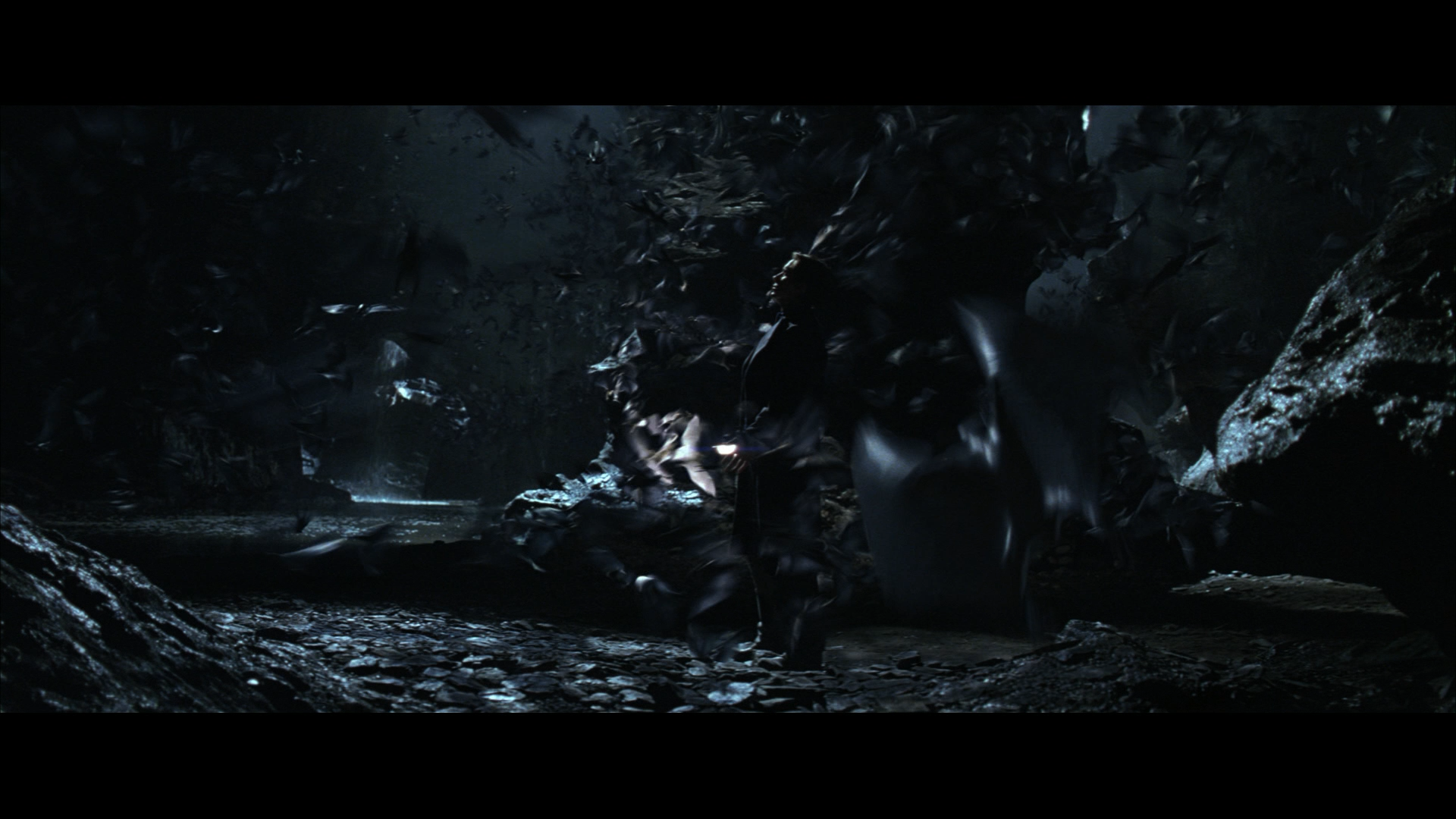 What Burton and Schumacher failed to deliver was the complete package. Burton focused his efforts on the gothic setting while Suckmacher decided to go for more of the typical summer yarn (bat-nipples and all). So, for all their failures, Nolan has given us a near-perfect vision of the Dark Knight (and more importantly) the man behind the mask, Bruce Wayne.
Christian Bale has had a quite career starting with 2000's American Psycho (which showed me he was a great candidate for the part) and continued on with Shaft as a racist killer as well as Reign of Fire (amongst many more). But this is certainly his most high profile movie and he has made the most of it. While, I give all the props to Michael Keaton for his portrayal of Batman, but Bale proved to me that he was indeed the right choice for the part as he is both Wayne and The Dark Knight.
But, what's Bruce Wayne/Batman without complimentary villains and allies? Compared to Batman and Batman Returns, neither of those films truly established a relationship with Wayne or Batman. Here, though, The Batman finally gets a true ally in Sgt. James Gordon, who is seemingly the only good cop in Gotham. Even better than Bale's performance as Bruce, Gary Oldman absolutely captures Gordon as if it was ripped from the page of the 'Year One' graphic novel. Once again, he has given an amazing and memorable performance.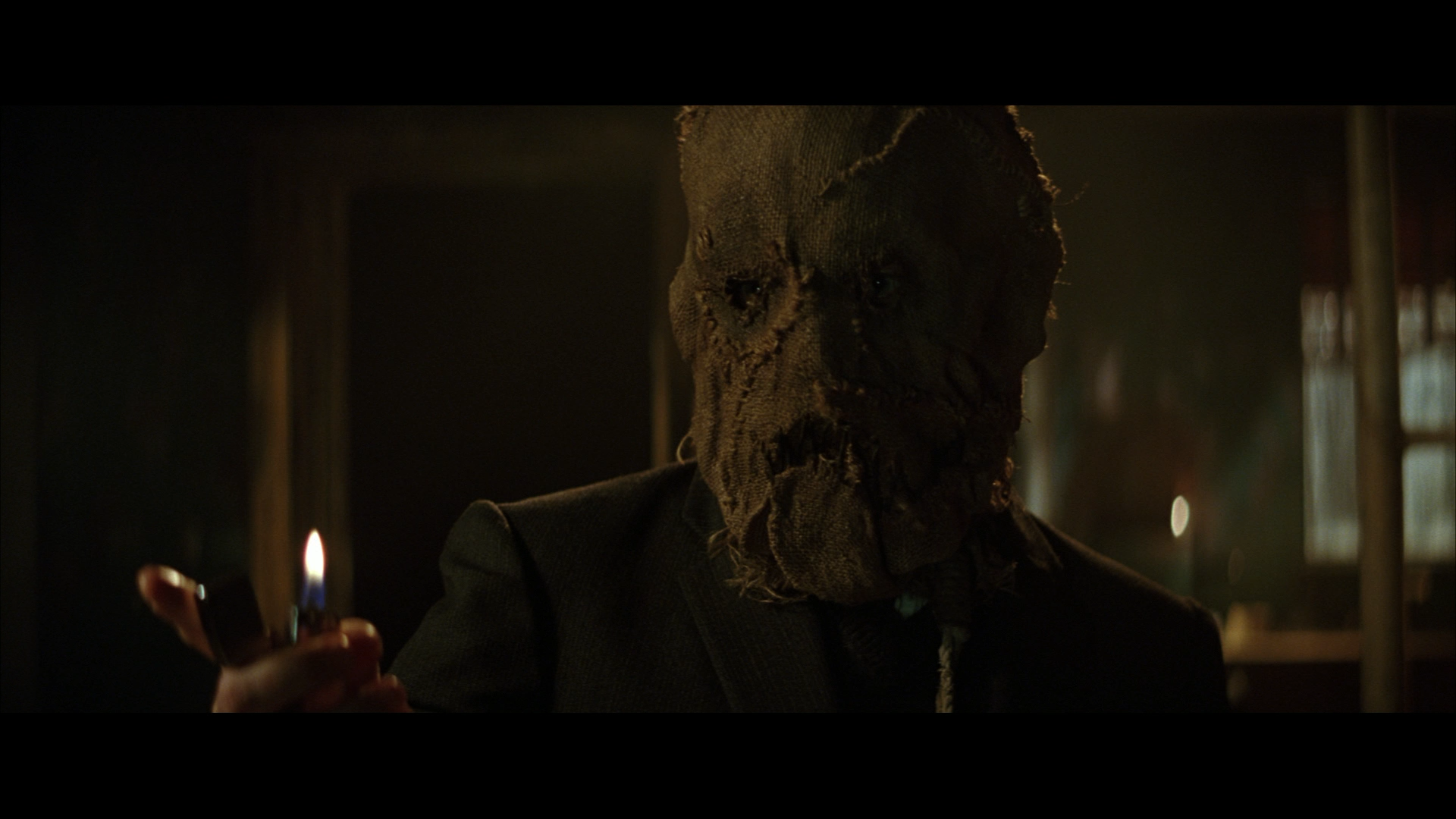 It isn't just Oldman who invigorates this franchise's rebirth as Nolan and company surrounded Bale with the likes of Michael Caine as Bruce's trusty butler and confidant Alfred, recent Oscar winner Morgan Freeman as sidelined Wayne Enterprise employee Lucius Fox (who doubles basically as 'Q' to Bruce Wayne) and Liam Neeson as Wayne's mentor Henri Ducard and the right hand man to League of Shadows leader Ras Al Ghul (KEN WATANABE). For once, each and every one of these actors play an integral role to the development of Bruce as he (in his words) "seeks the means to fight injustice".
Sitting on the bench, so to speak, are a few more talented actors who deliver decent to great performances. I will get the "weakest" one out of the way, Katie Holmes. Going in I wasn't pleased with Holmes because she never looked like she'd fit the part of a district attorney; to a certain extent, I was wrong. Since her role, although important to the movie, was small, she never really detracted from the film as a whole. Her character, Rachel Dawes, is a childhood friend of Bruce and the conscience for a young man trying to figure out what he can do for Gotham. As such, Holmes does a good enough job to make the role work… in terms of a love interest? There's so little there on that front that I never felt it really mattered and, to be honest, I'm glad the film primarily avoided dumb dialogue that naturally arises from these kinds of subplots.
Cillian Murphy plays the most noticeable villain in Batman's gallery, Dr. Jonathan Crane (aka The Scarecrow0, and he does it very well. Murphy's Dr. Crane is downright creepy and when the mask comes on and the victim gets a whiff of his fear toxin… it is, while not terrifying (for a 24 year old male, at least), freaky. I think that, as far as Bat-villains are concerned, The Scarecrow is one of the more interesting of the bunch and what is seen here only scratches the surface of the possibilities.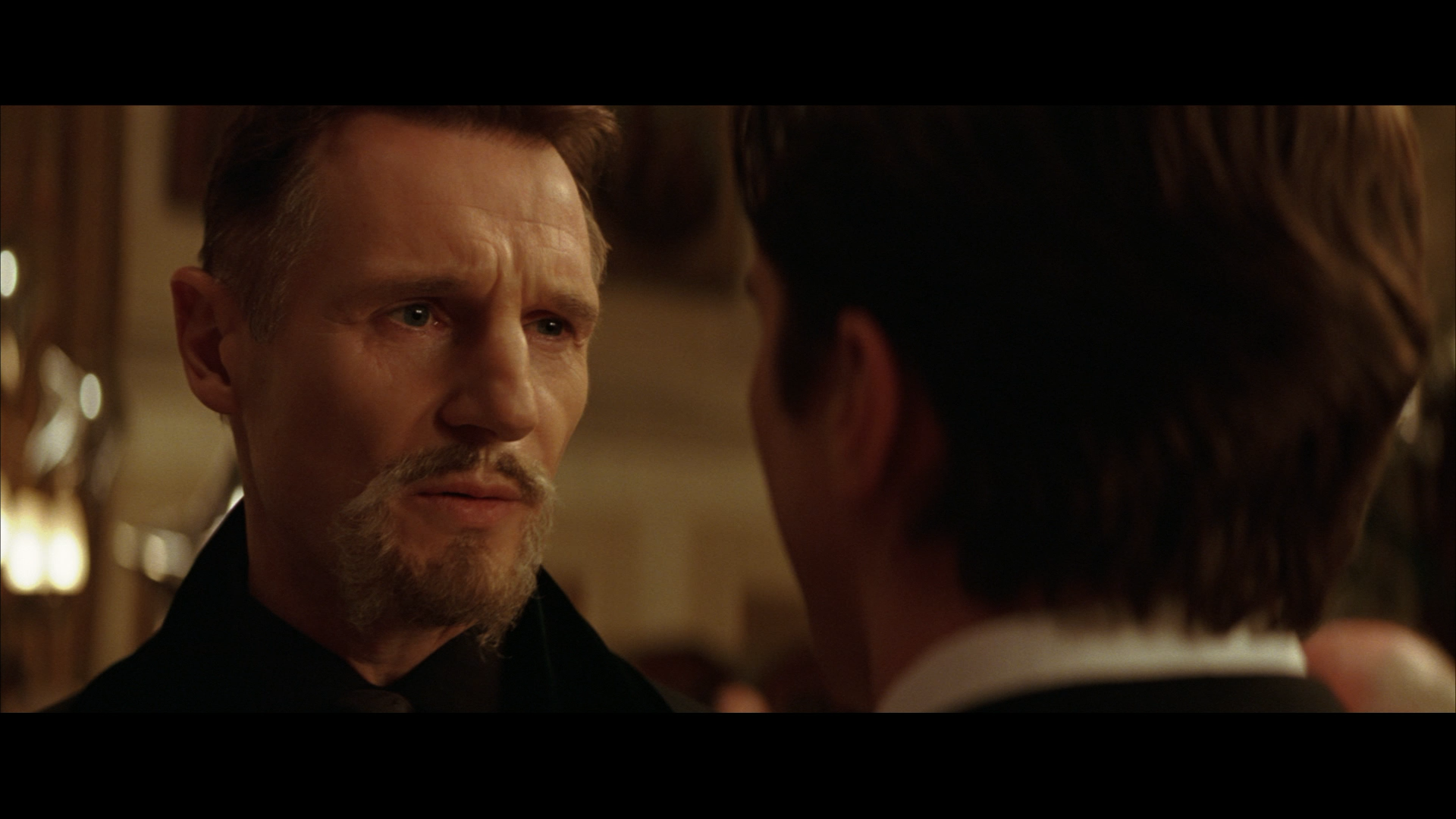 The last of the Batman adversaries is mob boss Carmine Falcone played by the underrated Tom Wilkinson (In the Bedroom). As many fans know, Falcone comes from the Jeph Loeb/Tim Sale graphic novel, "The Long Halloween" (a must for any aspiring Batman fan). For Batman Begins, the character is not only an enemy to Batman, but to Bruce Wayne himself, as noted in a great scene between the two.
Upon hearing the news that David S. Goyer (Blade) would be writing and the young and talented Christopher Nolan would be restarting the franchise, I was truly in fanboy heaven. For Nolan, even though Batman Begins is a $150 million plus juggernaut, the film fits in line with his two most notable works: Memento and Insomnia, two films which have a tormented main character trying to find his way to some form of "freedom"… from themselves. Sound familiar? In regards to Nolan's first foray into the action/adventure genre, I'd say it was a modest success. There were moments here and there – such as the fight scenes – that needed to be better coordinated as I had some trouble focusing on the action. But, as a whole, that is really my only gripe with the movie.
Is this film perfect? Of course not, but what Batman Begins does is it introduces us to Bruce Wayne and his world like we never have seen before. "Where did he get those wonderful toys?" Why does he want to be Gotham's protector? It is all explain in a more methodical way than any of the previous Bat-films presented.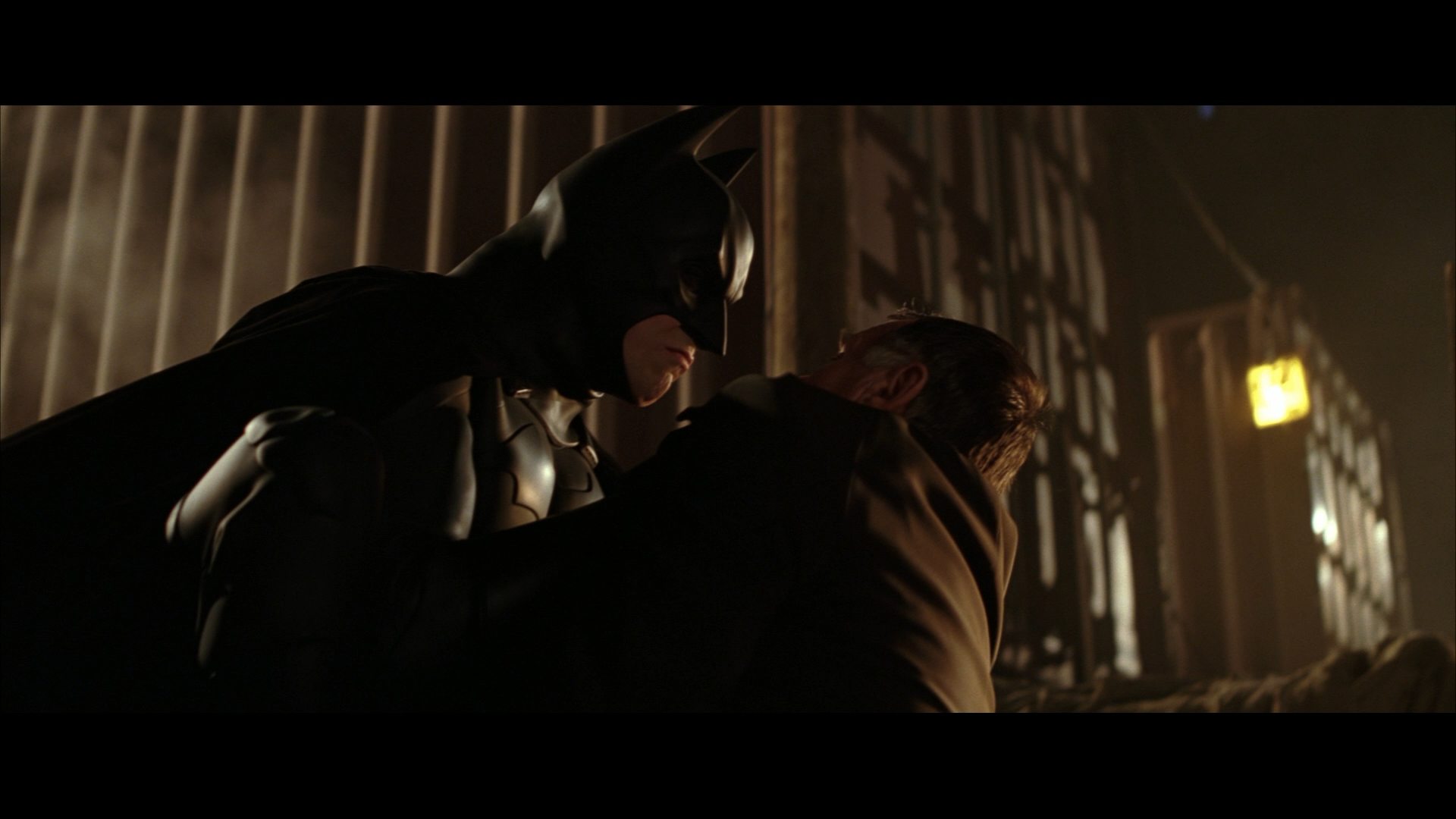 Believe the hype, Batman Begins is indeed the best Batman film ever [insert: until The Dark Knight] and probably the best superhero movie as well. If you are on the fence, take a chance, you might be surprised at what you see.
SPECIAL FEATURES – 2.75/5
---
This release comes with a shiny (glossy) slip cover and inside is a redemption code for the Digital HD copy. All of the features are contained on the Blu-ray bonus disc which have been ported over from the previous Blu-ray release… except for the "In Focus" PiP that was on the HD-DVD and BD.
The Dark Knight IMAX Prologue (6:36; HD) is just the opening scene, offered as a preview to hype fans up for the next installment.
Behind the Story:
Tankman Begins (5:12; SD) is a spoof done for the MTV Movie Awards hosted by Jimmy Fallon.
The Journey Begins (14:16; SD) takes viewers behind the scenes on the origin, so to speak, of the project and what interested in Nolan into working on it.
Shaping Mind and Body (12:49; SD) looks at the training for Bale.
Gotham City Rises (12:48; SD) is on the expansive creation of the city on sets.
Cape and Cowl (8:18; SD) is on the design of Batman's suit.
Batman: The Tumbler (13:40; SD) covers the Dark Knight's kick ass tank.
Path to Discovery (14:13; SD) – This featurette goes through Bruce Wayne's personal journey prior to becoming Batman.
Saving Gotham City (13:00; SD) delves into action sequences in the finale.
Genesis of the Bat (14:53; SD) is on the history of The Caped Crusader and doing something new for the movie.
Additional Footage includes Reflections on Writing (1:57; SD), Digital Batman (1:07; SD) and Batman Begins Stunts (2:30; SD).
Theatrical Trailer (1:13; HD)
VIDEO – 4.0/5
---
Warner Brothers releases Batman Begins onto the 4K format presented in its original 2.40 widescreen aspect ratio and a 2160p high-definition transfer. This isn't the best looking 4K picture, even by catalog standards, as detail isn't all that strong and even colors weren't terribly vibrant, but that could be due to how Nolan and company shot the film, giving it a bit more grittier feel. On the plus side, black levels do look stark.
AUDIO – 4.25/5
---
Not a huge upgrade over the previous releases, this comes with a DTS-HD Master Audio 5.1 track which, as the back cover notes, is the "original theatrical mix". It's not a fantastic track or anything, and the LFE channel is rather low key, but otherwise dialogue levels come through quite nicely and the action scenes do at least have some modest depth.
OVERALL – 4.5/5
---
Overall, Batman Begins is perhaps one of the best superhero origin movies ever made, maybe slightly behind Superman but ahead of Iron Man. The performances from (most) of the cast is solid and Bale was genius casting helped by a legendary supporting cast. This 4K release might not be reference quality material and the features are only 'okay' yet if at the right price, might be worth picking up.
Check out some more 1080p screen caps by going to page 2. Please note, these do contain spoilers.