Wonder Woman isn't a masterpiece but I'd be lying if I didn't say that I loved it, perhaps even more on my second viewing. I know many have complained about the third act, but I felt it flowed nicely and had a thrilling fight sequence; Gadot isn't a great actress however she was perfectly cast.
Wonder Woman
(2017)

---
Genre(s): Action, Adventure, Drama
Warner Bros. | PG13 – 141 min. – $44.95 | September 19, 2017
Date Published: 09/14/2017 | Author: The Movieman
MOVIE INFO:
Directed by: Patty Jenkins
Writer(s): William Moulton Marston (Wonder Woman created by); Zack Snyder & Allan Heinberg
and Jason Fuchs (story), Allan Heinberg (screenplay)
Cast: Gal Gadot, Chris Pine, Connie Nielsen, Robin Wright, Danny Huston, David Thewlis, Saïd Taghmaoui, Ewen Bremner, Eugene Brave Rock, Lucy Davis, Elena Anaya
DISC INFO:
Features: Featurettes, Deleted Scenes, Gag Reel
Digital Copy: Yes
Formats Included: 4K, Blu-ray
Number of Discs: 2
Audio (4K): English (Dolby Atmos), French (Dolby Digital 5.1), Spanish (Dolby Digital 5.1)
Audio (BD): English (Dolby Atmos), French (Dolby Digital 5.1), Spanish (Dolby Digital 5.1)
Video (4K): 2160p/Widescreen 2.40
Video (BD): 1080p/Widescreen 2.40
Dynamic Range: HDR10
Subtitles: English SDH, French, Spanish
Codecs: HEVC / H.265 (4K), MPEG-4 AVC (BD)
Region(s): A, B, C
Note: The screen captures are from the included Blu-ray disc.
THE MOVIE — 4.5/5
---
Take this for what you will, but I am one of the few who have enjoyed the DCEU line-up, and that includes Suicide Squad although that one has lost plenty of luster in subsequent viewings. Now comes the fourth entry with Wonder Woman who finally graces the big screen after a three season set in the 1970s, which has endured even in its cheesiness, a 2011 TV pilot that thankfully failed and… that's really it in terms of live action. Introduced in the much maligned Batman v Superman: Dawn of Justice, she was widely considered one of the few bright spots in that movie and now gets her chance to shine in her own film.
The film opens with the connective tissue that began in the aforementioned Batman v Superman in which Bruce has sent, via armored car, the original plate photo of Wonder Woman and from there, as she looks longingly at it, we get the all important superhero origin story. Diana (GAL GADOT) has grown up on Themyscira, an island hidden from the world by Zeus, surrounded all by women including her mother, Queen Hippolyta (CONNIE NIELSEN) and her military leader aunt, Antiope (ROBIN WRIGHT). Despite her mother's resistance, she allows Antiope to train Diana to be a warrior all the while also trying to keep some sort of secret from her in fear their mortal enemy, Ares, the God of War, may still be alive despite being killed by Zeus, his father.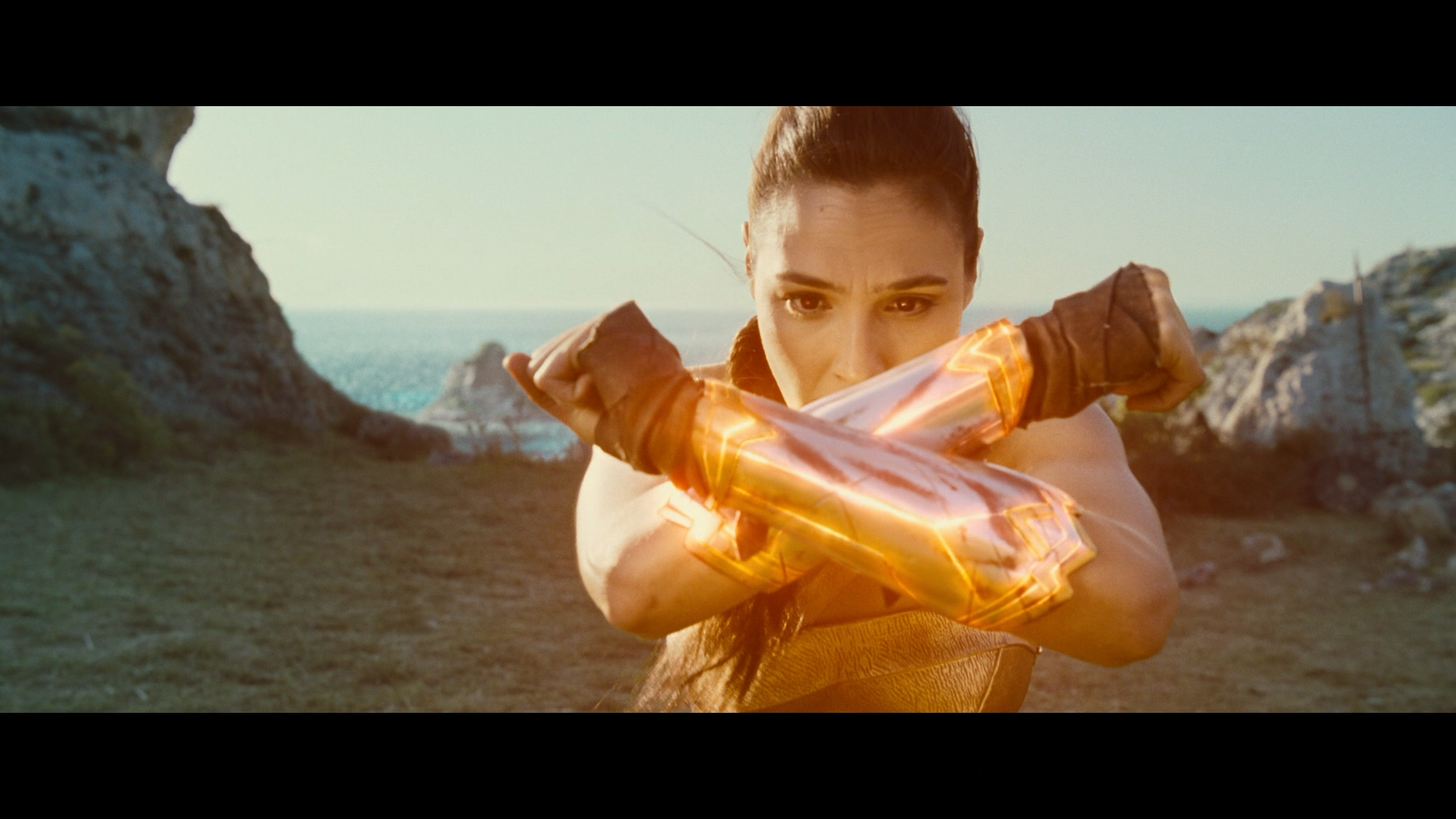 One day, following an unusual event where Diana nearly kills Antiope harnessing some sort of power, she witnesses a plane crashing into the ocean. Diving in to save the pilot, Steve Trevor (CHRIS PINE), a platoon of German soldiers follow behind breaking the barrier that hides the island. A beach battle ensues; numerous on both sides are killed. Trevor is taken and undergoes the Lasso of Truth where he reveals he is a spy working to discover the plans of one of Germany's high ranks, General Erich Ludendorff (DANNY HUSTON), who along with Dr. Isabel Maru aka Dr. Poison (ELENA ANAYA), is developing a chemical weapon that could win the war in German's favor, but there's a time crunch as Germany and the UK is about to sign a peace agreement.
On Themyscira, despite the protest of Hippolyta, Diana feels she cannot stand by and travels with Trevor to London, to find Ares, where she is gob smacked with everything from seeing a baby to the position of women in a men-centric society. There, Trevor attempts to persuade is superiors to go after Ludendorff and Maru and destroy their chemical plant before it's too late, but they firmly turn it down in fear if they are caught, it would jeopardize the upcoming agreement. So, on their own, with the unofficial help of one Sir Patrick Morgan (DAVID THEWLIS), with a ragtag crew — actor Sameer (SAID TAGHMAOUI), sniper Charlie (EWEN BREMNER) and The Chief (EUGENE BRAVE ROCK) — taking their journey to the front along the way Diana witnesses the horrors of war and after being told they can't help, takes things into her own hands and we get what is the iconic scene, "No Man's Land" which is absolutely fantastic and the first, well technically second, glimpse of Wonder Woman in all her glory.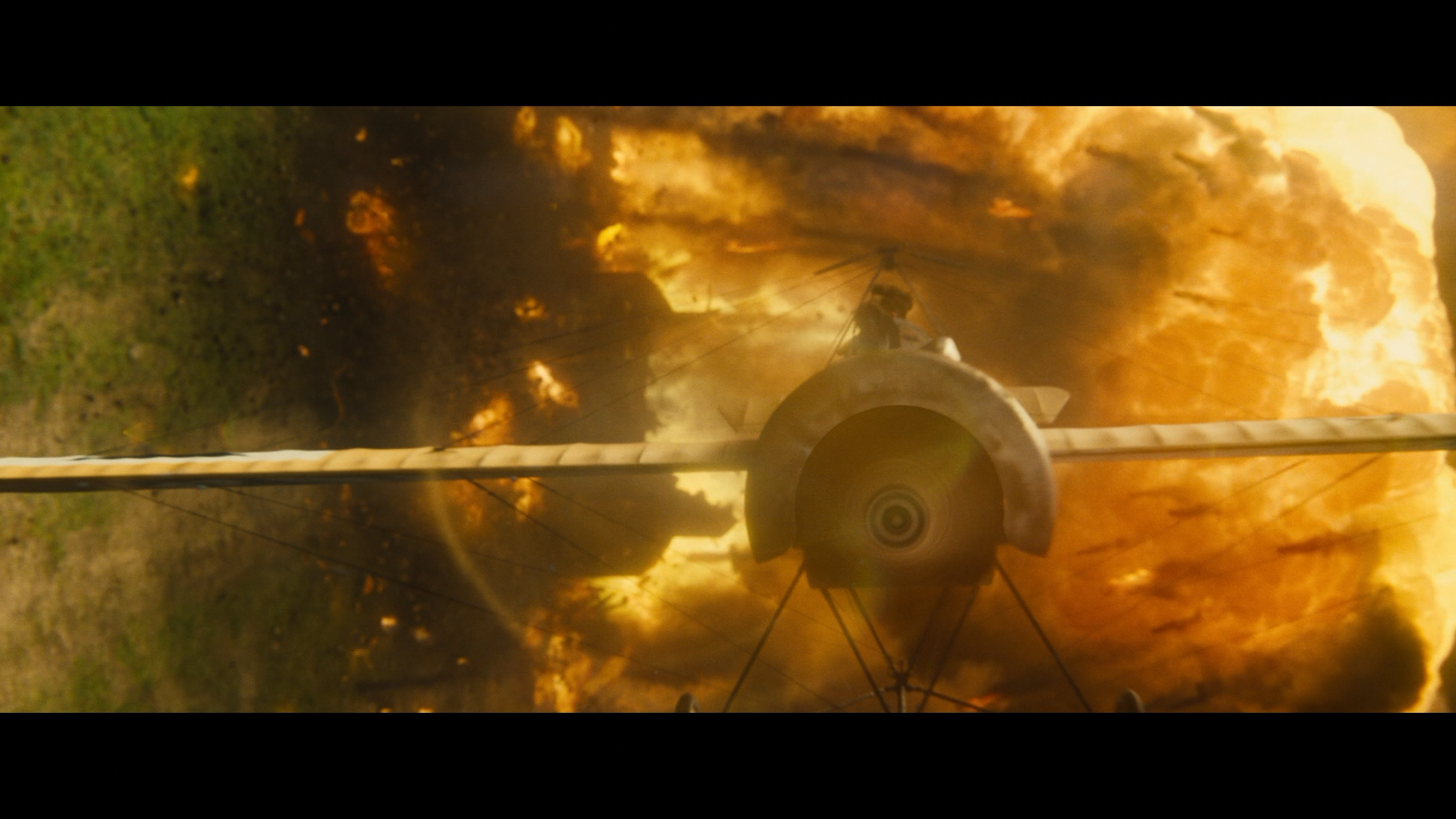 The remainder of the film finds the team hunting down Ludendorff before he and Maru can set off their deadly poison which will only worsen an already bloody war and thousands will die while Wonder Woman is determined to kill Ares believing that will end all the evil that has filled man's minds.
I genuinely loved Wonder Woman. Of course, I also genuinely loved Batman vs. Superman: Dawn of Justice: Ultimate Cut though this is a cleaner movie in terms of story and is far more filled with hope and clearer view of heroism by comparison. No, it's not the best superhero movie ever made or anything (this probably doesn't crack my top 5) but it has great action, excellent suspense and although Gal Gadot isn't a great actress (she was good in Criminal), she is spot-on perfect as Wonder Woman, which we got a good glimpse at in BvS.
Not to be outdone, the supporting cast is, mostly, well done. Chris Pine made for a nice love interest that fits in so well for the time period and is so damn charming and has palpable chemistry with Gadot; Danny Huston is, well, Danny Huston as he always looks like a villain; Ewen Bremner, Said Taghmaoui and Eugene Brave Rock, for as little of screen time they have, have solid little character moments, same goes for David Thewlis. I also liked Elena Anaya as Dr. Poison though I kind of wish we got more from her.
I don't normally talk about the scores but I did enjoy the more traditional music composed by Rupert Gregson-Williams (the lesser of the two brothers) and outside of Zimmer's Wonder Woman theme sprinkled in, it's actually not bad with some truly moving pieces such like "Amazons of Themyscira," "No Man's Land," "Lightning Strikes" and "Trafalgar Celebration."
After a long hiatus with her last feature film being Monster, Patty Jenkins stepped into the director's chair after Michelle Maclaren departed due to the old "creative differences" excuse. While I would like to see what Maclaren could bring to a superhero movie, Jenkins clearly was the right person to bring the character to the big screen for the first time. One thing that stood out, and I can't claim credit for noticing initially, was how Jenkins – and others I'm sure – had the other Amazons take on an Israeli-like accent in order to match Gadot's thick accent rather than force Gadot to adopt one and feel rather forced. It's little touches that makes this stand out.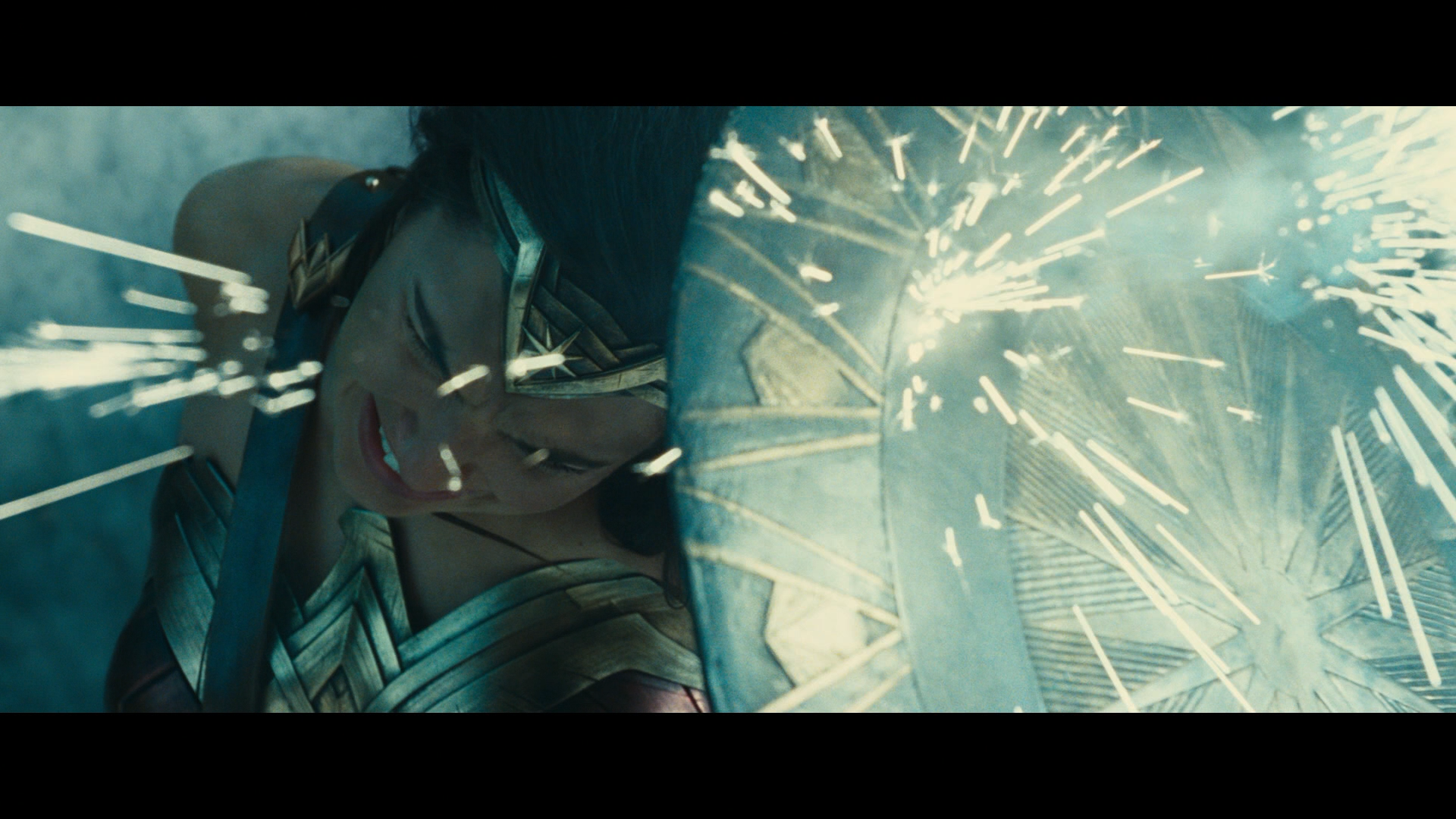 In the end, Wonder Woman is, of course, the DCEU's best film and even though it doesn't make rank at the top of all-time, this is just an entertaining action-thriller with an actress who is perfection for the role, much like Christopher Reeves was for Superman, the movie which had great influence on Jenkins and co-writer/producer Geoff Johns, with some fun Easter eggs thrown in for DC fans.
SPECIAL FEATURES – 4.0/5
---
This release comes with a semi-glossy, title-embossed slip cover.
Epilogue: Etta's Mission (2:41; HD) – This is more or less DC's first post-credit scene that got nixed. Basically Etta gets the boys back together for a top secret mission to retrieve an object (Mother Box). Shame they didn't include this in the theaters, actually not bad and rather funny.
Crafting the Wonder (16:26; HD) has some nice behind-the-scenes footage, with looks at the costume designs, props, and interviews with director Patty Jenkins, producer Zack Snyder, executive producer Geoff Johns, actors Gal Gadot, Chris Pine, Connie Nielsen, etc. as they explore bringing the iconic character to the big screen.
A Director's Vision (TRT 24:41; HD) has Jenkins taking viewers on a journey through Wonder Woman's most pivotal moments with behind-the-scenes footage, concept art, pre-viz and more.
Themyscira: The Hidden Island (4:56)
Beach Battle (4:56)
A Photograph Through Time (5:07)
Diana in the Modern World (4:39)
Wonder Woman at War (5:03)
Warriors of Wonder Woman (9:53; HD) delves into the training of the supporting Amazonian characters and are introduced to some of them and their backgrounds.
The Trinity (16:05; HD) – Filmmakers (including Jenkins and Snyder) and comic book creators explore the legend of Wonder Woman and how she stands should-to-shoulder with Superman and Batman to create the pillars of the DC Universe.
The Wonder Behind the Camera (15:34; HD) looks at the many women who worked on the film.
Finding the Wonder Woman Within (23:08; HD) has award-winning poets and inspiring public figures reveal the impact and importance of DC's greatest heroine.
Extended Scenes (9:04; HD) – Here we get five scenes which were chopped down. Some nice moments but nothing too important.
Alternate Scene: Walk to No Man's Land (1:04; HD) is a deleted scene in which the Chief takes the crew through a road to NML which has land mines planted.
Blooper Reel (5:37; HD)
Preview – Justice League
4K VIDEO – 5.0/5, BD VIDEO – 5.0/5

---
Wonder Woman leaps onto the 4K format shown in its original theatrical 2.40 widescreen aspect ratio and given a 2160p ultra high-definition resolution. With the aid of HDR, this looks amazing with excellent detail throughout and very nice pops of colors from the early-goings on Themyscira which contrast against the dark and gritty nature of man's world as well as the muddy battlefields. But even in these scenes, some colors do shine through. Skin tones appear natural looking and I didn't notice any instances of artifacts, aliasing or other flaws.
The 1080p Blu-ray in the meantime is no slouch either. It might not have the extra benefit of HDR, yet still has good color and deep and stark dark levels, showing no signs of artifacting while detail are still quite good.
4K/BD AUDIO – 4.0/5
---
Both the 4K and Blu-rays contain an incredibly strong Dolby Atmos tracks. This is a bombastic soundtrack which was mighty impressive. Not only are dialogue crisp and clear primarily through the center speaker, but the depth is on full display from the quieter, more intimate scenes like when Steve and Diana are dancing, to the many action-centric sequences which had a big boost with the LFE channel that didn't just shake the floor but I could feel the pulse flow through me in some instances. Thinking about it, this might rank right up there with one of the best sounding Atmos track I've come across.
OVERALL – 4.5/5
---
Overall, Wonder Woman isn't a masterpiece but I'd be lying if I didn't say that I loved it, perhaps even more on my second viewing. I know many have complained about the third act, but I felt it flowed nicely and had a thrilling fight sequence; Gadot isn't a great actress however she was perfectly cast in the role and cannot wait to see more from her and this iconic character. This 4K release from Warner offers incredible video and audio transfers and a good selection of bonus features.
Check out some more 1080p screen caps by going to page 2. Please note, these do contain spoilers.