It's not hard to see why Heist had a very limited theater run before being released to DTV obscurity in spite of a nice cast between Jeffrey Dean Morgan and Robert De Niro. But thanks to a bad script, with far too many contrivances to ignore, this is the type of movie easily forgotten within a day and thrown in with the rest of the subpar flicks.
Heist
(2015)
---
Genre(s): Action, Crime, Thriller
Lionsgate | R – 93 min. – $24.99 | December 29, 2015
MOVIE INFO:
Directed by: Scott Mann
Writer(s): Stephen Cyrus Sepher (story), Stephen Cyrus Sepher and Max S. Adams (screenplay)
Cast: Jeffrey Dean Morgan, Robert De Niro, Kate Bosworth, Gina Carano, Mark-Paul Gosselaar, D.B. Sweeney, Lydia Hull, Tyler J. Olson, Morris Chestnut, Dave Bautista
DISC INFO:
Features: Commentary, Featurette, Interviews, Theatrical Trailer
Digital Copy: Yes
Number of Discs: 1
Audio: English (DTS-HD MA 5.1)
Video: 1080p/Widescreen 2.40
Subtitles: English SDH, English, Spanish
Disc Size: 45.0 GB
Codec: MPEG-4 AVC
Region(s): A

** Click Here to Purchase Heist on Blu-ray from Amazon.com **
THE MOVIE – 2.0/5
Note: This review contains major spoilers concerning the plot.
A better title for Heist would've been Speed 3: The Convoluted Route as only 10-minutes of this film is the planning/execution of the "heist" with the remainder primarily taking place on a bus. (Note: The original title was actually Bus 657).
Vaughn (JEFFREY DEAN MORGAN) is a dealer for a steamboat casino owned by Pope (ROBERT DE NIRO). When his daughter is in desperate need of a transplant, Vaughn approaches Pope for a "favor" of a necessary $300,000 loan but is rebuked and after an understandable outburst, is beaten up by Pope's right-hand man and eventual successor, Dog (MORRIS CHESTNUT), and subsequently fired. At a breaking point, Vaughn accepts an offer from Cox (DAVE BAUTISTA), a security guard for the casino, to rob the joint of $3 million of dirty money.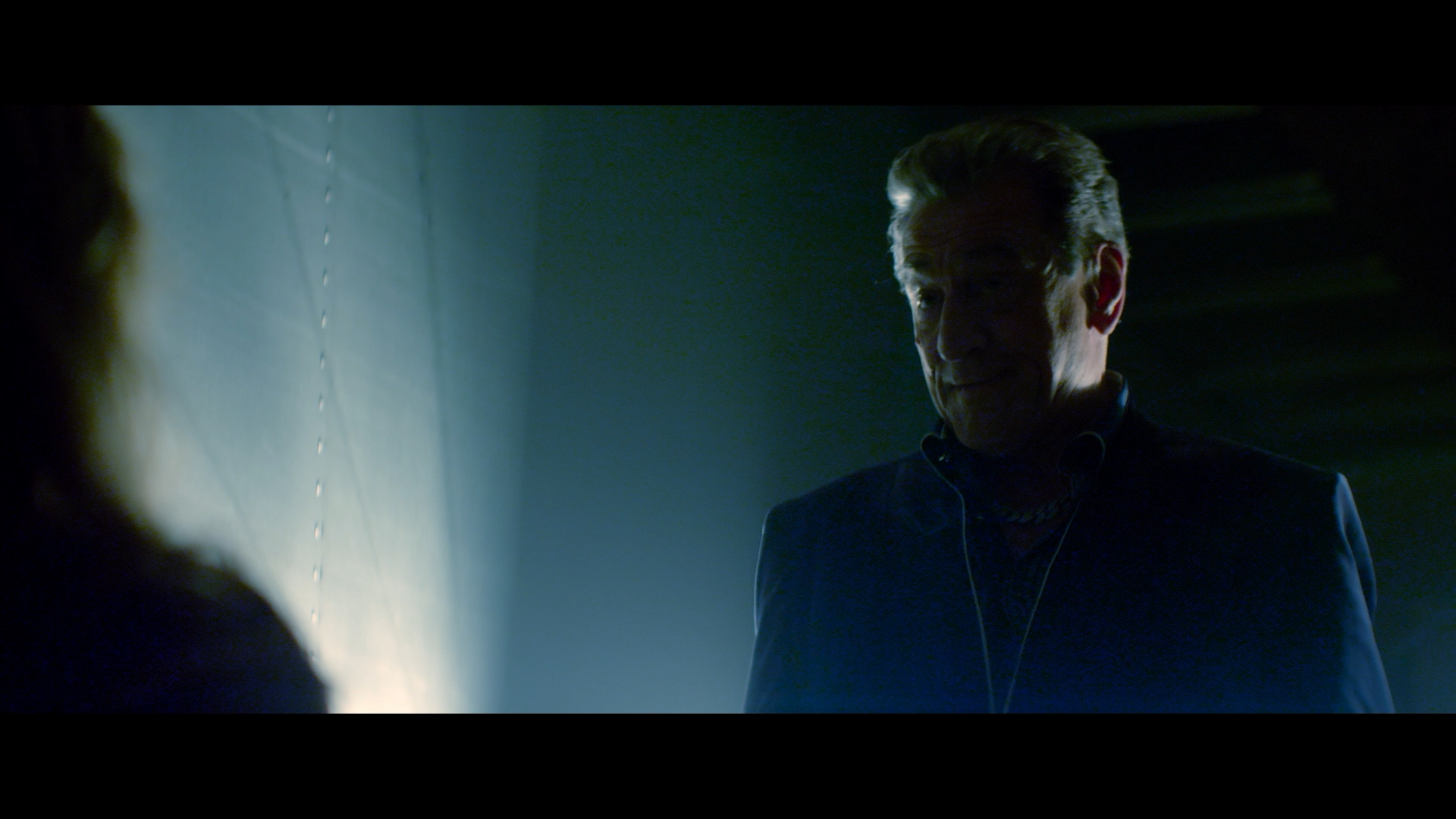 At first the heist goes off smoothly until Cox blows away one of the low level security guards and all hell breaks loose with Dog and his goons loaded to the teeth with semi-autos. Making matters worse, their getaway driver gets cold feet and drives off leaving them stranded. Vaughn already had plans to go his own way, so he and his two accomplices hijack a city bus where we go from Heist to the aforementioned Speed 3 territory. Seeing the crime, Officer Krizia "Kris" Bajos (GINA CARANO), begins pursuit and using a number Vaughn scrolls on the window, she makes contact and for whatever reason, supposedly hearing something in his voice, she endangers the lives of her fellow officers and rams the blockade after her superiors refused to unblock. One would think this action would place her under arrest, but no, she hangs around for the remainder of the film hunting down leads to Vaughn's identity.
Inside the bus, tensions are high as Vaughn tries to keep Cox calm before anyone on board could get hurt. With plans to go to Texas and charter a private plane, they need fuel so Vaughn exchanges a pregnant woman and young runaway boy but only would make the exchange with Kris. In the meantime, Pope and his right-hand goon, Dog, attempt to circumvent the police first by employing a dirty cop on their payroll (MARK-PAUL GOSSELAAR) before heading off the hijacker's ultimate destination.
All of this surrounding the fact that for whatever reason, the passengers and the bus driver (D.B. SWEENEY) helping out our "hero" who only hours ago threatened them, even half-heartedly, with a gun. I guess this is akin to Denzel Washington in John Q as both movies' protagonist has kids dying of some disease. But unlike John Q, a movie I wasn't that enamored with, it was believable why we would root for him, here, I have no clue why any of these people would help and for the aforementioned driver, he goes a step beyond risking his life.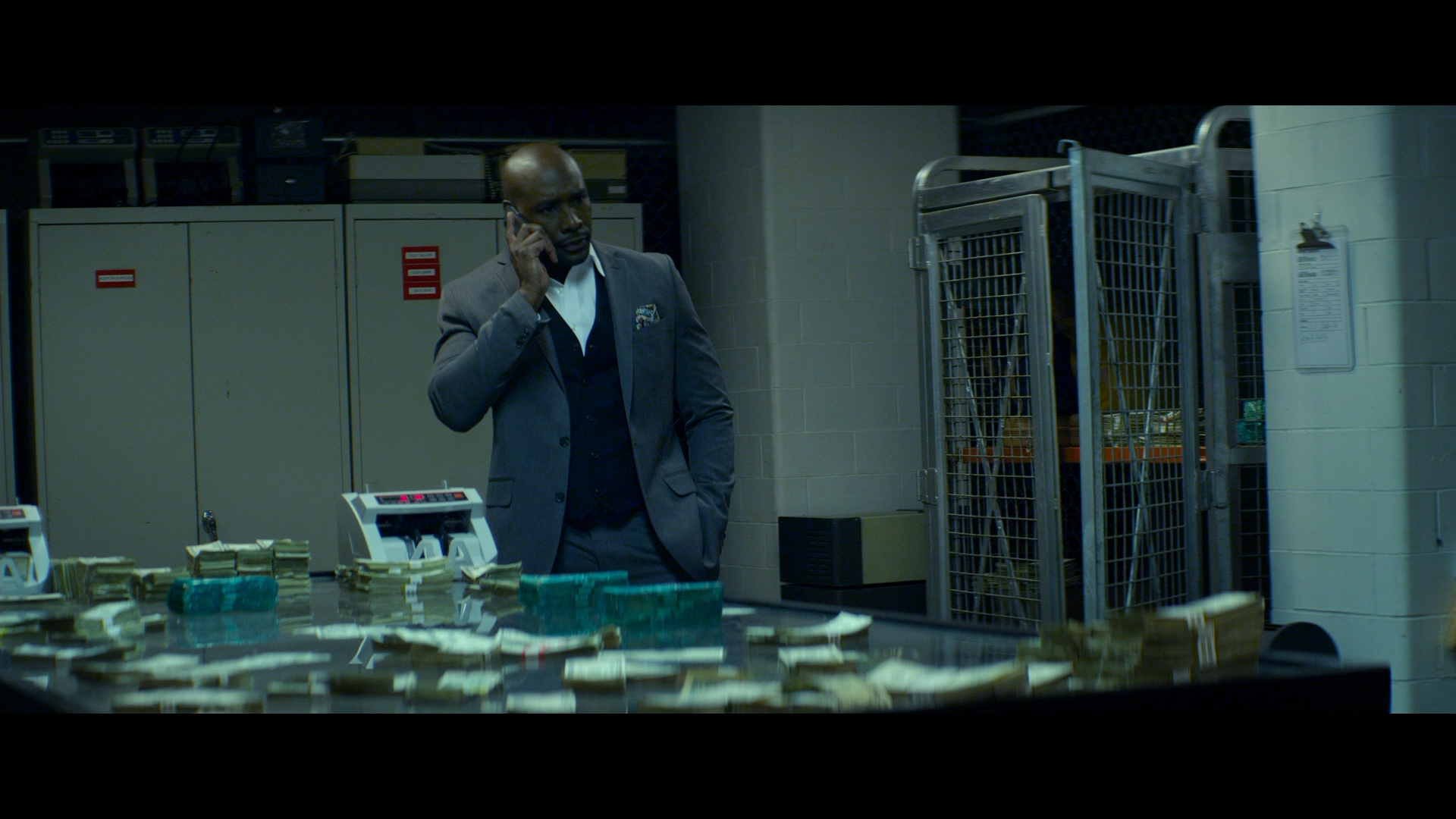 As I mentioned, the movie's title of Heist is misleading with the bulk of the film taking place on a bus hence why it was originally titled Bus 657 but I guess producers thought that was too direct-to-video sounding so they went the generic route perhaps hoping people would mistaken it for the 2001 version starring Gene Hackman; a better movie by the way with an apt title to boot. But beyond the deceptive title, the entire plot is contrived with characters acting only in service to the script than being remotely believable.
In any case, it is easy to see why this didn't get a major theatrical run in spite of a respectable cast from Robert De Niro once again slumming it with half-baked material, though he's not terrible in this, to Jeffrey Dean Morgan continues attempt to find footing in his post Watchmen career. Kate Bosworth's name might be on the cover but basically makes a cameo appearance with only 5-minutes of screen time and Gina Carano is best suited as an action starlet though she does have one fight scene on the bus which should've ended the film…
Movies like Heist always make me curious how in the hell they got made and more to the point, as there are hundreds of films with crap scripts released DTV every year, how they get a respectable cast headlined by Robert De Niro even in a small role. I first thought he, and Jeffrey Dean Morgan, did this out of a favor to director Scott Mann only to discover this Mann has no relation to Michael Mann (Morgan worked with Mann's daughter on Texas Killing Fields), so I have no idea how they could've read the script and signed on.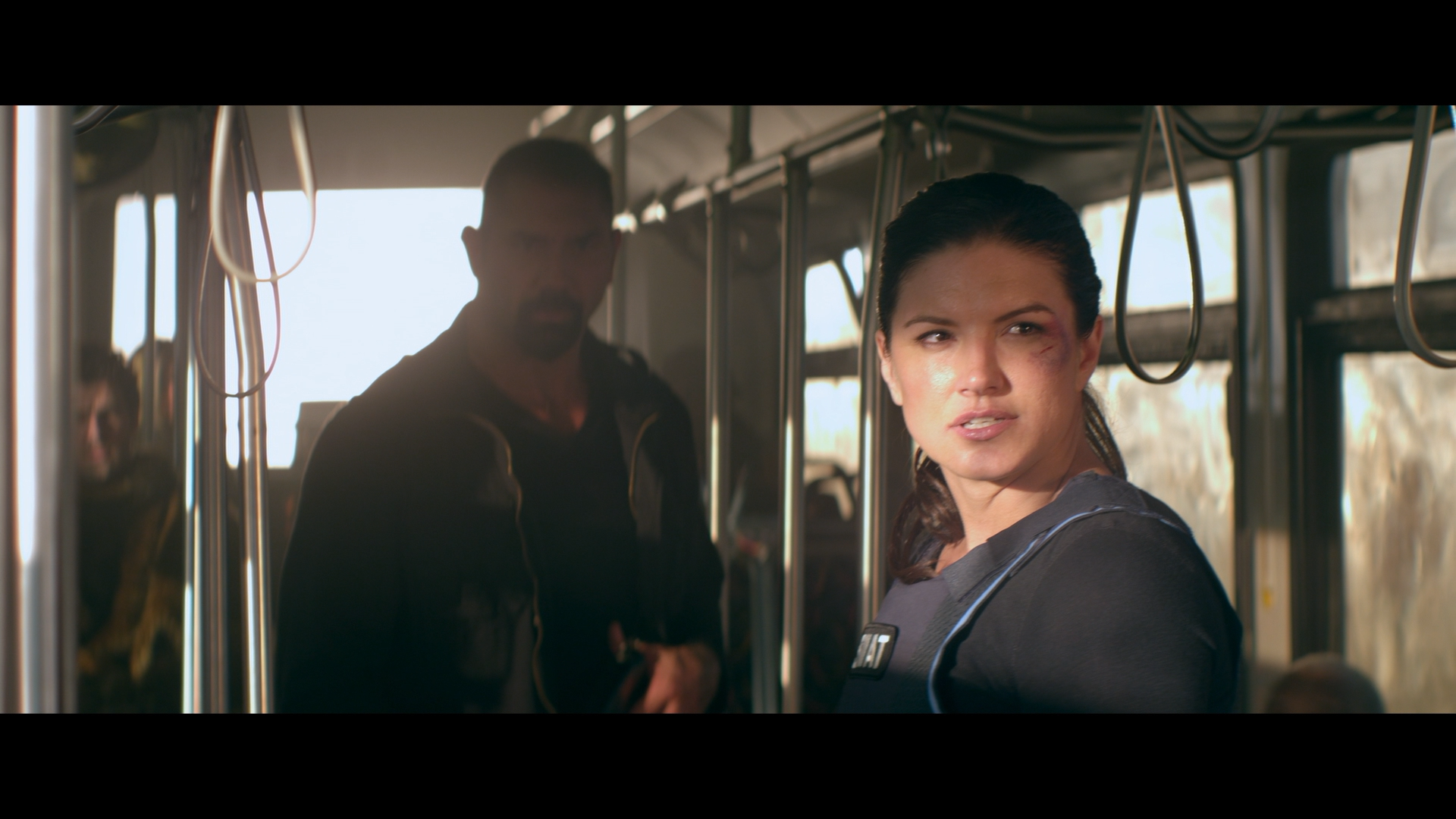 According to Wikipedia, Heist's budget was $22 million and made a grand total of… $50,136 at the box office. So not only do I question how they got the cast they did, but who in the hell financed this? The script is bad but beyond the plot, the characters and their actions make zero sense while the action scenes themselves are rather basic and has been seen before. At only 90-minutes (sans credits), I guess it makes for breezy, lazy afternoon, entertainment but with some choice editing, this is made to air on TNT in a couple of years, even then I'm not sure it's worth the time investment.
SPECIAL FEATURES – 2.5/5
This release comes with a title-embossed and glossy slip cover. Inside is a redemption code for the Digital HD copy.
Audio Commentary – Director Scott Mann, Actor Jeffrey Dean Morgan and Writer Max Adams provide a nice and informative track breaking down the story, characters and giving some anecdotal on-location stories.
Deleted/Extended Scenes (4:08; HD) – We get a few scenes cut down though they don't amount to much or add to the story.
The Making of Heist (15:11; HD) is the typical behind-the-scenes featurette with on-set interviews with the cast and crew intercut with scenes from the movie.
Cast/Crew Interviews (TRT 37:44; HD) – There is a selection of extended interviews with Director Scott Mann (7:29), Writer Max Adams (6:11) and Actors Jeffrey Dean Morgan (4:26), Kate Bosworth (4:43), Mark-Paul Gosselaar (3:35), Gina Carano (4:09), Morris Chestnut (2:34) and D.B. Sweeney (4:37).
Theatrical Trailer (2:25; HD)
Previews – Sicario, Wild Card, John Wick, Zero Tolerance, Extraction, American Ultra
VIDEO – 4.0/5
Lionsgate releases Heist onto Blu-ray presented with a 1080p high-definition transfer (MPEG-4 AVC codec) and shown with a 2.40 widescreen aspect ratio. The picture more or less looks fine with some decent detail but there is some heavy noise in some spots yet it appears to be clean and colors look well balanced though the film itself does have a warmer tone to it. It's not an amazing transfer or anything but more than serviceable considering it is direct-to-video.
AUDIO – 4.0/5
The DTS-HD Master Audio 5.1 track is more than passable with crisp and clear dialogue levels and does pick up good depth with the various action scenes making use of every channel. The LFE track however is rather weak but all in all, it is a fine lossless track, just nothing overly noteworthy.
OVERALL – 2.5/5
Overall, it's not hard to see why Heist had a very limited theater run before being released to DTV obscurity in spite of a nice cast between Jeffrey Dean Morgan and Robert De Niro. But thanks to a bad script, with far too many contrivances to ignore, this is the type of movie easily forgotten within a day and thrown in with the rest of the subpar flicks. The Blu-ray released by Lionsgate has a fair amount of bonus material while the video and audio transfers are decent enough.
The Movieman
Published: 12/20/2015
Check out some more screen caps by going to page 2. Please note, these do contain spoilers.