Teenage Mutant Ninja Turtles is an inoffensively bad movie made for an entirely different audience than those who grew up with the reptiles in the 1980s and 1990s. But taking that aside, it's a thin story, poor writing and chaotic direction that makes it really hard to watch culminating with a lame and underwhelming finale.
Teenage Mutant Ninja Turtles
(2014)
---
Genre(s): Action, Fantasy, Comedy
Paramount | PG13 – 101 min. – $52.99 | December 16, 2014
MOVIE INFO:
Directed by: Jonathan Liebesman
Writer(s): Peter Laird and Kevin Eastman (characters); Josh Appelbaum & Andre Nemec and Evan Daugherty (screenplay)
Cast: Megan Fox, Will Arnett, William Fichtner, Alan Ritchson, Noel Fisher, Pete Ploszek, Jeremy Howard, Johnny Knoxville (voice), Tony Shalhoub (voice)

---

DISC INFO:
Features: Featurettes, DVD Copy
Digital Copy: Yes
Number of Discs: 3

---

Audio: English (Dolby Atmos/TrueHD 7.1), French (Dolby Digital 5.1), Spanish (Dolby Digital 5.1), Portuguese (Dolby Digital 5.1)
Video: 1080p/Widescreen 2.40
Subtitles: English SDH, French, Spanish
Disc Size: NA
Codec: MPEG-4 AVC
Region(s): A
THE MOVIE – 1.75/5
First and foremost, I'll admit that I am a child of the late 80s, early 90s so the Teenage Mutant Ninja Turtles fell right into place for me collecting any and all figures, sitting down every Saturday morning to watch the cartoon and even seeing each movie in the theater going so far as choosing Teenage Mutant Ninja Turtles III over Groundhog Day, a decision I regret to this very day.
As with everything in Hollywood, properties get a new coat of paint for the next generation with a popular Nickelodeon animated series and now the feature film, Teenage Mutant Ninja Turtles, this go around Bayified as illustrious filmmaker serves as producer while Jonathan Liebesman takes over directing duties. Now, I acknowledge the original Turtle movies weren't anything extraordinary, though the work done by Stan Lee's company on the costumes and animatronic heads were impressive, but this version takes it to a new, and quite low, level. That said, today's generation of kids will probably love the heck out of this incarnation…
The story more or less actually centers around April O'Neal (MEGAN FOX), a reporter for Channel 4 who wants to be an investigator but instead spends her time working on fluff pieces such as Yoga practices (sorry fellas, no hot Yoga pant shots of Fox). In her spare time, with the help of camera man Vern (WILL ARNETT), a fun nod to the original 1990s animated series, she's trying to get to the bottom of a rash of crimes committed by a criminal organization named The Foot who aren't so much a clan of ninjas but military-like folks who are stealing rare chemicals.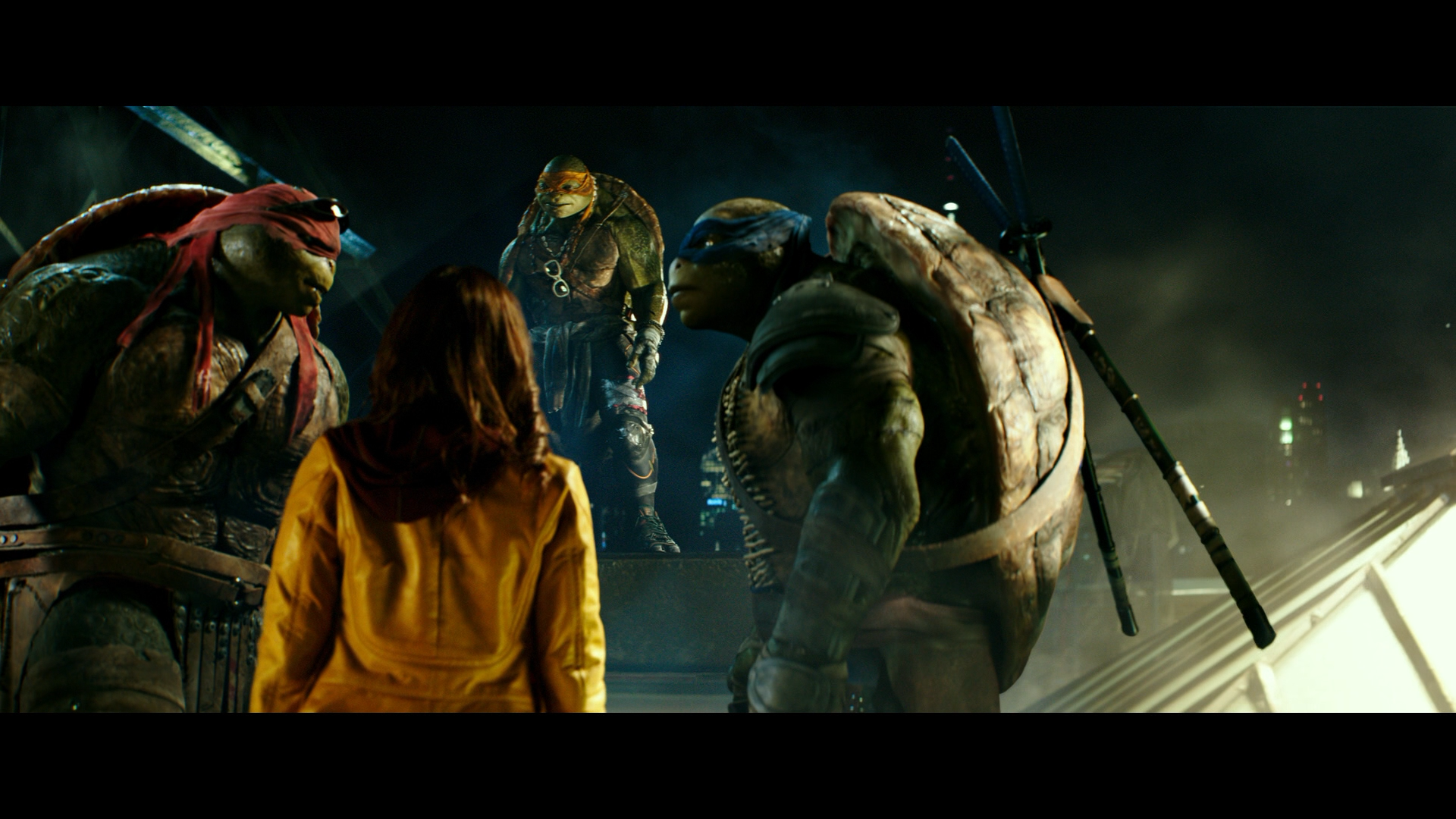 One night April stops by the docks when she witnesses the Foot committing yet another robbery when, masked in shadows and whatnot, something foils the Foot's plans. After this, we finally get to meet our antagonist: Shredder (TOHORU MASAMUNE) presumably named that not so much for his (ridiculous) suit of armor we later will see but for his scarred face. In any case, Shredder is none too pleased and orders his right hand woman, Karai (MINAE NOJI) – a carryover from both TMNT and the new animated show –, to find these vigilantes.
So, Karai and the Foot set up a hostage situation to the draw them out and, wouldn't you know it, April is in the vicinity and goes toward where crowds are fleeing to the subway and is stupidly captured by a Foot soldier. Down with the other hostages, she starts recording and yep, the Turtles show up and save the day. April manages to follow them to the rooftop as they celebrate and it's here we finally get a close-up of our heroes (in a half shell): leader Leonardo (PETE PLOSZEK and voiced by JOHNNY KNOXVILLE), strong arm Raphael (ALAN RITCHSON), whiz-turtle Donatello (JEREMY HOWARD) and class clown Michelangelo (NOEL FISHER).
After meeting them, April recognizes the names and delves through a box of old photos and video and watching one, it's of her as a young girl taking care of four turtles, with the same names. See, April's father, along with partner Eric Sacks (WILLIAM FICHTNER), was testing something or other, as if it really matters. We also learn April's father was killed during a fire at the lab and, as the Turtles' mentor and father Splinter (voiced by TONY SHALHOUB) tells it, saved himself and his adopted sons.
Right there is one of my qualms with this incarnation of Turtles, the writers chose to shoehorn in April into their background going so far as being their savior. It's a dumb inclusion, though that bit of plot point is overshadowed by just an inane story and frenetic direction that culminates with a lame, albeit Bay-like, finale with CGI characters fighting another CGI-rendered character in the Shredder who, at this point, is encased in a Transformers-inspired suit equipped with Wolverine-esque blades no less.
I understand, this version of the Teenage Mutant Ninja Turtles was made for a different generation and furthermore acknowledge the original movies from 1990/91 were hardly great, especially the sequels that somehow managed to diminish the quality of the Turtles' costumes culminating with the downright creepy/demonic ones seen in the third film. But, at least the first one had a certain craftsmanship whereas this one is a splattering of CGI set against more CGI.
Now, this isn't a painfully and offensively bad movie, unlike Transformers: Age of Extinction and each Turtle has a distinctive and fun personality that at least makes them tolerable even if the design is a bit off-putting. The acting for the most part isn't bad either with each of the guys, mostly unknowns, playing the Turtles are a lot of fun and although Megan Fox is hardly great, her April O'Neal character was messily written so save for a few actors (like Rachel McAdams or Amy Adams), there really wasn't much there for Fox to work with.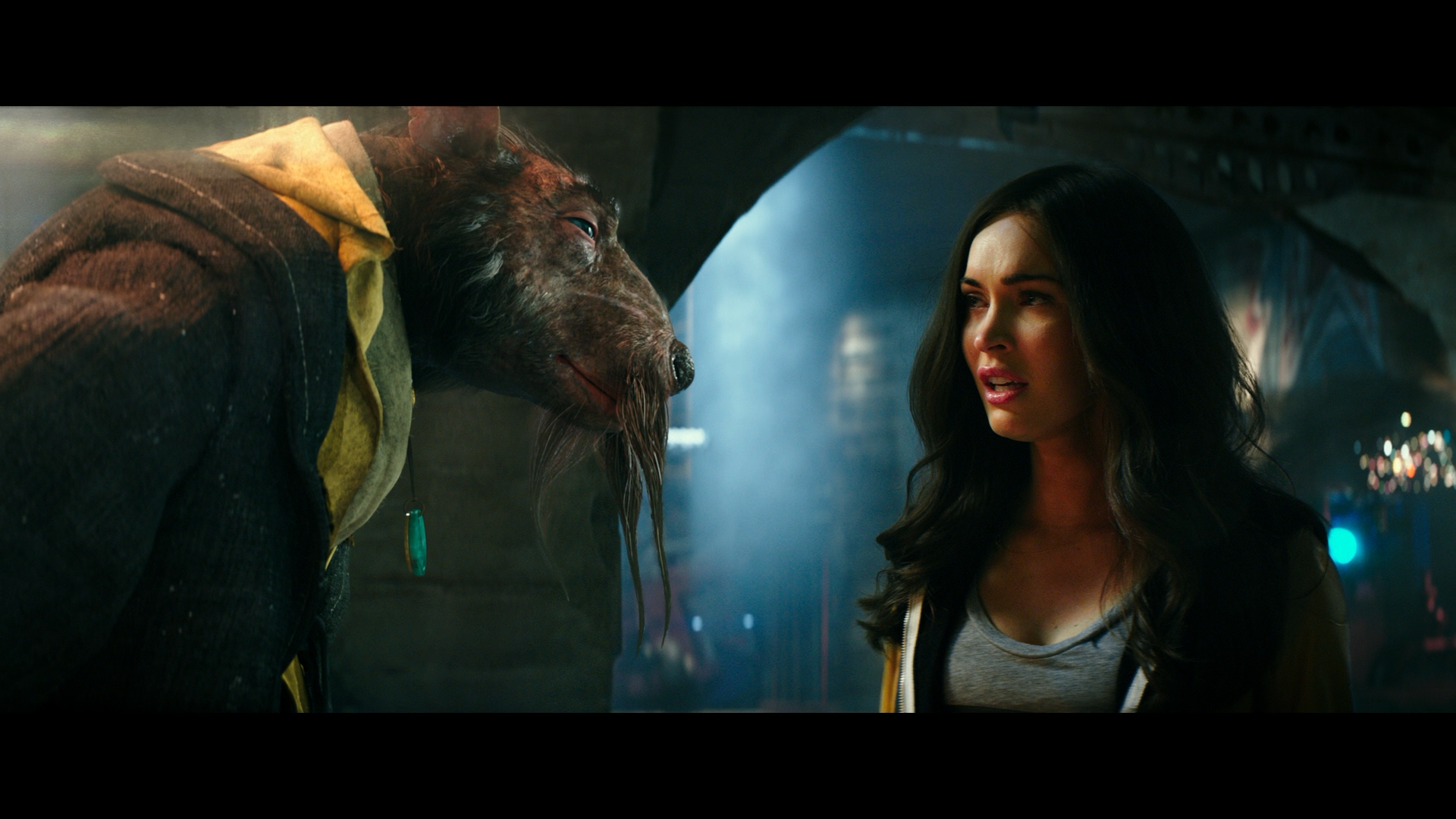 Teenage Mutant Ninja Turtles (2014) was helmed by Jonathan Liebesman whose career is a bit spotty with films that had wasted potential (Battle Los Angeles) to the downright unnecessary (Wrath of the Titans, Texas Chainsaw Massacre: The Beginning).
SPECIAL FEATURES – 2.5/5
The 3-disc set (3D BD, BD, DVD) comes housed in a standard Blu-ray case and a lenticular slip cover. Inside is a redemption code for the Digital Copy (both UV and iTunes).
Digital Reality (17:56; HD) looks at how the filmmakers integrated the Turtles via motion capture.
In Your Face! The Turtles in 3D (4:23; HD) examines the 3D process and is available to view either in 2D or 3D.
It Ain't Easy Being Green (6:47; HD) – This short featurette is a set of interviews with the cast chatting about the "Turtles" franchise including the actors who portrayed the big green men.
Evolutionary Mash-Up (14:59; HD) is a documentary-like feature on the background of turtles.
Turtle Rock (5:37; HD) is a featurette on Brian Tyler's score included its epic theme.
Extended Ending (0:46; HD) – There's not much here, but it is slightly changed as April, on camera, acknowledging the vigilantes where the original they're kept in secret still.
"Shell Shocked" Music Video (3:27; HD) is an annoying song that played over the end credits. Vanilla Ice for life, yo!
And last we get the Making of "Shell Shocked" (1:31; HD) music video.
2D VIDEO – 5.0/5 | 3D VIDEO – 3.5/5

Teenage Mutant Ninja Turtles arrive on the scene onto Blu-ray shown with a 2.40 widescreen aspect ratio and a stunning 1080p high-definition transfer. The 2D showing looks great with excellent and sharp detail levels, bright colors during the daytime shots and stark blacks for the dark shots. There were no signs of artifacting, pixilation or aliasing.
The 3D transfer meanwhile isn't the best but half decent primarily due to a lack of depth and those darker scenes are made worse thanks to the limitations of 3D technology. Still, it's OK yet no one will mistake it for being reference quality work…
AUDIO – 5.0/5
Speaking of reference quality, we get what I think is the third or fourth Dolby Atmos release, which, since I don't have the equipment, decodes to Dolby TrueHD 7.1 and it's as every good as one would expect. The lossless track not only has clear dialogue but the numerous action sequences do have excellent depth making use of each and every available channel including the LFE which gives a nice little rumble completing the home theater experience.
OVERALL – 2.5/5
Overall, Teenage Mutant Ninja Turtles is an inoffensively bad movie made for an entirely different audience than those who grew up with the reptiles in the 1980s and 1990s. But taking that aside, it's a thin story, poor writing and chaotic direction that makes it really hard to watch culminating with a lame and underwhelming finale. The Blu-ray release comes with excellent audio/video transfers but the bonus features are limited.
The Movieman
Published: 12/18/2014
Check out some more screen caps by going to page 2. Please note, these do contain spoilers.